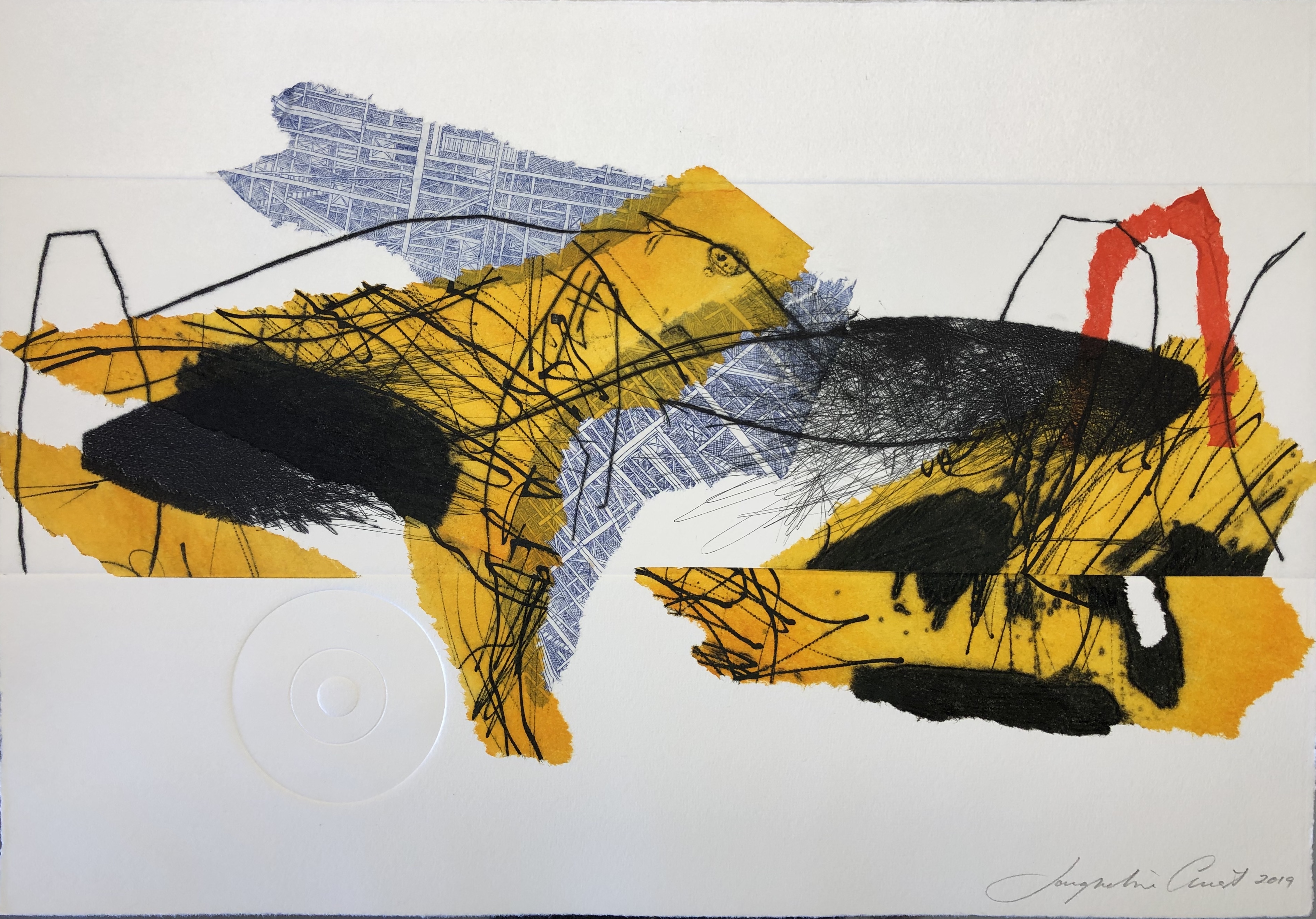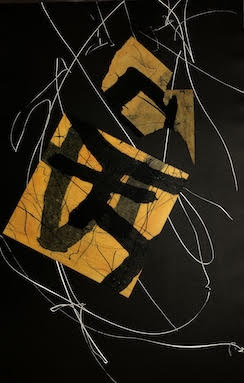 From top:
Jacqueline Aust, Untitled (III), drypoint and etching with chine collé on Hahnemuhle 300gsm, 34.5 x 47.5 cm
Jacqueline Aust, Disruption, drypoint and carborundum intaglio with chine collé on Hahnemuhle paper 300gsm, 80.5 x 46.5 cm
Jacqueline Aust, Agitation V, monotype and intaglio chine collé on Hahnemuhle 300gsm, 50 x 81 cm
Q: What were some of the foundation ideas you began with when embarking on this exhibition project?
The theme of displacement is both the subject and process of this series.
A new series by me will often be underpinned by a visit or residency in another place, in this instance Japan where our visit coincided with a typhoon. Everywhere we went we were struck by how the Japanese people responded to devastation caused by natural disasters.
In a broader sense millions of people are displaced from their homes every decade because of war, natural disasters and the effects of climate change. Whether or not we are immediately affected we are reminded every day of the impact this has on our lives.
Q: How did the artwork selection take place?
By laying all the potential works on the floor and moving them about until I was happy that together they told the story of the development of the idea. I had created a suite of smaller works as sketches for my developing theme and included these in the exhibition as a way of beginning the story.
Q: How does the exhibition manifest – what do visitors experience?
The exhibition consists of a number of a group of colourful works, with yellow as a predominant colour, and a group of works that are yellow and black. To my mind the yellow and black works concentrate the movement and aesthetic of the coloured work and when hung together make a powerful statement of destabilisation … an effect of being displaced.
Q: What are some of the key works and what subject matter do they deal with?
The works exhibited in Displaced continue my exploration of the relationship between autographic mark making and a response to place. Traditionally the process of printmaking involves a matrix from which an edition is printed. My practice is to create series of works using the same plate/s so that each work is unique yet has a clear visual connection to each other work in the series.
In this instance I have utilised processes (chine colle and collage) that allow the placement and replacement of components and leave visual traces to tell the story. In this way I make material decisions based on the subject of displacement so the aesthetics of the final work relates to the theme. This is particularly evident in the black and yellow works entitled 'Agitation'.
—
Displaced is at Solander Gallery from today.  solandergallery.co.nz