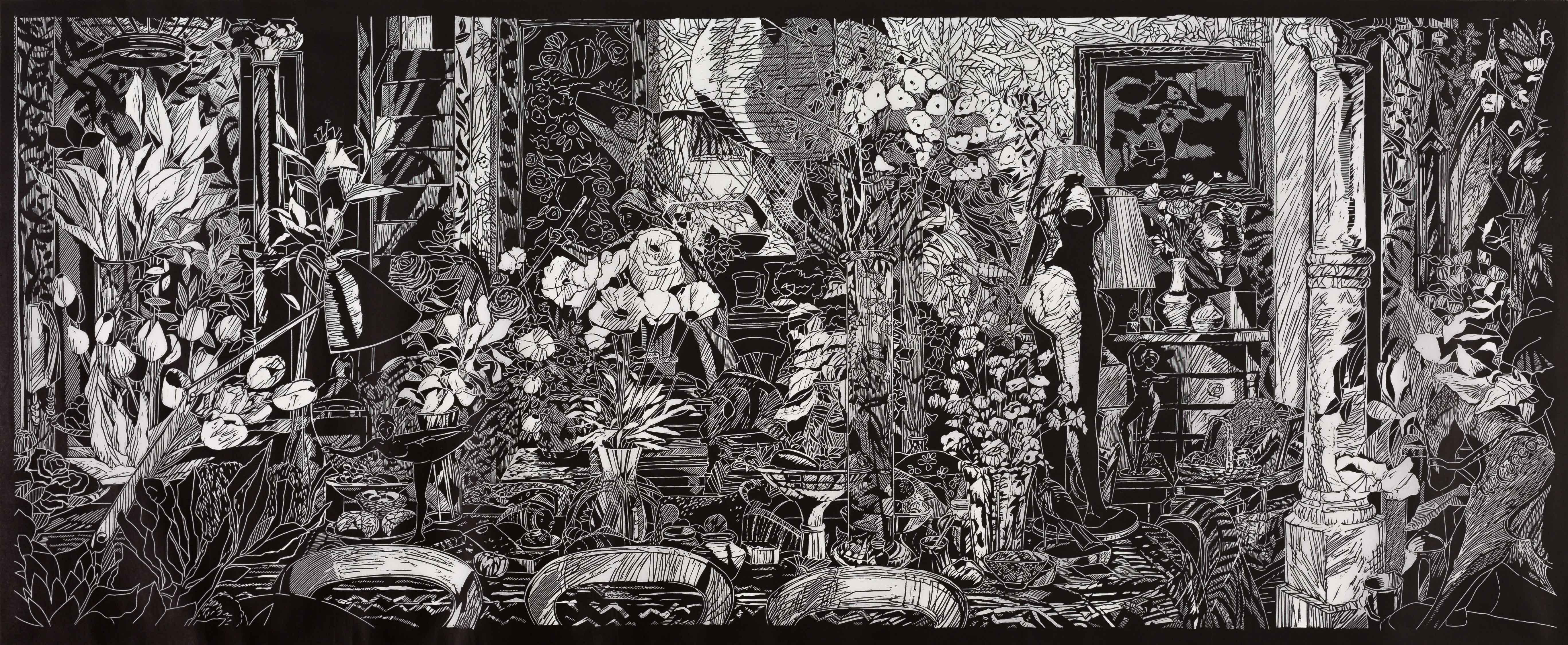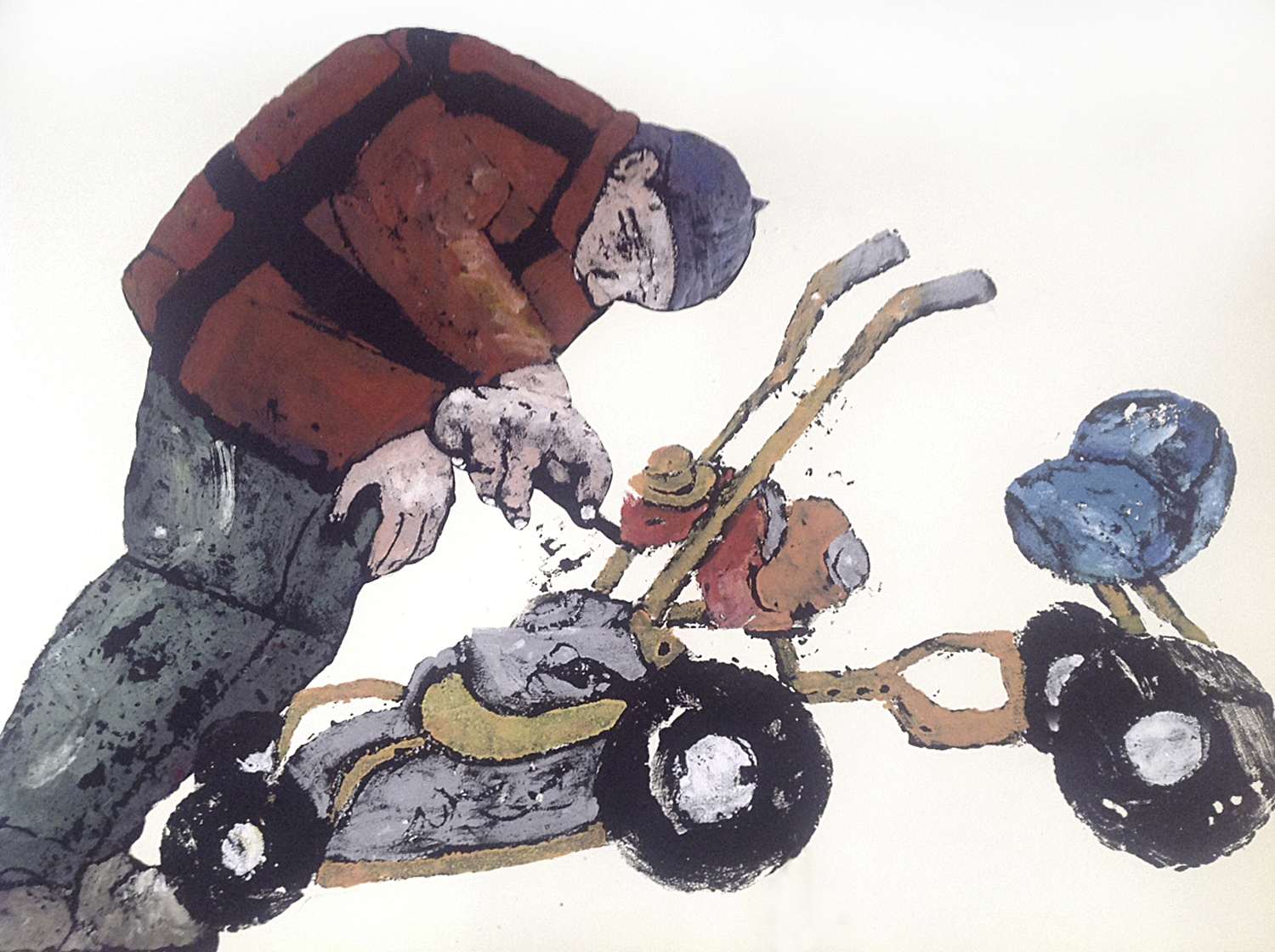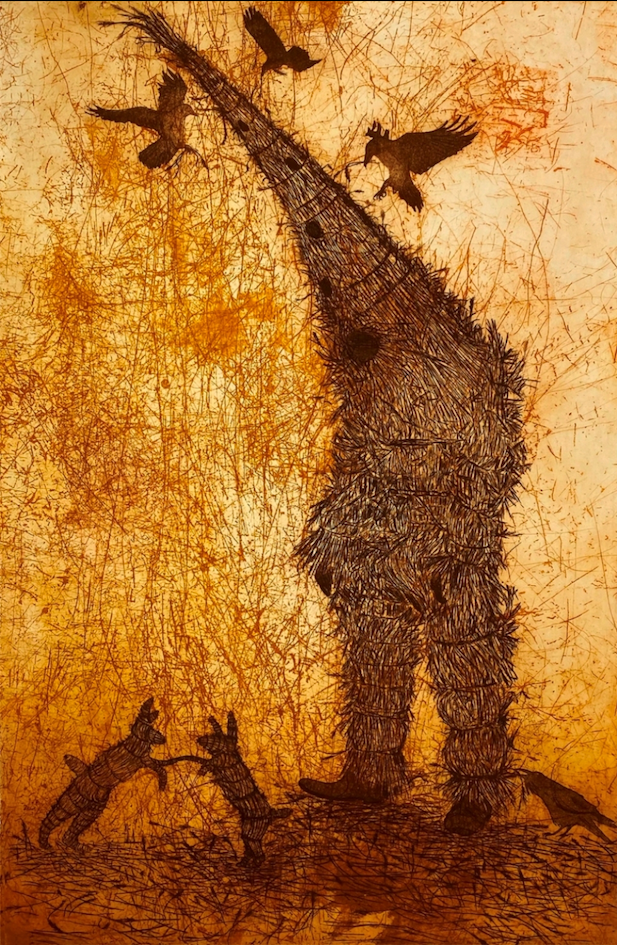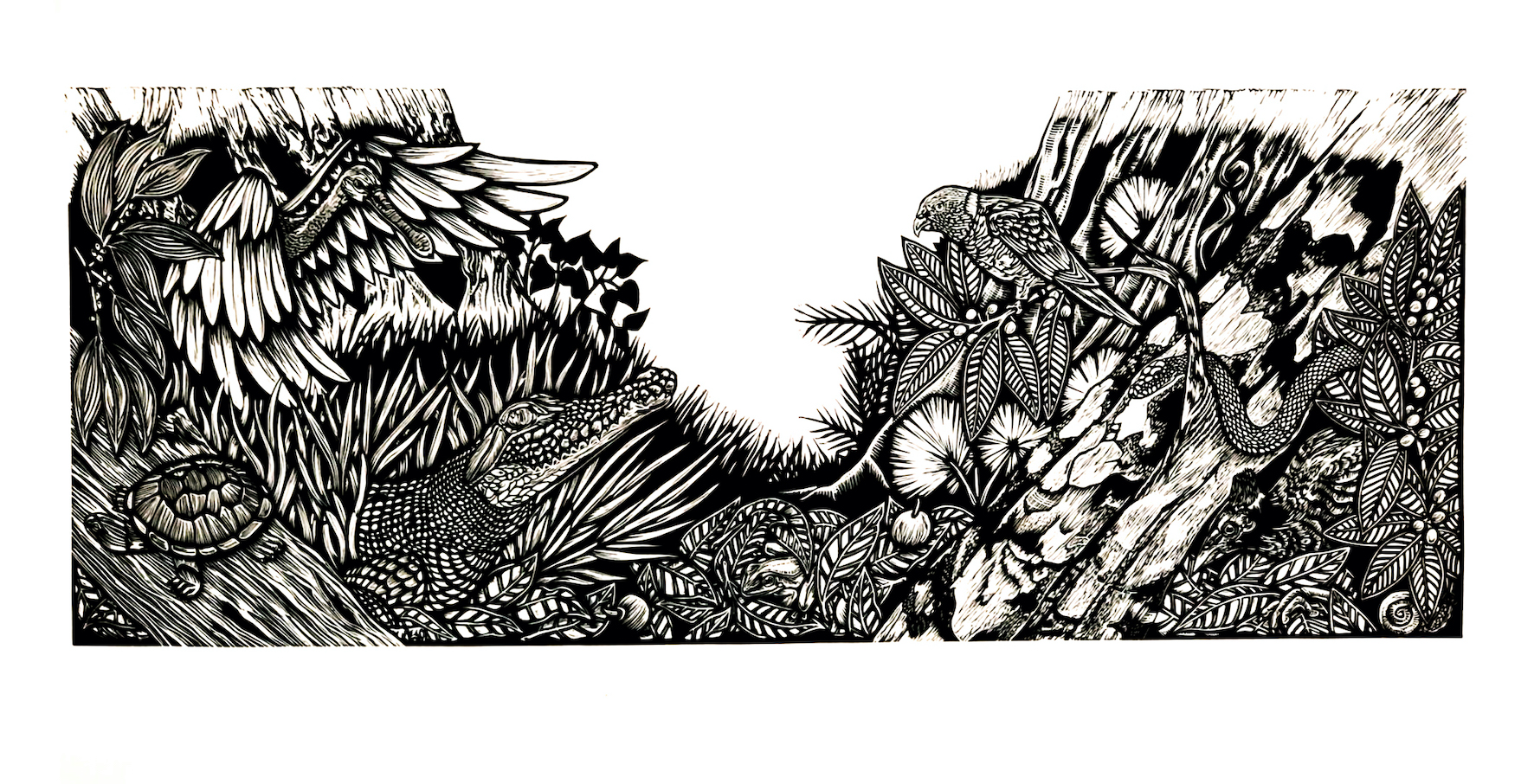 From top:
Anna Trojanowska, EVALUATION'S EVENT_10, lithograph from carrara marble, 74 x 51cm, 2019
Christine Druitt-Preston, OlleyLand – Take a Place at the Table, lino block print on wenzhou paper, 60 x 125cm, 2019
Christiaan Diedericks, Let us Prey iii (Against the Winged Dunes), drypoint, monotype and laser engraving, 15 x 70cm, 2020 
Jackie Gorring, Lonehand Shyness, relief stamps from styrofoam, 80 x 120cm, 2020
Yvonne Rees Pagh, The Strawman, etching, 120 x 80cm, 2020
Brooke Foster, Kuranda, Barron River, vinylcut, 58 x 120cm, 2021  
The annual InkMasters Print Exhibition has become a feature of the artistic calendar in Far North Queensland, and this year's iteration was held at the Tanks Arts Centre in Cairns during July. It brought together work by accomplished printmakers from around Australia and beyond for our 'pleasure and wonder', as the exhibition title indicates. While artists adapt to our changing times, it is a privilege to gain an insight into their lives and creative work, and to seek common ground.
This year's exhibition, the fifth biennial of its kind since the establishment of InkMasters Cairns in 2011, included works that featured a sense of noticing and appreciating local, immediate, even domestic environments. This was evident in intimate prints which had a quiet peace, despite our stormy times.  Cleo Wilkinson brought us another of her beautifully rendered mezzotints of the human form in Then iv, while Yuri Shimmyo presented zinc etchings of tiny family moments in Six and Grasshopper.  Taiwanese artist Chang Hui Ju presented dream-like images Birdy and Prelude, similarly intimate, but this time imagining a whimsical escape from the everyday.
A rather more confronting otherworld was presented by Anne Starling in her Nuclear Family, combining linocut, woodblock, intaglio relief and collage. In this powerful image that recalls a 1950s advertisement, perhaps for the perfect suburban housing development, a family of four stands in front of their neat home, complete with lawn and decorative fountain, while black smoke coughs out of huge funnels against a bright orange sky. While the narrative is a retro one, the sense of menace and foreboding seems relevant. Starling's admirable skill was also evident in her three-panel linocut with monoprint and collage of a scrapyard landscape, Detritus.
On the subject of skill, all eyes were drawn to lithographs by Polish artists Anna Trojanowska, Evaluation's Event-10 and Evaluation's Event-07, where striped, orange cones seem to protrude from the paper into the Gallery space, such is the artist's amazing capacity with shadow and tone. Juan Escudero from Spain won the Anne and Ron Edwards Relief Print Prize for his iron plate etching Tsunami Surf, Black, which builds a textured relief map of an unknown, but intriguing monochromatic landscape with intricate contour lines. The 'map' that is created is evocative, but elusive, creating a sense of movement that alludes to something growing, retreating – powerful in its energy and scale.
South African artist Christiaan Dedericks won the $8000 Dr Raya Mayo Award for his drypoint, monotype and laser engraving Let us Prey iii. The artist disrupts an easy reading of the piece by setting up contrasts and associations as the eye moves from left to right, with surrealistic imagery alongside an imagined dystopian landscape, and symbols and collage elements building an intriguing and unsettling story.
In many of the strong works on show, artists expertly allowed their chosen printmaking processes to create pure magic and a little bit of chaos, as in Albert Pema's In the Skin of Trees No. 97, Yvonne Rees Pagh's etching The Strawman and Jackie Gorring's Lonehand Shyness, a charming styrofoam print creation of a lumpy lumberjack-coated figure assembling what looks like a go kart made from a lawn mower.
For other artists, the image or drawing was the thing, and the print process is a means to realise it. There were some stunning linocut images this year, including Christine Druitt-Preston's Olley Land – take a place at the table, a complex and skilful interior scene, made even more lovely by the decision to use the semi-transparent Wenzhou paper. Brooke Foster's Award-winning vinyl cut Kuranda, Barron River shows a complex rainforest undergrowth of creatures and foliage, in a pleasing 'wave' composition across the snow white paper, indicating movement, life and growth. Thai artist Kanokkorn Muehong's Time is an Escher-esque composition of radial marks and lines, caging a mass of figures, animals and bones, seemingly coexisting in some degree of magnetic tension.  Linocuts also formed part of the process for two large scale artist books by Australian artist Dianne Fogwell, who bravely burned sections of her delicate paper scrolls, Roll out the Burnt Carpet and the Dead Sea Scroll, which show intricate, lacy canopies of different Australian trees, disconcertingly cut off at their trunks and seemingly floating around each other in space.
Elmari Steyn's whimsical creation Tree House by the Sea encapsulates all that is lovely about printmaking – bringing together skilful drawing and composition, multiple processes creating layers of interest, and allowing the paper itself to be an important part of the image, in this case, through the overlapping embossing of the etching plates. This print deservedly won the Mitomel Press Prize of a portable etching press and some cash for paper – surely every printmaker's dream.
Other notable artworks in this exhibition were US artist Jayne Reid Jackson's mezzotint of glass marbles surrounded by crabs, Convergence – a masterstroke of tonal work. Lana de Jager portrayed the hard-to-express feeling of well-being that comes with the 0weight of a cat on your chest in her lovely etching Trust, and Lauren Jaye Carter's quiet and elegant relief prints bespeak considerable originality and restrained compositional skill.
Carolyn Craig's artworks have been an exciting part of this exhibition in previous years, and her Leftist apparatus for breathing series again show her interest in gestures and action as they relate to gender and societal codes. They are playful and explorative while also being genuine and deeply considered.
In addition to the expansive presentation of InkMasters Print Exhibition 21 finalists' works, the results of two residencies were concurrently displayed at Tanks Arts Centre. The clear blues of the vinyl cut and mono prints by Artist-in-Residence Justin Majid made an appealing first impression and established the local context at the entrance to the exhibition space. This numbered series of prints, Hunting and Gathering, shared a background of sky-blue, vinyl cut minar (or totemic patterns) from the artist's Torres Strait heritage, overlayed with the more haphazard patterns of mono printing processes in dark indigo blue, in the form of fish and sea birds. The contrast between the two effects is entrancing, as though looking up at the underside of the silhouetted creatures against the sparkling surface of the water while swimming deep underneath.  Majid's vinyl cut print Koey Koedal Thapika (Crocodile swimming through water) also displays a lightness in execution that conveys the crystal water of the Torres Strait Islands in the Northern-most tip of Australia.
The other local Artist in Residence, Francoise Lane, exhibited lithographs with watercolour that created a seemingly effortless story about the Tropical North, this time above ground, with mangroves and clear shallow water on the sand, blue/grey stones and fallen coconuts, and glimpses of the colourful reef just under the water. These lithographs have a playful, painterly quality which communicate a sense of genuine belonging, understanding and affection for the artist's home environment.
As always, the InkMasters Print Exhibition presented a wealth of riches, especially for eyes a little bit starved of national and international content. The committee of dedicated artists that form the InkMasters group in Cairns is to be congratulated on continuing to celebrate and encourage the incredibly varied, exciting and rewarding art of printmaking.
—
One work by each of the IMPE21 finalist artists is represented in the online catalogue that can be viewed here:
https://inkmasterscairns.com.au/sites/default/files/pdf/Inkm-Exhbit-Ctlg-2021-web-singles.pdf
—
 Join the PCA and become a member. You'll get the fine-art quarterly print magazine Imprint, free promotion of your exhibitions, discounts on art materials and a range of other exclusive benefits.