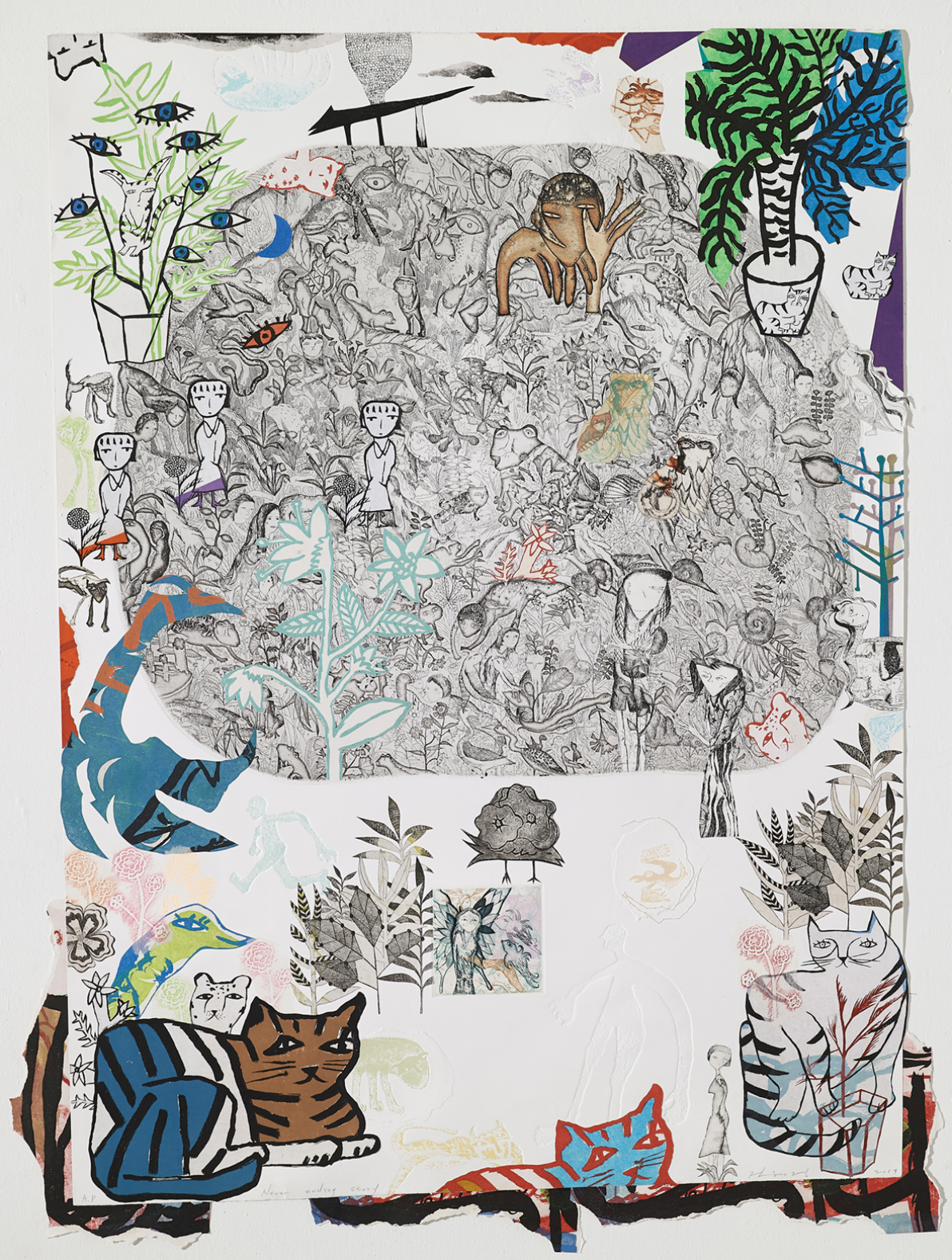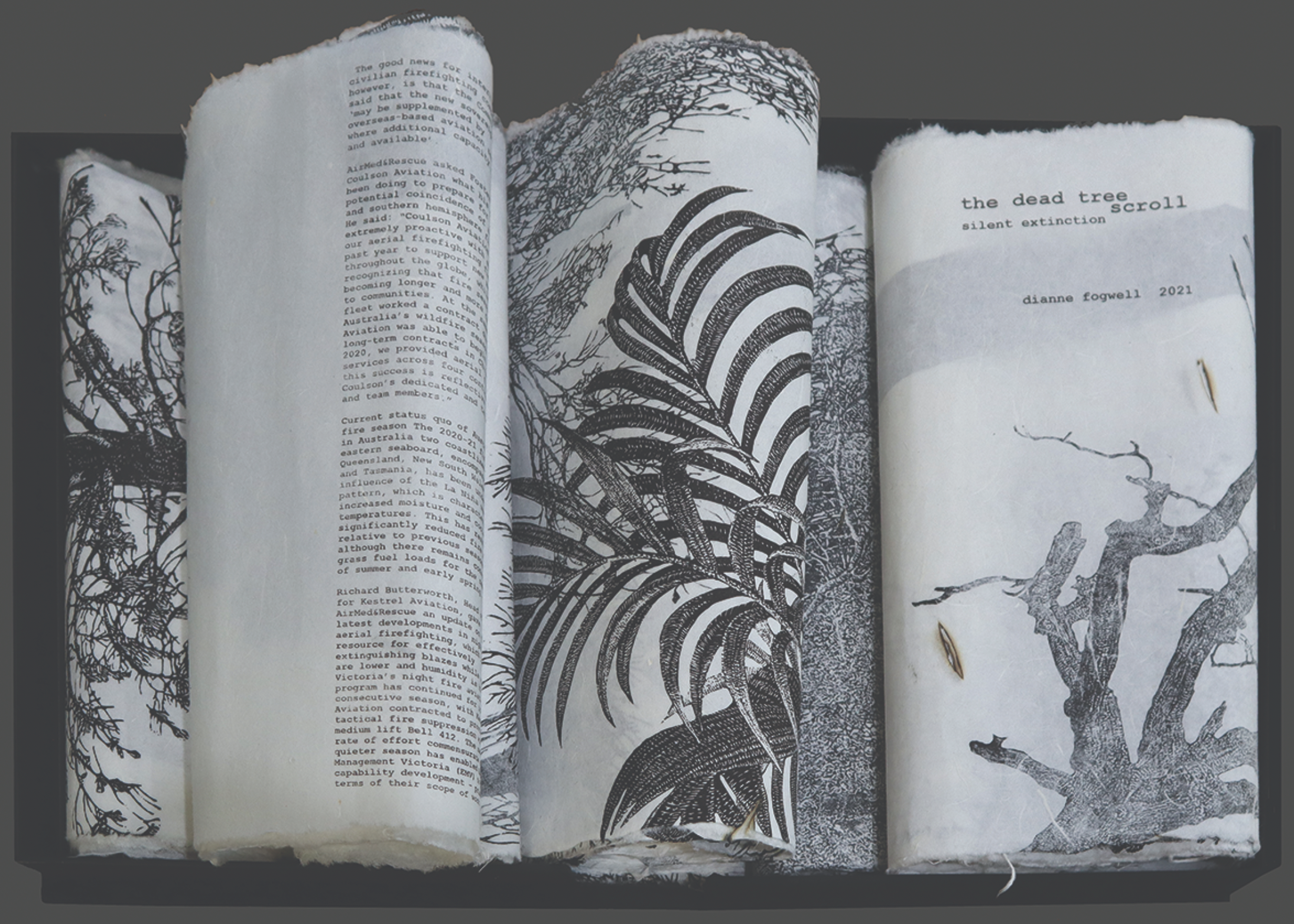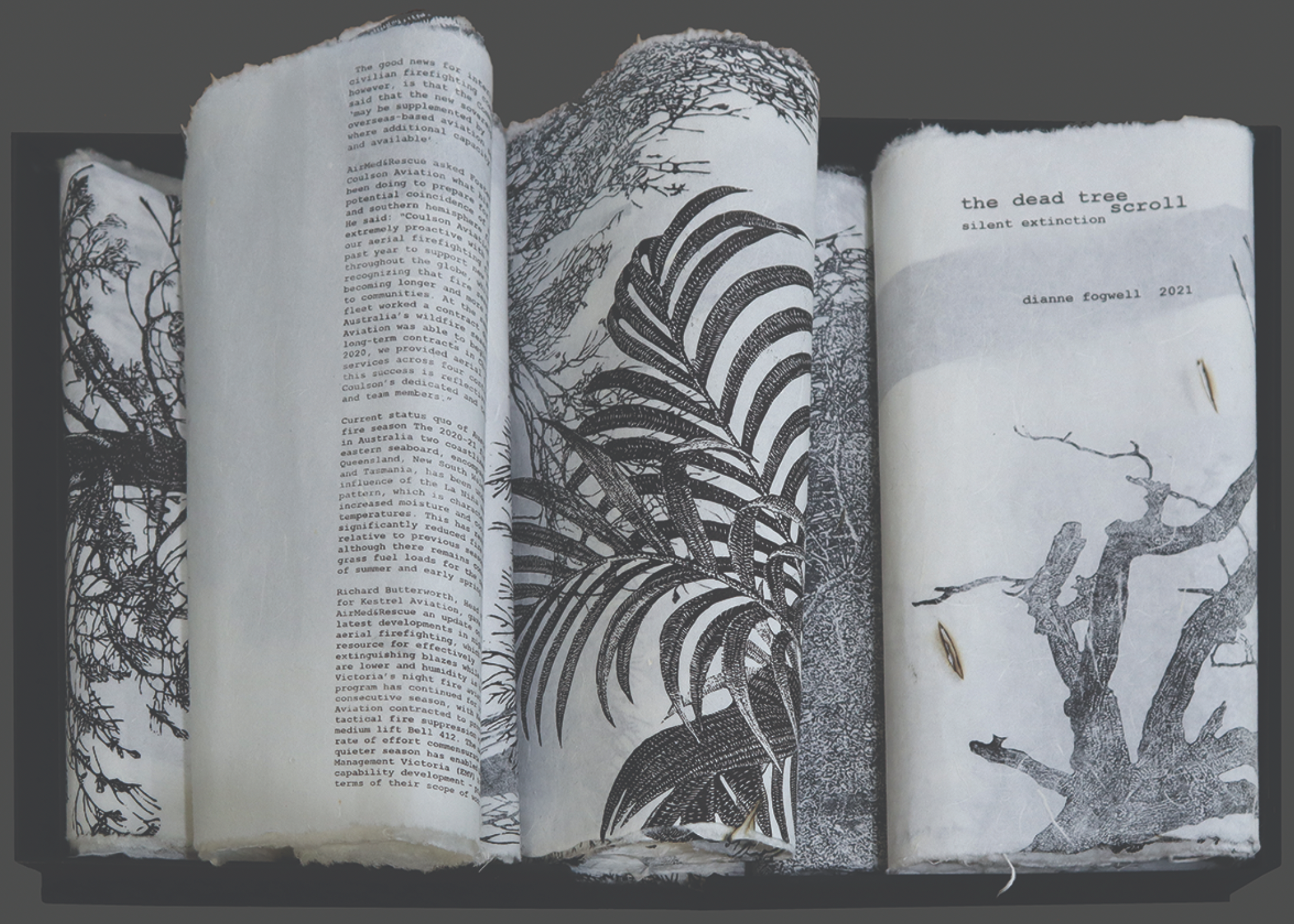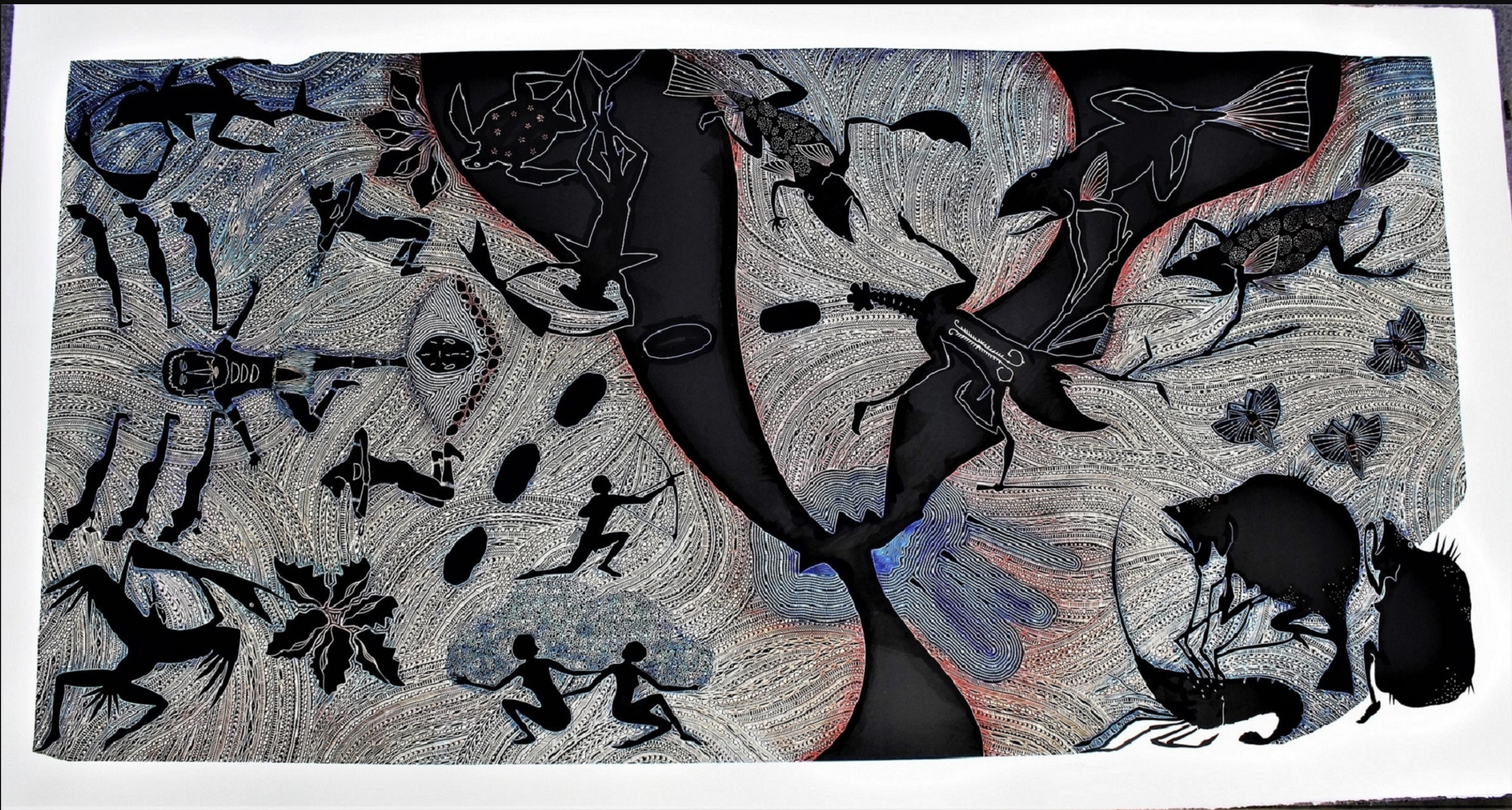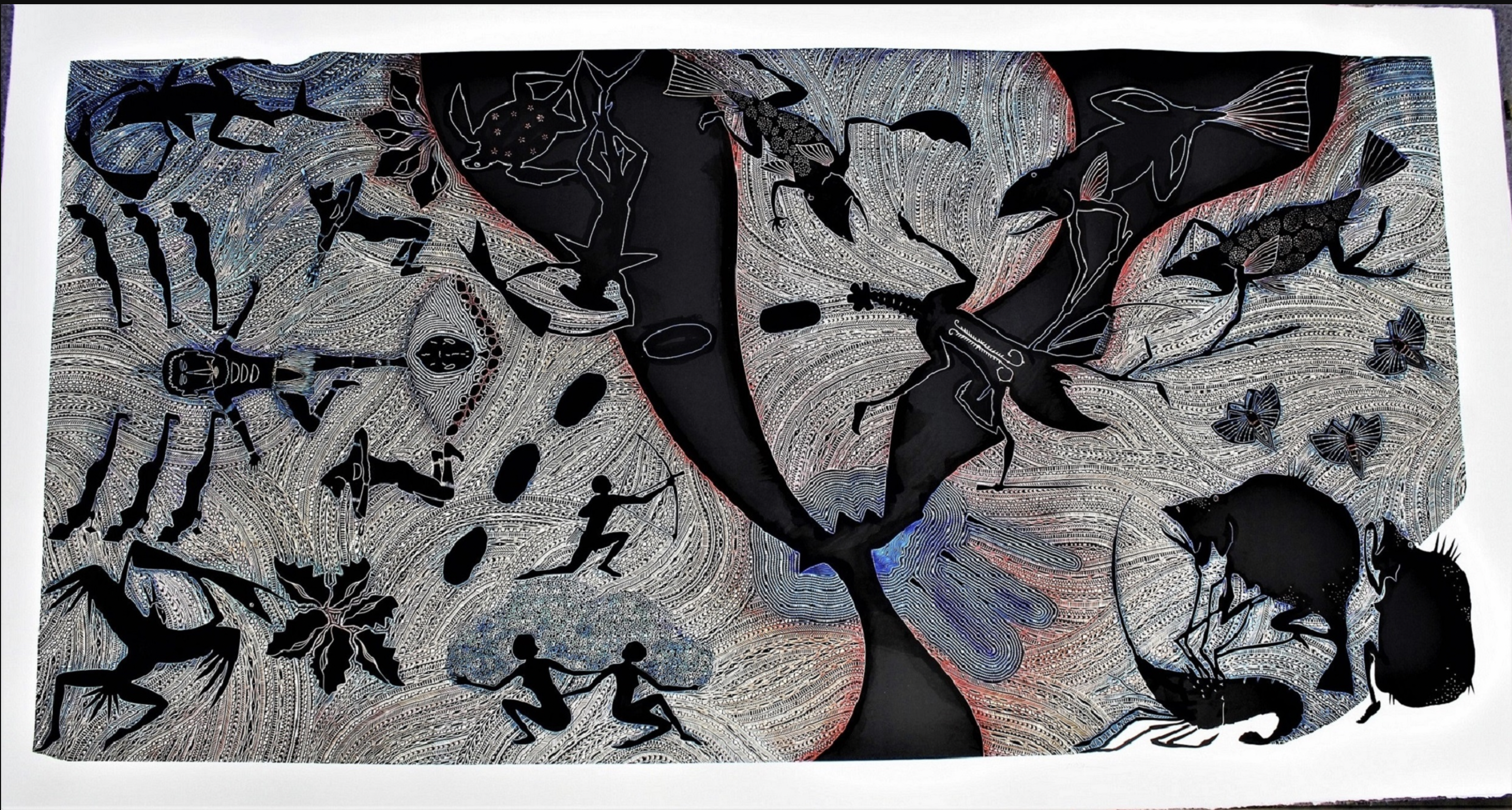 From top:
Angela Jursevics, Fishing in Mugs (Red) [detail], 2021, 30 x 42 cm, linocut with monoprint
Hyejeong Kwon, Never ending story 2, 2018, aquatint, etching, chine colle, embossing, rolling, frottage, paper cutting
Dianne Fogwell, The Dead Tree Scroll – Silent Extinction, 2021, 78 x 15 x 10 cm, artist book, linocut, burn drawings, chemical text transfer, found object, solander box
Daniel O'Shane, Irukili (engulfed by Magical Forces), 2020, 120 x 220 cm, linocut with hand colouring
Q: What were some of the foundation ideas for this exhibition project?
A: Inkmasters Print Exhibition is a key component of Inkfest, a biennial festival of print. Inkfest is an innovative addition to Cairns cultural calendar showcasing the fascinating and diverse artform of printmaking in a wide range of activities and community events.
Q: How did the artwork selection take place?
A: Entries are open to printmakers world-wide and 150 prints were preselected by an independent panel. Non-acquisitive awards to the value of $24000 will be selected by Henri van Noordenburg from the Queensland Art Gallery and Gallery of Modern Art, Ashleigh Campbell Director NorthSite, Cairns, International Cairns-based artist Brian Robinson of the Maluyligal and Wuthathi peoples of the Torres Strait and Cape York Peninsula.
Q: How does the exhibition manifest – what do visitors experience?
A: The exhibition is an exciting range of many print mediums and combinations of media, traditional and contemporary, from very small to extremely large, and in a range of formats including works on fabric and 3D works such as artists' books. The selected works are from many different nations and ethnicities and including Australian indigenous artists. Adjacent to IMPE in Tank 4, prints from the Inkfest workshops and InkFest artist in residence, Justin Majid.
—
Inkmasters Print Exhibition is at Tank 4, Tanks Arts Centre, 46 Collins Avenue, Cairns from until 25 July www.inkmasterscairns.com.au/exhibitions
—
 Join the PCA and become a member. You'll get the fine-art quarterly print magazine Imprint, free promotion of your exhibitions, discounts on art materials and a range of other exclusive benefits.