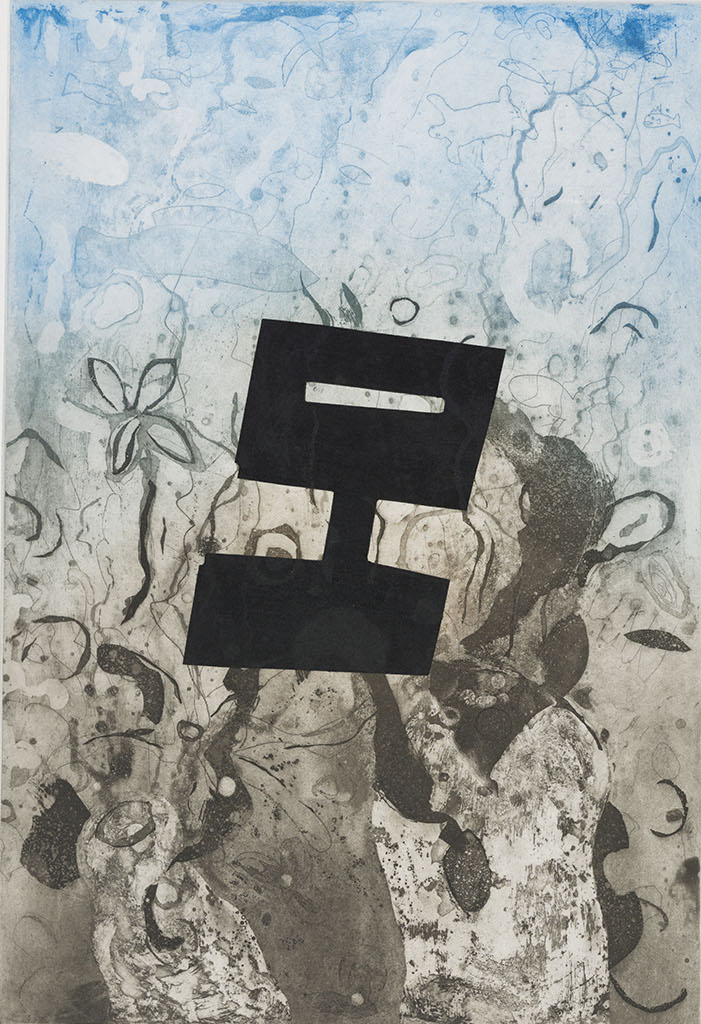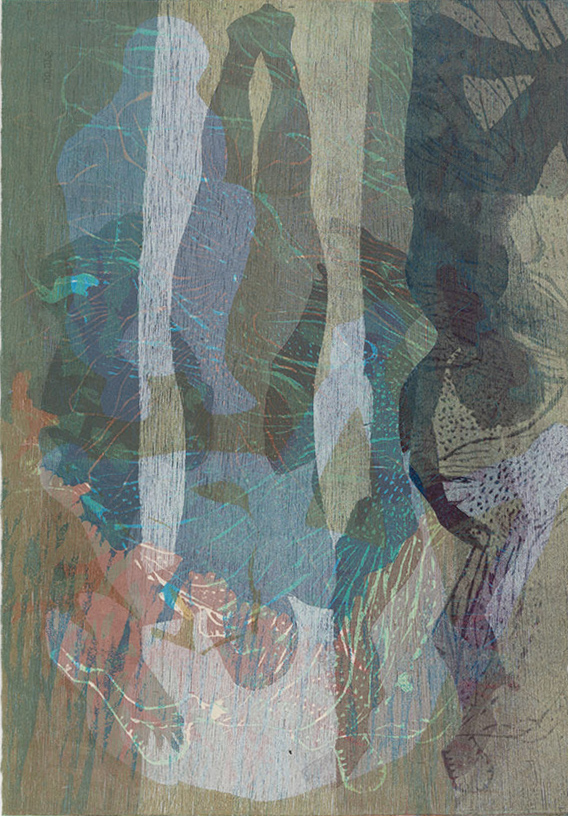 From top:
Jan Farrell, From Mountain to the Sea, 2021, aluminium etching, 50 x 38 cm
Tony Deigan, From the Shore to the Abyss, etching, 50 x 38 cm
Lucia Parrella, Avernus, multiplate woodcut, stencil and collage, 50 x 38 cm
Monica Chivas, This Way and That , etching, 50 x 38 cm
Q: What were some of the foundation ideas for this exhibition project?
The Southern Highlands Printmakers group has a long history of collaborating and exchanging prints including, internationally, (Vario, 2014) and interstate (RSVP in Print, 2019).  The opportunity to respond to another artist's work provides printmakers with a new context in which to extend their own practice and explore a range of innovative approaches. I See:You See continues this tradition through an exchange of prints with Open Bite Printmakers in Sydney.
Q: How did the artwork selection take place?
The 44 artists (22 from each group) represent a cross-section of established and emerging print practitioners.  With no set theme, in stage one, artists in each group were invited to create a unique print, generating 44 separate, diverse prints highlighting a range of interests and techniques. Each artist was then paired with another from the other group to create response prints.
Q: How does the exhibition manifest – what do visitors experience?
A: The result is a conversation between printmakers focussing on images rather than words.   As there is a pairing between two artists over 4 prints, viewers get a glimpse into their minds and their level of creativity in the responses.
Q: What are some of the key works and what subject matter do they deal with?
A: Showcasing 88 prints, the two exhibitions provide audiences with an insight into the themes engaging contemporary printmakers as they explore subjects ranging from the natural environment, personal narratives, memory, place and social justice concerns. The diversity and creativity reflected in this collaboration is a tribute to the exceptional work and resilience of all the artists involved, many of whom were working under difficult circumstances due to the restrictions imposed by the Covid 19 pandemic and the devastation caused by recent NSW bushfires.
Q: What is it about the printmaking experience that you most appreciate?
A: An exchange exhibition such as this one challenges each participant to observe very carefully the work of another artist, to appreciate the message contained within the presented image.  These artists have never met, have never spoken to each other; they are relying on the image received to develop a response.   At the same time, they are fortunate to experience where imagination can take you.
—
I See:You See is at Bowral Art Gallery until 6 July and at the Lane Cove Gallery 13 September-9 October.
—
 Join the PCA and become a member. You'll get the fine-art quarterly print magazine Imprint, free promotion of your exhibitions, discounts on art materials and a range of other exclusive benefits.