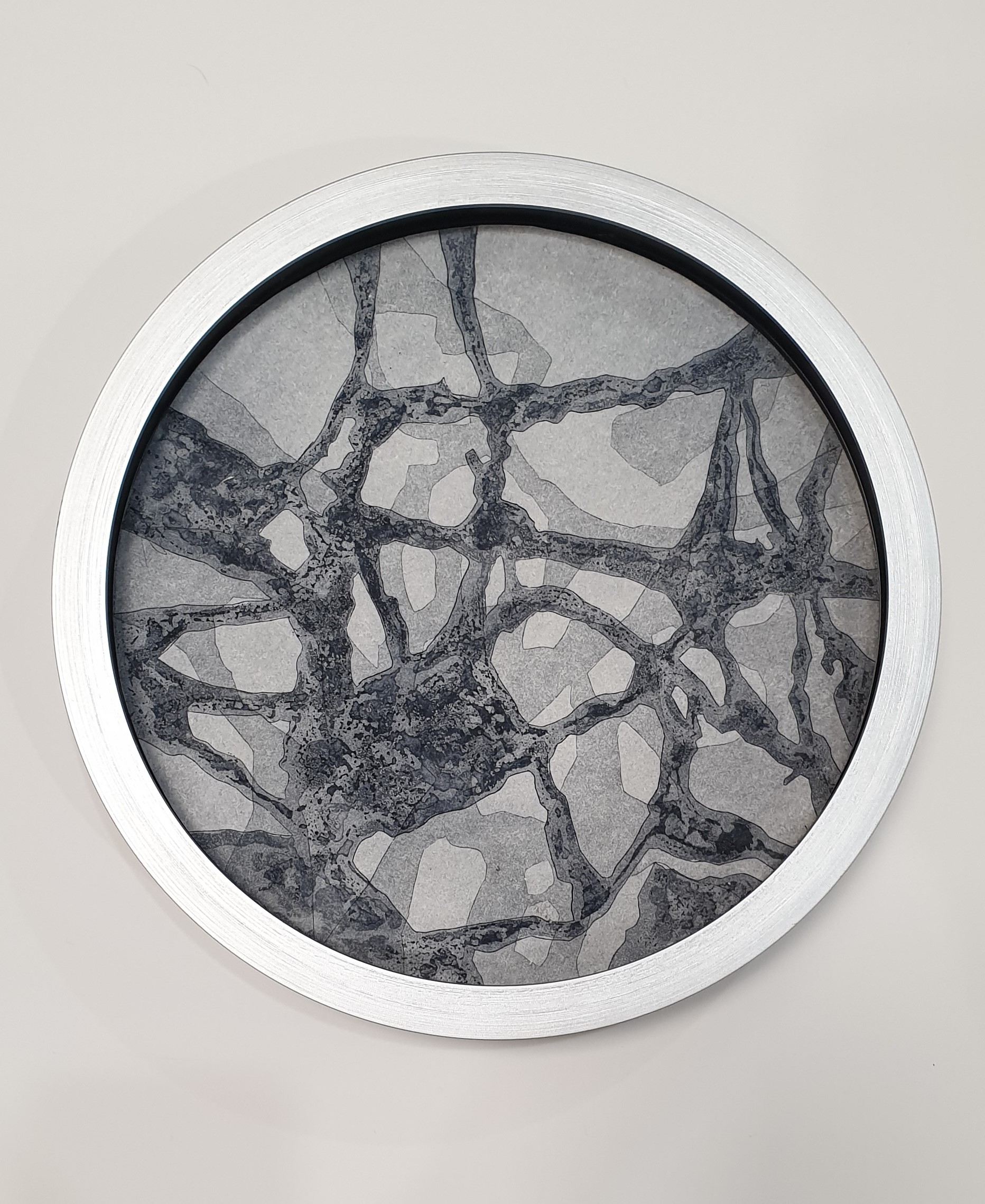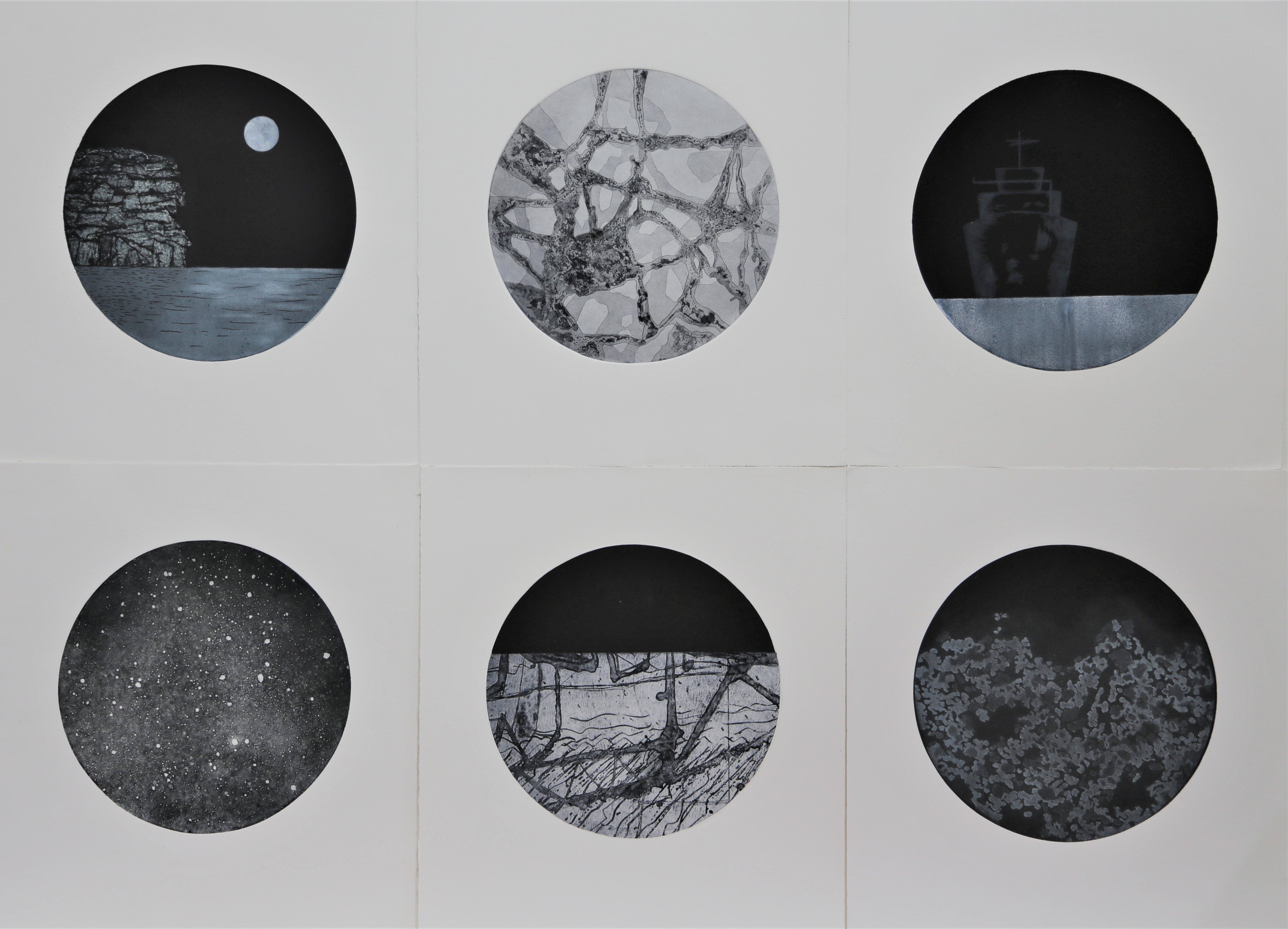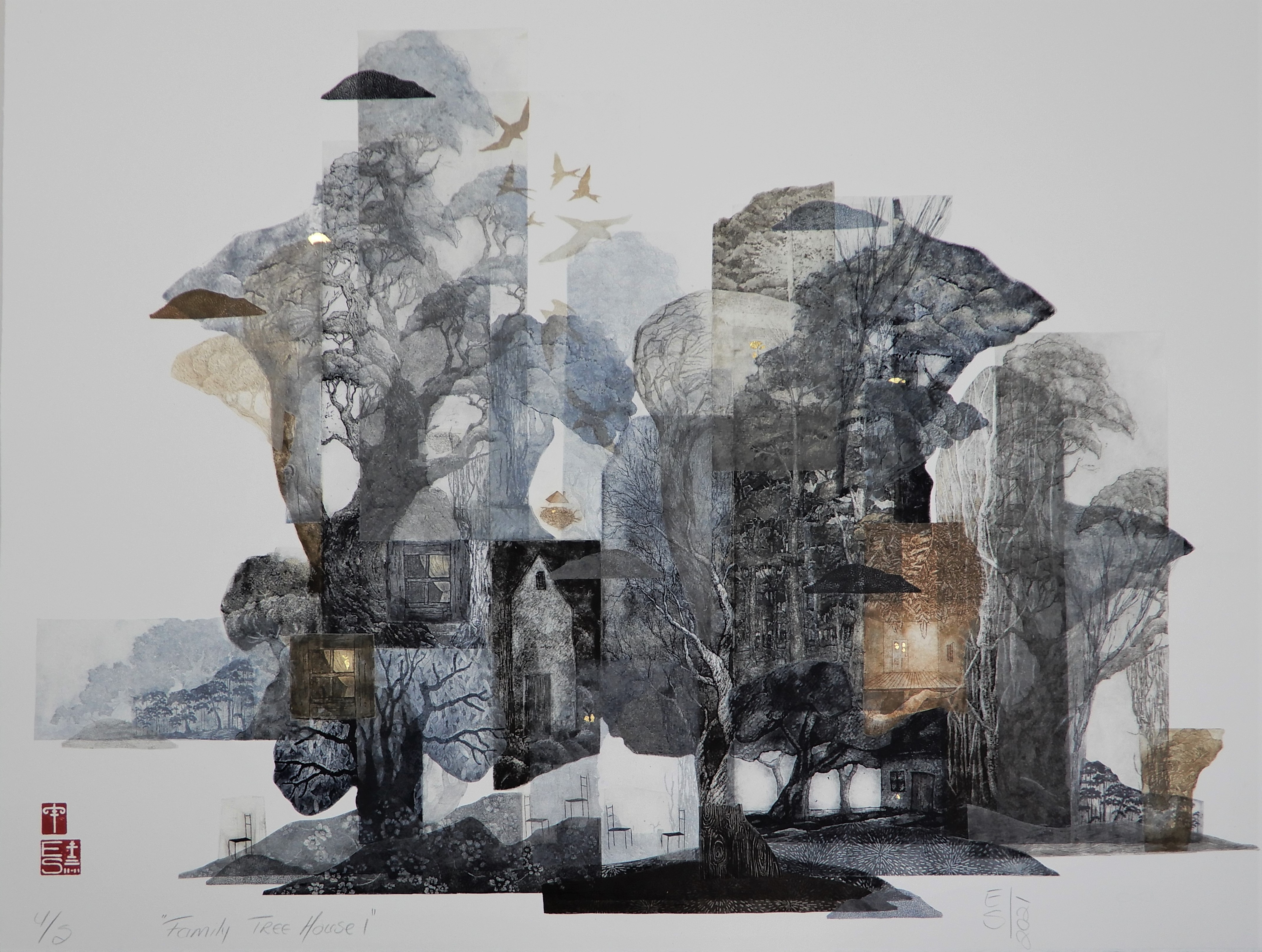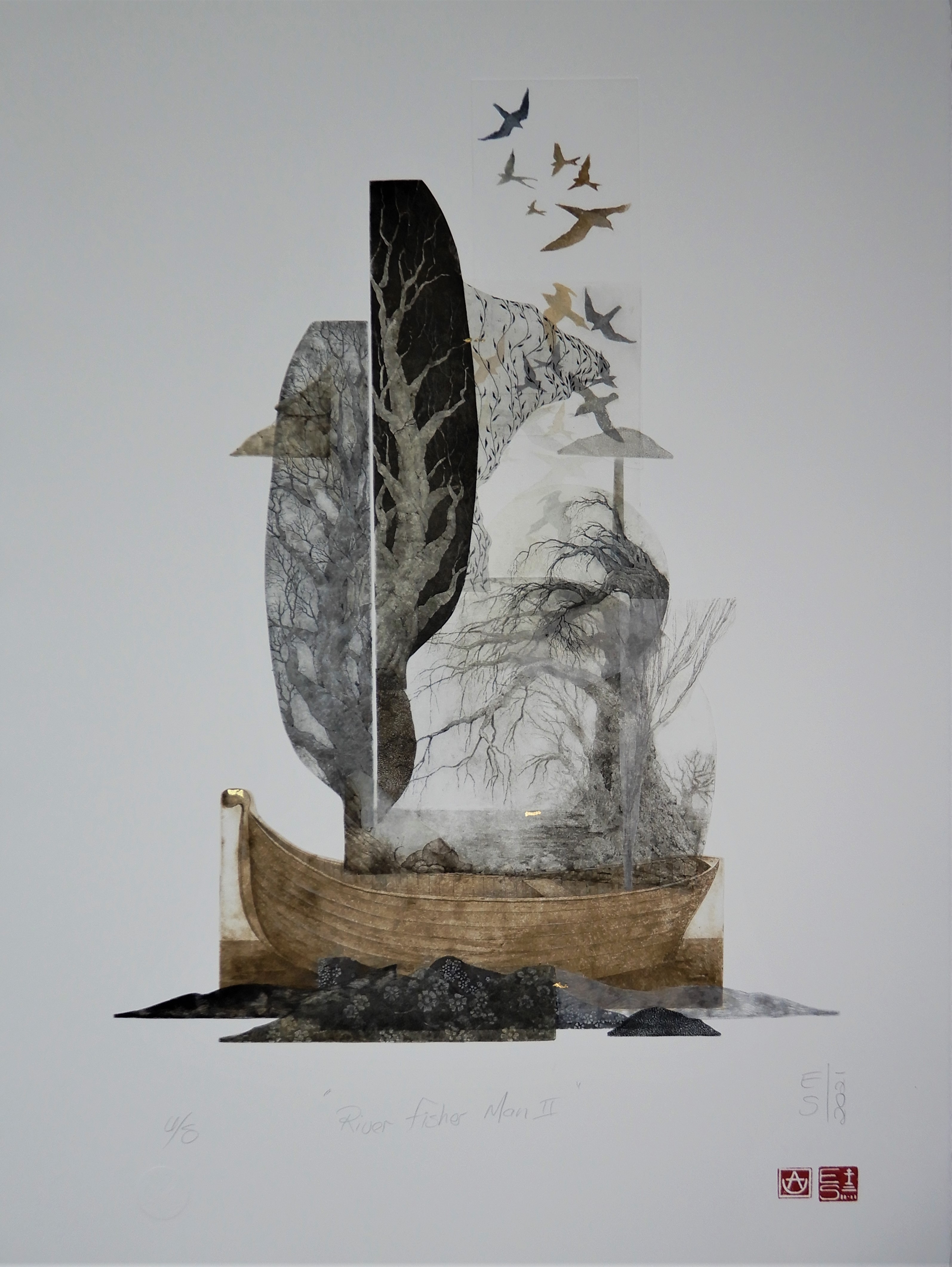 From top:
Shelley Cowper, Slow Boat, collagraph relief, 36 x 40 cm, edition of 3
Shelley Cowper, Night watch series, Reef,  etching, 25 cm diameter,
Shelley Cowper, The Night Watch, etching, collagraph, relief
Elmari Steyn, Family Tree House I, 2021, unique state, multi-plate etching, Chine-collé with hand-colouring, 56 x 76 cm
Elmari Steyn, River Fisher Man II, 2021, unique state, multi-plate etching, Chine-collé with hand-colouring, 76 x 56 cm
Q: What were some of the foundation ideas for this exhibition project?
SC/ES: The House Boat exhibition includes prints and mixed media works on paper, including copper-plate etchings, steel plate etchings, relief and collagraph techniques and large format prints. These explore the interaction that we have with the natural world, the sea, houses and homes, trees and boats ('house boats'), especially as a journey and through the lens of life experiences, ancestors and crucial events. Each of these prints communicates its individual narrative, character, and function, usually of wild untouched places in remote and isolated locations in pristine, fragile, and vulnerable ecosystems.
Our approach, work mediums and execution are quite different, but we have always felt there is a certain intimate conversation and synergy between our individual styles of work. We first co-exhibited in a three-artist exhibition (Coalesce) at the Nyisztor Studio gallery a year ago and this new joint exhibition (House Boat) is now providing an opportunity for us to take this association to a higher level.
Q: How did the artwork selection take place?
SC/ES: Shelley has created her works from observations of the ephemeral world of water and sky, as recorded from a sailing boat on a circumnavigation of Australia. The Porthole is used to symbolise the boat as both a vessel of containment, and a 'portal' to other worlds and places. Small pieces that are 25cm in diameter show only a snippet of the vast landscape that lies beyond the interior and enclosure of the boat as seen through the porthole.
Elmari created her works for the House Boat exhibition to tell something of the live events, travels and hardships of a small band of people; told through depicting the trees, boats, houses ('house boats)', lands and countries they lived in and travelled through.
Works were also chosen on the basis that their meaning and message must feel honest and true, fit in and contribute to the overall picture. The technical and aesthetic quality of each print is crucial and was also carefully considered.
Q: How does the exhibition manifest – what do visitors experience?
SC/ES: Our works are segments of personal journeys, notes on everyday happenings and memories of stories told. This exhibition is a diary, visually translated with layered imagery and colours to invite, transport and welcome the viewer into our personal realm.
We believe that the experiences that we narrate in our work are largely universal experiences that can be appreciated by and related to by a multitude of individuals, exhibition goers and a large portion of the general public.
Q: What are some of the key works and what subject matter do they deal with?
ES: My selection of works tells fragments of stories and every-day happenings among a small band of people, a tribe, ancestors, told through depicting the events, environment and incidents that befell them on their journeys. To me Lakeside Arboretum is a key work for its scale, colours, intricacy and story of a long and hazardous search for a new home.
SC: I am drawing on personal experience to interweave themes of site, place, and emotional situations. The Night Watch series are key works as they explore the eerie experience of being alone on a three hour watch at night. Sometimes there is no light and only a veil of darkness beyond the deck of the boat. Reefs, markers, pearl farms, vessels, container ships, cray pots and nets are just some of the many unseen dangers to avoid.
Q: What is it about the printmaking experience that you most appreciate?
SC: I love the manifestation of the thought processes as the print develops. Printmaking is a physical act involving the whole body and engaging the brain to work out how the print will 'be'. The many possibilities of printmaking techniques and the different methods available must first be analysed to best describe the idea. Although a vision of the outcome may be fixed the results are rarely the same and as the print takes form it emerges with its own personality to be embraced, or sometimes rejected.
ES: Printmaking has an earthy, slow and time consuming nature. This gives the idea room and ample opportunity to be developed, for colours to be layered and to be printed and over-printed. The printed result is often surprising, sometimes not controlled and always a revelation. It is an intoxicating love affair.
House Boat is at Tresillian Arts Centre, in Nedlands (Perth), until 15 December. Opening 6pm, 19 November.
www.tresillianartscentre.wa.gov.au
—
 Join the PCA and become a member. You'll get the fine-art quarterly print magazine Imprint, free promotion of your exhibitions, discounts on art materials and a range of other exclusive benefits.