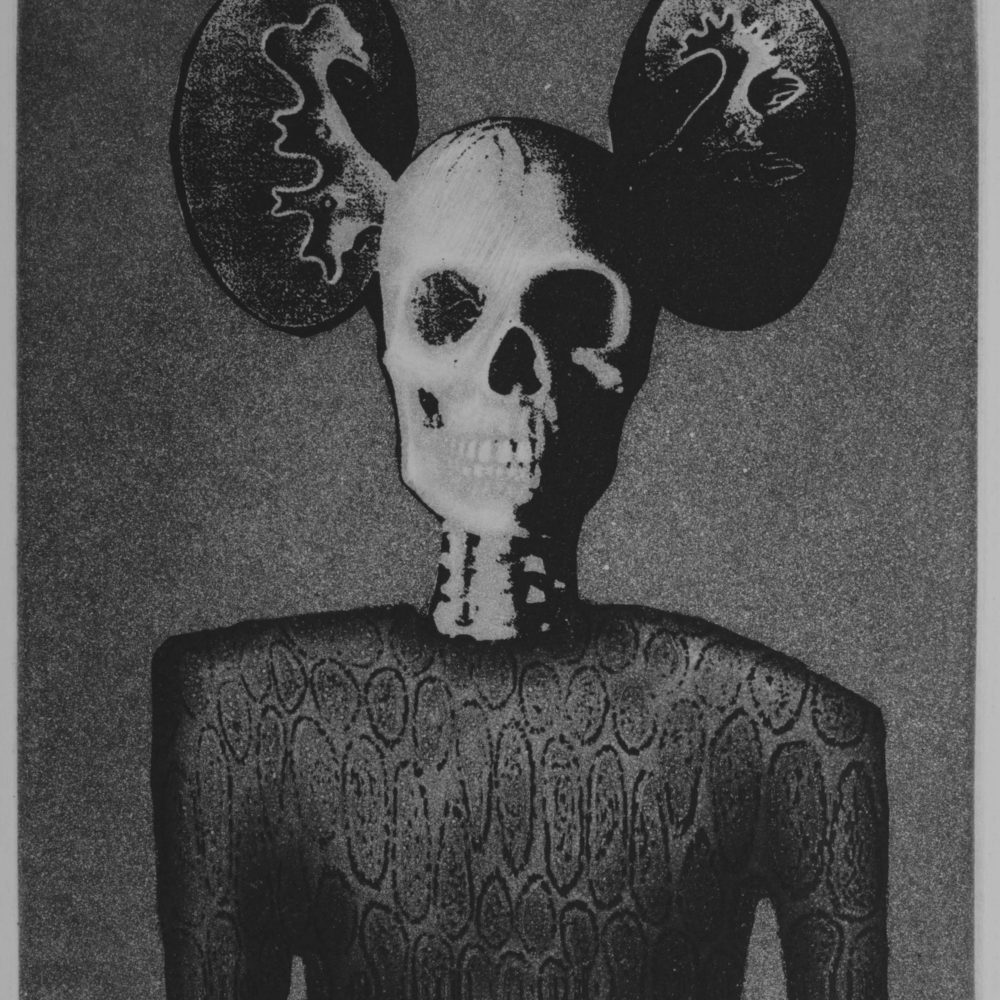 History Repeats: Geoffrey Ricardo
James Noonan speaks with Geoffrey Ricardo about his latest survey at Australian Galleries.
12 June, 2019
In Exhibitions,
Printmaking, Q&A
Surreally patterned animals, levitating silhouettes and human-beast crossover sculptures all feature in printmaker and sculptor Geoffrey Ricardo's current exhibition History Repeats, showing at Australian Galleries, Melbourne. Having first produced a large body of works three decades ago, Ricardo surveys past intaglio prints and compliments them with some new paintings, etchings and sculptures, taking a dive into his process, vision and personal artistic history.
Throughout his works old and new, Ricardo juxtaposes time periods, emotions and anatomies, giving a sense of traditionalism meeting modernism, something that can also be felt in his examination of contemporary issues using traditional media such as etching and sculpting. New images appear stylistically in step with pieces first shown in the late 1990s, but distinguish themselves with an advancement in technique. A chequered white-and-red elephant which appeared in past pieces such as 2007's Little White Lies can be found now, more than a decade later, in the new piece The Wind Ensemble, presenting ever-evolving skills in colouration and thematic exploration.
What themes are explored in History Repeats and how?
GR: This exhibition is a survey/retrospective with a few new works. The title is really a way for me to say that I still pretty much do what I was doing thirty years ago, and that generally some themes still seem well worth repeating. It's also a way of saying that I feel I've been around long enough now to see history begin to repeat itself. The human condition and my ambivalence to it has always been interesting to me, and it's definitely no different in this show.
What mediums are you working with?
GR: Predominately I work in Intaglio, with a small bit of lithography, sculpting and painting done in between. Intaglio has always been the most flexible print medium for me and definitely the one that feels most comfortable and natural at this point. I see the other mediums as ways of extending my practice; they all have their own creative importance but at heart I feel like a printmaker.
Do you have a personal favourite piece from this exhibition?
GR: As much as I have a favourite child! I probably can't say I have one in particular. Perhaps if any I have always felt the large cityscape prints were so technically challenging that when they didn't fail (though they're not perfect) I felt like I'd really achieved something special and worth doing.
What challenges has this exhibition posed?
GR: Getting it all ready on time and not getting too anxious about it while still feeling anxious about the whole thing even though I've been doing it for almost thirty years and still getting anxious about it whether I think it's good enough or worth doing while knowing that just doing art for the sake of it is still the best reason to make art even when I am constantly questioning it. A bit mad?
What future projects are you working on?
GR: My next project is a potential commission, as well as a sculptural work for the Lorne Sculpture Biennale next year. I also plan to start some new plates, and to try to fix up some of the not-quite-right paintings and prints I started for the current exhibition but didn't quite make it onto the walls.
Ricardo was the winner of the 2009 Lorne Sculpture Exhibition with his work Anno Domino, earning him the Great Ocean Road Sculpture award and $15,000 main prize.
History Repeats is at Australian Galleries, 35 Derby St Collingwood, until 16 June