Gippsland Print Award: entries open
The 2023 Gippsland Print Award is now open for entrants. In this special feature, Gippsland Art Gallery Director Simon Gregg says the acquisitive prize—the winning work goes into the collection—also celebrates the richness of printmaking and the work of many local artists, through an extensive exhibition.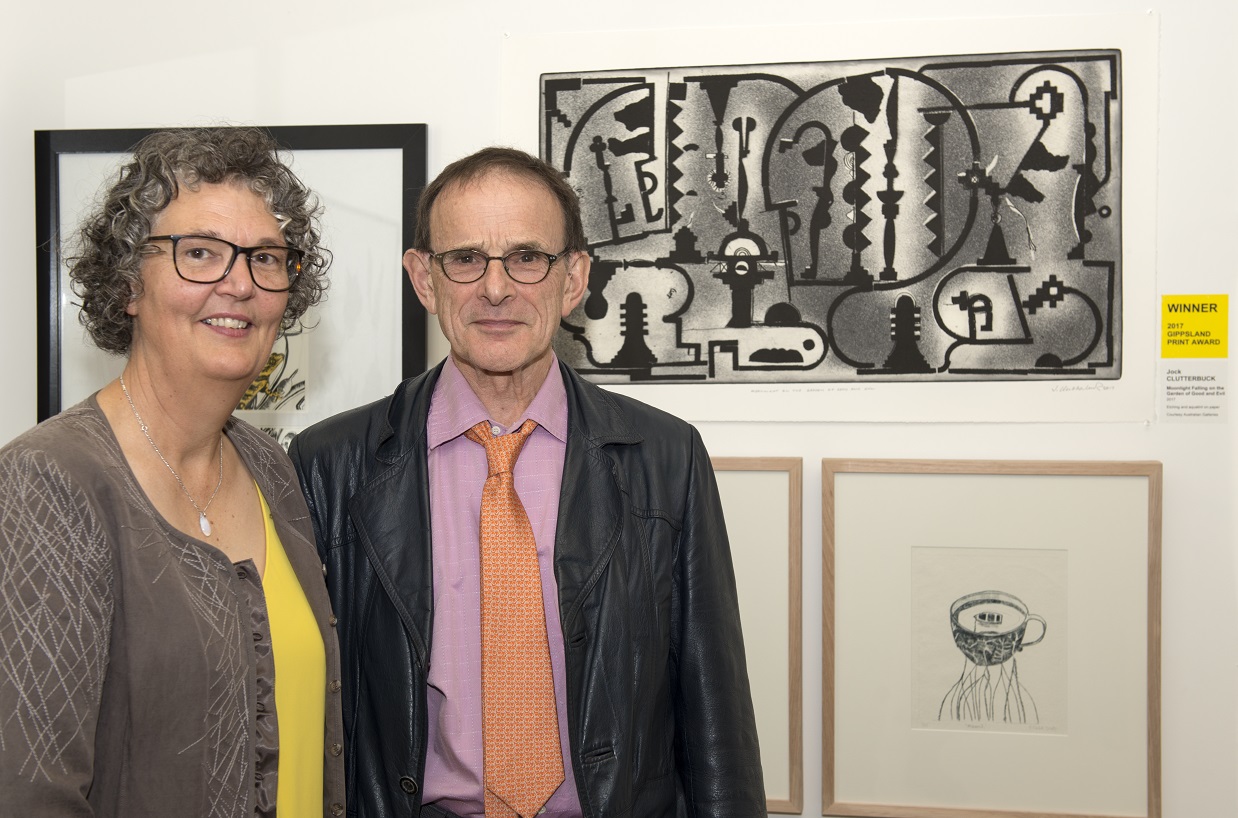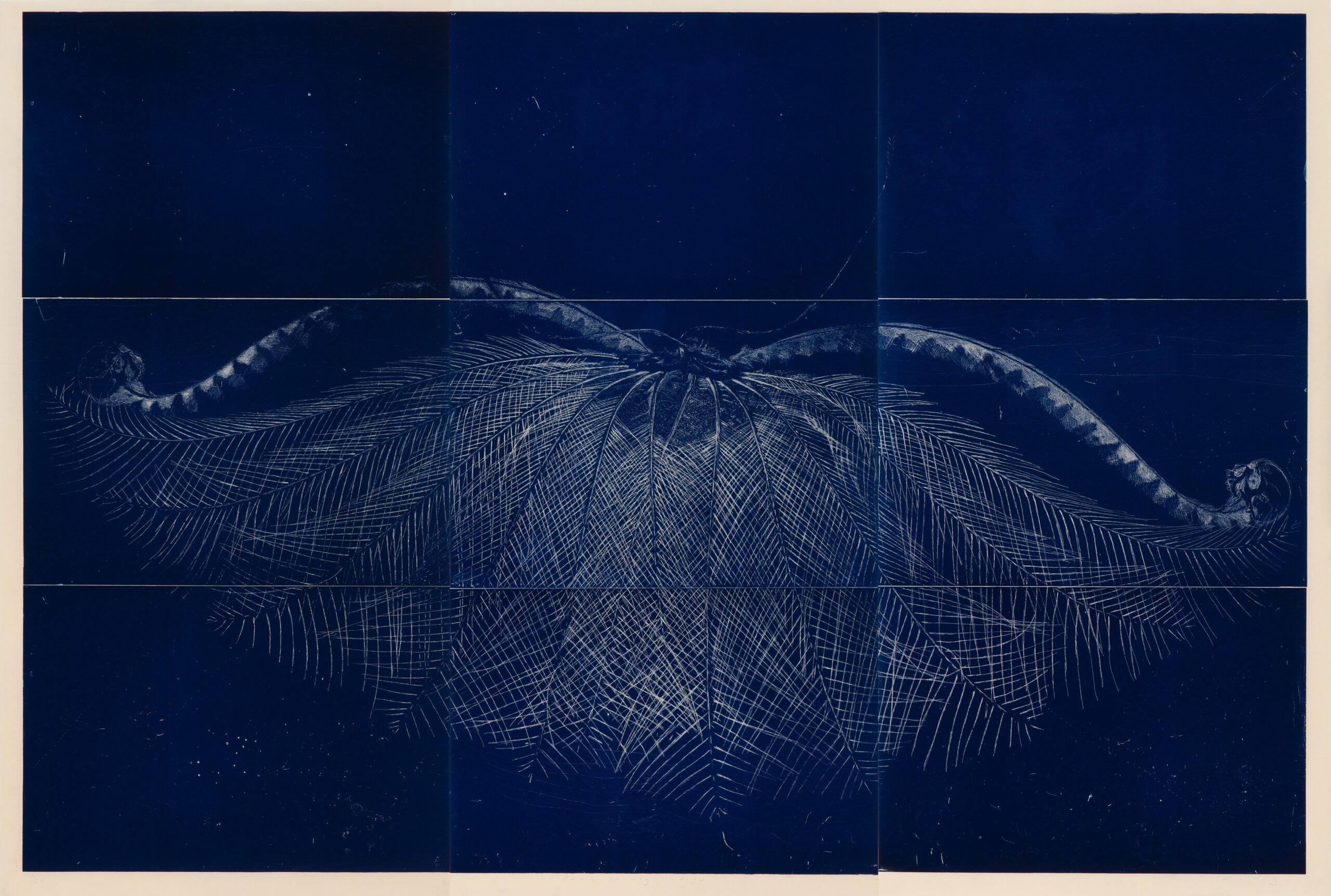 IMAGES:
Top: Jock Clutterbuck, Moonlight on the Garden of Good and Evil, 2017.
Left: Mayor, Cr Carolyn Crossley, with Jock Clutterbuck, 2015
Middle left: Martin King, Dawn Survey – Indigo, 2015.
Bottom left: Martin King with Mayor, Cr Carolyn Crossley, 2017.
Q: What is the history of the Gippsland Print Award and why was it established?
SG: The Gippsland Print Award was established in 2015 originally as a biennial national prize for printmaking, to be held in every odd year. Gippsland Art Gallery already stages the John Leslie Art Prize for landscape painting in every even year, and has done since 2000, however I noticed that the local quotient was always quite low, given most local artists are actually printmakers and not painters. So, I thought it would be a great way to increase local participation with the Gallery. Printmaking is also the dominant media in our permanent collection – almost 2000 prints in a collection of just over 4000 artworks – so I thought it would be great to celebrate printmaking through a prize, not to mention continuing to add to the collection by making the prize acquisitive. The other great thing about the Print Award is that, unlike the painting prize where we necessarily have to cull to a shortlist of finalists, most prints are fairly small in size so we can actually exhibit every single work that is entered, making it inclusive of all artists and all abilities.
Q: What are the benefits to artists of entering an award such as this?
SG: For artists who enter the Prize they have the chance to see their work alongside hundreds of other printmakers—some established, some emerging, but all unique. I saw so many printmakers being inspired by other printmakers at the last exhibition, as well as many visitors wanting to try printmaking for the first time. The other thing, of course, is that it's great for the visibility of the medium and the individual artists, as around 10,000 visitors will get to see their work over the course of the three months. Artists will have the opportunity to sell their work, and maybe even win one of the prizes! As well as the top Award itself, worth $5000, for the first time we are also offering the Pat Waters Prize, open to Gippsland-based artists, which is worth another $1000. This prize has been named after a local pioneering contemporary printmaker Pat Waters (1944-2022), who was incredibly influential as an artist in Gippsland.
Q: Who are the previous winners and what is it about their work that adds to the richness of the Gippsland Art Gallery's permanent collection?
SG: The two previous winners are Martin King (2015) and Jock Clutterbuck (2017), each of whom have been professional practicing printmakers for many decades. At the time Martin won, we only had one digital work by him in the collection, and the winning work Dawn Survey – Indigo was vastly different. Different, in fact, from everything else in the collection! The work is quite minimal in subject (a lyrebird) but has a depth and level of detail like few other works. It often takes visitors a few minutes to see that there are human skulls at the tips of the feathers! Similarly, in Jock's case we only had an early print, and the winning work showed his full accomplishment as a printmaker. Since then, we have acquired many other works by Jock, so we are able to show the complete journey of his development as a printmaker. After 2017 the Prize went into a recess as we relocated into a new building, and it took us a while to figure out the logistics of the exhibition with the new spaces. But we can't wait to welcome printmakers back in 2023!
Q: How will the exhibition of entrants manifest at the gallery—what are some examples of how it has been used?
SG: Previously we have received around 300 entries, so the exhibitions were packed floor-to-ceiling with prints. It was an amazing sight! The space we used was actually an old office building while our gallery itself was undergoing a redevelopment. So this will be the first time the Prize has been seen in the gallery proper.
Q: What are some of the things you admire about printmaking, as a gallery director and as someone who has curated many different sorts of exhibitions?
SG: Like most people who work in art galleries, I started out as an artist, and making prints was one of my favourite mediums. I was lucky enough to go through RMIT when they had the amazing printmaking facilities at Bundoora, and to study under the late Christine Marks (whom I found very inspiring). She taught me to appreciate the 'incidental' mark-making, and to think more about the process, rather than just the end result.
I have an enormous amount of respect and admiration for printmakers because it is a discipline that requires a huge amount of skill and craftsmanship. You not only need the imagination and draftsmanship that any discipline calls for, but you must also master the tools, the press, and the process. It requires a prodigious amount of patience and persistence to become a printmaker. And there is also just something innately beautiful about prints themselves! In a sense they seem stubbornly anachronistic in this day and age, but they're important precisely because they encourage us to slow down and actually look at something for more than a few seconds. And 'looking' is something that many people have forgotten how to do.
—
Gippsland Art Gallery, 70 Foster Street, Sale, Victoria.
(03) 5142 3500
www.gippslandartgallery.com
galleryenquiries@wellington.vic.gov.au
—
 Join the PCA and become a member. You'll get the fine-art quarterly print magazine Imprint, free promotion of your exhibitions, discounts on art materials and a range of other exclusive benefits.