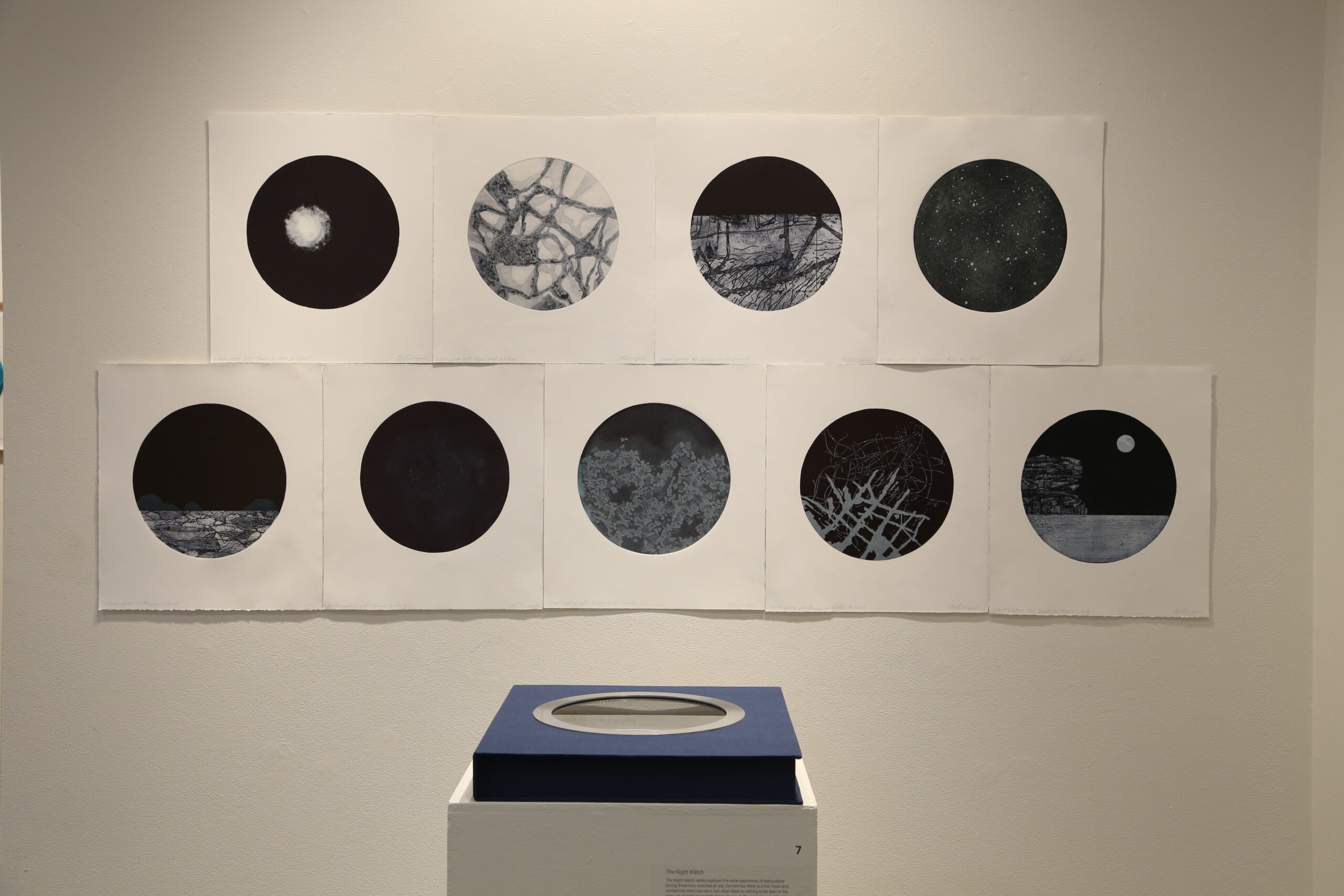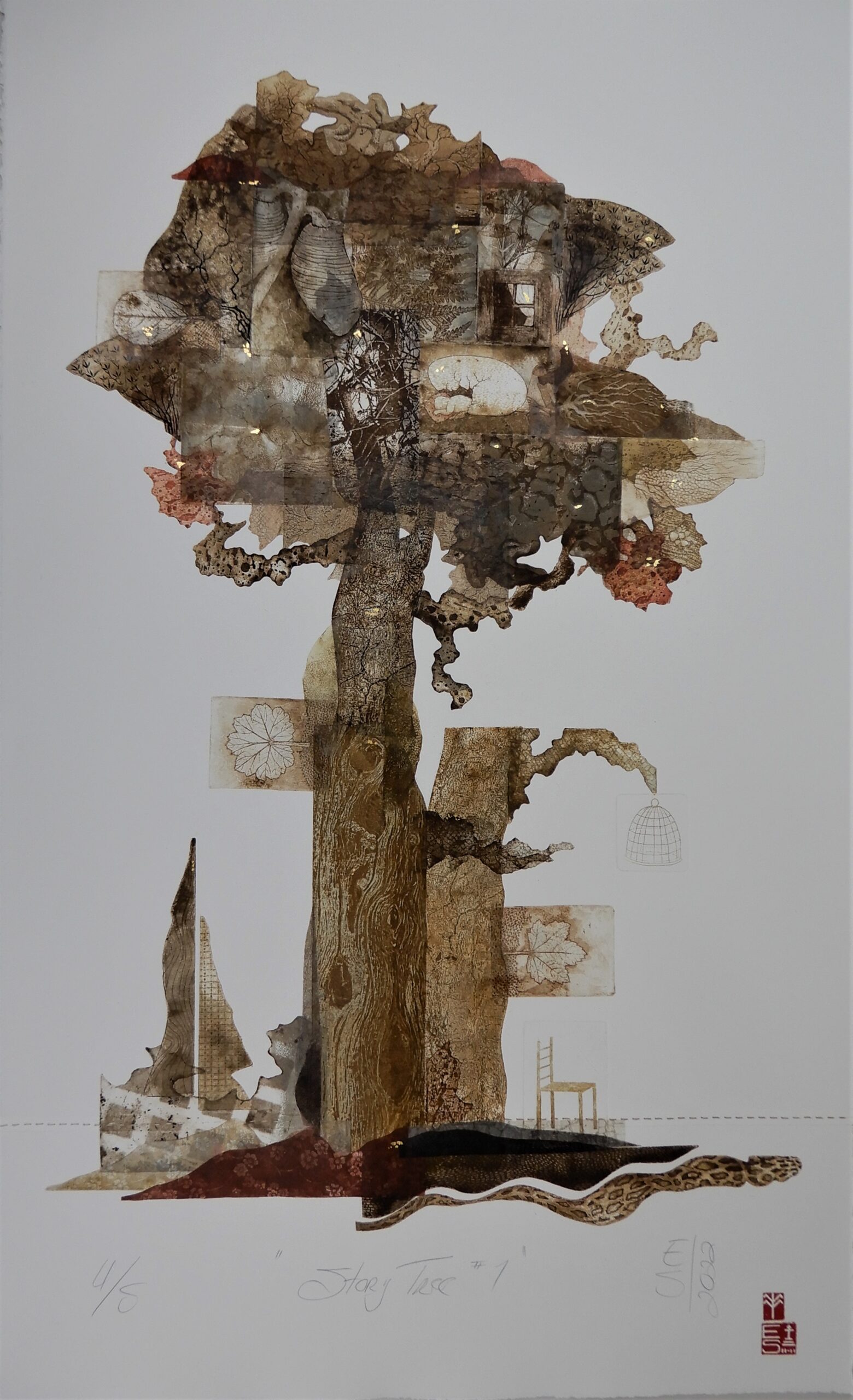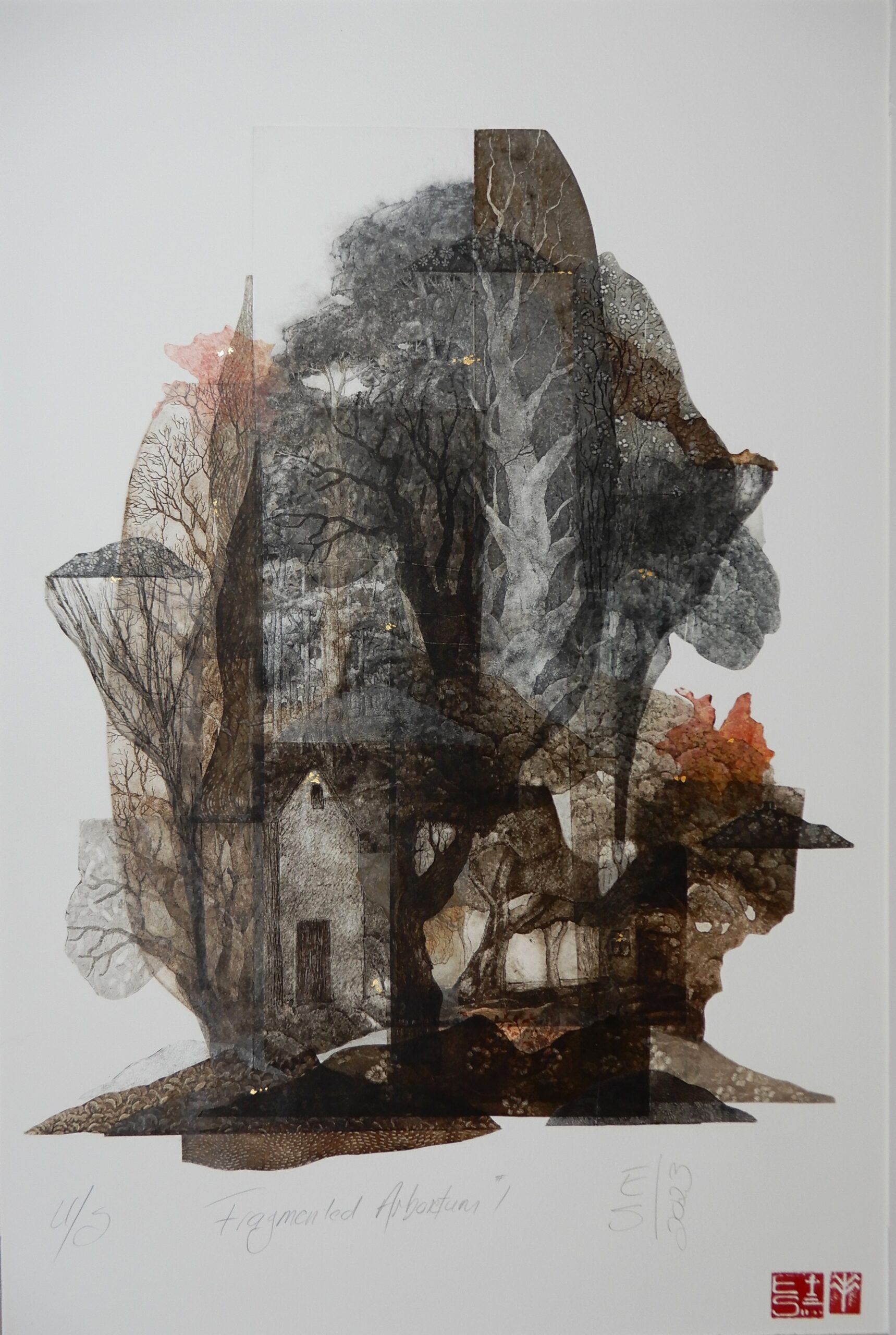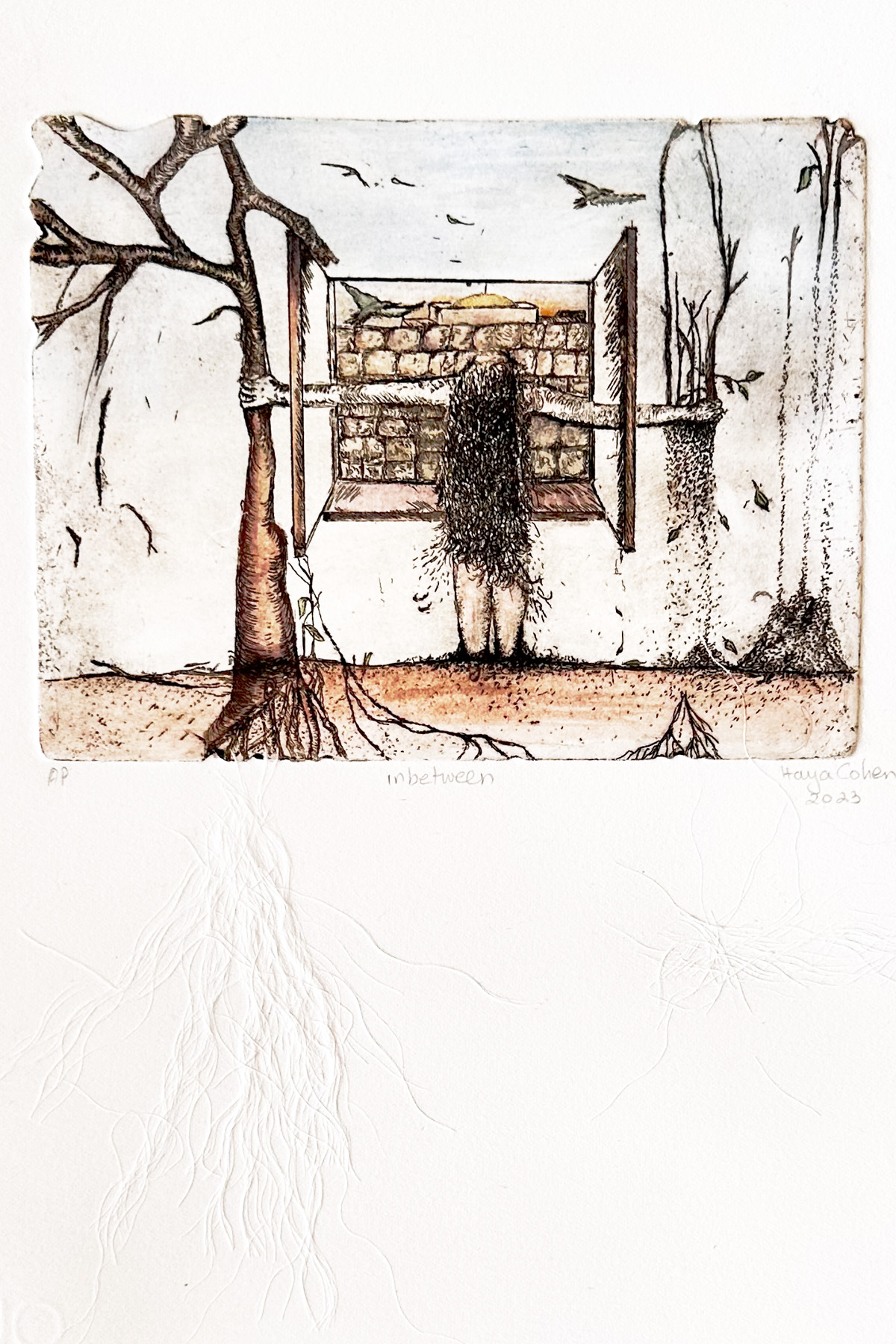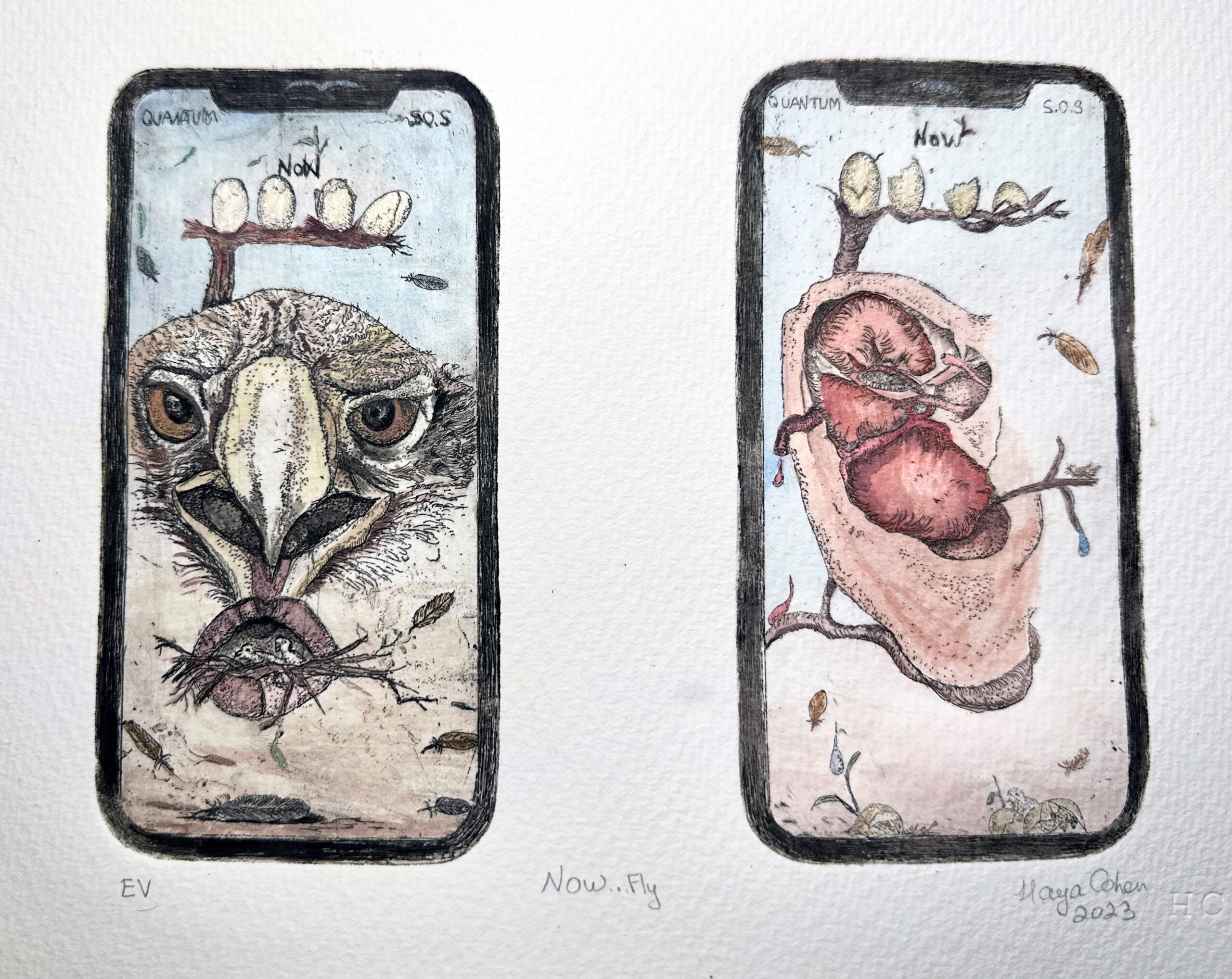 From top:
Shelley Cowper, Voyage North, fragments recalled, 2023, collagraph,woodcut, 36 x 40 cm
Shelley Cowper, The Nightwatch, artist book, 2023, etching, collagraph, linocut, 46 x 42 cm
Elmari Steyn, Story Tree I, 2022, multi-plate viscosity etching, 107 x 70 x 3 cm
Elmari Steyn, Fragmented Arboretum I, multi-plate etching, 50 x 70 cm
Haya Hagit Cohen, Inbetween, 2023, etching, embossing, waterpainting
Haya Hagit Cohen, Now fly, etching, 2023, painting
All images  © the artist.
Q: What were some of the foundation ideas for this exhibition project?
A: We three printmakers (Shelley Cowper, Elmari Steyn and Haya Hagit Cohen) all call Australia home, but have each travelled different paths across the globe to arrive and settle in Western Australia. Insights and knowledge gained from our journeys has informed and inspired our individual practices, including curiosity about the connections we make to the places we move through, leave behind and inhabit. For us, the meaning of 'place' is a complex combination of spiritual ties that lie between spaces, sensations, and emotions where the heart and mind work together to register memory, belonging, and longing.
Q: How did the artwork selection take place?
A: We all strived to make new work for the exhibition, however time constraints necessitated the inclusion of one or two earlier works from each of us. As the strong connections between place and stories has been an overarching and ongoing enquiry for all of us, the works selected were those that best communicated the essence of the intangible and spiritual qualities of 'place'. The technical and aesthetic quality of each print was also carefully considered and is crucial to the success of the exhibition.
Q: How does the exhibition manifest – what do visitors experience?
A: The exhibition contains a wide-ranging array of artworks including large and small scale works, artists books, and an installation. A variety of print mediums were used, including copper and steel plate etchings, chine-colle, collagraphs, dry-point and woodcuts, providing a stimulating and eclectic experience.
In her work, Shelley Cowper explores the ephemeral worlds of water, sky, and memory through the 'porthole' and 'portal' of time spent circumnavigating Australian waters. Quiet times alone on watch enabled her mind and imagination to wander, travelling between previous and future destinations. These suspended moments allowed for the essence of places to be recalled through layered and expanded memories of colour and fragments.
For Elmari Steyn, solitary, still and tranquil moments were the nascent seeds for her evocative works. Small fragments of time, set aside for her to remember the strongest of memories. Memories of past homes, places of gatherings, of stories told, of love and shared existence. These poetic re-imaginings provide glimpses through time and space, where spirits coalesce and linger.
While the experience of being an immigrant is common to all three artists, the feeling of being caught between places, cultures, stories, and people is an abiding focus for Haya Hagit Cohen's storytelling. In her work, connections and extended relationships between place, space, body, bodies, and the environment are examined through the lens of identity, continuity, and community.
Q: What are some of the key works and what subject matter do they deal with?
A: The Nightwatch artist book by Shelley Cowper expands on her portrayal of the experience of being alone on a three-hour watch at sea. Interweaving themes of place, site and emotional situations, the work recalls the eerie imaginings and encounters of the ocean at night. Sometimes there are stars, and sometimes there is a moon, but often there is only a veil of darkness beyond the deck of the boat. Reefs, markers, pearl farms, vessels, container ships, craypots and nets are just some of the many unseen dangers that are never far from the mind, as the time passes slowly. The book, constructed by the artist from board, glass and aluminium, contains a series of 12 prints.
Haya Hagits-Cohen's connections and extended relationships between place, space, bodies, and the environment are examined here through the series NOW, installation of ten mobile telephone screens. Depicting etchings of five speaking and five listening entangled images of nature and human organs, they communicate the never ending spiritual and physical connections in a place. Through the marrying of organs and objects that are inter-reliable while in danger of extinction. Repetitive notions of now, 000, quantum, and S.O.S feature in each print to emphasise the connections between everything.
Elmari Steyn's Sunny Tree House I describes 'a small band of wandering people who settled in a narrow clearing in the woods, where the filtered shafts of sunlight fell all the way to the leafy floor. It was a small clearing and after much discussion it was decided to build all the houses on top of one another to leave enough space to plant all their fruit and flowers'.
Fragmented Arboretum 1 tells another story. 'On an untamed expanse of land there lived a man who took his time and planted many trees; trees collected on his many wanderings. Over time the trees grew dense and tangled and hid the man as he grew old. Passers-by would sometimes glimpse him, lanky and still, in brief slanting rays of sunlight, and could have short conversations. Long after he passed, they recalled the conversations and sometimes wondered if they had talked to the man or to the trees.'
Q: What is it about the printmaking experience that you most appreciate?
A: Printmaking has the power to draw people together through a shared love of the process. Initially meeting through membership of PAWA (Printmakers Association of WA) a natural connection between us was fostered and has since developed into a friendship that extends beyond the realm of the print.  Print-making is the ideal technique at this stage of our creative careers to communicate our experiences and memories in a form of visual diary. The slow and often solitary process of producing a plate or block through the visualising and developing of a mirror image and the eventual printing, enable time in a tranquil atmosphere to revisit memories and re-live past happenings and events.
_
Genius Locci, Spirit of Place is at Mundaring Arts Centre until  Sunday July 16
https://mundaringartscentre.com.au
—
Join the PCA and become a member. You'll get the fine-art quarterly print magazine Imprint, free promotion of your exhibitions, discounts on art materials and a range of other exclusive benefits.