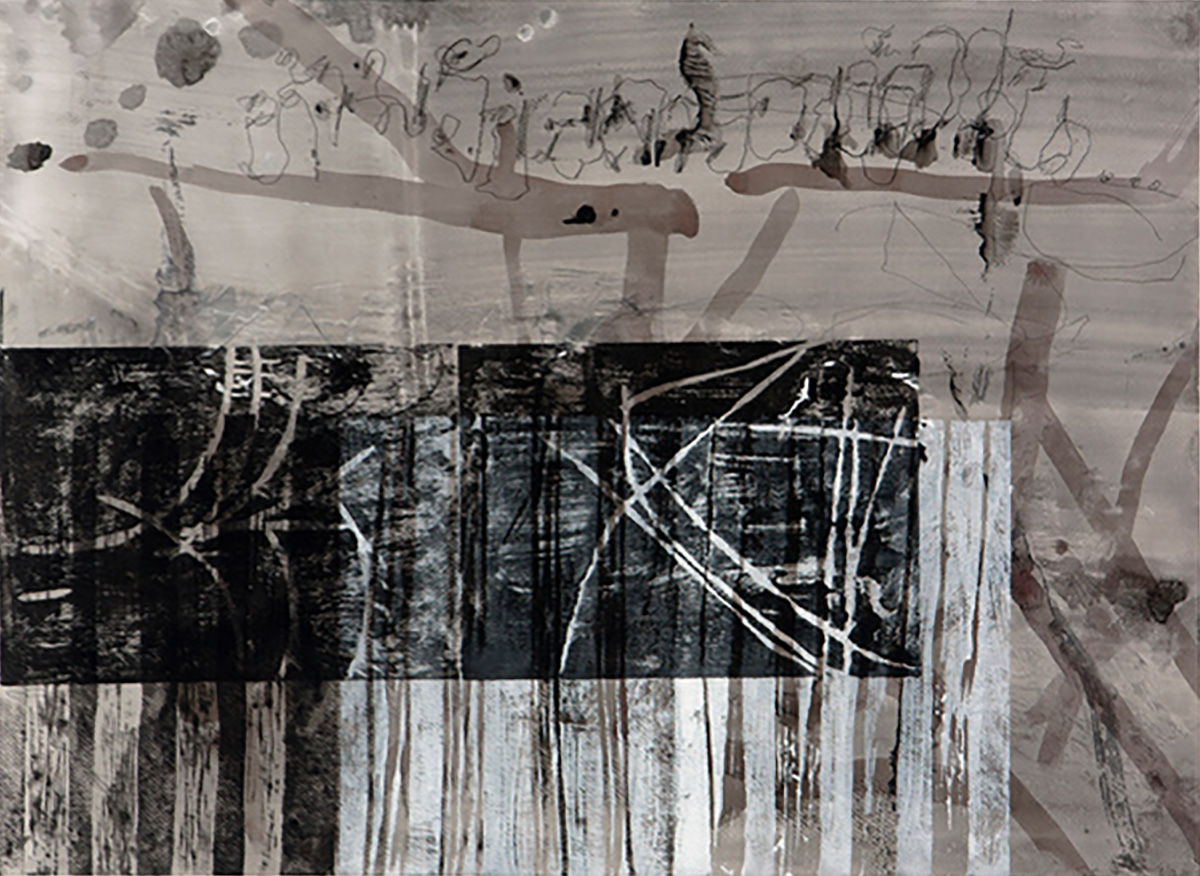 Gary Shinfield:
Compeung Thailand
Gary Shinfield entered a collaborative space with his latest body of work.
April 27, 2018
In Interviews,
Printmaking, Q&A
Imprint: What is the premise for this exhibition and how have you been working towards it?
Gary Shinfield: In 2016 I travelled to Compeung artist residency in Northern Thailand, for a period of four weeks. A friend and fellow artist, Thai-born Viruch Pikhunthod, who passed away in 2015, was the reason for my return to Thailand. The aim was to create a body of work to honour his memory.
Human breath, with its repetition and subtle variations as experienced in meditation, is the subject matter of works made. Images developed through multiple layers as I moved through a daily ritual of adding marks. Drawings, paintings and woodcuts on various types of locally sourced Thai paper evolved over this time.
Imprint: What are some of the foundation ideas for the work in the exhibition, and what are visitors likely to experience?
Gary Shinfield: In Thailand I suspended works from bamboo poles placed within the environment and in various rooms of my living space. Several short videos were also made. The main idea was to recreate an environment in the gallery similar to that created at Compeung, by using bamboo poles to hang works and to show unframed works on various handmade Thai papers.
The prints made were based on the idea of viewing an abundance of nature from inside a small shrine. The tree of life motif painted on wooden shutters inside, was mirrored in the landscape outside. In response, many small wooden blocks were overprinted and layered to create a series of unique state prints.
Imprint: How was the work developed technically and what were some of the challenges involved?
Gary Shinfield: I purchased materials locally—plywood for woodcuts, and various types of paper, from craft paper to high quality handmade papers produced at Idin Papermill in Lampang. For printing I used a baren made by Roz Kean and water-based gouaches and inks. The woodcuts were carved in a studio without walls and in various places in the environment.
The main challenge was that the Compeung residency was not set up for printmaking, it is aimed more at bringing artists together from various disciplines to interact with each other. I found this liberating in many ways: collaborating with a performance artist to hang works in unconventional ways, and making videos based on performance and ritual. This followed through to the making of prints, as works made became more painterly, intuitive and three-dimensional.
Imprint: What future projects are you working on?
Gary Shinfield: I am planning to travel to Art Print Residency in Spain for four weeks in August. This will be followed by participation at Impact 10 in Santander where new work will be exhibited. Spanish music has been the motivation for this trip and how this relates to the making of prints is as yet to be discovered.
Compeung Thailand is at Incinerator Art Space, 2 Small St, Willoughby, NSW, 18 April-6 May.