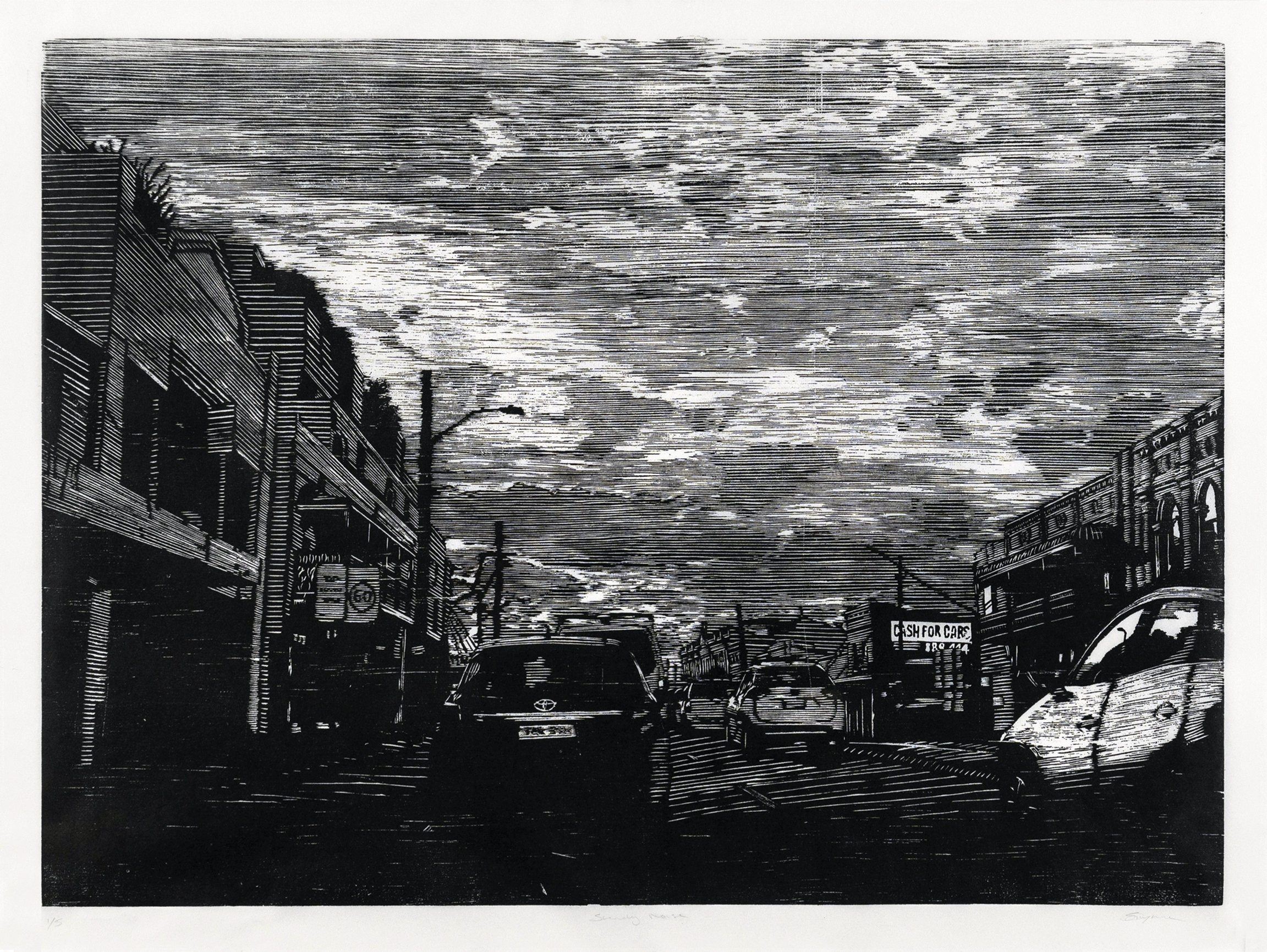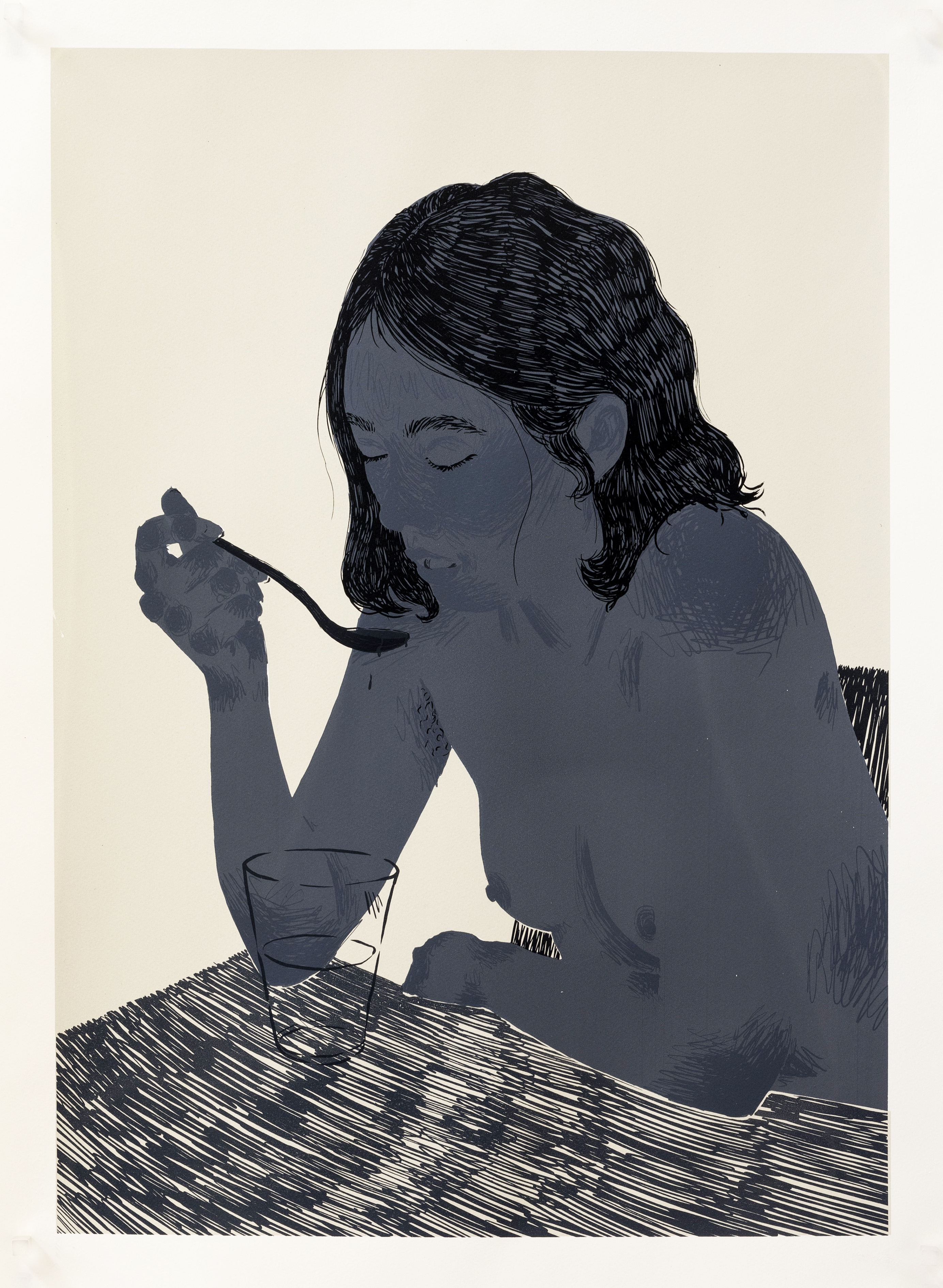 From top:
Leah Clarke, Helpless, déjà vu, 2020, archival pigment print, paper size 25 cm x 25 cm, Image size: 24.5 cm x 24.5 cm. Image courtesy of the artist
Eliza Gwynne, Steady Noise, 2020, woodblock print on rice paper, paper size 63.5 cm x 79.7 cm, Image size : 44 cm x 60 cm. Photo: Peter Morgan
Cat Lawrance, Dependent Existence, 2020, drypoint, engraving, roulette on copper, printed on Somerset White 250gsm, unipin pen, 120 cm x 450 cm. Image courtesy of the artist
Alex Smith, Soup, 2020, 7 layer screen print, paper size 57 cm x 76 cm, image size: 48 cm x 68 cm. Photo: Lucy Foster
Q: What were some of the foundation ideas for this exhibition project?
A: Future Proof: National Graduate Online Exhibition is a new initiative by Megalo Print Studio to discover and promote our next crop of emerging printmakers.  The exhibition showcases the work of twenty-six emerging artists from across Australia and New Zealand who recently finished their studies.  Future Proof was thought up to extend the online exhibition program we developed last year during the pandemic in order to reach out and support our recent graduates.  Unlike other online exhibitions at Megalo which have typically focussed on specific techniques, Future Proof includes prints made across a wide range of methods and techniques. In this way the exhibition reflects the breadth of conceptual and technical understanding of these emerging artists coming out of a number of workshops and studios.  The online exhibition aims to give a platform for these graduate artists to exhibit their work with their peers upon a national and international level.
Q: How did the artwork selection take place?
A: Last year Megalo reached out to the printmedia workshops across Australia and New Zealand with the idea for Future Proof. Our intention was for this exhibition to be offered as a graduate award to outstanding emerging printmakers, who could then select a work to include in the online exhibition. Megalo received a fantastic response from the print workshops, resulting in twenty-six outstanding graduates contributing a work. The artists participating in Future Proof are: Olivia Baker, Fergus Berney-Gibson, Zoe Bilston, Siti Rahayu Binte Buang, Sanne Carroll, Dana Cavanaugh, Leah Clarke, Isabella Darcy, Madelaine Dufficy, Eleanor Franks Kathleen Formoso, Shanti Gelmi, Eliza Gwynne, Sionie Hall-Jordan, Tara Hastie Chalk Hook, Hemi Hosking, Cat Lawrance, Melodie Liu, Maisie Robinson Isabella Rossaro, Catherine Schultz, Alex Smith, Kate Webster, Claire Welch, Yu Zhao.
Q: How does the exhibition manifest – what do visitors experience?
A:  Future Proof: National Graduate Online Exhibition brings together twenty-six artworks by emerging printmakers from across Australia and New Zealand. Their practices are all based in print, however cover a wide range of methods and techniques. The exhibition includes works made in relief, screen prints on paper and fabric, intaglio, digital printmedia and installation.
Q: What are some of the key works and what subject matter do they deal with?
A: The exhibition demonstrates the range of research being undertaken by these emerging printmakers. This is reflected in the subject matter of the works, dealing with concepts as complex and varied as culture, language, gender, memory, production and architecture.  While there is no set theme to this exhibition, it is clear that these graduates were all affected by the Covid-19 pandemic during their studies. This fact has made access to studios and equipment difficult for many of these artists over the past year, resulting in works made with both traditional techniques and digital, as well as installation projects in the exhibition. While the nature of these projects is varied, a number of the works seem to respond to these common challenges. Themes around public and private spaces, home, travel, walking, and the studio were all deeply affected over the past year and have emerged in a number of the works. It becomes clear in the exhibition that these artists have developed their projects in imaginative and thoughtful ways in spite of these challenges.
Q: What is it about the printmaking experience that you most appreciate?
A:  Of course we appreciate everything about the printmaking experience!  It is exciting to the breadth of talent emerging from our print workshops across both Australia and New Zealand.
Future Proof: National Graduate Online Exhibition is at Megalo Print Studio until 30 June www.megalo.org
—
Join the PCA and become a member. You'll get the fine-art quarterly print magazine Imprint, free promotion of your exhibitions, discounts on art materials and a range of other exclusive benefits.