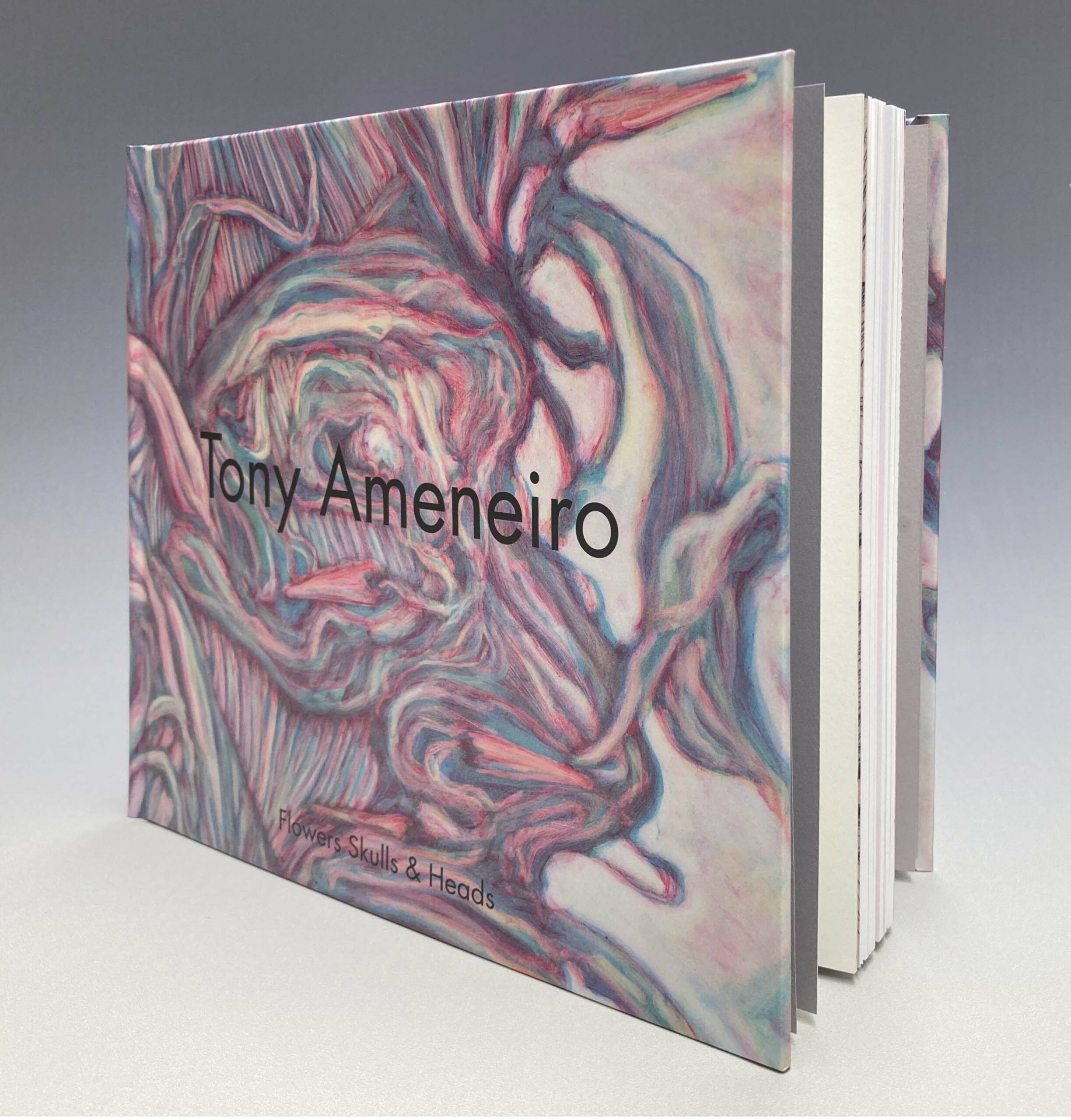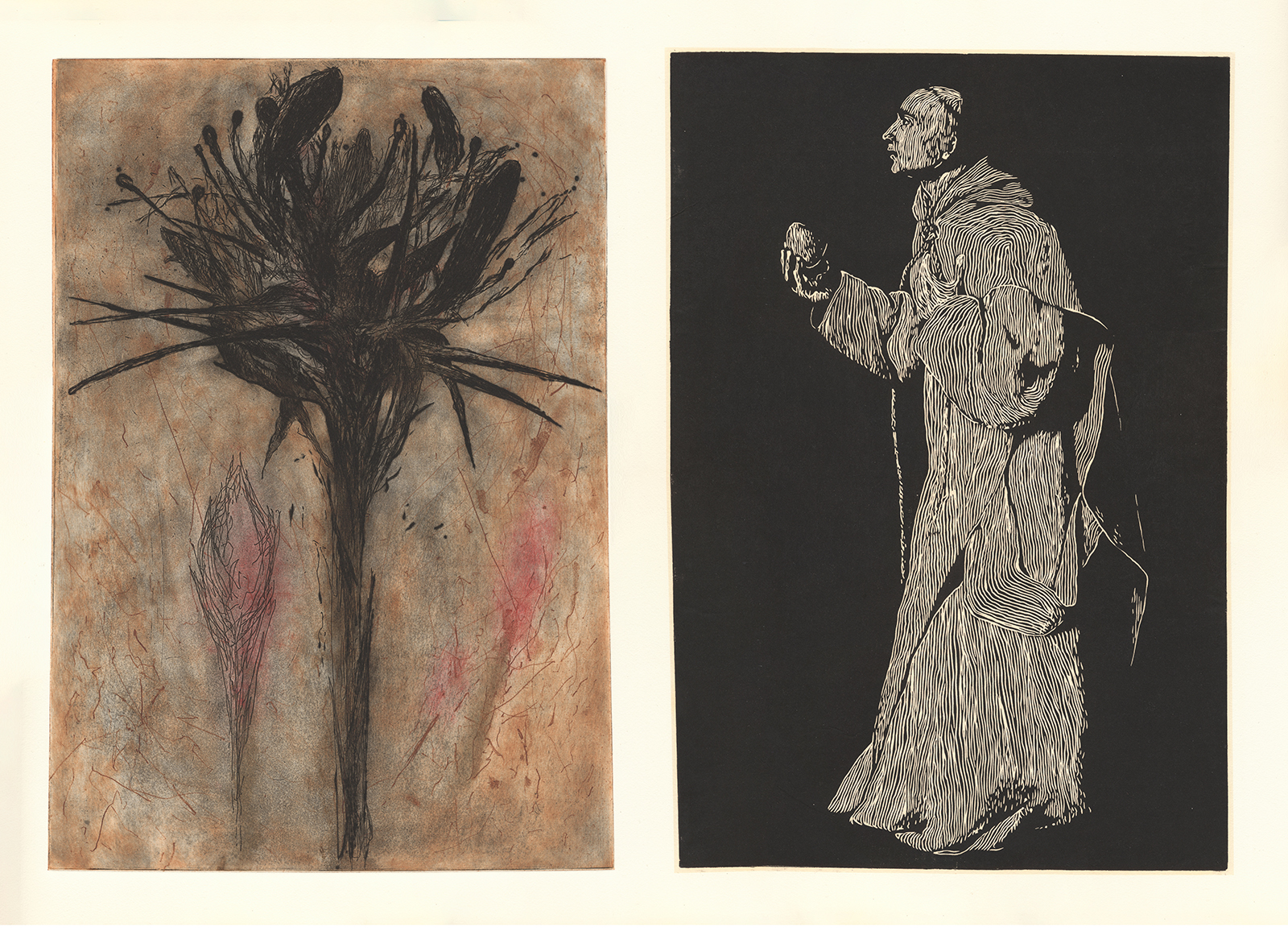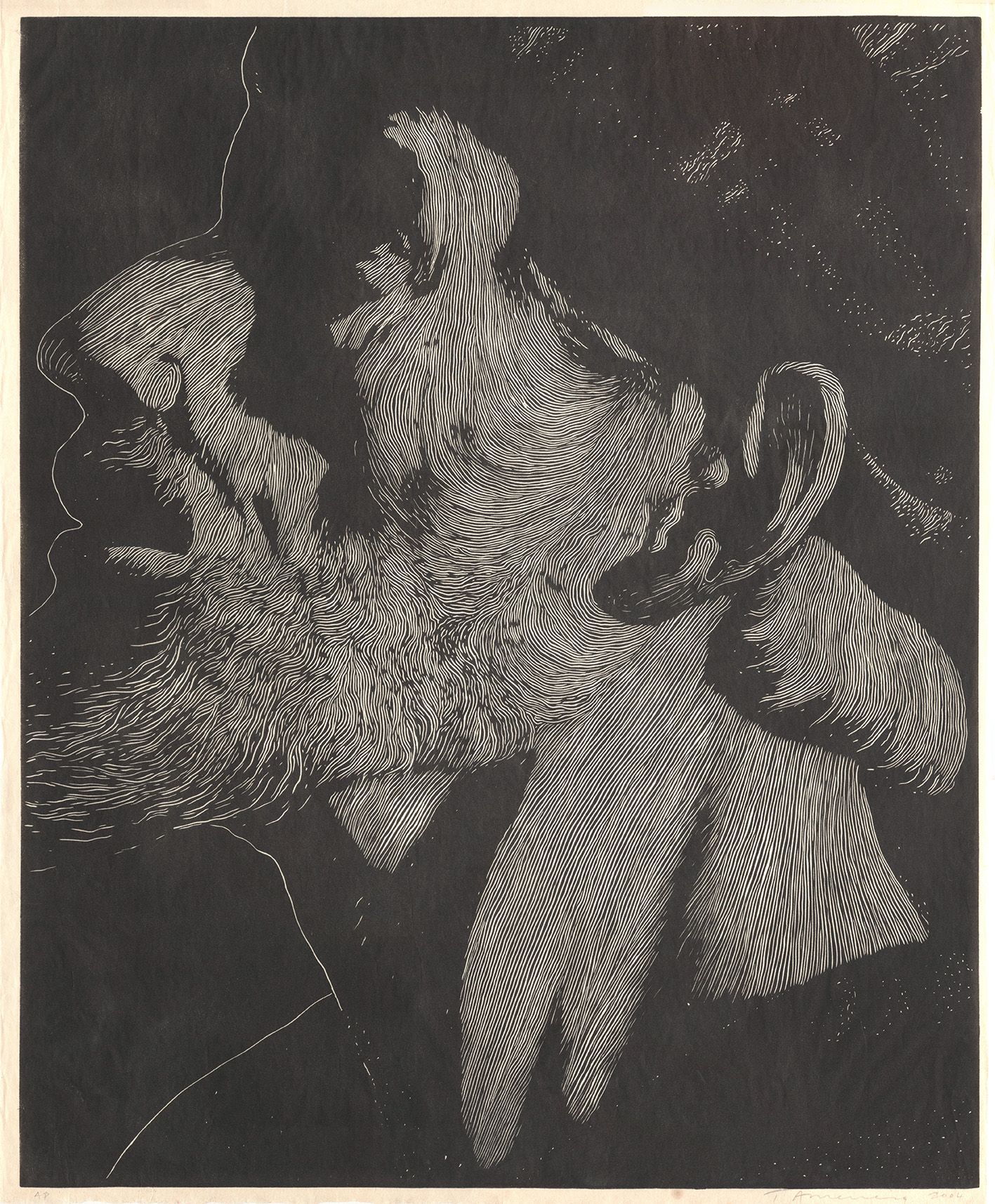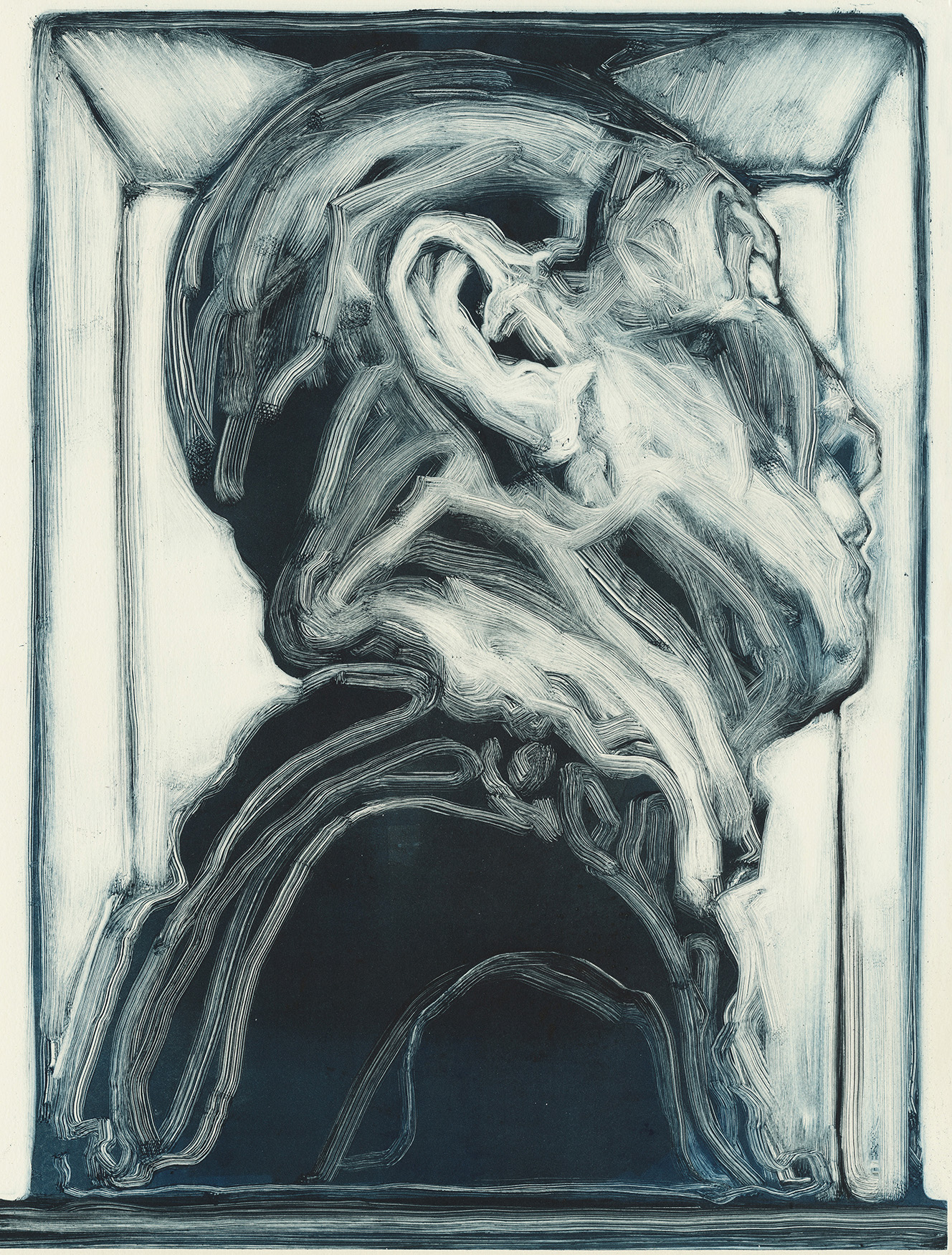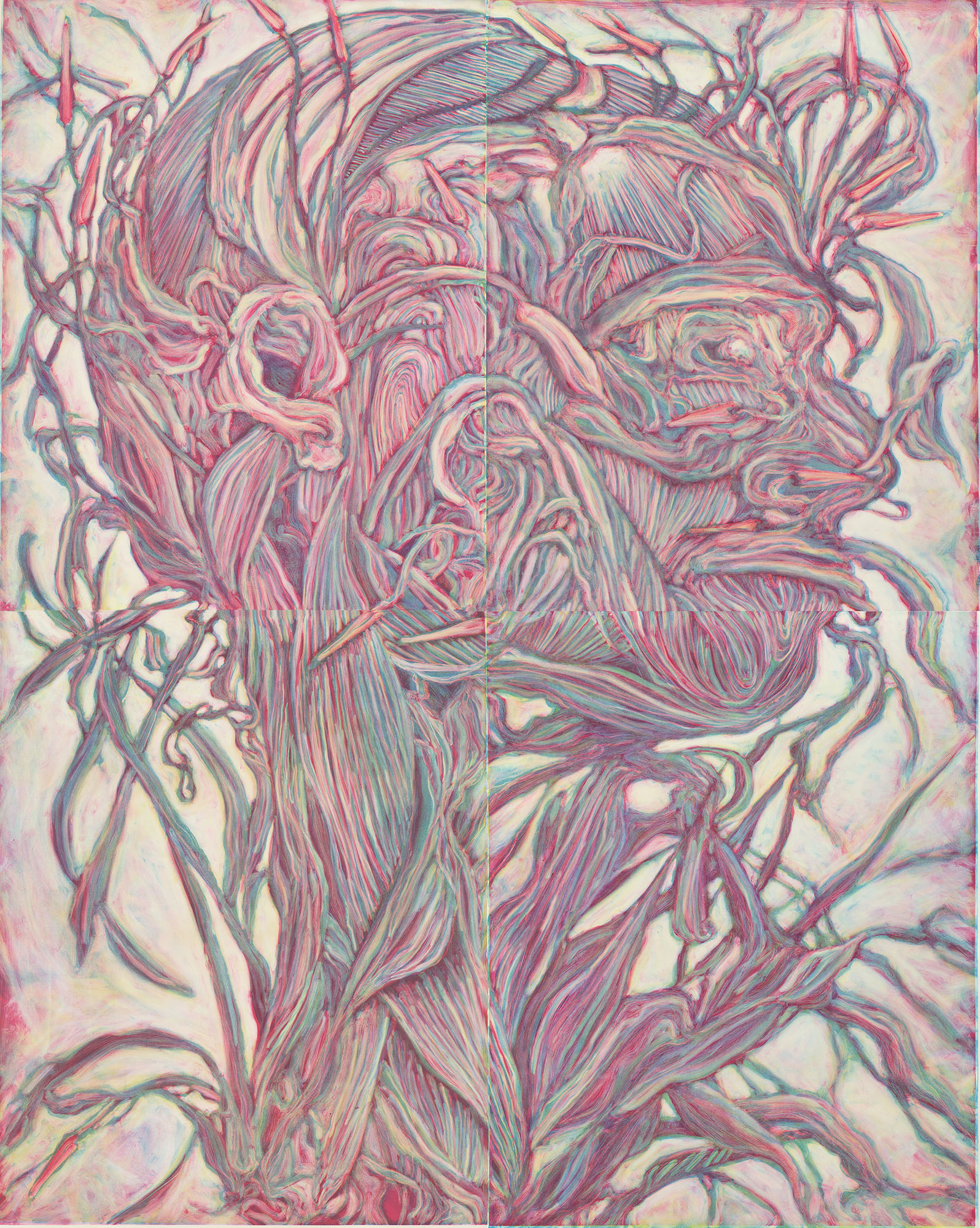 From top:
Tony Amaneiro:
Janus Floral Head 2013, multi-plate colour monotype, 76 x 56 cm
Flowers, Skulls & Heads
Location I, 2001, 79 x 108 cm, multi-platecolour intaglio with relief chine colle. Collection: Wollongong Art Gallery
Location XII (detail), 2004, 79 x 108 cm, multi-block relief print
Wilson Head No 2, monotype, 50 x 38 cm. Collection Wagga Wagga Art Gallery
Flowering Head Derecha, 2013, 190 x 150 cm, multi-plate multipanel colour monotype. Collection Charles Sturt University
What were some of the foundation ideas for this book?
Where possible the approach was D.I.Y.  There have been plans brewing over the past three years to publish a book about my work. There were some initial investigations with a publishing house but I decided to go down the self-publishing road. The DIY approach meant most things were done in-house with control over all aspects. Commercial book-print technology has reached a stage where a small-scale print run such as this is possible, albeit at a cost. The current book was intended as one of perhaps two. The first Flowers, Skulls & Heads looking at three aspects of my work with a follow-up book focusing on aspects of landscape and the figure
How did the work proceed and artwork creation take place?
The book design, as already said, was done in-house with just about all the images in the book already scanned and print-ready, a major cost saving factor in the overall budget, without sacrificing quality. There was some design advice, guidance and assistance along the way ( Thanks Bob !)
The written content was drawn from existing articles and essays from exhibition catalogues and reviews. All permissions were sought and granted from the relevant authors, same for the three photographers whose work was also included.
The catalogue of illustrated works at the rear of the book was the most challenging, requiring some serious and time-consuming curating. I've tried to make this section as curator-friendly as I could with cross-referencing of works in collections (acquisition numbers etc) print methods used and exhibition dates for listed works.
How does the book manifest – what do readers/viewers experience?
The book is a 136-page book with hardcover image wrap-around.
Eighty-four colour illustrations with a catalogue of Illustrations, a CV and a print glossary pertinent to the included images and an acknowledgements page
Images and essays are arranged chronologically where possible
As well as a foreword there are essays by Dr Thomas A. Middlemost, Glenn Barkley, Sasha Grishin and Erin Wilson.  A print run of 100 drypoint prints was made to include with the book. The first 100 copies purchased from my website store (www.tonyameneiro.com/store) come with this signed limited edition drypoint print.
What are some of the key works and what subject matter do they deal with?
The areas covered in the book are the Location series, Night Skulls, Flowering Heads and the Head Over Head series with images from all areas including drawings monotypes etchings lithographs and relief prints.
What is it about the printmaking experience that you most appreciate?
This book was an opportunity to bring together some of the key-works from the four areas covered from a printmaker's perspective, trying to balance imagery with relevant text without making any compromises. Hopefully there's a sense of the development of ideas alongside the working methods.
—
The limited edition book version with drypoint print is available from  www.tonyameneiro.com/store
The book is available from:
PG Gallery in Fitzroy https://pggallery.com.au/
The Book Store Bowral http://www.thebookshopbowral.com.au/
Black Parrot Art rooms http://www.blackparrotartroom.com.au/framing-and-art-supplies
Wollongong Art Gallery http://www.wollongongartgallery.com/Pages/default-2019.aspx
—
 Join the PCA and become a member. You'll get the fine-art quarterly print magazine Imprint, free promotion of your exhibitions, discounts on art materials and a range of other exclusive benefits.