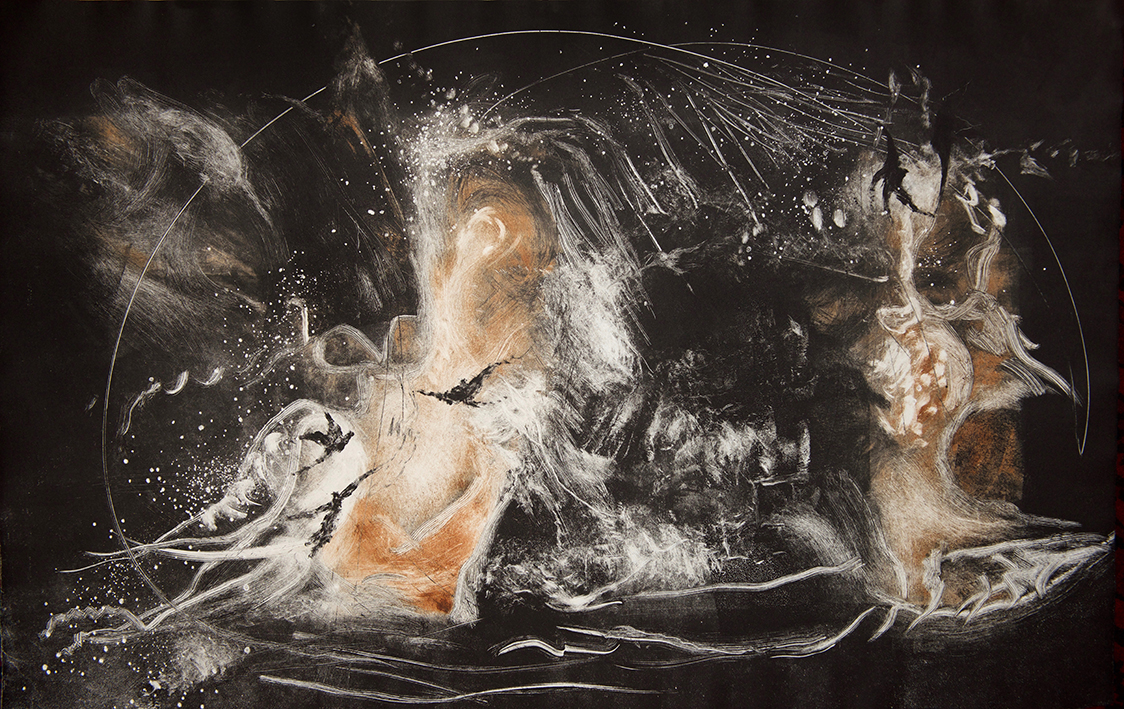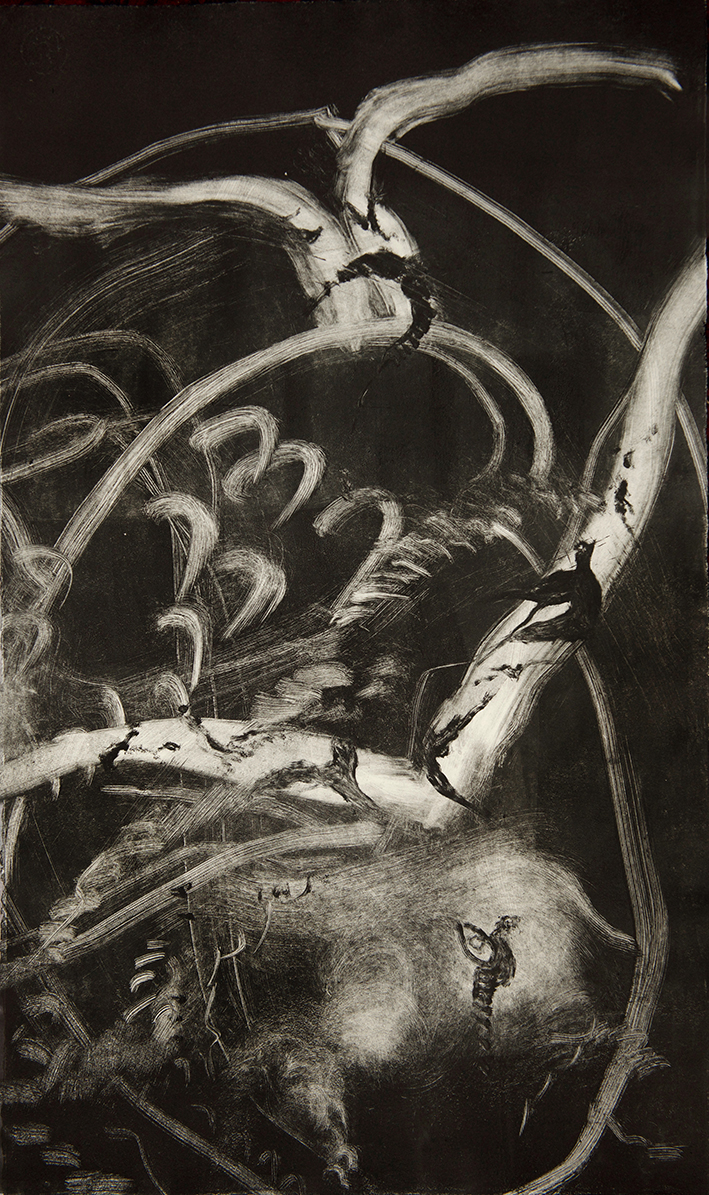 From top:
cavort 5, 2020, oil on board, 29 x 35 cm
gathering, 2019, monotype, 60 x 93 cm
ritual, 2019, oil on board, 65 x 120 cm
symphony 1, 2019, monotype, 78 x 47 cm
Q: What were some of the foundation ideas you began with when embarking on this exhibition project?
I was wanting to make some larger scale works reflecting on and responding to previous works made using photogravure and etching. I took a big piece of Perspex down to Baldessin Press in 2019 with the intention of making a body of work using the direct and immediate procedures of monotype and monoprint methods.
I didn't have an idea as such in mind, I started with the reduction method and then painting into some of the light areas, and found myself creating images by responding to the surroundings, my emotions and the work itself as it evolved.
The paintings came about in 2020 as a response to my prints. I used board instead of canvas and aimed to create the images in a largely reductive manner.
Q: How did the artwork selection take place?
I had produced the prints which then led me to explore the possibility of generating oil paintings to complement the prints inspired by the free-flowing gestural style inherent in mono-printing. Selection then became a process of compatibility and mutual enhancement with the ultimate aim of presenting prints and paintings as a coherent entity.
Q: How does the exhibition manifest – what do visitors experience?
The interplay between the inner psychological world and aspects of the physical world nourishes my creative practice and stimulates my imaginative explorations. The distinctive marks and shapes which inhabit the surface of my prints and paintings become the visual language through which I try to articulate another more interior world and in so doing invite an empathetic, imaginative and exploratory response from the viewer. With the inclusion of two different media, I hope to further engage viewers as they compare and contrast the impact of each.
There are some prints to be hung as diptychs, a group of small paintings, and individual prints and paintings. Gathering will be in the front window of the Printmaker Gallery.
Q: What are some of the key works and what subject matter do they deal with?
Gathering strongly communicates the underlying sense of other-worldliness and it possesses the particular expressive qualities that can be possible with the monotype method of printmaking. Ritual is a free-flowing mindscape that links the paintings with the prints also communicates the other worldliness I enjoy creating. The ambient stillness is interrupted with the introduction of birds and creatures which ominously swoop, dive, glide and hover over an imagined dark landscape.
Flights of Fancy is at PG Printmaker Gallery, 227 Brunswick Street, Fitzroy, Melbourne 15-29 April, opening 17 April 11am.
Two Views is at Sidespace Gallery, Salamanca Arts Centre, 27 April-10 May
—
Join the PCA and become a member. You'll get the fine-art quarterly print magazine Imprint, free promotion of your exhibitions, discounts on art materials and a range of other exclusive benefits.