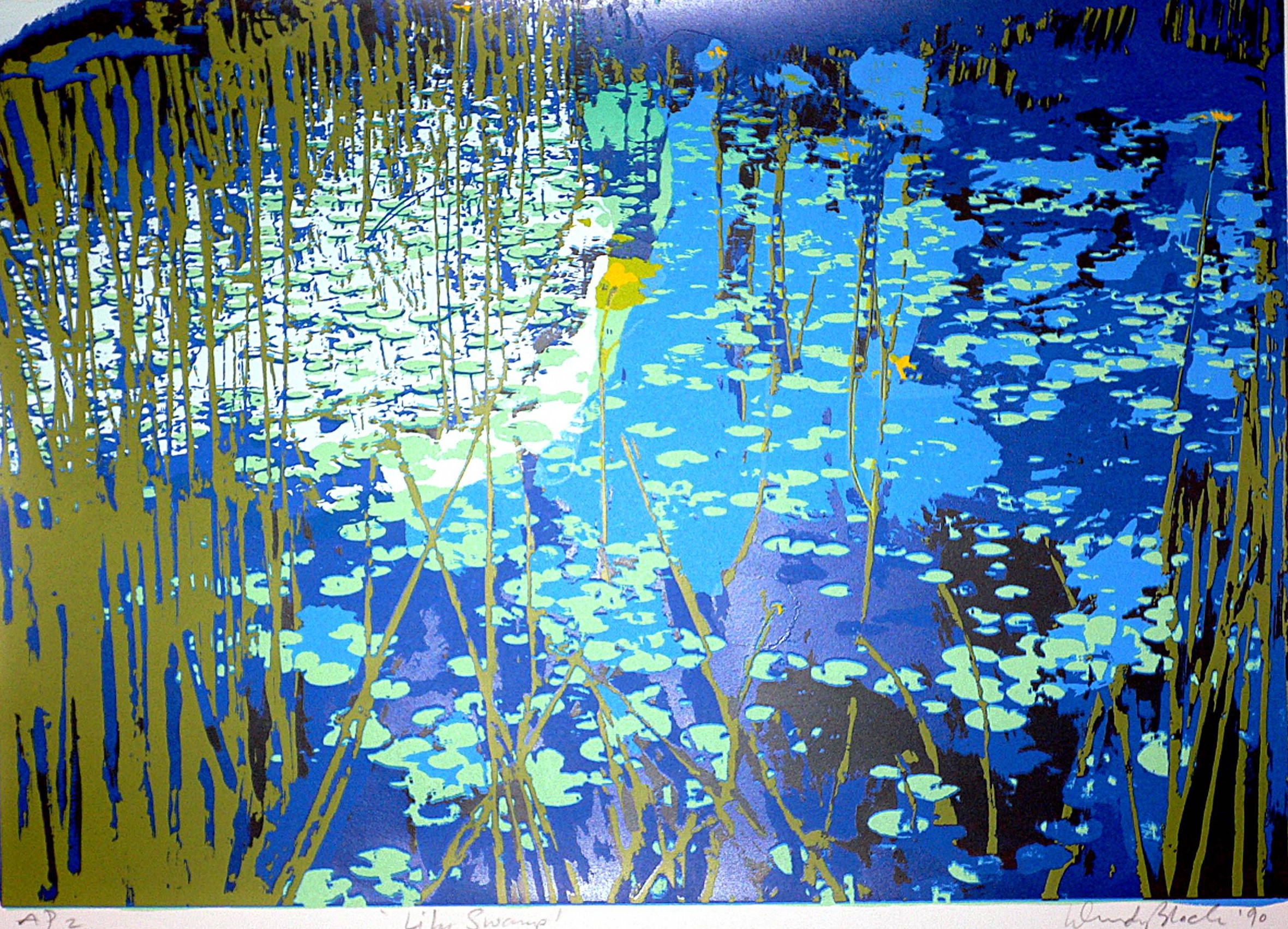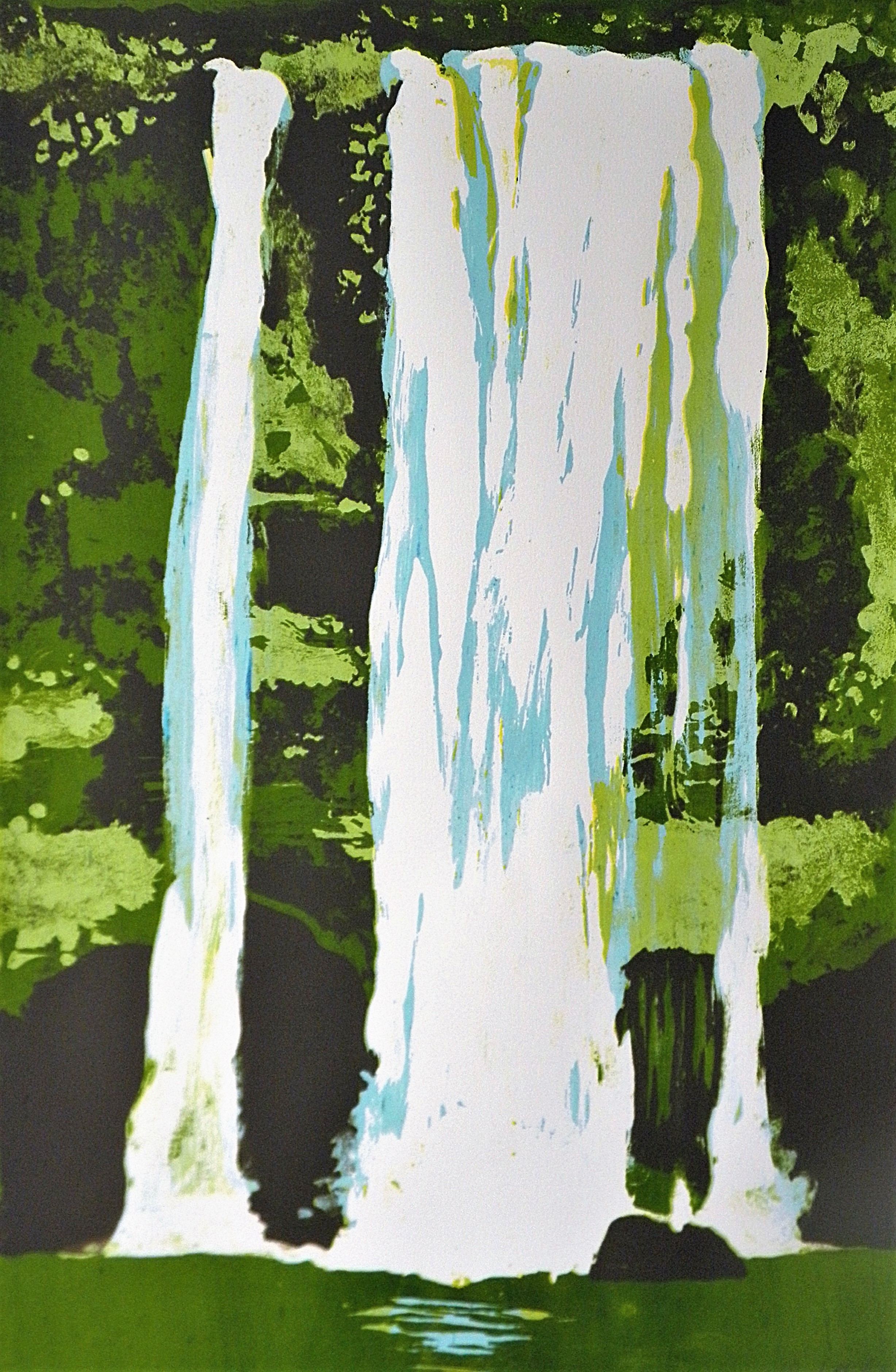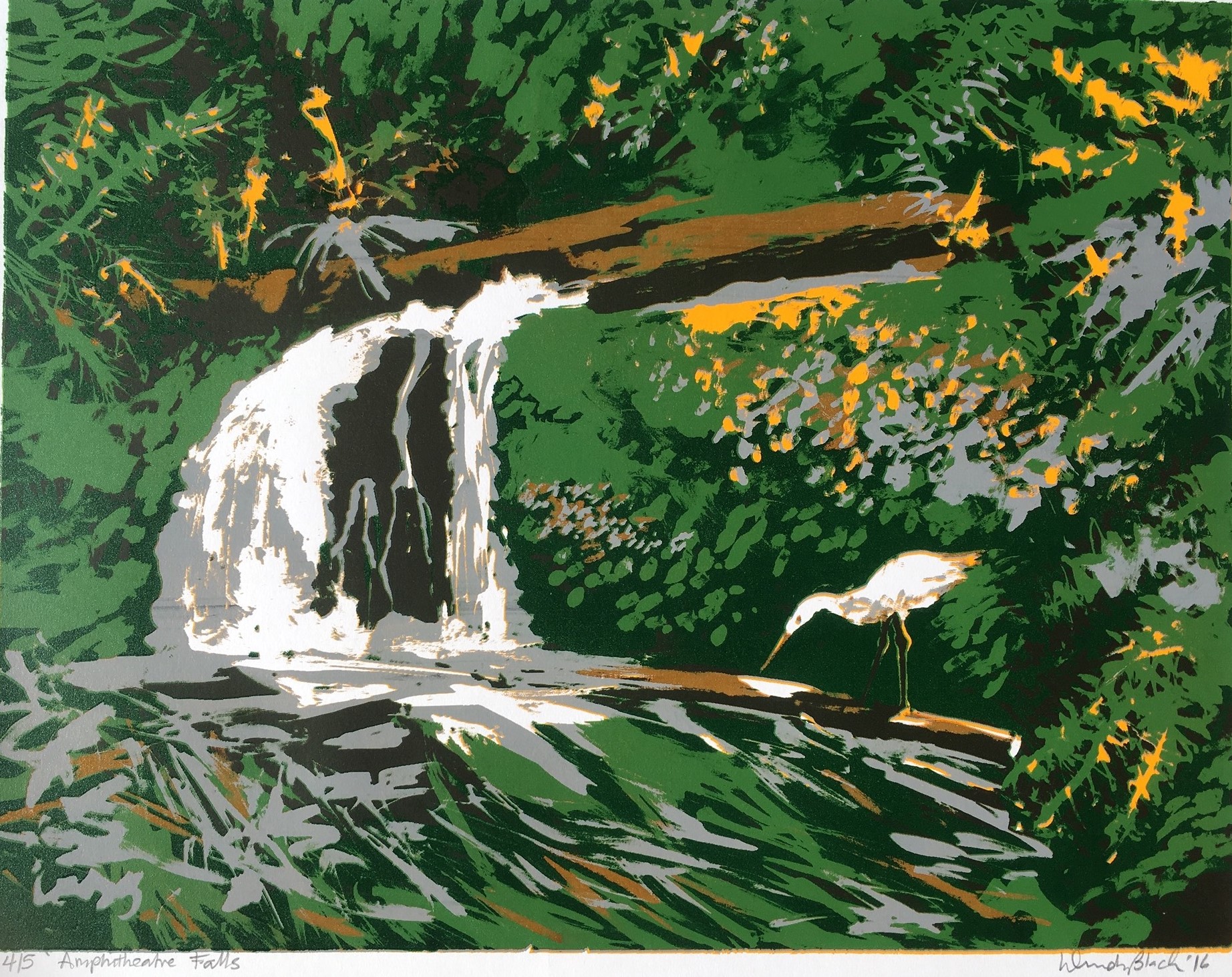 From top:
Nuclear free Pacific, 1983 screenprint, 56 x 76 cm, edition 500, 2 versions (English/French & English/French/Bislama)
Atomic testing in the Pacific was a big issue in 1980s. Many artists were producing posters about the French decision to atom test on Mururoa Atoll. This was produced in two versions – in English and French, and English French and Bislama as it was for a conference in Vanuatu, and was distributed around Pacific Ocean islands. I was able to print both posters simultaneously on the large One-Arm Squeegee Machine at Redletter Press.  I designed and printed the 500 edition x 7 colour poster over a six-month period. As this was a long lead up time to the deadline, I was able to slow down the process and teach Taufou Amos, a Vanuatuan woman how to screenprint.
Lily Swamp, 1990, screenprint 50 x 70 cm, edition 6
Lily Swamp was produced after twelve prints depicting the mountain ranges of the Grampians. The subject of water came as a relief after the scrubby mountainous landscapes. The body of work Grampians had taken five years 1985-1990, as each print was rather complex. I used photostencils and handcut paper stencils over photostencils with each print edition being twenty. Prints were often ten colours. I used these stencil techniques on Lily Swamp but lost 14 prints in the edition with the experimental nature of colour fades.
Hopetoun Falls morning, 2012, screenprint on BFK Rives paper, 94 x 78 cm, edition of 5
I made two screenprints of this waterfall; this one during morning light, the other at dusk. It is deep within the Otway Ranges hinterland and scattered light percolates through the canopy. This subject of glare & shade lends itself well to the painterly reductive process of the multicoloured screenprint. Drawing at the foot of a waterfall is an experience as Anthony Trollope said, "You will hear nothing else and think nothing else." It has that cool green solitude with both loud cascading waters and quiet pools. There is dappled light and bright shards of glare.
Amphitheatre Falls, 2016, screenprint, 63 x 72 cm, edition of 5
I had painted Amphitheatre Falls in a multitude of colours so it was a challenge to restrict the image to eight colours for this screenprint. I use the paper as the white highlight then painted negative stencils in a reduction hand printing technique. This print comes from a body of work Hinterland, which explored inland water, in all seasons, from trickles to the roar of the cascades. I am interested in the solitude and wonder of these watery environments where a bird alighting on a branch, whilst being a scale device, was also an intimate encounter.
Upon meeting curator Stephanie Neoh at Banyule's Works on Paper Award, I rather flippantly said that I am a "Heidelberg Living Artist". I had lived in Heidelberg for thirty years and whilst I am a great admirer of Heidelberg School artists, I was letting her know that there were contemporary artists living here. She evidently didn't forget and over the course of the last few years as the Ivanhoe Hub & Cultural Centre has been designed and built, she offered me an exhibition.
Lockdown year 2019 gave me a chance again to reflect on my career. I had had a 30-year retrospective Making Poster History in 2004, but now I had 5 decades of work. I compiled a Catalogue Raisonnée 1974- 2019 of painting, prints, drawing, sculpture & public art. It amounted to 20 solo shows and 120+ group exhibitions.
Screenprints were the continuity through the decades and seemed a logical choice to exhibit the range of collaborative posters alongside the limited edition prints.
The exhibition is divided into two areas. As you walk into the atrium of the new Ivanhoe hub you see the 70s/80s poster wall. The posters are a collaborative collection of student union, political activism, theatre and music posters.  Gallery 275 contains my personal art practice from 1980s, 1990s, Noughties & teens. Whilst the majority of work is screenprints, there are some large paintings and a wall devoted to courtroom drawing, a City of Melbourne Public Art Commission and  drawing from the Paul Guest & Robert Jacks Drawing Prizes.
Five Decades: The Art of Wendy Black is on until 18 April at Gallery 275, 275 Upper Heidelberg Road, Ivanhoe. Gallery open during exhibitions: Wednesday-Friday 10-6, Saturday 10-5, Sunday 11-4pm Banyule.vic.gov.au/ILCH  @Ivanhoe Library & Cultural Hub
—
Join the PCA and become a member. You'll get the fine-art quarterly print magazine Imprint, free promotion of your exhibitions, discounts on art materials and a range of other exclusive benefits.