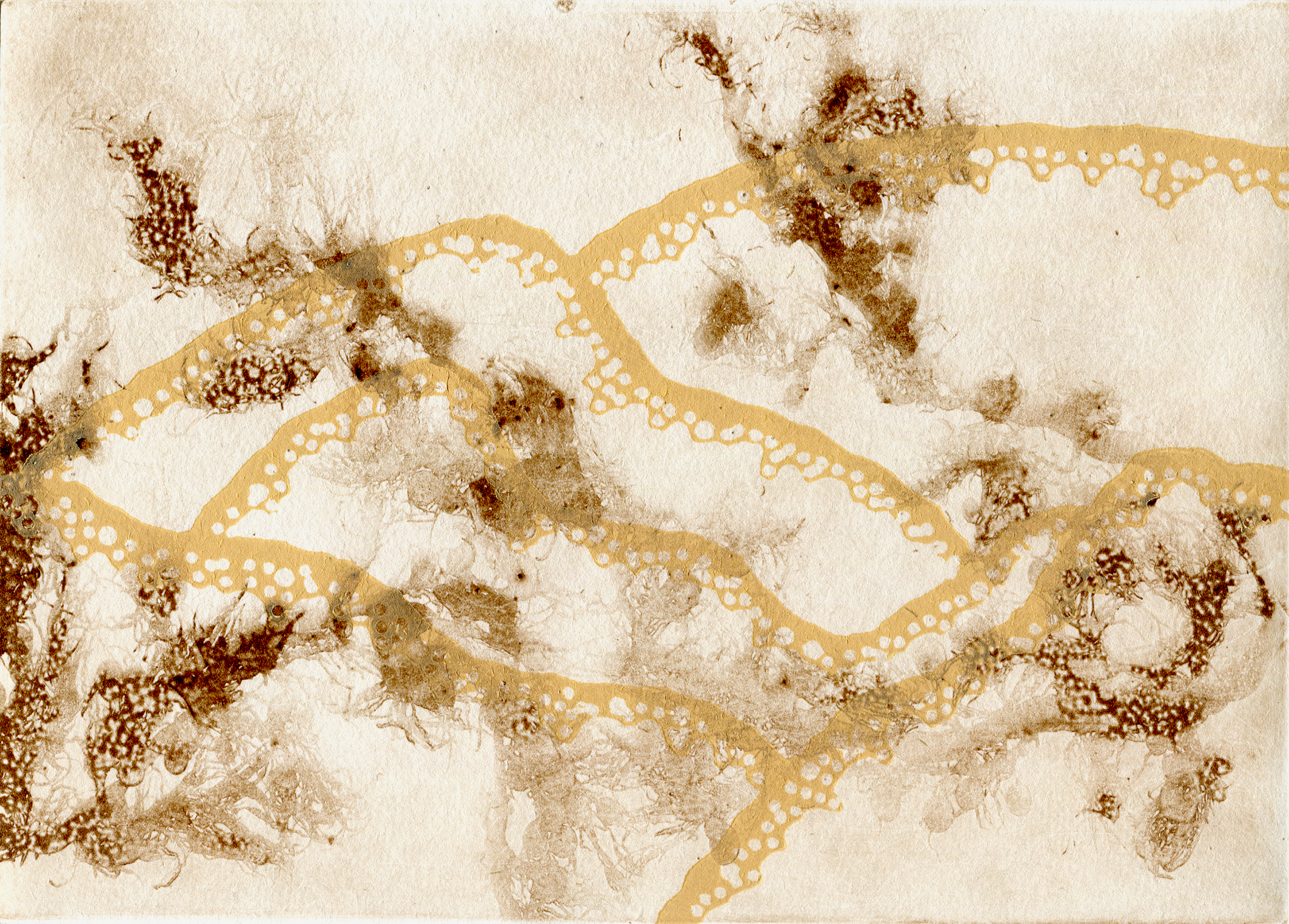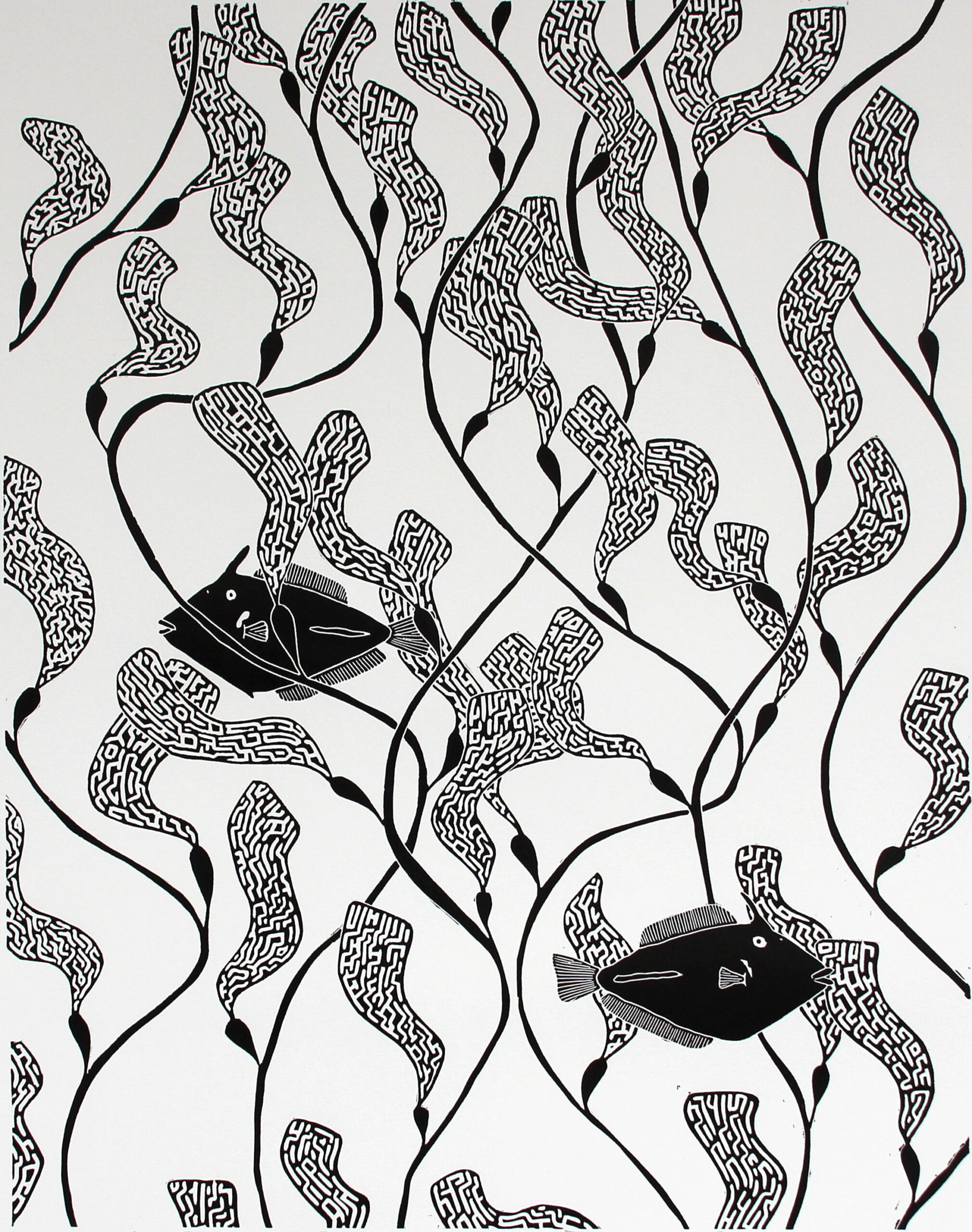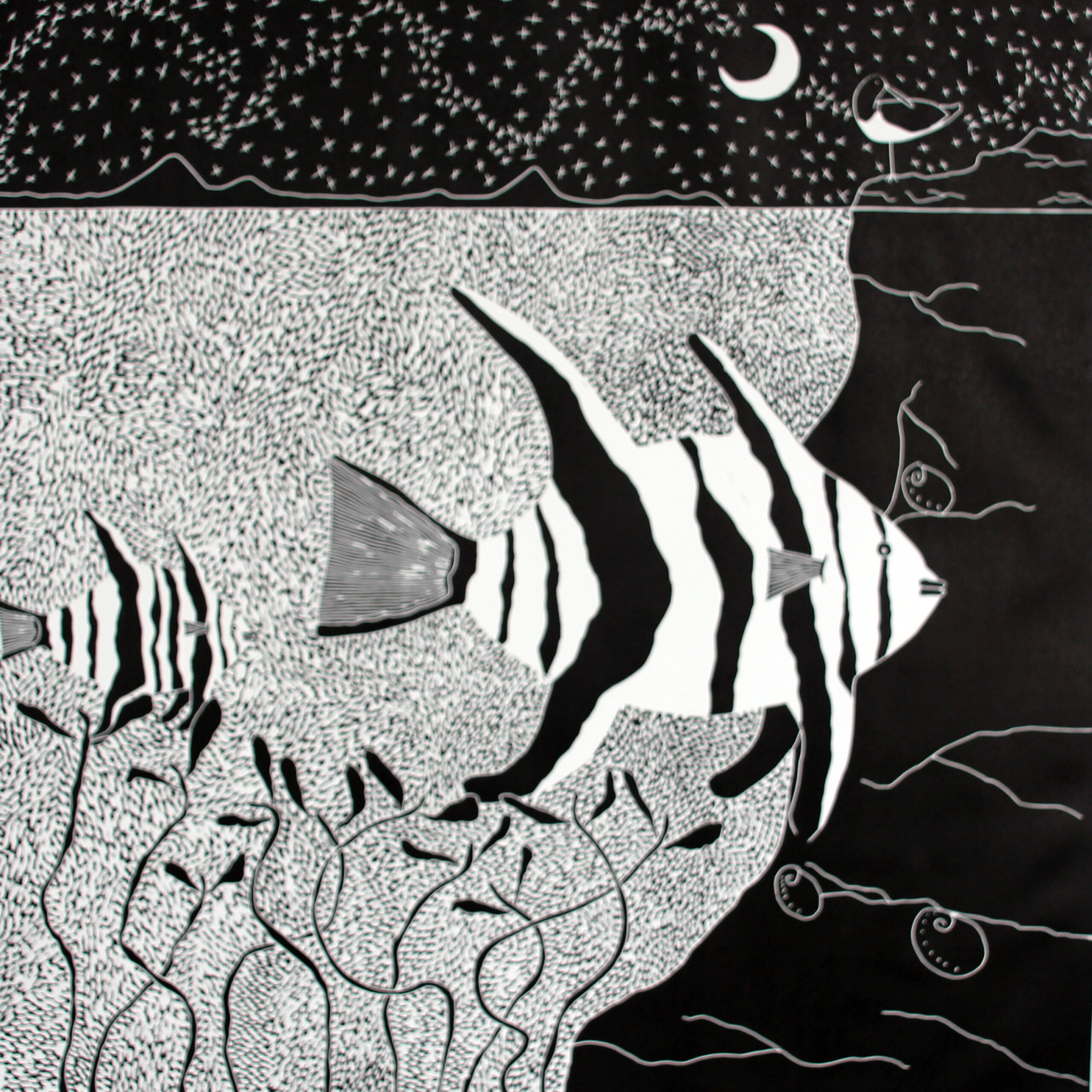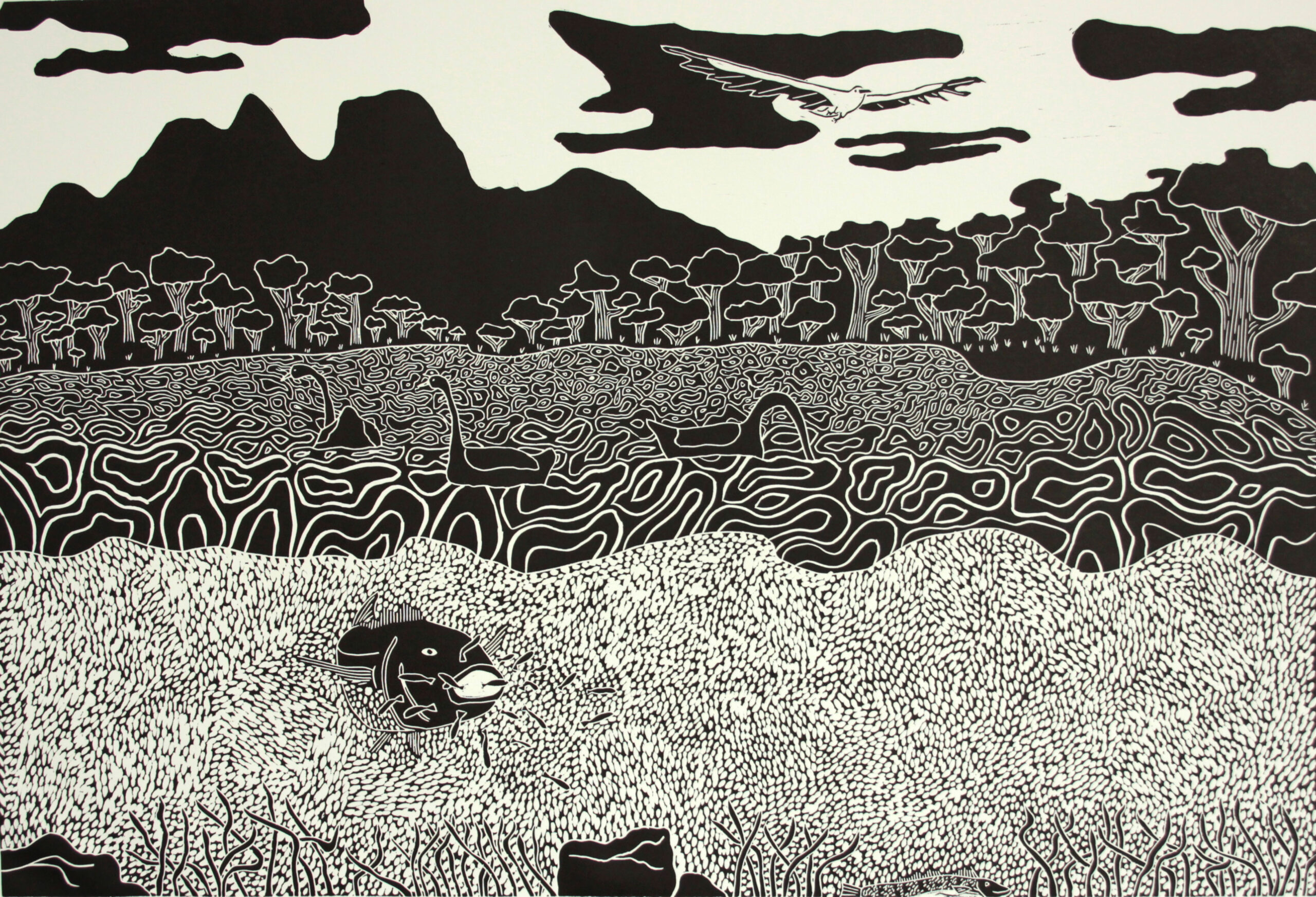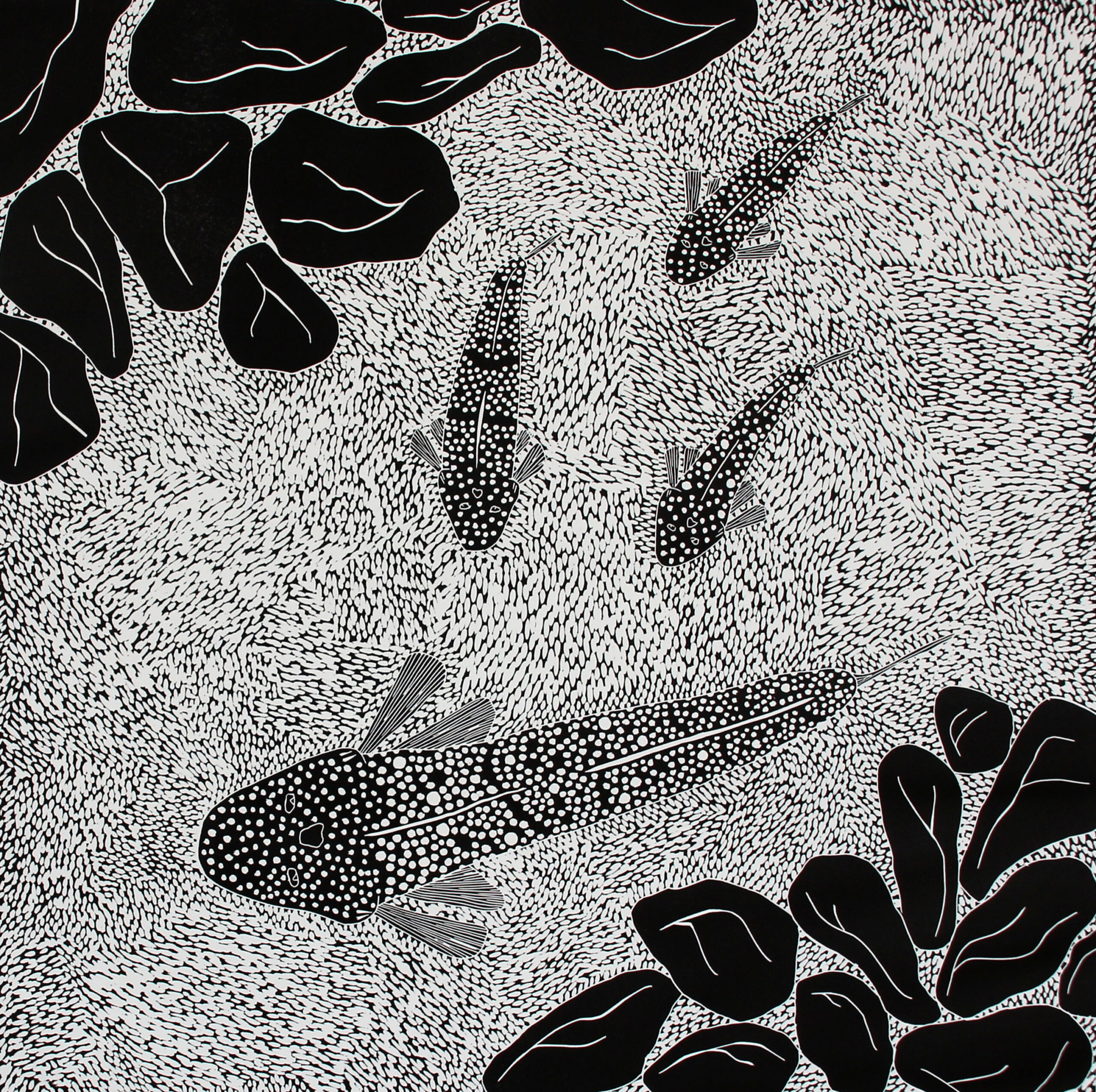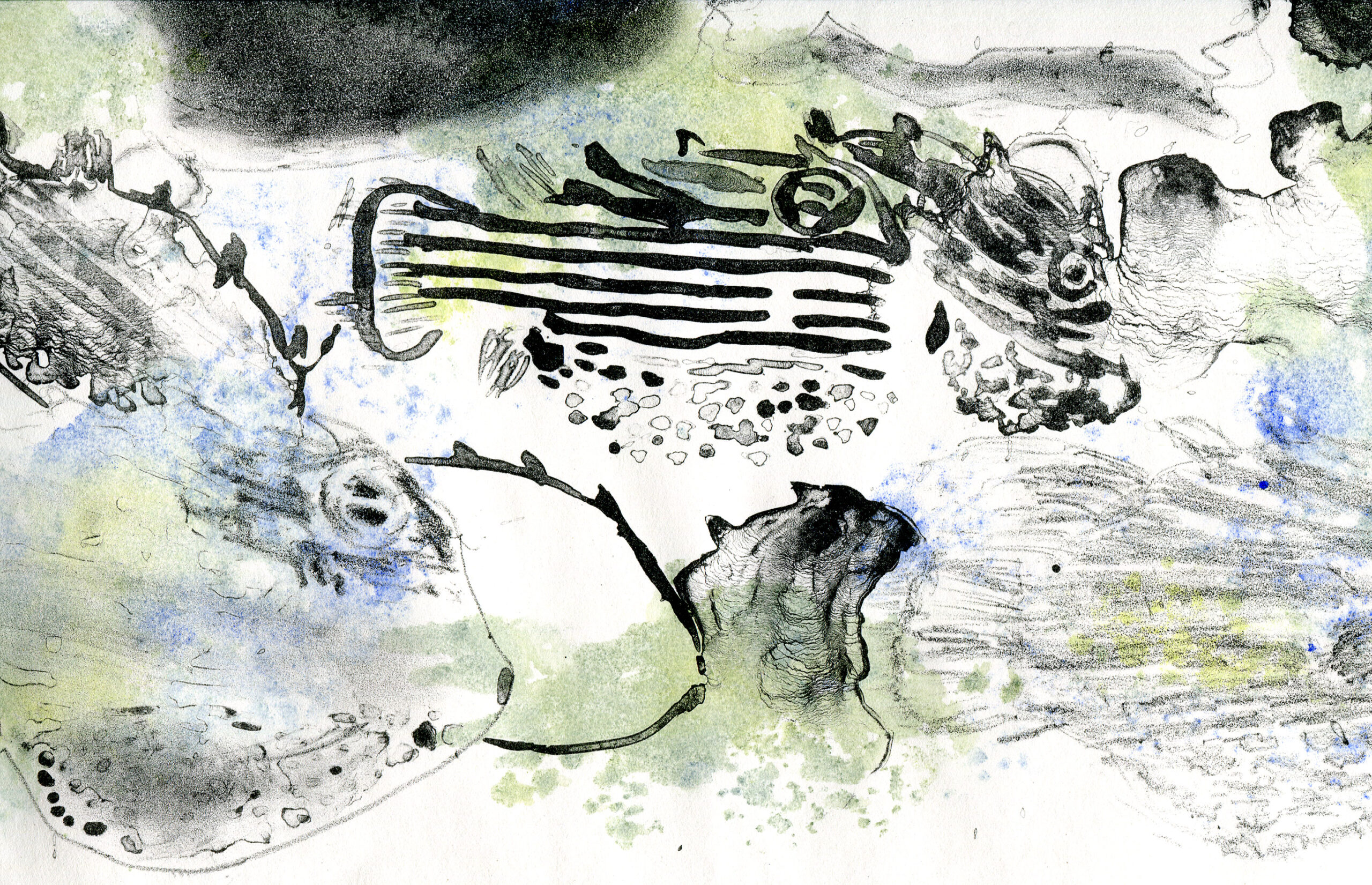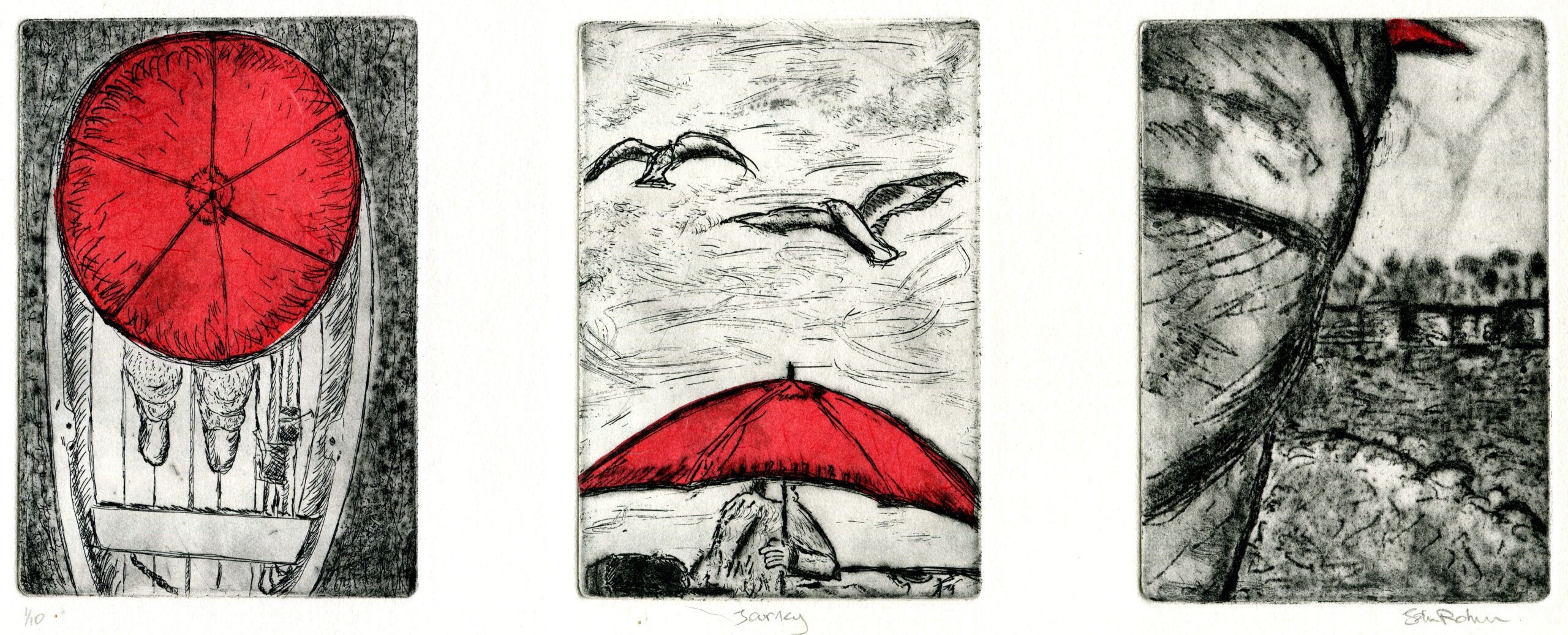 From top:
John Robinson and Xan Nunn:
Collaboration I, 2023, photopolymer etching/linoprint, 15 x 21 cm, A/P
Collaboration III, 2023, photopolymer etching/linoprint, 15 x 21 cm, A/P
Xan Nunn:
leatherjackets in a kelp forest, 2023, lino print on Fabriano, block size 50 x 39 cm, edition of 8.
quiet night below the big magnet, 2023, lino print on Fabriano, block size 50 x 50 cm, edition of 8.cm.
Still morning on the swan estuary, 2023, lino print on Fabriano, block size 40.5 x 69 cm, edition of 8.
big female blue spot, 2023, lino print on Fabriano, block size 50 x 50 cm., edition of 8.
John Robinson:
Water Shadows, 2020, lithograph/monoprint, 45 x 56 cm, edition of 5
Journey, 2023, etching/drypoint/chine Colle , 26 x 54 cm, edition of 10.
What are some of the foundational ideas for this exhibition project?
XN: The Fish and Swish exhibition's foundational ideas revolve around the ocean and my daily interactions with it. I've always been attracted to the ocean. Growing up in a small coastal town seems to have given me a great sense of belonging to the coast. Attempting to capture and express my gratitude towards its unique creatures and seaweeds, I carve to recall special little moments on linoleum.
JR: A love of the ocean and the joy that comes from interacting with it on a regular basis. We both live in coastal towns in lutrawita/Tasmania and our daily lives are entwined with the weather, tides and swells. Concern for how the ocean is changing due to global warming and pollution also has an underlying influence on the exhibition. The opportunity to collaborate on some prints is also a bonus of exhibiting together.
How did the artwork selection take place?
XN: Throughout this year l've had a goal of eight large linos in eight months with a few smaller blocks along the way. I've enjoyed this idea and its challenge of committing to a design early each month. I'm never sure what comes first, the story behind the print or the print behind the remembered story.
JR: My original thoughts were that I would have a range of photopolymer prints reflecting the seaweeds and debris that I find washed up on the beaches. Surprisingly a couple of other prints are plates that I made some time ago but never printed beyond a proof. I have reworked them and included them in the artworks because they fit with our interaction with the ocean theme. I have been selecting works that have been influenced by my local beaches and water experiences.
How does the exhibition manifest — what do viewers experience?
XN: At the moment I hope the exhibition manifests into allowing the viewer to question the effect of our interaction with the ocean, both bad and good. Showing alongside the prints will be a glass case containing a colourful collection of marine debris to highlight the well-known issue of plastic pollution. I hope the more we bring this up front, the more likely we see habits change for the better.
JR: I am hoping the viewers will be taken on a journey of how we see the ocean and Tasmanian coastline, to join us in our fascination when we observe some of the tiniest details and try to present them in print. There is no doubt our ocean needs our love and action to counteract the past overuse and using it as an unending resource.
What are some of the key works and what subject matter do they deal with?
XN: One of my favorite prints that keys into John's work is Leatherjackets in a kelp forest. Much of these giant kelp forests have vanished in recent times, mainly due to a warming of the waters around the east coast of Tasmania and the invasive threats it brings. As a child I remember dragging this seaweed along the beach pretending it was a puppy dog. I like to look at the print as a reflective and humbling experience, its dealing with personal feelings of gratitude and reverence for the conservation efforts that are already taking place.
JR: One key work was always going to be the central piece for me that I have been considering how to best create for the past year. It is an installation of prints and a found paddleboard. It is a nod to the way that I interact the most with the ocean and what I am observing when paddling around. It shows some of the beautiful kelp that grows in the waters around Tassie.
What is it about printmaking experience that you most appreciate?
XN: In recent years, the carving process and the therapeutic qualities it offers have been a major part of my appreciation of printmaking. Allowing myself to quickly recall past experiences through the designing and then to unpack them slowly throughout carving. Having to adapt my practice due to range of motion hindering in my right arm l have found carving lino allows me to freely access the whole block without fear of smudging the marks l make. Another adaption has been the outsourcing of the printing of larger blocks. John Robinson has been amazing to work with and his knowledge of printing has resulted in such well-executed prints.
JR: I appreciate the making of the matrix and considering what I am trying to convey whilst carving, scratching, collecting. I also love the multiple and how I can sometimes use the same matrix to create a mass of prints that when put together have a huge impact compared to the single print. I also appreciate the ability to change colours and try out different things that sometimes take me in a different direction to where I started.
—
Fish and Swish is at Good Grief Studios 62 Argyle Street , Hobart, until 30 September. https://www.facebook.com/goodgriefstudios
@movingcreature (John Robinson)
—
Join the PCA and become a member. You'll get the fine-art quarterly print magazine Imprint, free promotion of your exhibitions, discounts on art materials and a range of other exclusive benefits.