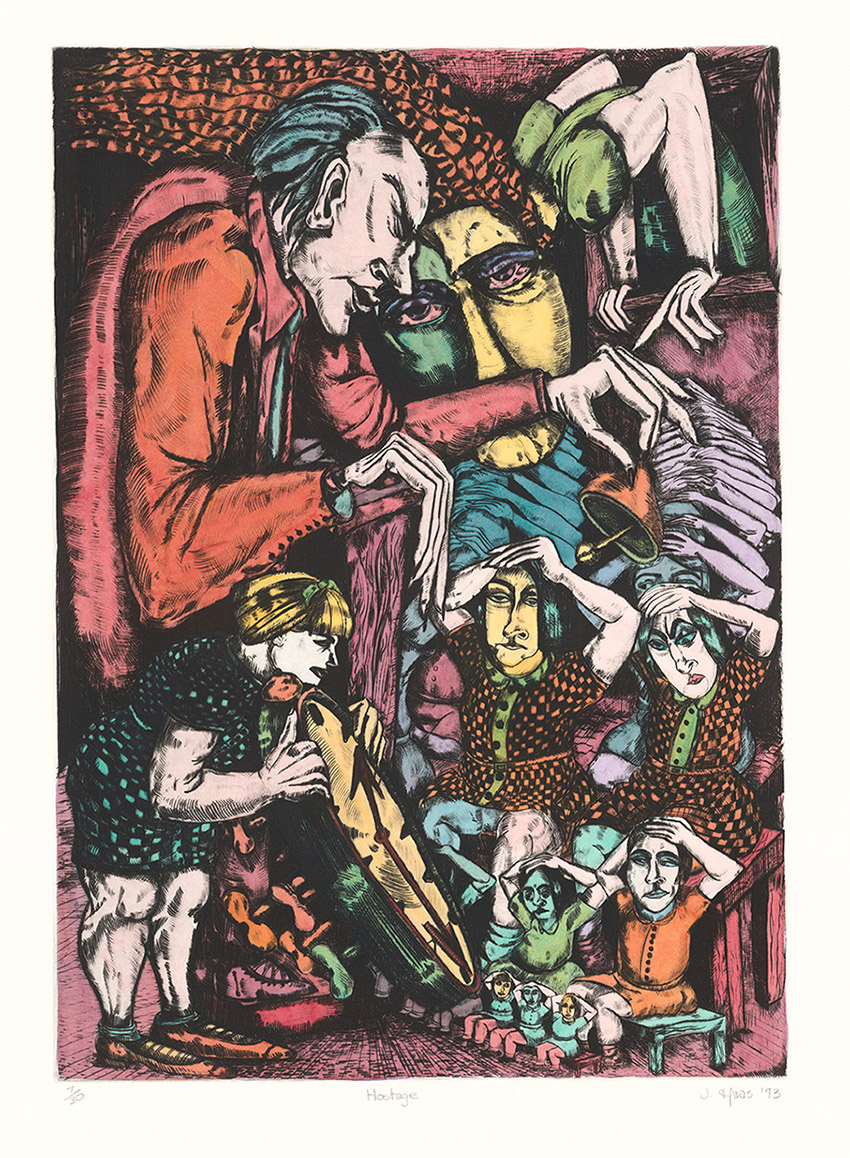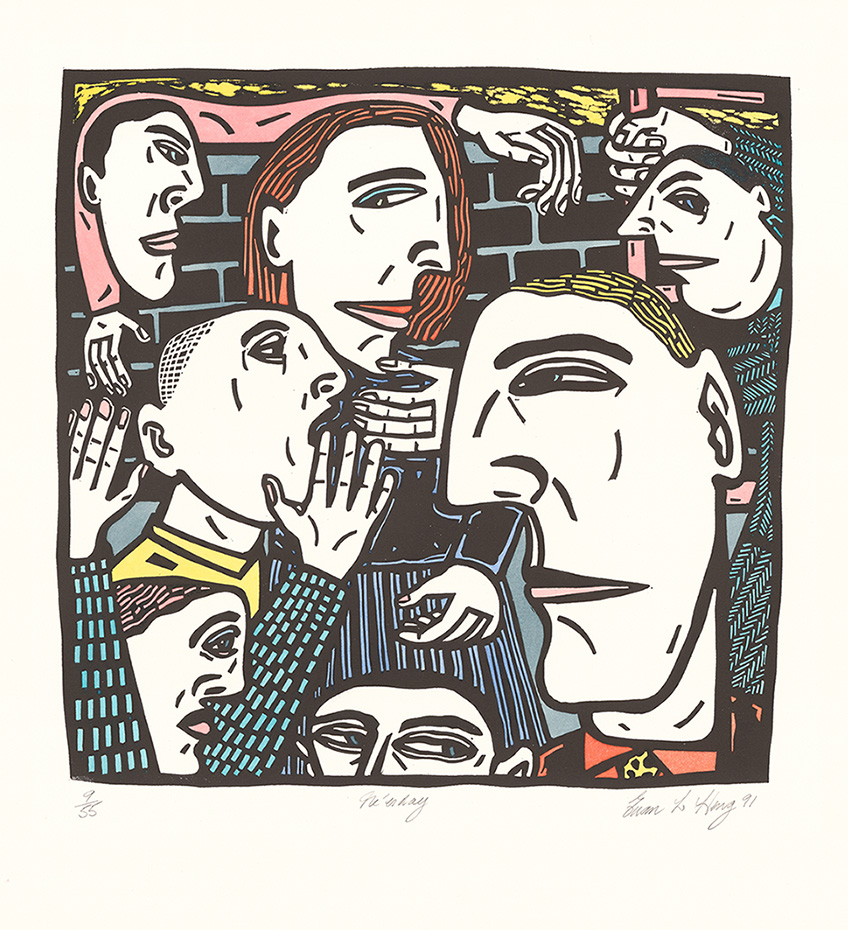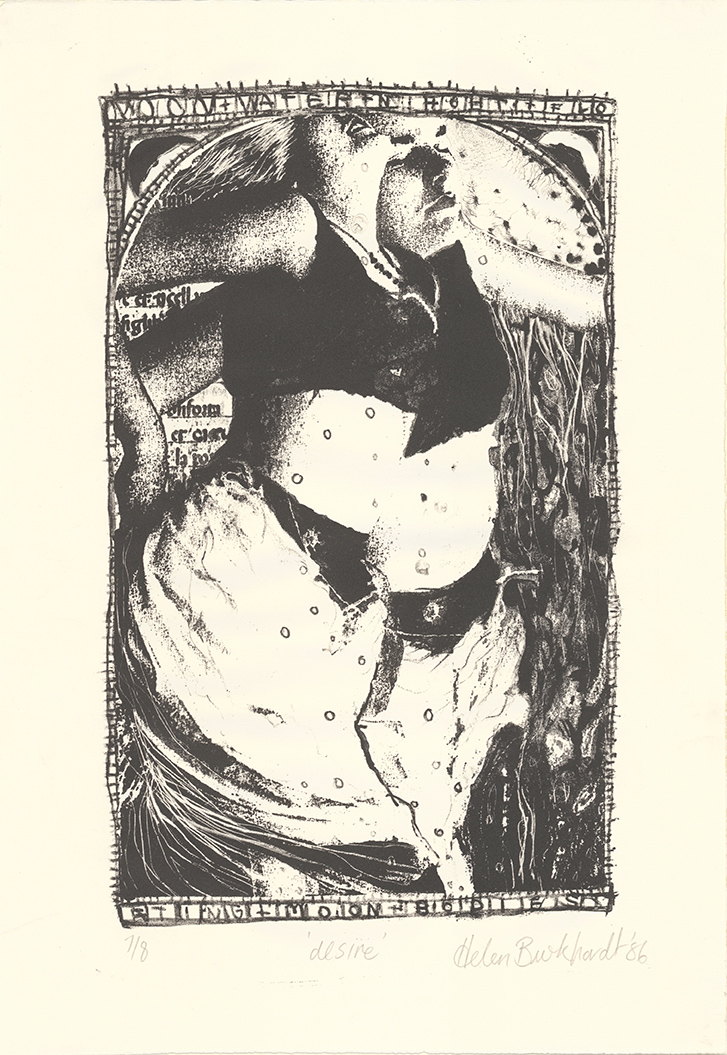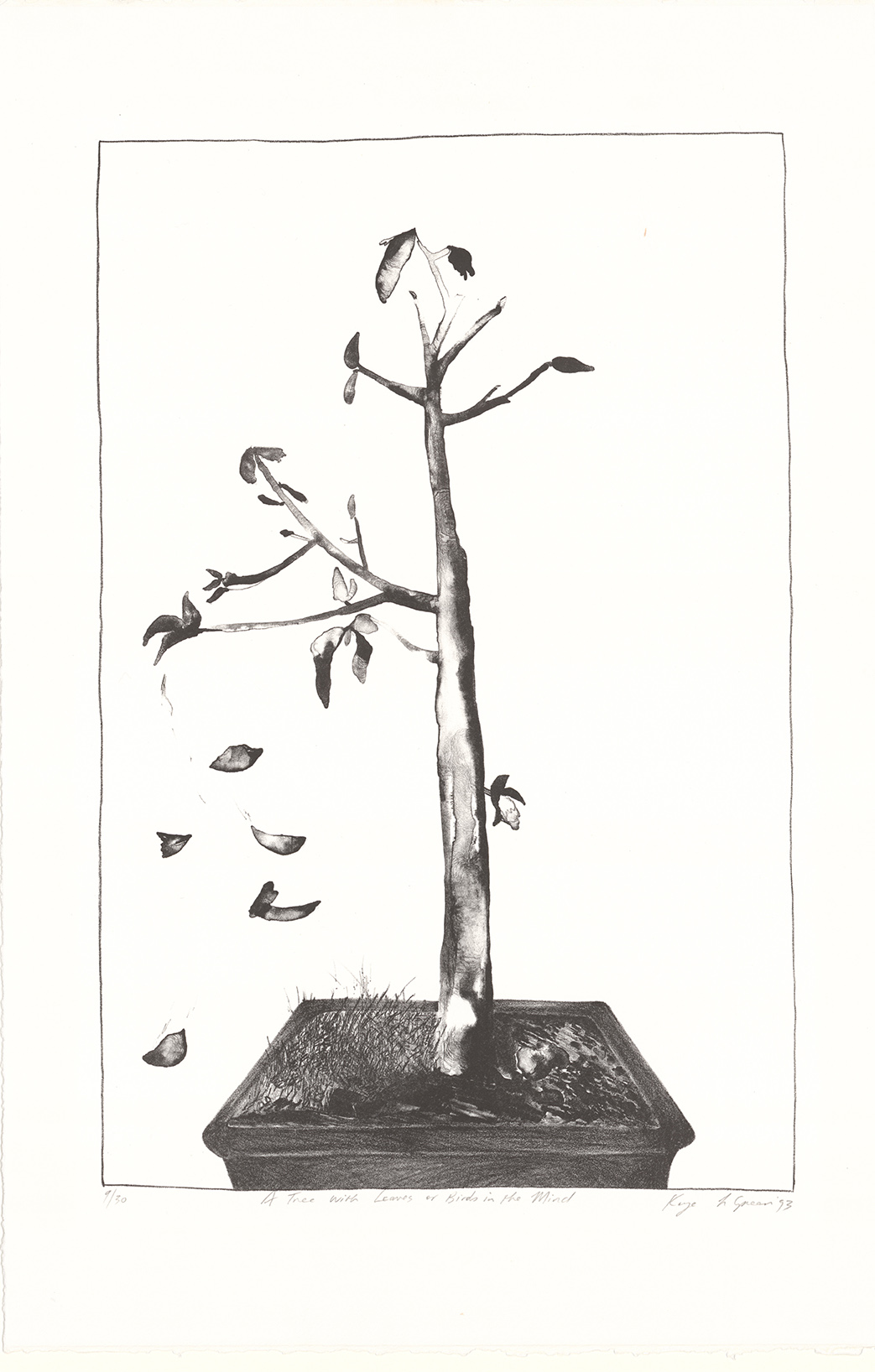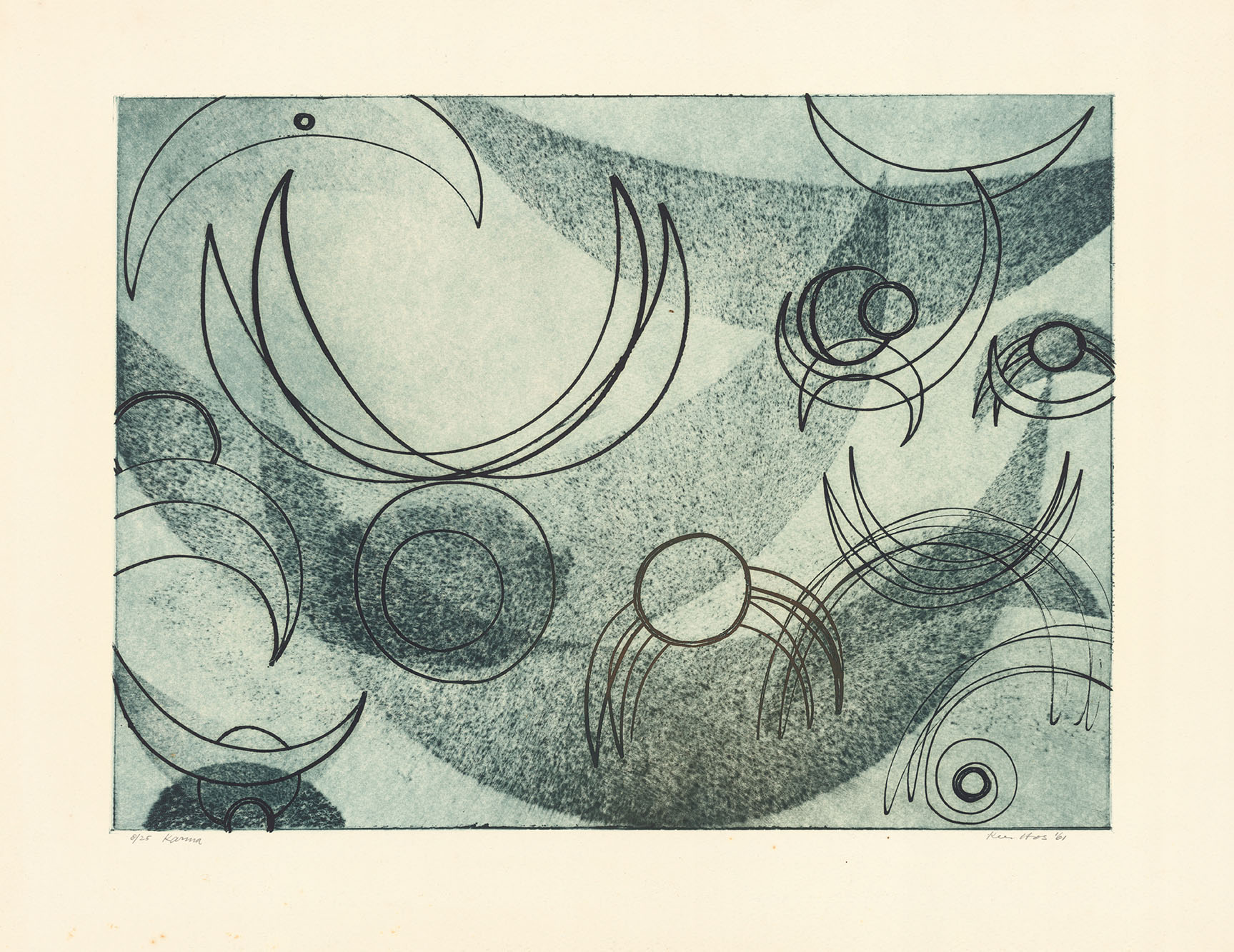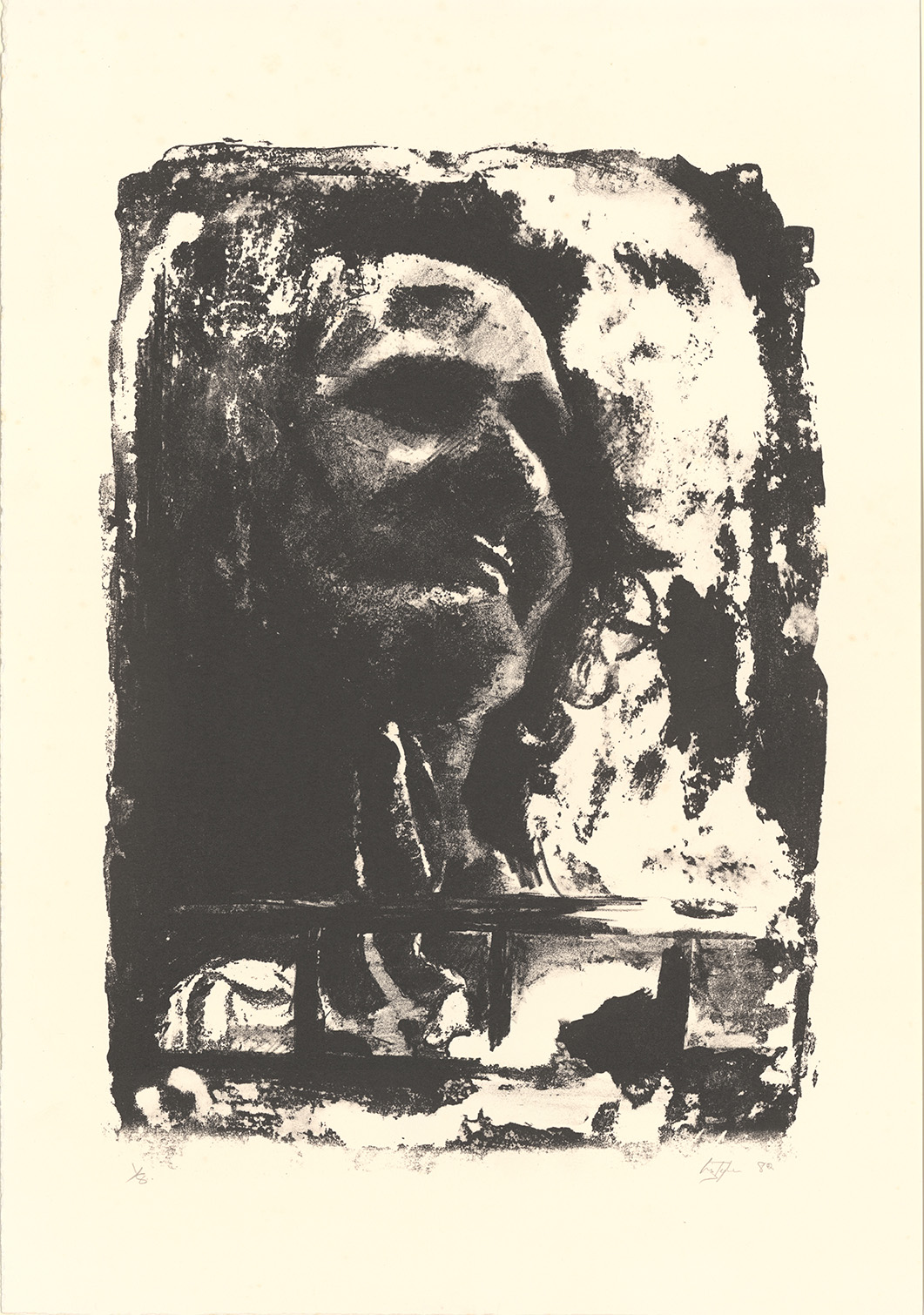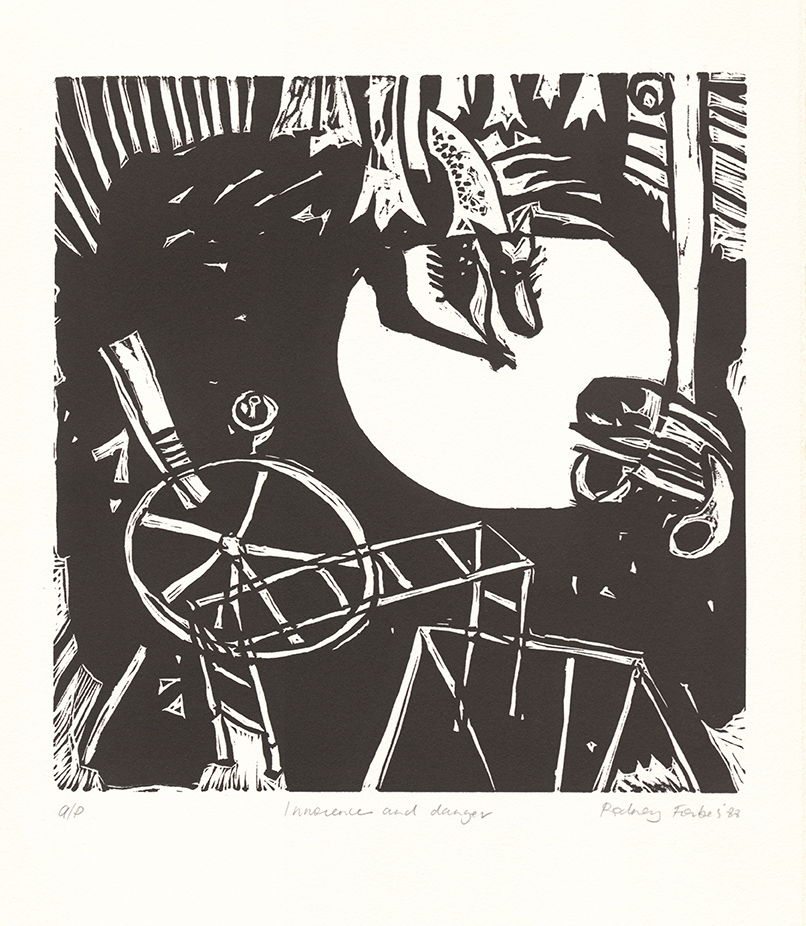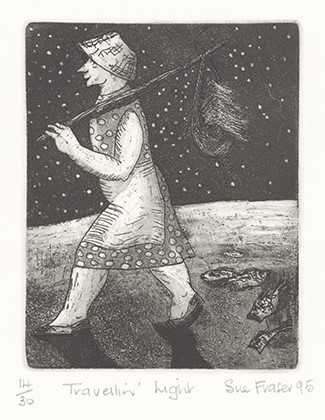 From top:
Kate Zizys, Dog Town, 2021, mixed media, 45 x 35 cm, unique print from boxed set
Juli Haas, Hostage, 1993, hand-coloured drypoint, 51 x 37 cm, edition of 30
Euan Heng, Neerday, hand-coloured linocut, 38 x 40 cm, edition of 55
Helen Burkhardt, Desire, 1986, lithograph, 31 x 18 cm, edition of 8
Kat Kershaw, Cat Dreaming, 1979, silkscreen, 43 x 43 cm, edition of 10
Kaye L. Green, A tree with Leaves or Birds in the Mind, 1993, lithograph, 45 x 30 cm, edition of 30
Kees Hos, Karina, 1961, etching, 37 x 49 cm, edition of 25
Liz Tyler, Head, 1982, lithograph, 41 x 30 cm, edition of 8
Rodney Forbes, Innocence and Danger, linocut, 26 x 24 cm, A.P.
Sue Fraser, Travellin Light, 1995, etching aquatint, 12 x 10 cm, edition of 30
The prints in Fellow Travellers focus on a collegiate theme and around the Printmaking Studio at the Gippsland School of Art on the University Campus at Churchill, a place I know very well, having been a student in the early 1980s and the studio technician from 1985, with various breaks doing other work. The founder of the art school in the 1970s was Kees Hos (1916–2015), a printmaker with many works in the collection. I have lived the various iterations of the art school: G.I.A.E, Monash and finally Federation University Australia, and accumulated some twenty years of employment including teaching since 2015. This contact provides me with personal connections to most of the artists in this exhibition who have studied, taught, or visited the art school.
I consider myself and the artists in this exhibition as 'fellow travellers.' We are like-minded people on a journey together at a point of time, aligned through an interest in subject, object or investigation – in the facilitation of creating original prints.
Artist and academic Euan Heng referred to his student Juli Haas as a 'fellow traveller' when he opened her first public exhibition at the LRG in 1992. Words that have stuck with me ever since, words that describe the mentor relationship between them. Both artists use a figurative narrative approach, both interested in the work of the artists Max Beckman and Paula Rego. Earlier this year Haas (1952 – 2014) was honoured with a retrospective exhibition at Gippsland Art Gallery, Sale: Come Together: The Art of Juli Haas. Several works were borrowed from the LRG collection including By the Banks of her Own Lagoon, her watercolour painting which won the prestigious Sulman Prize at the Art Gallery of NSW in 1995.[1]
'Fellow Travellers' for me also refers to the many printmakers in the contemporary Australian art scene. We tend to communicate and collaborate in our varied practices. In the teaching and learning space of art school and the community press environment, collaboration around ideas and development of print exchanges and projects can flourish.
Many of the prints in the LRG collection have been acquired from the Print Council of Australia through their annual commission program. Over the years several Gippsland artist prints were acquired through this process.
In some ways similar, for a period in the 1990s the Gippsland School of Art ran a Patron Prints program from the print studio. Euan Heng describes:
"The Patron Prints developed from an idea that Kaye (Green) had, she was trying to attract funding for student awards/prizes… Her plan was that we should approach visiting artists to make a print. We supplied all materials and time; she would print the lithographs and I would print the relief prints and etchings. The artist would get the proofs and we would sell the edition, I think for around $100 a print. We both did one to encourage others to participate".[2]
Some of the invited artists included Stewart MacFarlane, Linda Marrinon, John Ryrie and local artists Juli Haas, Rashida Abdel Aziz. The project added extra energy to the local market for printmaking, increased the profile of the participating artists and brought kudos to the school. The LRG received prints into their collection from this program. The Patrons themselves were local community members and professionals, with an interest in acquiring contemporary work and were regular visitors to Switchback Gallery events on the Churchill campus. With the annual release of 3-4 prints there was something of a frenzy amongst Patron members to get in quickly and purchase.
Kaye Green's expertise in lithography enriched the undergraduate program and brought in postgraduates (on campus and by distance study) wanting to specialise, such as Judy Watson and Tim Mosely who each relocated from interstate to study in Gippsland. Green's advice on lithography was sought after by other organisations in Melbourne and Brisbane.
To further explore the theme of collaborative practice I include Our Corporate who art in Heaven, a collaborative work by Rosalind Atkins and eX de Medici. Atkins taught for several years until 2015 at Gippsland. Her expertise as a former technician at the Australian Print Workshop in Fitzroy gives her a special capacity for working with other artists, in this case – on the same plates sent between Victoria and the ACT! The project was completed by both artists coming together to print the edition at a press facility in Mildura:
"We don't do any planning or preparatory work (together). Our collaboration is based on respect, trust and friendship. The work is about responding to the other but maintaining our individual concerns. The work evolves without a sense of ownership by either artist. It isn't about your part and my part – it is about the whole". [3]
Another artist with great capacity for collaboration is Kate Zizys, who also worked in the print studio as a technician and instructor in the Visual Arts and Koori Footprints programs during the Monash years. She is also a member of arc Yinnar[4] working at improving the printmaking facilities in their access studio. Her prints on display are part of a much larger boxed set very recently commissioned and acquired by the LRG and shown in 50 Years 50 artists [5]. Zizys moved to Cairns in 2011 to work as a printer at Djumbunji Press, where she worked with indigenous artists to edition their linocuts. Zizys donated several printer's proofs to the LRG. One of these is included in the exhibition: Marks of a printmaker (body parts I) by Torres Strait artist Brian Robinson. The traditional patterning in this black and white linocut reflects the artist's heritage, while experimenting with European form. It playfully reminds me that the process of making an original print is an intimate one, yet the artist is sharing a journey with fellow artists and with viewers. Showing the placement of two hands within the black and white surface of the image, one hand holding the carving tool as if drawing with it. It becomes a self-portrait of making the design and at the same time a very familiar action of print process at work.
In the same sense we can see the individuality of every artist in 'Fellow Travellers'. These prints deal with personal themes and interests yet the application of print process to the task provides us with a language of mark and matrix that resonates with suitability and timeliness.
_
[1] Curated by Simon Gregg, the first retrospective exhibition of Haas' work, bringing together student works and essential prints and paintings. Dates: 10 Sept. to 20 Nov, 2022.
[2] Email conversation with Euan Heng, 23 Aug, 2022
[3] Email conversation with Ros Atkins, 15 & 16 Sept, 2022.
[4] The Art Resource Collective Inc. in the township of Yinnar is an artist run space offering facilities and programs across the creative arts founded in 1982. It has close links with the LRG and the University art school.
[5] An exhibition celebrating 50 years of Latrobe Regional Gallery, 11 Sept – 12 Dec 2021. Catalogue essay on this work and Zizys can be found on the LRG website.
—
Fellow Travellers – Prints from the Collection, curated by Jenny Peterson, is at Latrobe Regional Gallery, 138 Commercial Road, Morwell, until 12 February. latroberegionalgallery.com
—
Join the PCA and become a member. You'll get the fine-art quarterly print magazine Imprint, free promotion of your exhibitions, discounts on art materials and a range of other exclusive benefits.