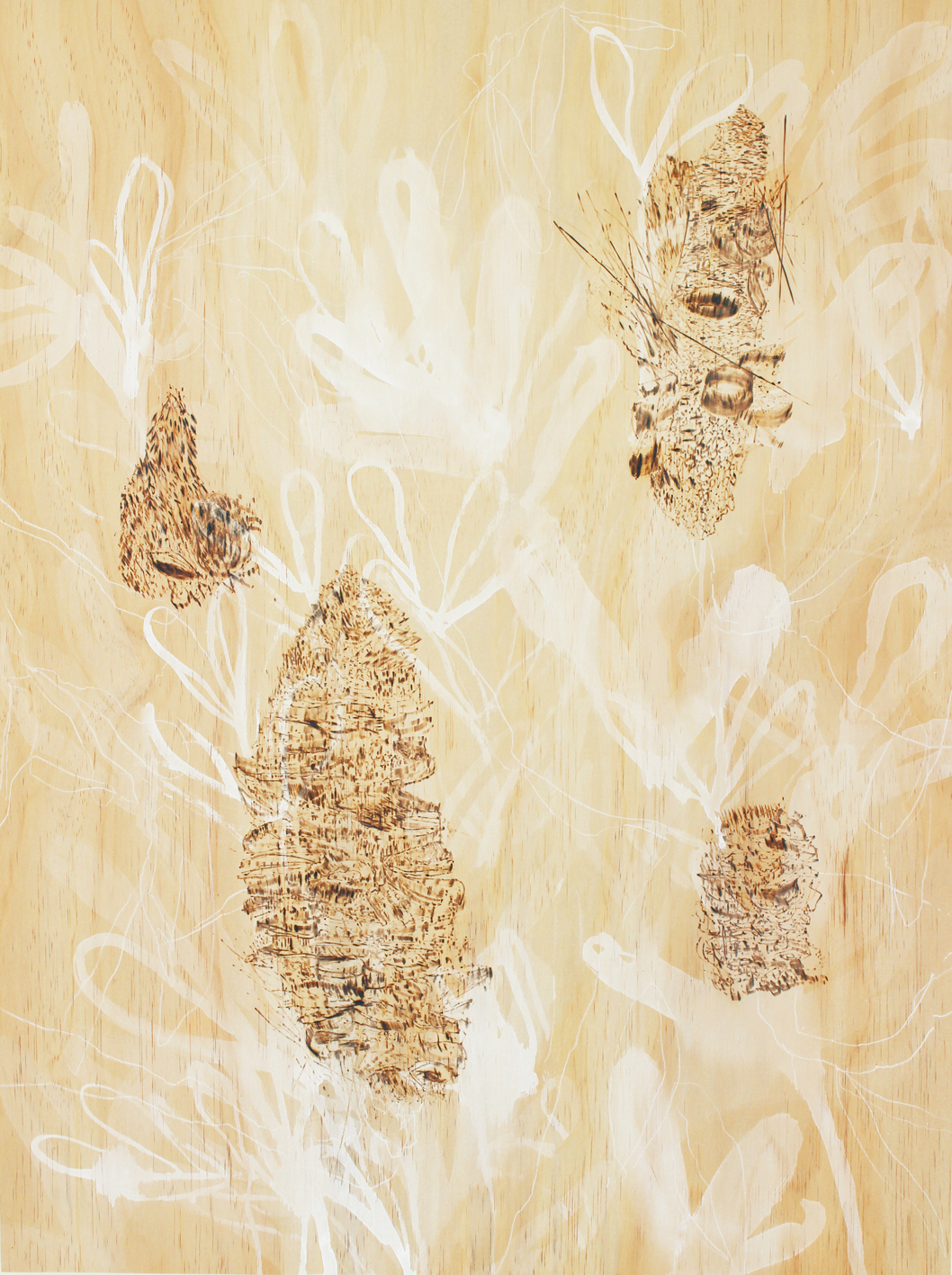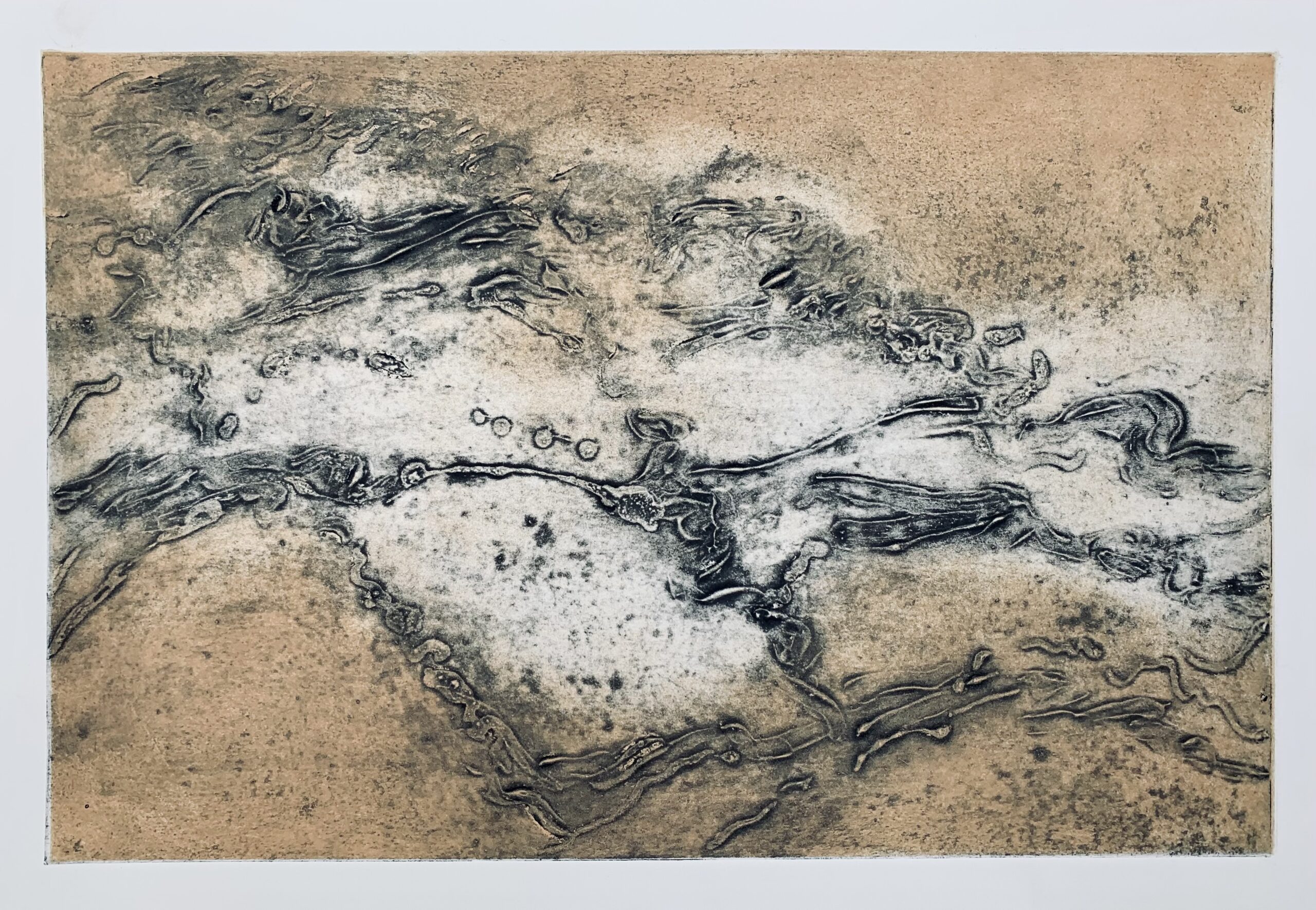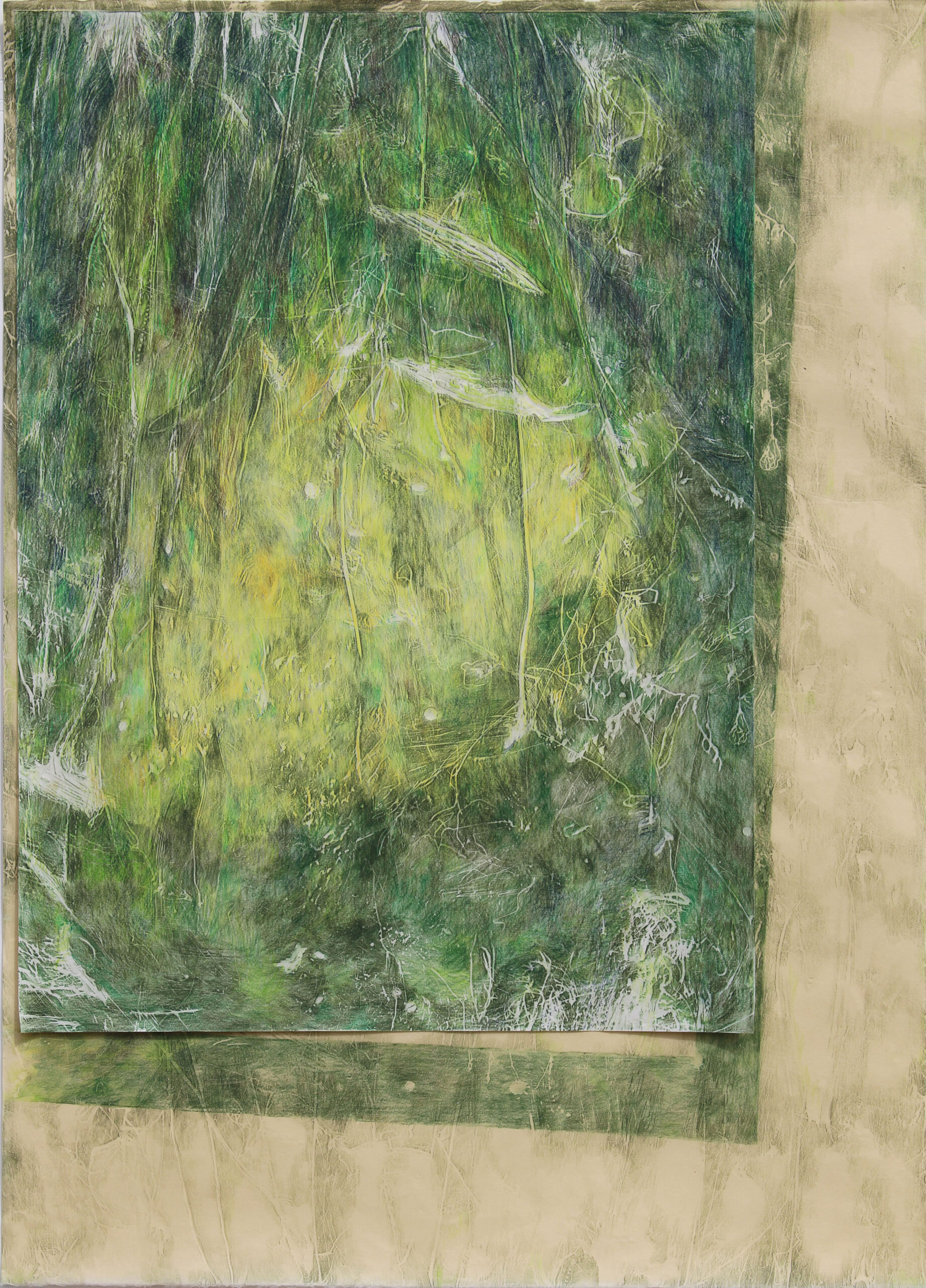 From top:
Mirabel Fitzgerald, A Terrible Three, colour etching and aquatint on Hahnemuhle paper, edition of 6, 200 x 200 cm
Julie Holmes, Big Bad Banksia Men, 2020, gouache chinagraph and soldering iron on plywood, 80 x 60 cm
Mirabel Fitzgerald, Aftermath Guerella Bay, 2022, ink drawing collage and watercolour on BFK paper mounted on Japanese paper, 445 x 630 cm
Julie Holmes, Wild Abandon, 2022, coloured pencil on Japanese papers, 91 x 65 cm
Julie Holmes, Burnt Offerings, 2020, linocut, 93 x 63 cm
Q: What were some of the foundation ideas for this exhibition project?
A: Embers, Epicorm: Art of the Eurobodalla emerged as a result of the Black Summer fires of 2019-20, where the ongoing effects of the event are still placing considerable strains on communities, exacerbated by the intrusion of the pandemic. It is hoped that this crossregional exhibition will contribute to stronger community healing and learnings which we can benefit from in the future.
Q: How did the artwork selection take place?
A: The exhibition did not gain momentum until 18 months after the event, due to the
rawness of the subject matter and the onslaught of COVID-19. Connections were initially made remotely until studio visits were a possibility, during which harmonious relationships between the artworks, despite their disparate techniques, were instantly identified.
The key intention of the exhibition is to represent people's different experiences, observations and reactions to the event, acknowledging that everyone has a different story. To achieve this, multigenerational artists were invited to participate based on their different artmaking techniques, being of varied cultural backgrounds, Indigenous, non-Indigenous and from the USA, and from different areas within the Eurobodalla.
Q: How does the exhibition manifest – what do visitors experience?
A: The resultant presentation is both broad and deep, harmonious and confronting, traumatic yet triumphant, as the varied phases of the fires and their aftermath are documented and creatively articulated – from the threat of ember attack to the epicormic growth of nature's rejuvenation and human resilience. Artists include printmakers Mirabel Fitzgerald, Julie Mia Holmes; installation artist Jennifer Hawkins; designer, painter and installation artist Walbunja-Ngarigo Cheryl Davison-Overton; painter Raewyn Lawrence; glass artist and painter Amy Schleif and ceramicist Jo Victoria.
In this context, the beauty of printmaking and observing via a printmaker's lens, enables a delightful level of detail to be captured, reflecting an intimacy with the surroundings, which the event forced locals to examine, searching for new life, and clinging to miniscule signs of what once was.
Experienced printmakers Mirabel Fitzgerald and Julie Mia Holmes have both contributed several pieces to the exhibition, and traverse these acrimonious personal experiences, balancing inner torment with emotions of jubilation at the sight of revival. Both artists demonstrate a tactility of the process in conveying infinitesimal detail of their observations, a feature captured so beautifully via varied printmaking techniques.
Q: What are some of the key works and what subject matter do they deal with?
A: In Aftermath – Guerella Bay Fitzgerald captures the mounds of ash which ebbed and flowed on the beaches, and surprisingly sometimes still do so, as a reminder that the debris remains a significant presence in both the visual landscape and within the psyche of local residents. The work presents an almost surreal terrain, suggesting gradual molten movement and permanent scarring effects of the overbearing heat.
Fitzgerald has conveyed this effect through combining an intaglio collagraph, in which gestural marks form an impasto surface printed in ash grey, with an aquatint plate overlaying a warm burnt orange.
In contrast, A Terrible Beauty and Beyond Black Summer, both three plate colour etchings and aquatint, lure us to marvel at the beauty of the lime green regrowth, ever present on the surviving trees, desperately punching out lifelines to obtain light and oxygen, whilst breathing a sigh of relief at the return of clear blue sky. This epicormic growth has dominated the region for close to two years, expressing resilience in both nature and humankind, yet peppered with a backdrop of the ghosts of a previously dense and rich bushland, home to millions of wildlife which have since perished, sometimes miraculously returning in small pockets.
Holmes enjoys practicing in a variety of printmaking techniques, with large format linocut burnt offerings honouring the skeletal remains of organic matter still intact and recognisable after the fire event. Conveying painstaking detail of the artist's observations, Holmes transfers the therapeutic benefits of the slow and considered process of linocutting to her audience. Similar to Fitzgerald, the work captures the swathes of debris washed up on the shoreline, bringing into question a major paradox of the event – the presence of uncontrollable fire so close to the sea.
Diverging from traditional printmaking, yet harnessing familiar materials used by the artist, Holmes has created a series of delightfully light and ethereal, one-off plywood works, charred with a soldering iron, and finished with gouache and chinagraph. In big bad banksia men Holmes captures the ghosts of native floral species, the oppressive presence of smoke, and seemingly innocuous floating by of embers and burnt matter. Holmes was drawn to using plywood as a representation of the loss of forest and commodification within the building industry, whilst the soldering iron inflicted scars of collective trauma – human, flora and fauna.
Interconnecting Holmes' printmaking and drawing practice, Wild Abandon encapsulates a walk through a spotty gum forest full of verdant shifting light, bird song, insect buzz and the rustle of undergrowth energetically translated into a gestural drawing made with sticks and ink directly onto a lino block. These marks were slowly carved and contemplated over the course of a few months, then mapped once more through frottage with coloured pencil on Japanese papers.
Q: What is it about the printmaking experience that you most appreciate?
A: Fitzgerald develops her ideas from drawings, collage and sometimes photographs, employing multiple techniques, mainly etching, also colour relief prints, rubbings, ink stencil and monotype. According to Fitzgerald, her enjoyment of the process helps her "to think and respond intuitively – turning an image every which way, to explore its' permutations. Each variation questions representation, perception, and of course, the artist's role in the making of it. I begin with an outside source derived from something seen, and as the work develops it takes over and dictates to me."
According to Holmes: "Printmaking serves as a mirror, the matrix delivering little wonders and surprises as the paper is pulled off the inky plate. It is this same feeling of magic and mystery when discovering a new bird, flower, insect or noticing the subtle changes within a season. Happy accidents! There are so many different techniques and matrixes to use, to interconnect, and you have the safety net of the multiple. This gives you the freedom to experiment and to push and pull an image to its full extent. Linocut, etching, drypoint, collagraph, embossing, frottage, skies the limit!"
—
Embers, Epicorm: Art of the Eurobodalla is at Incinerator Art Space from 6-24 July
www.willoughby.nsw.gov.au/Events/Embers-Epicorm-Art-of-the-Eurobodalla.
—
Join the PCA and become a member. You'll get the fine-art quarterly print magazine Imprint, free promotion of your exhibitions, discounts on art materials and a range of other exclusive benefits.