Entries open: 2023 Banyule Award for Works on Paper – Nhalinggu Bagung
The 2023 Banyule Award for Works on Paper is now open for entrants. In this special feature, the theme for the acquisitive prize for 2023 is explored – Nhalinggu Bagung, which, in the local Woi Wurrung language means "come gather".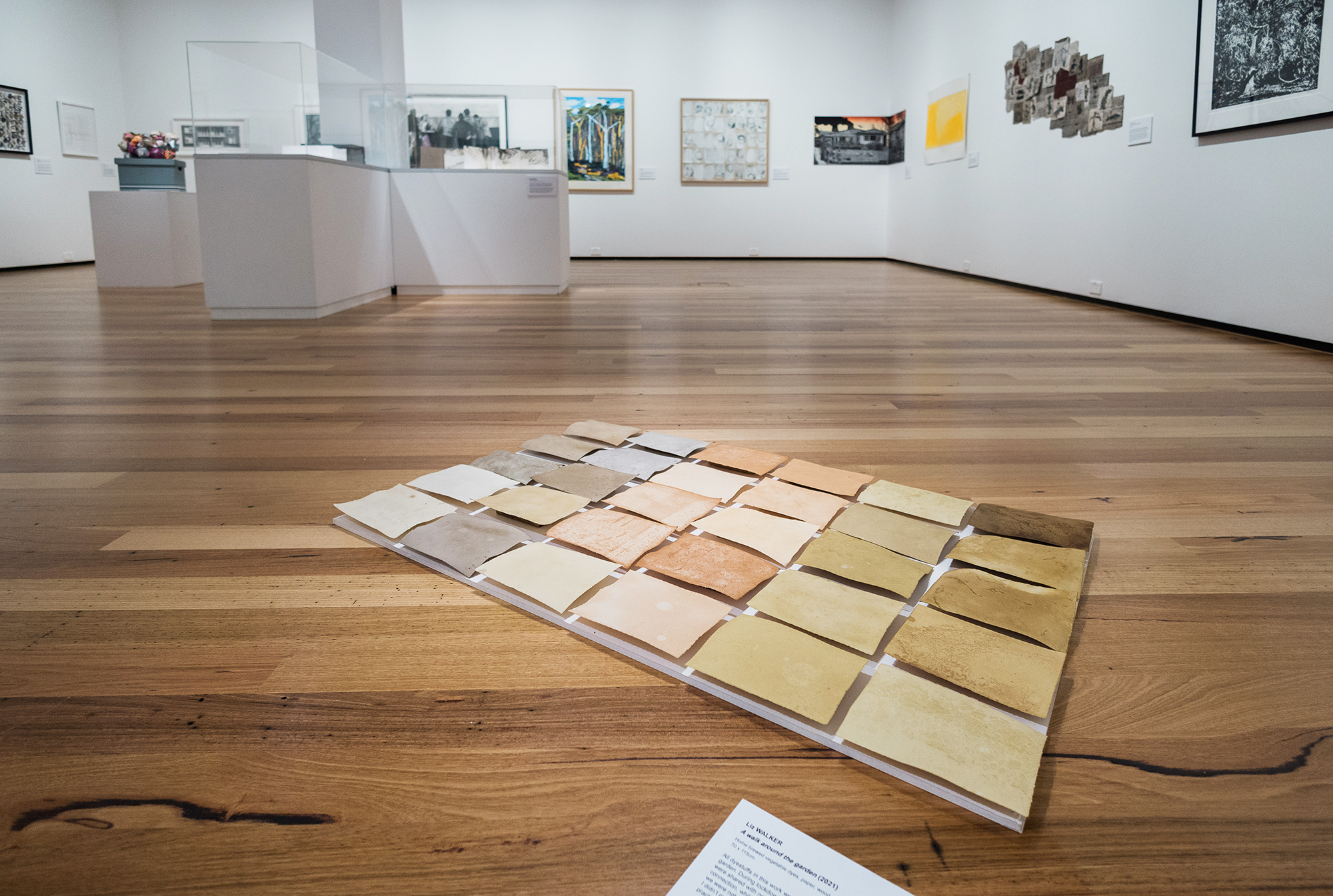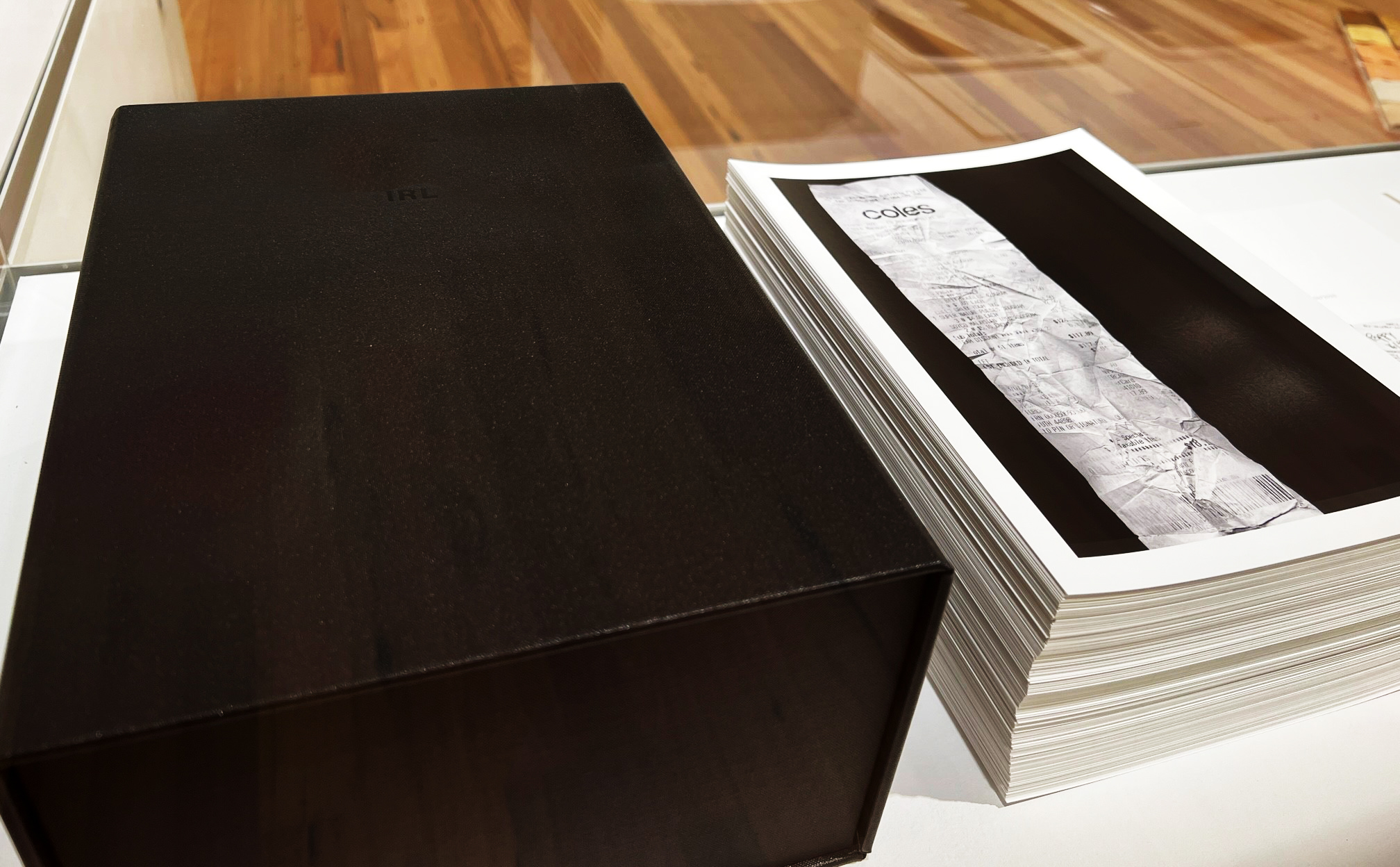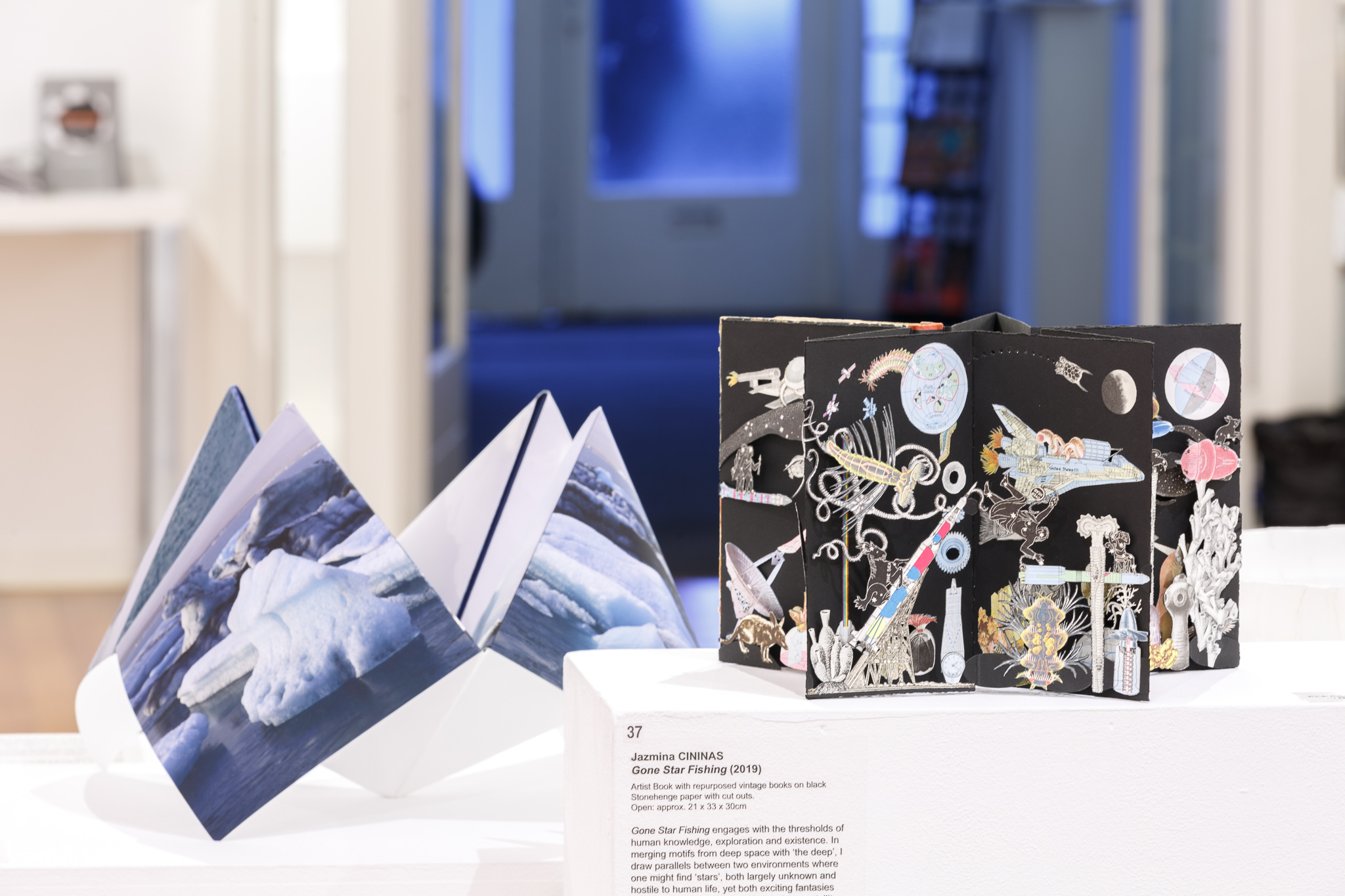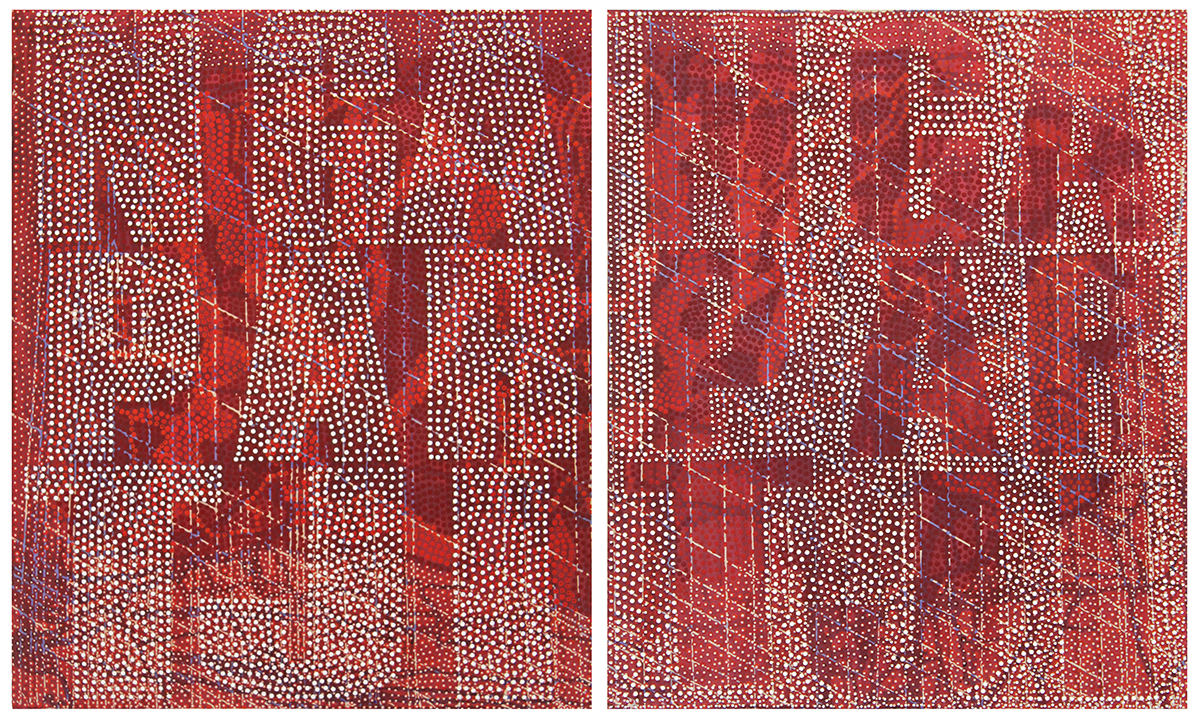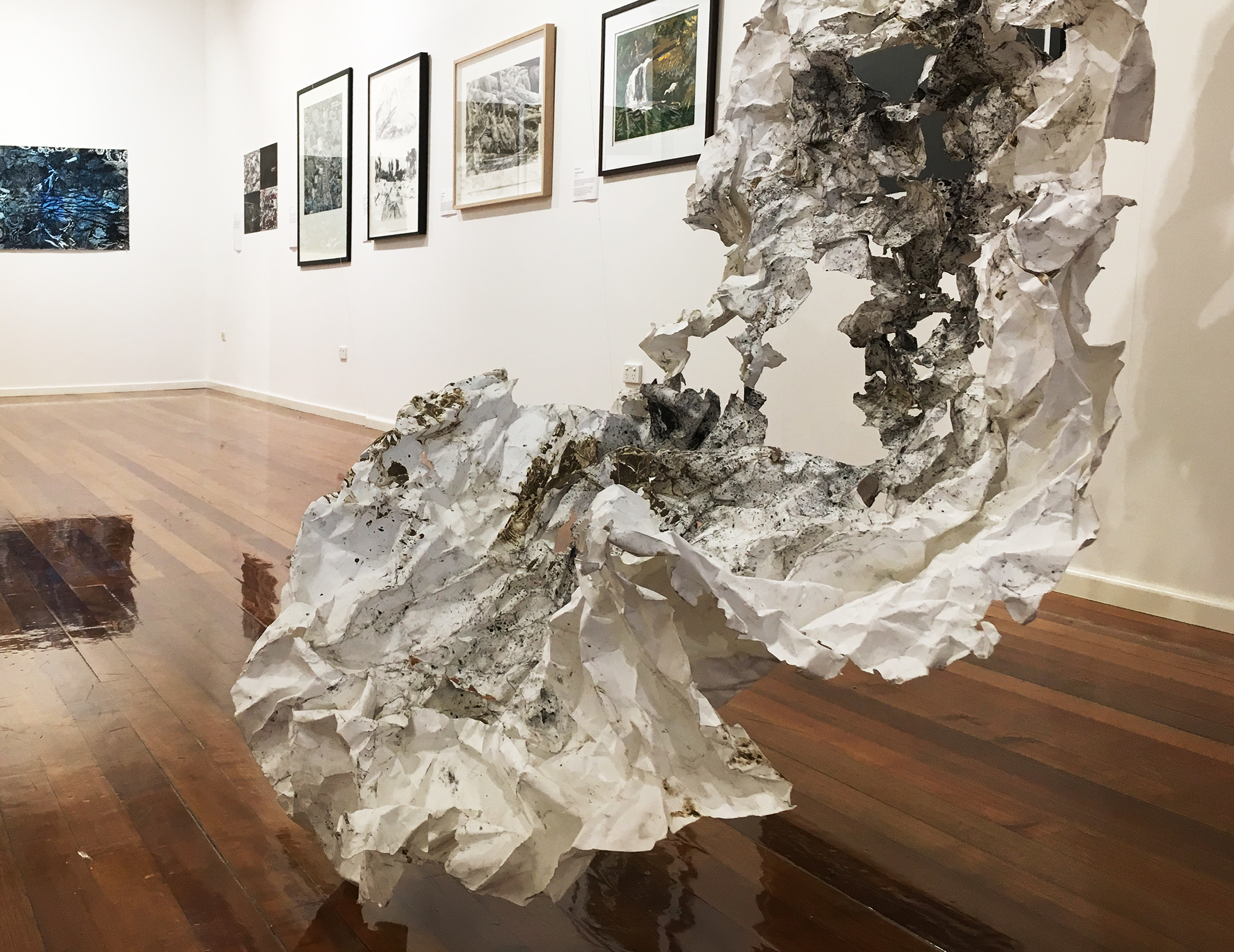 From top:
2023 Banyule Award for Works on Paper Nhalinggu Bagung design by Jodie Brennan of Mazart Design Studio. Woiwurrung language naming used with permission.
2021 Banyule Award for Works on Paper exhibition featuring artwork by Liz Walker (foreground)
2021 winner IRL by Phuong Ngo
2019 Banyule Award for Works on Paper exhibition, featuring artworks by Georgina Campbell (left) and Jazmina Cininas (right)
2019 winner Ngapartji-Ngapartji by Robert Fielding
2017 Banyule Award for Works on Paper exhibition featuring artwork by Annique Goldenberg
Q: What is the history of the Banyule Award for Works on Paper and the foundation ideas underpinning it?
A: The Banyule Award for Works on Paper is an acquisitive prize awarded biennially by Banyule Council since 2003. This national award showcases the work of established and emerging artists from across Australia in a great range of artistic styles, all celebrating the versatile medium of paper.
Holding a national art prize spreads the reputation of Banyule City Council in the arts community, and demonstrates Banyule's commitment to arts and culture. Art prizes are an important feature of the arts economy, providing funding and recognition to artists, through an open, equitable and rigorous process.
Over the past several prize years, Banyule has increased its investment in the prize, by acquiring many artworks from the finalists' exhibition, in recognition of the high quality of art, and rewarding artists for their participation. In 2021, we acquired an additional seven artworks from the exhibition; and we had acquired ten in 2019.
Q: What is the focus and them of this year's award?
A: Each iteration of the Banyule Award for Works on Paper is directed by a theme, which aligns either with a current direction in art, pressing contemporary issue, or a matter of local interest at the time.
The theme for the 2023 Banyule Award for Works on Paper is Nhalinggu Bagung (Come Gather)
Nhalinggu Bagung in the local Woi Wurrung language means "come gather".
On 5 December 2022, Banyule Council officially adopted the Uluru Statement from the Heart in full, and committed to taking practical action for a better future and reconciled Australia. As part of Banyule's ongoing commitment to this action, we have set this theme in recognition that Reconciliation requires all of us to come together and do our part to build a future for all Australians.
Q: How has the award evolved and what are some of the winning works in past iterations?
A: With each iteration of the Banyule Award for Works on Paper, artists and judges are asked for their opinion on the theming of the prize. The responses have been overwhelmingly in support of a theme, as it allows artists to create a more focussed response, and results in a cohesive finalists' exhibition.
In 2021, the theme was Community. We identified that one of the major consequences of COVID lockdowns was isolation and the loss of community. The theme asked artists to consider all aspects of 'community' – what it means to them, exploring different kinds of communities.
Phuong Ngo's artwork, IRL, was selected as the winner by the judges, standing out from the field of competition as a work that was deeply embedded in and for a community. IRL effortlessly emcompassed community engagement, activism and fine art – quite simply, the artwork embodied the very concept of 'community'.
In 2019, the theme was Threshold, as the world stood at the threshold of change: for better or worse. The theme for the award called on artists to submit artworks that express, explore, advocate, or address current social, cultural, political or environmental issues. In 2019, we added an additional Environmental Prize in response to the challenges brought on by climate change, and a Youth category to encourage young artists.
The winner was Robert Fielding, with his stunning artwork Ngapartji-Ngapartji, which is an Anangu concept of reciprocation and cooperation, central to Anangu culture. Ngapartji-Ngapartji means to give and take, to cooperate and find a way to carve out a future together.
Q: How will the 2023 award manifest as an exhibition?
A: We encourage entries from artists practicing across all artforms, which results in many interesting and exciting uses of the medium of paper. The finalists' exhibition is always varied in form and methodology, but unified by the medium and theme. We always look forward not only to how artists interpret the theme, but the material as well.
—
2023 Banyule Award for Works on Paper
Main Acquisitive Prize: $10,000
Commendation Prize: $1000
People's Choice Award (voted by public, announced at the end of the exhibition period): $1000
Entries Open: until 14 July 2023
Entry fee: $35 per entry, artists may submit up to 2 entries each
Important Dates:
Entries open: until 14 July
Artists notified: Friday 4 August
Finalists' exhibition: 15 September – 26 November 2023
Email enquiries only: arts@banyule.vic.gov.au
For further information and entry form, go to: www.banyule.vic.gov.au/WorksOnPaper
—
 Join the PCA and become a member. You'll get the fine-art quarterly print magazine Imprint, free promotion of your exhibitions, discounts on art materials and a range of other exclusive benefits.