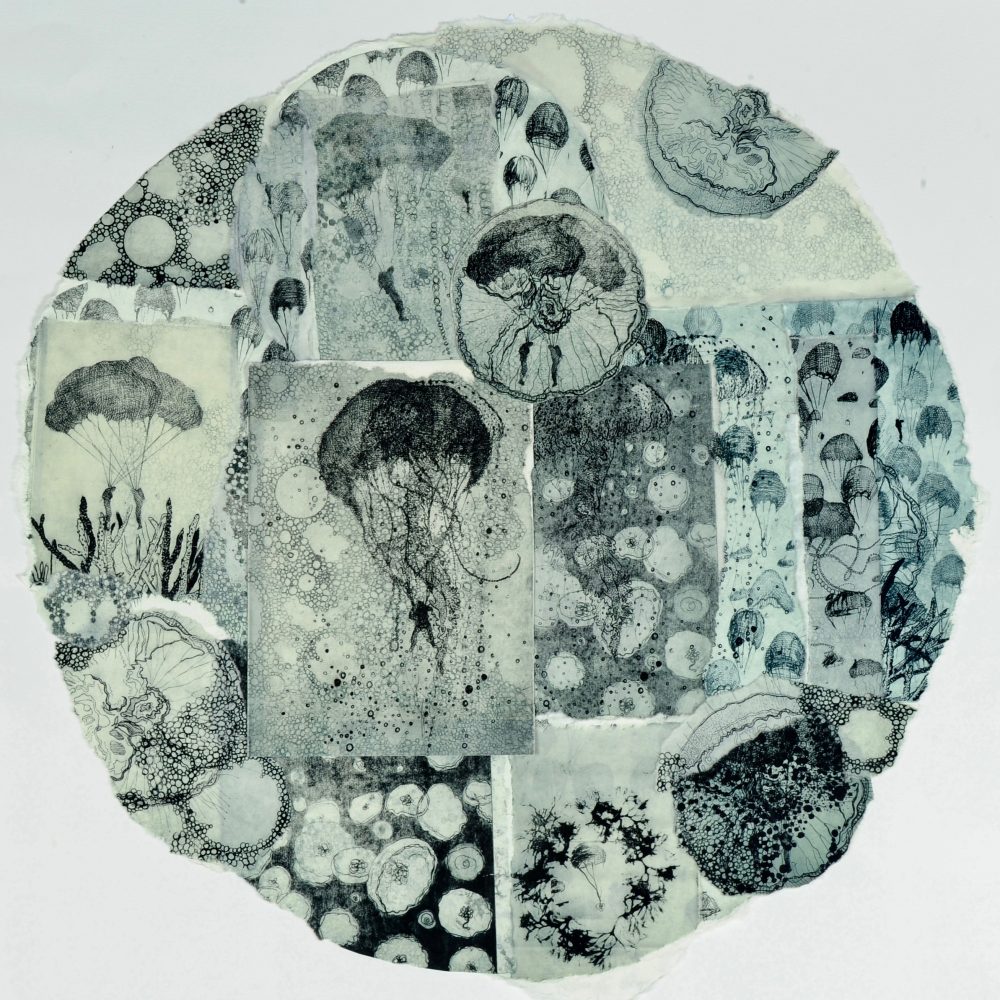 'Editions 2019' at Tacit Galleries
Featured artist Lisa Sewards discusses her contribution – among 50 other artists, with 200 works – to the 'Editions 2019' show, the annual print-focused gala event at Tacit Galleries in Collingwood. Opening tomorrow, Wednesday 13 February, 6.30-8pm, and show on until 24 February.
12 February, 2019
In Exhibitions,
Printmaking, Q&A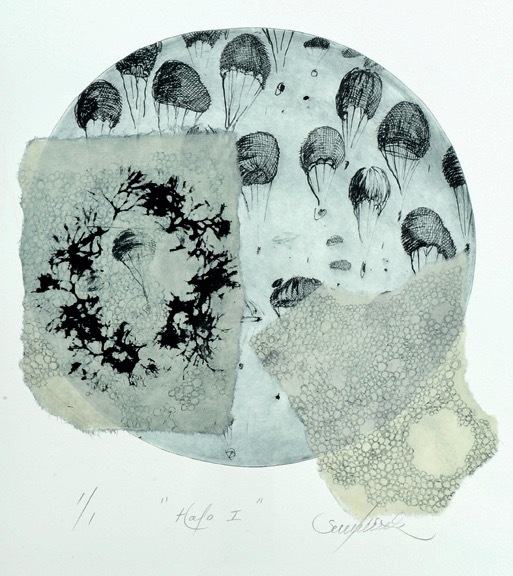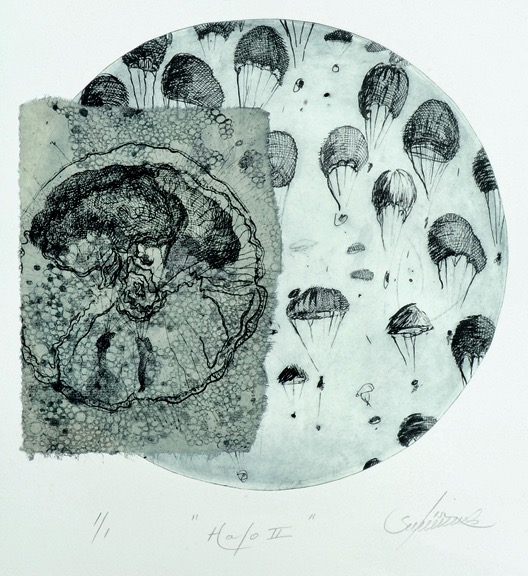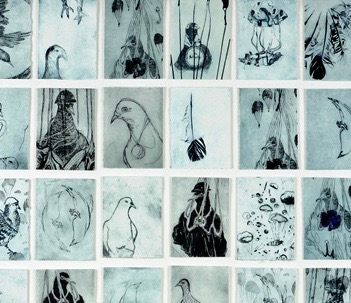 From top:
Lisa Sewards,

Ripples in the Lagoon, 2018, collage of multi-plate etchings, chine-colle, 120 x 88 cm, edition of 1.
Halo I, 2018, etching and chine-colle, 58 x 48 cm,  edition of 1.
Halo II , 2018, etching and chine-colle, 58 x 48 cm, edition of 1.
The Messengers (detail), 2018, assemblage of 36 etchings, each panel 19×13.5cm including hand colouring, unique state, 164 x 120 cm, edition of 1. Photography by Chris Van Der Spuy
EDITIONS 2019 EXHIBITING ARTISTS
2019 featured artist is Lisa Sewards. Others artists include Helene Athanasiadis, Jessie Balletta, TJ Bateson, Nellie Brown, Peter Brown, Fleur Brett, Jennifer Buntine, Loris Button, Louise Donovan, Kasia Fabijanska, Silvi Glattauer, Jackie Gorring, Gina Grant, Sue Grossman, Robert Hague, Jodi Heffernan, Bridget Hillebrand, Alex Hotchin, Kate Hudson, Callum Jackson, Lana De Jager, Hyun Ju Kim, Damon Kowarsky, Chris Lawry, Jan Liesfield, Robyn Mackay, Malini Maunsell, Paula Mcloughlin, Robert Mihajlovski, Karen Neal , Laura Osborne, Amanda Page, James Pasakos, Gaye Paterson, Jim Pavlidis, Cat Poljski, Bronwyn Rees, John RYRIE, Gwen Scott, Beata Slifierz, Lisa Stebbing, Annemarie Szeleczky Stephen Tester, Susan Wald, Peter Ward, Andrew Weatherill, Michael Wedd, and Takur O Yoko O.
–
Imprint: What is the premise for the 'Editions' exhibition and how have you been working towards it?
Lisa Sewards: EDITIONS is a unique annual celebration and observance of Victorian-based printmaking.  It showcases a selection of printmakers in various stages of their career.  As a result this annual large scaled exhibition is a raw, current and mature representation of the printmaking genre within the state of Victoria.
As an artist included in Editions, a personal celebration transpires and one that I have been a part of since its inception seven years ago.  In working towards this years' show the parachute object continues as the pivotal motif in the images, and it is both revived and given new functions in the new pieces to be included.  My works intend to be familiar yet are newly created, all maintaining connections and a relationship to my previous bodies of work.
Imprint: You are the 'featured artist' – what does this mean in terms of how your work is presented?
The new initiative of introducing a featured artist began in the 2018 exhibition with Damon Kowarsky as the inaugural artist.  It's quite the honour to follow in his footsteps that I tread with respect and immense appreciation.
My works will be shown in G4 one of the independent spaces within Tacit Galleries.  As a result there is intimacy when viewing the works and there has been consultation between the Gallery Director, Curator and myself in terms of the final twenty-four selected pieces.  In terms of their placement and presentation I fully trust the attention and respect Tacit will give to each artwork.          
Imprint: What are some of the foundation ideas for the works you've developed for this show? Were there any special technical challenges involved?
All my works in this show are etchings composed using solar plates.  The foundation of connecting my imagery to a place and time in history remains evident with the reimagining of events in time and all associated to the beauty, security and functionality of the parachute object.
The war pigeons resurface in new etchings including a large scaled assemblage of 36 small intaglio prints encased into one frame. They are almost reminiscent of museum specimens housed in a display unit.
In several artworks I have experimented and incorporated the chine-collé technique on tender Awagami papers in an olive green hue, the traditional colour of peace.  Unintentionally this subtle colouring breathes light into the underlining wartime subject matter.  Taking one step further in the artwork entitled Ripples in the Lagoon, I have extended the artwork into a circular collage.
Imprint: Can you reflect on what it is like exhibiting alongside so many other print-media artists?
It is with appreciation and pure joy to exhibit alongside so many accomplished, contrasting and distinct artists, both peers, mentors and those I am yet to discover.  I enjoy the old and the new and feel empowered and stimulated each time I walk through this annual exhibition.   Its concept authentically celebrates tradition while embracing contemporary additions within the printed form.  It has translated into a platform to not only show works but to also personally explore and reflect upon print processes and approaches to image making.  As a result it has educated and provided me with the opportunity to exhibit multiple works in a unique group show whilst providing audiences a greater understanding and insight of the print medium and individual printmakers.
Tacit Galleries masterfully curates each of its gallery spaces and has truly cultivated an annual show that celebrates both the artist and the art.
–
Editions 2019 is at Tacit Galleries, 123a Gipps St, Collingwood, until 24 February