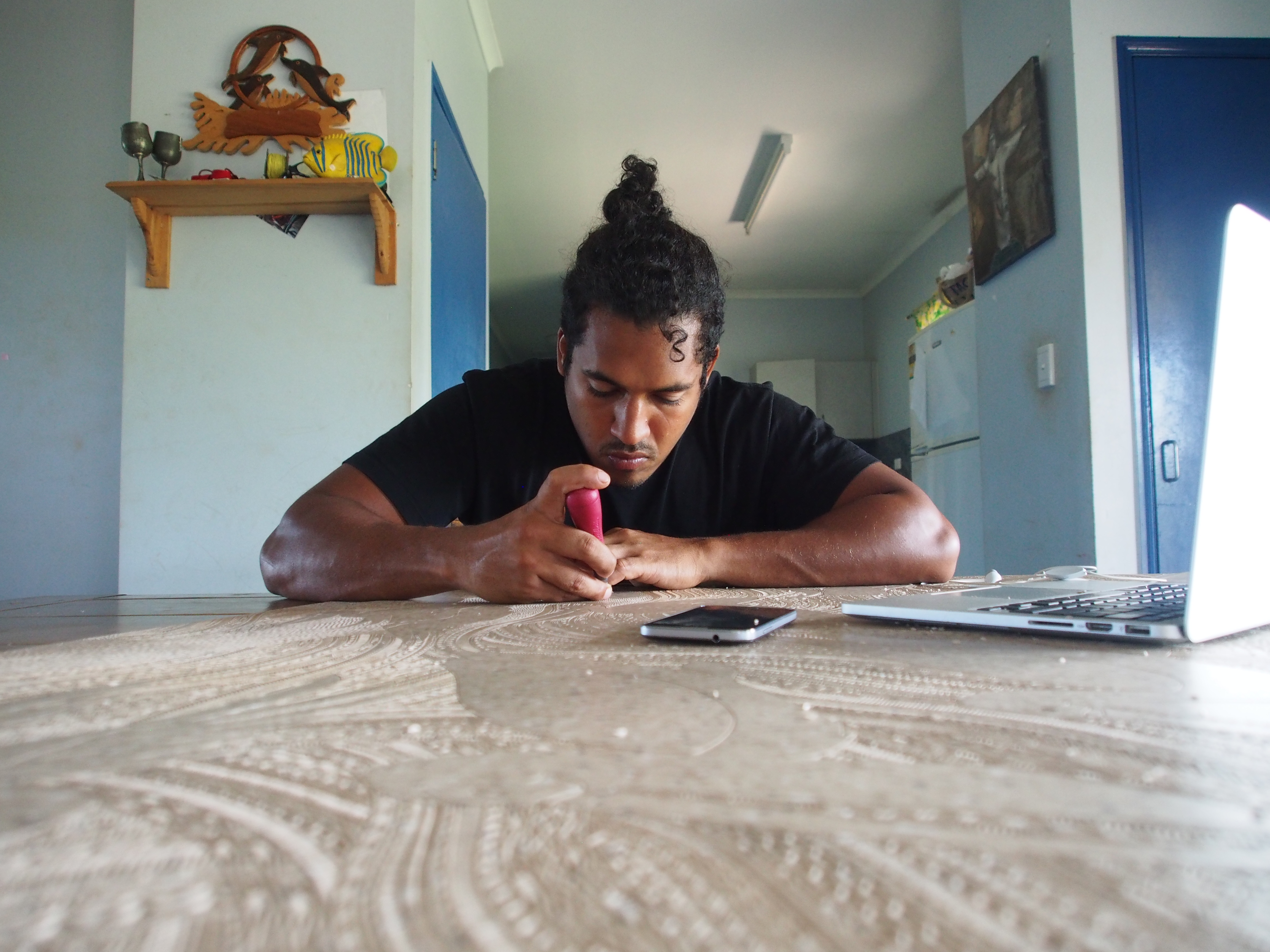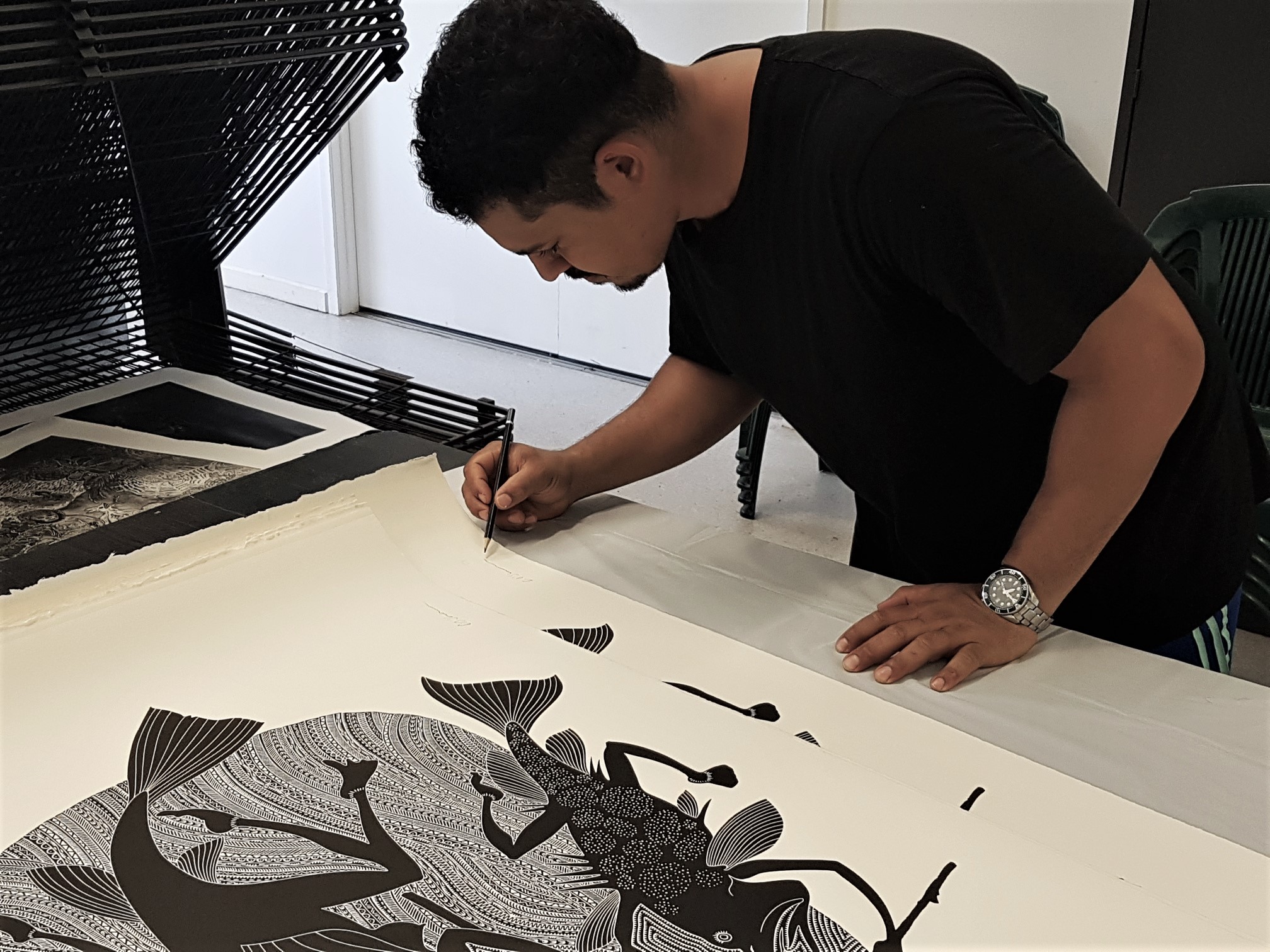 Daniel O'Shane
Born 1990, Qld. Lives Cairns, Qld.
Mar Narek (Magical Transformation)
Relief (vinylcut) print, with handwiping, printed indigo
Edition of 40. Image size: 68 x 50 cm, Paper size: 76 x 56 cm
VIEW THE PRINTS
Umbrella Studio Contemporary Arts
2 October – 15 November, 2020
408 Flinders Street,
TOWNSVILLE QLD 4810
Open Tues-Fri 9am-5pm | Sat-Sun 9am-1pm
umbrella.org.au
Sydney Contemporary Presents 2020
1 – 31 October, 2020
sydneycontemporarypresents.com.au
A free, experiential online platform where visitors can peruse artworks from over 80 Australian and New Zealand galleries.
*Sydney Contemporary art fair, and PAPER CONTEMPORARY the popular section of the fair devoted to works on paper hopes to return in 2021.


The PCA's Print Commission 2020 includes six works by artists from around Australia. The judges, Jazmina Cininas and Rona Green, say there was lively discussion during the difficult task of choosing the final works from an impressive selection: 'In the end, it was the synthesis of concept, ambition, technique and finesse that set the selected work apart for this year's 
commission.'
Q: What were some of the foundation ideas for the work you submitted for the 2020 Print Commission?
DO: This print is an extension of a traditional story which tells the creation of the crayfish (Keiyar). A young Meuram man, Keiyari, convinces a widowed Saisarem mother, Tekai, to allow her two reluctant daughters to assist him on his travels back to his village where they are introduced as his brides. The sisters soon attempt to flee with Keiyari in close pursuit. Eventually a battle transpires, and they are overcome by a reshaping metamorphosis.
Q: What were some of the technical challenges or inspirations involved?
DO: It's always a challenge to try and deliver an accurate portrayal and impression of an extensive story. To accurately depict the story's information or flow, and in this case because it is quite extensive, to include the focal elements and imagery.
Q: How does this work relate to your work more generally?
DO: The subject matter of my work has always been stories of the past: what has been preserved and passed down from ancestors to elders. In discovering these stories I've developed such a reverence for our rich culture and its abilities of storytelling and lore. Although to some, these may seem as just stories, they are re-tellings of our history, of lore, understanding and respecting the land and sea and our customs and conducts. The images that take their form can be seen as literal or mythical interpretations depending on whether one chooses to view these stories as fictional or non-fictional.
 Q: What future projects or directions are you considering?
DO: As far as relief printing goes, I feel as though I'm mature enough to now attempt a very large-scale piece. It's always seemed like a career-defining accolade and a personal milestone in terms of progress and growth. I haven't settled on its dimensions, but it will be of a grand scale. For some time, I've also had an itch to try my hand at etchings but we'll see which itch I'll scratch first.
—
Join the PCA and become a member. You'll get the fine-art quarterly print magazine Imprint, free promotion of your exhibitions, discounts on art materials and a range of other exclusive benefits.