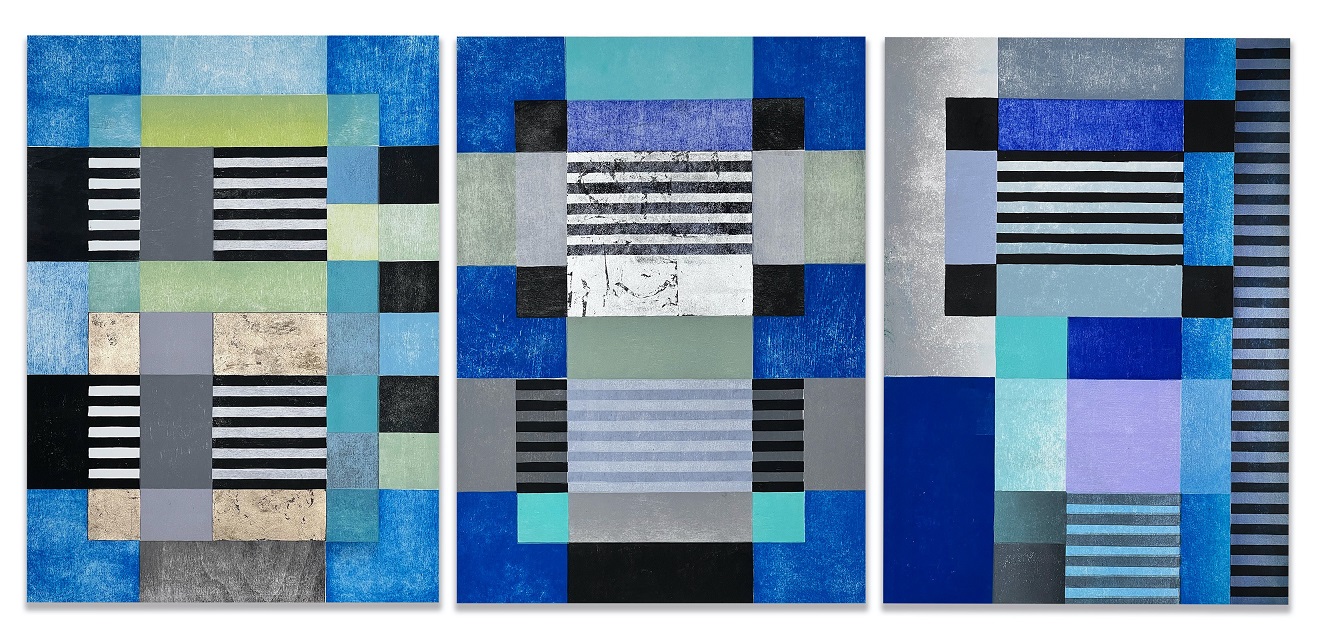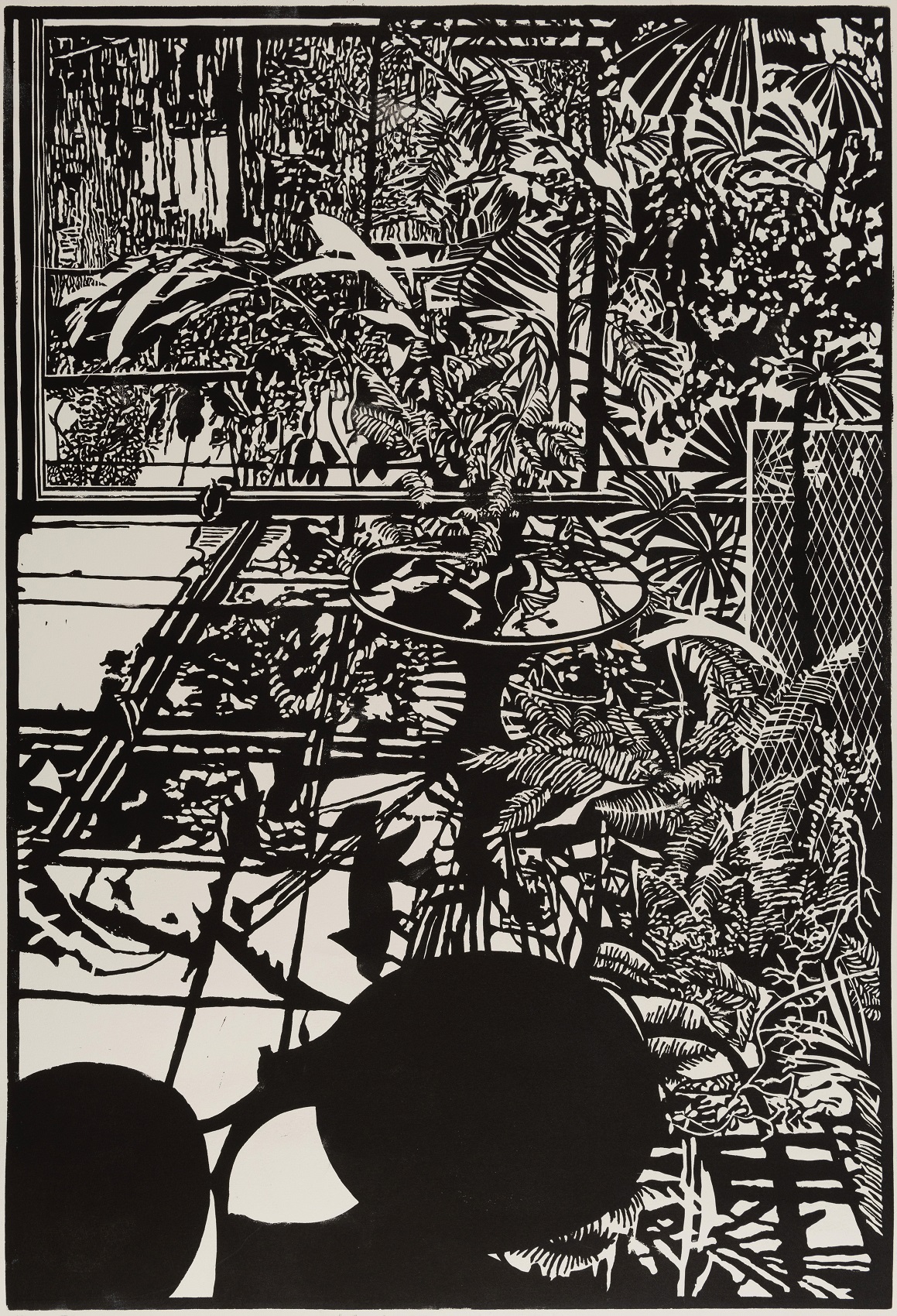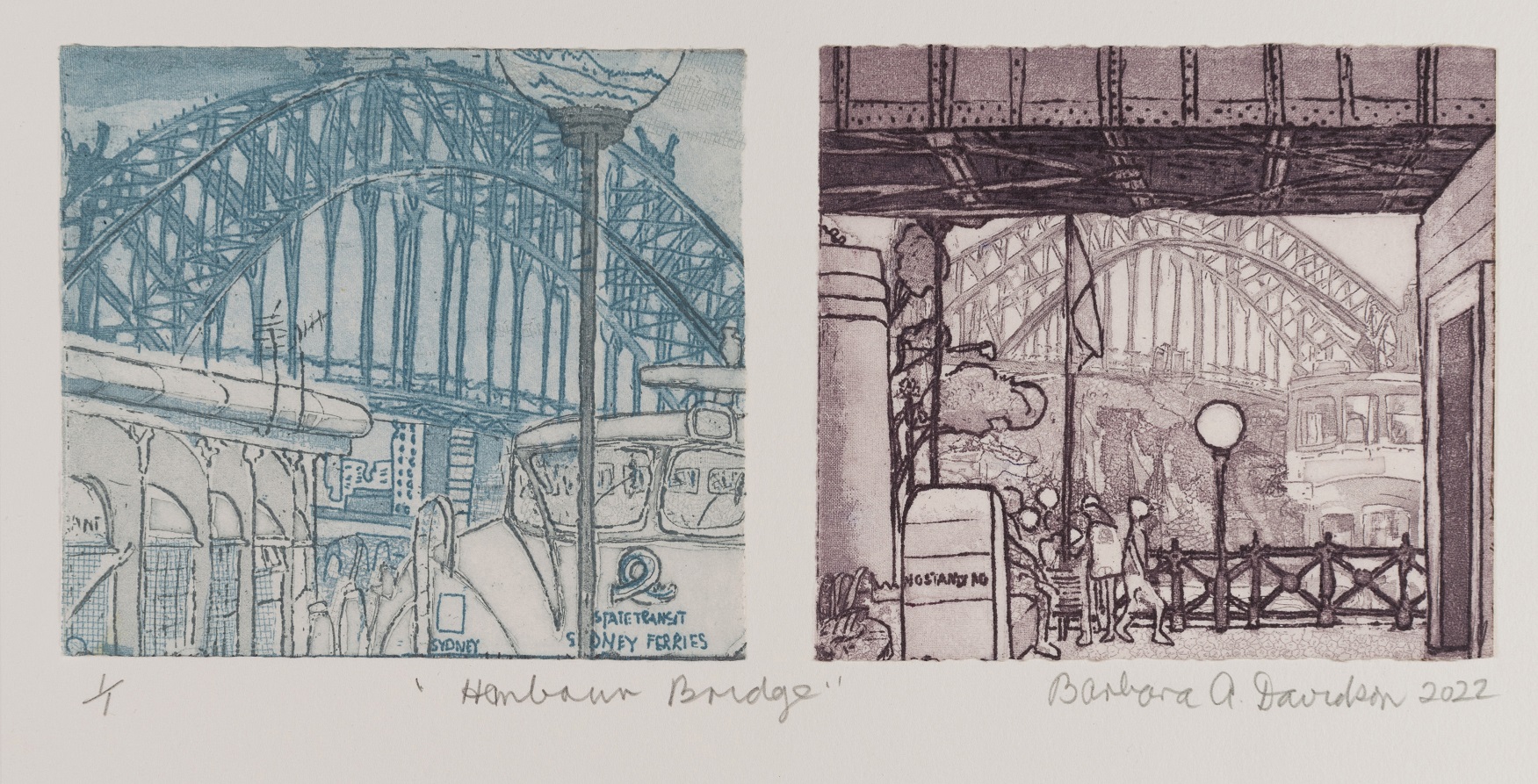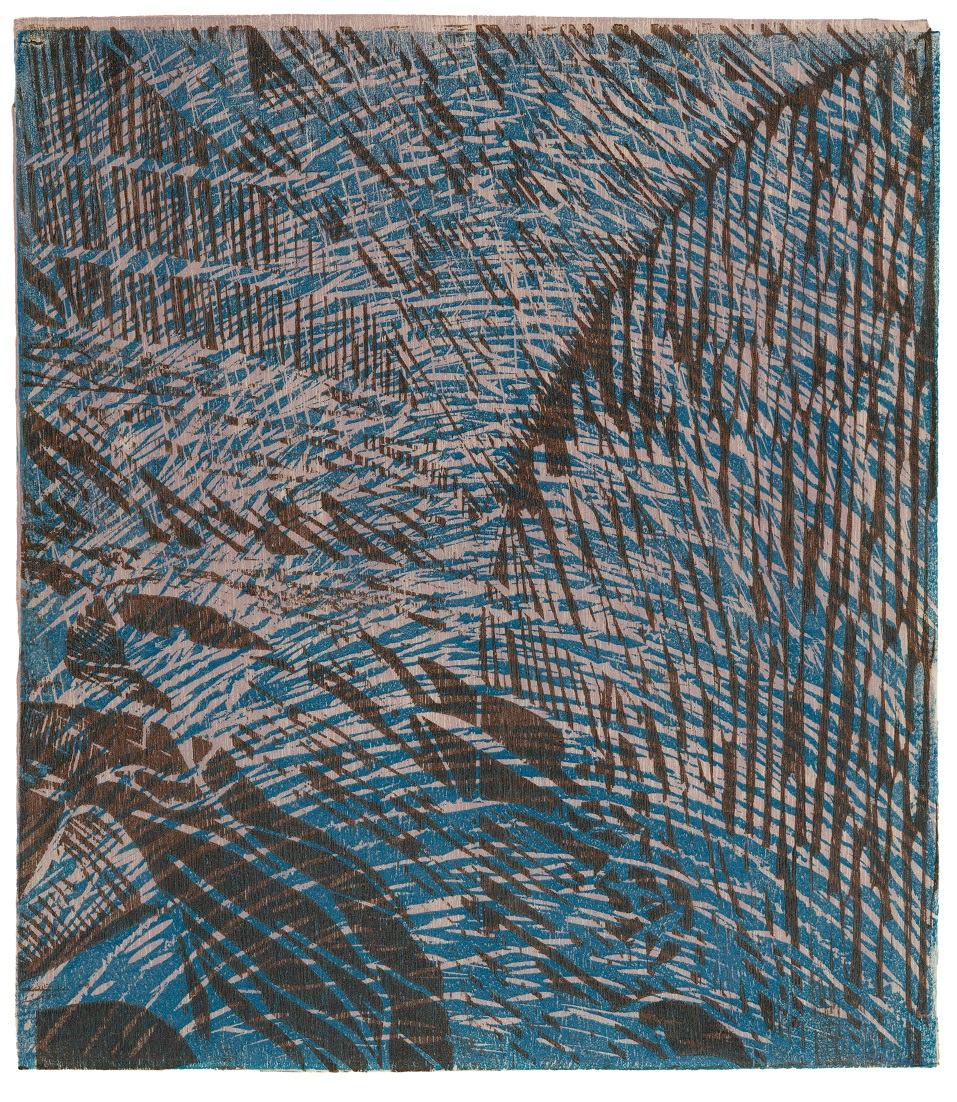 From top:
Carolyn Craig, unravelling: citational homage to grace, 2022, etching, 90 x 70 cm
Roslyn Kean, City Crossings – Sydney Harbour Bridge, 2022, multi-block woodcut, 55 x 122 cm
Graham Marchant, The Conservatory, 2019-2022, lino cut, 98 x 68 cm
Barbara Davidson, Harbour Bridge, 2022, etching, 13 x 30 cm
Ruth Burgess, Bridge of Flowers, 2022, woodcut, 48.5 x 43 cm
Q: What were some of the foundation ideas for this exhibition project?
A: Mary Faith (director) and Lisa Jones (curatorial assistant)  from Grace Cossington Smith Gallery invited Sydney Printmakers to creatively respond to the art and life of the gallery's namesake. The title, Contemplating Grace was chosen because it perpetuates the ongoing contemplation and observation practiced by the artist throughout her creative life. She was a keen observer of her environment, social and political events and embraced advances in art occurring locally and internationally.
Grace Cossington Smith (1892-1984) is remembered as an innovative artist whose iconic work, The Sock Knitter (1915) is acknowledged as the first Post-Impressionist  painting exhibited in Australia. Throughout her career and despite relative isolation and lack of support from art critics at the time, the artist embraced the first waves of Modernism in Australia and continued to explore emerging trends in perspective and application of paint. She was relatively unknown outside of Sydney for most of her creative life despite the experimental, forward thinking nature of her practice. This can be attributed to the fact she was reserved, female and, unlike many of her contemporaries, not a self- promoter.
Sydney Printmakers have created diverse print-based works, encompassing the breadth of Cossington Smith's oeuvre. Some participants focus on individual works by Cossington Smith, others relate generally to art genres she pursued including landscape, room interiors and portraiture. This has resulted in new, carefully considered works by Sydney Printmakers. The works are diverse, reflective and can be perceived as ongoing connections and shared concerns with Cossington Smith despite the passage of time.
Q: How did the artwork selection take place?
A: Selection was made by GCS Gallery through consideration of a creative response to the brief. The curators commented that many works offered them a new, interesting perspective on Grace Cossington Smith.
Q: How does the exhibition manifest – what do visitors experience?
A:  Contemplating Grace intrigues and offers greater insight especially when viewing both artist statement and visual response by participants. Notably, several participants are captivated by Cossington Smith's vibrant room interiors whether through the shimmering light and colour or innate, much discussed ,'psychology' of the personal space.  Similarly, landscapes reference not only connection to place but altered, flattened perspective and blocks of colour for which Cossington Smith was renowned .  Portraits of the self and studies of others involved in daily tasks, social or political events  led to introspective, contemporary interpretations by several participants.
Q: What are some of the key works and what subject matter do they deal with?
A:  Key works include the woodcut, Bridge of Flowers, by Ruth Burgess and Denise Scholz-Wulfing's four small but evocative hand-coloured etchings which, like Cossington Smith, celebrate love of the natural environment. The construction of the Sydney Harbour Bridge, a major social and cultural event in Sydney during the Depression years documented by Cossington Smith, is overtly and subtly celebrated in several works including Roslyn Kean's woodblock, City Crossings-Sydney Harbour Bridge and Barbara Davidson's Harbour Bridge. Anna Russell's triptych, Being, Indoors captures the intimacy yet vibrant colour of a personal space. Carolyn Craig's citational homage to Cossington Smith intrigues, in a very contemporary context, with its reference to 'women's work'. Graham Marchant focuses on altered perspective employed by Cossington Smith and the intermediary space between home interior and garden with his lino cut, The Conservatory.
As a collection of works, Contemplating Grace can be seen as both homage to Cossington Smith and the result of individuals reflecting on their own practice. Each participant took the time to look into their own creative process through contemplation of another often with unexpected, enriching connections being discovered.
Q: What is it about the printmaking experience that you most appreciate?
A: This exhibition showcases the diversity and experimental nature of printmaking. It underlines the ongoing development and expansion of print technique and expanded media to enhance both artist and viewer experience.  From finely crafted etchings, linocuts, woodcuts, lithographs, digital and photopolymer intaglios to sculptural, mixed media and freestanding works there are no limits to what can be achieved.
—
Contemplating Grace, an exhibition by Sydney Printmakers, is at Grace Cossington Smith Gallery, Abbotsleigh School, Wahroonga, Sydney, 3-30 September. Opening 3 September 2pm-4pm. www.gcsgallery.com.au      
—
Join the PCA and become a member. You'll get the fine-art quarterly print magazine Imprint, free promotion of your exhibitions, discounts on art materials and a range of other exclusive benefits.