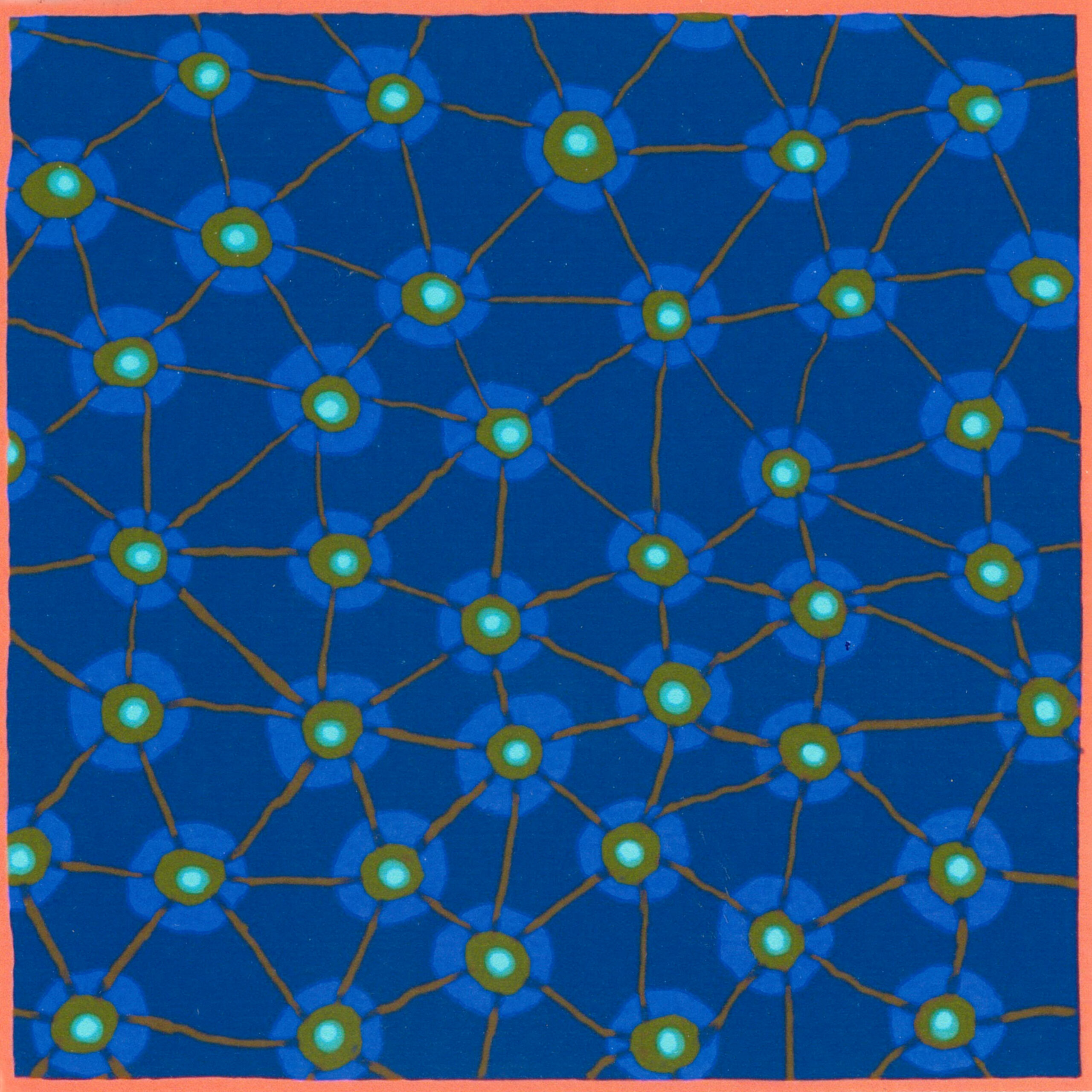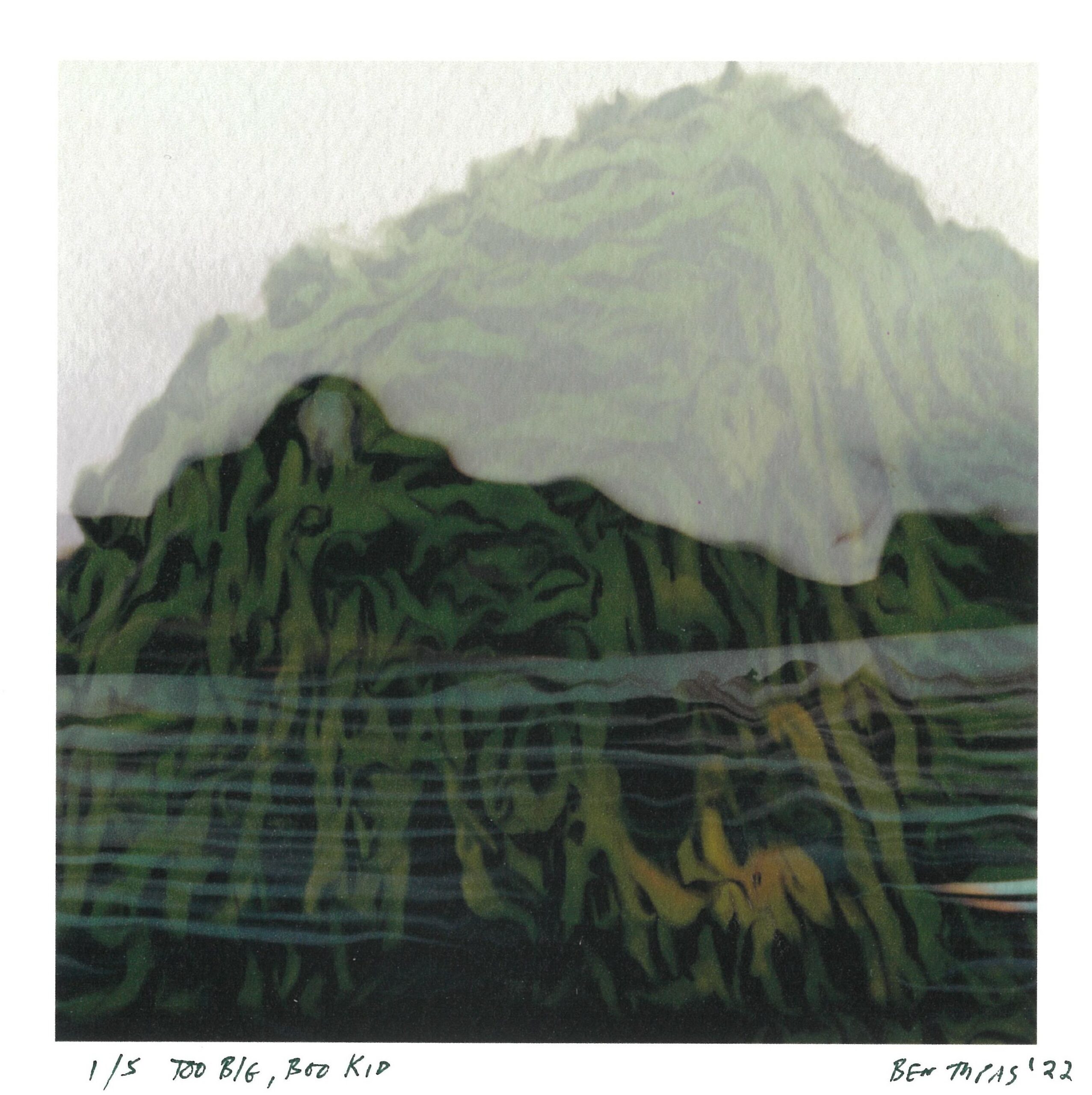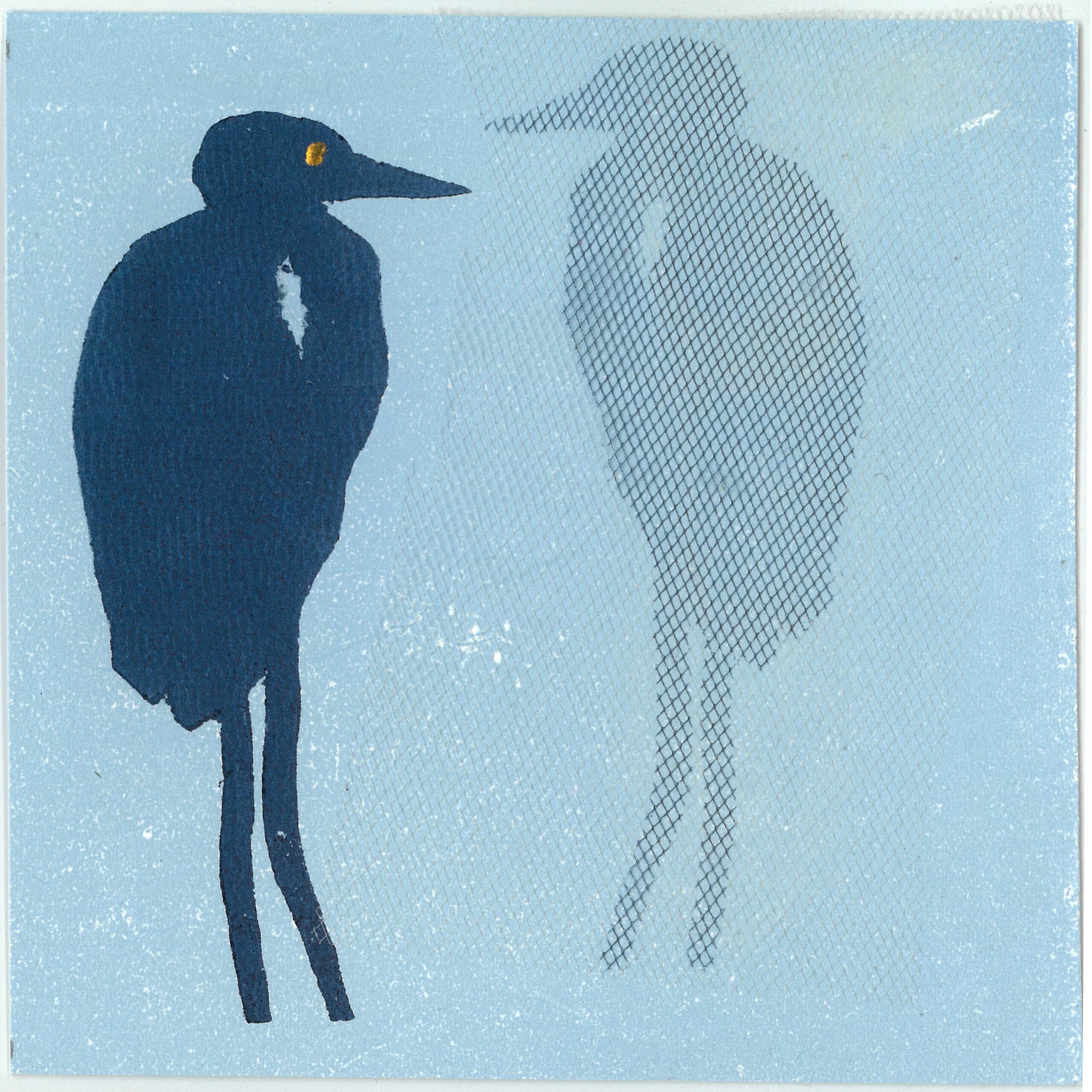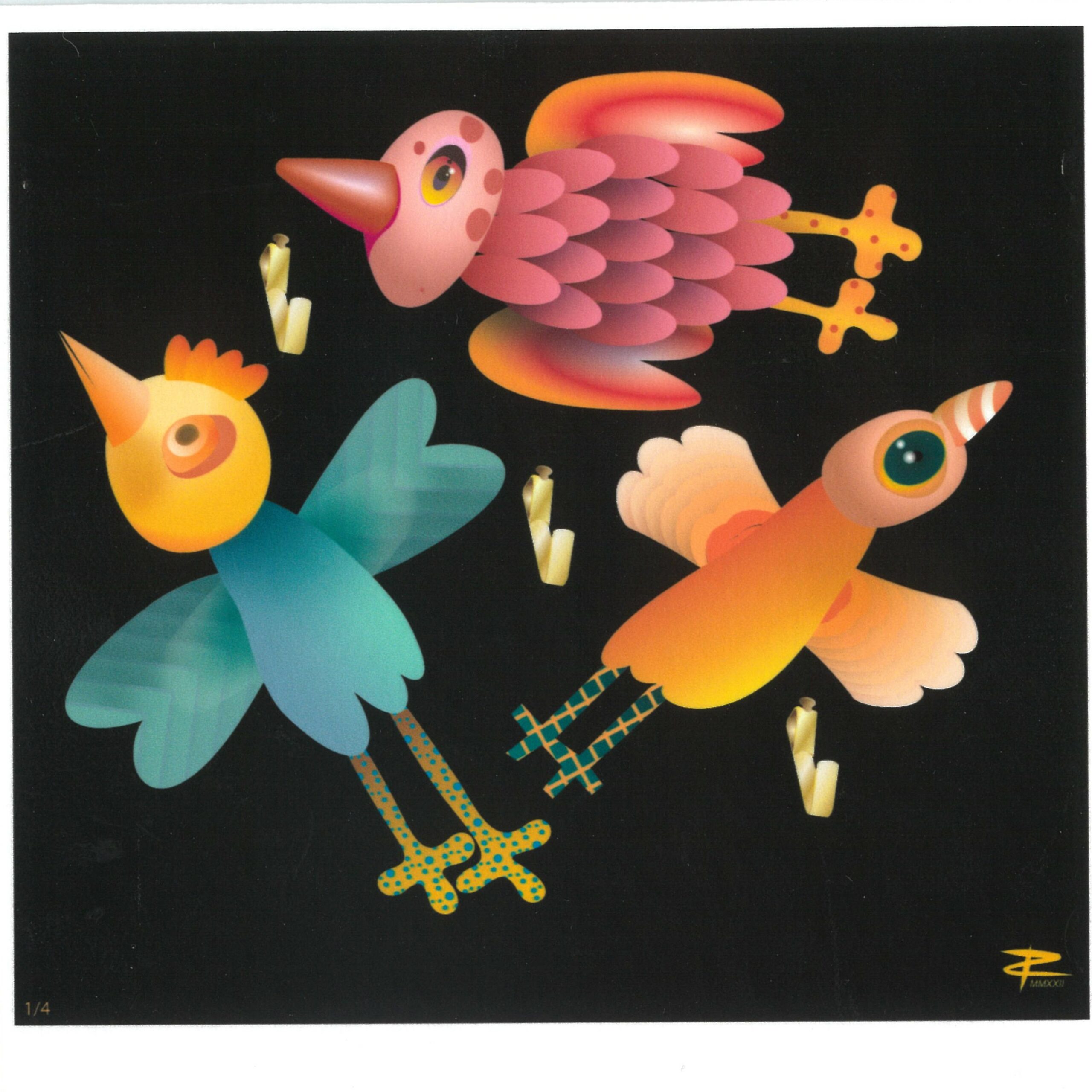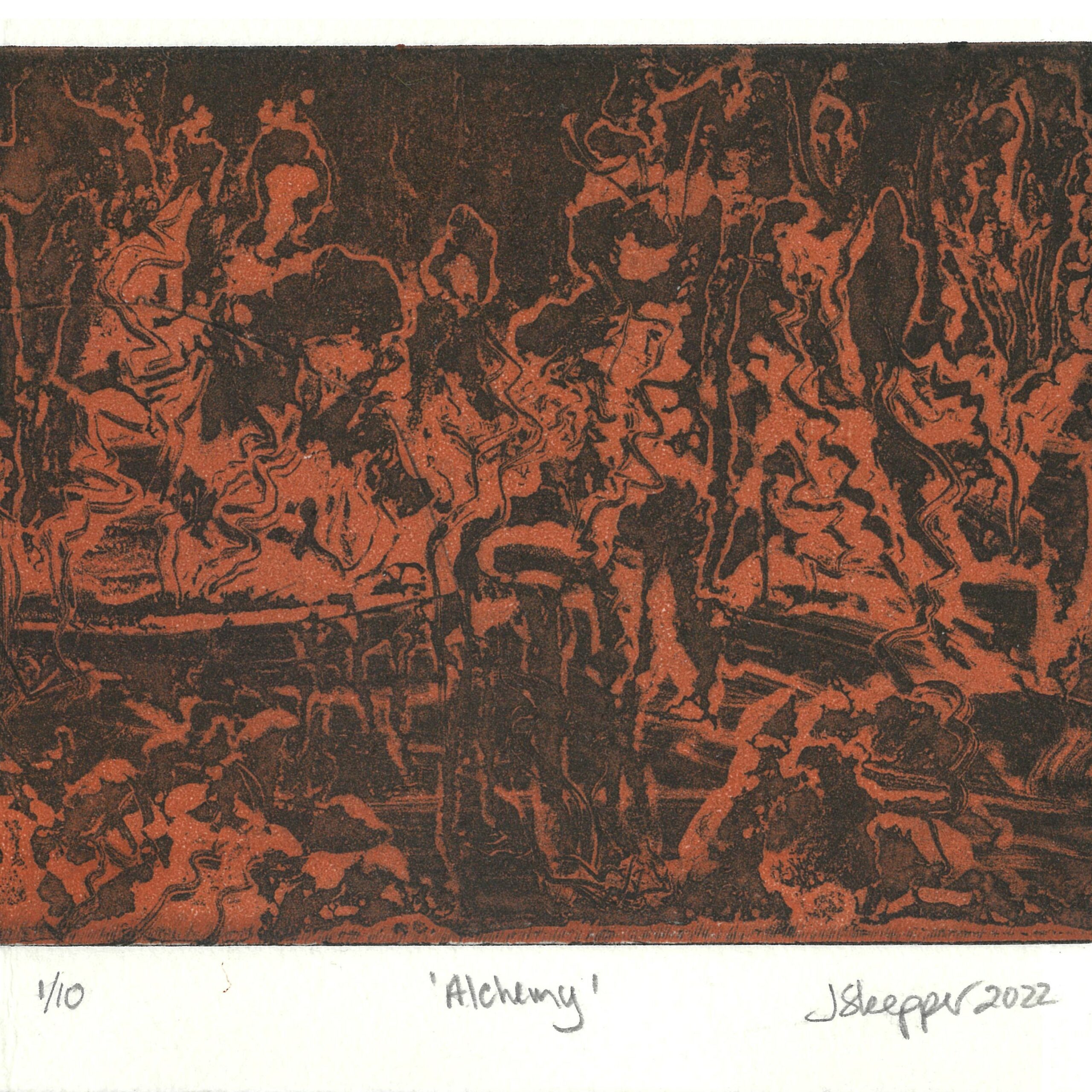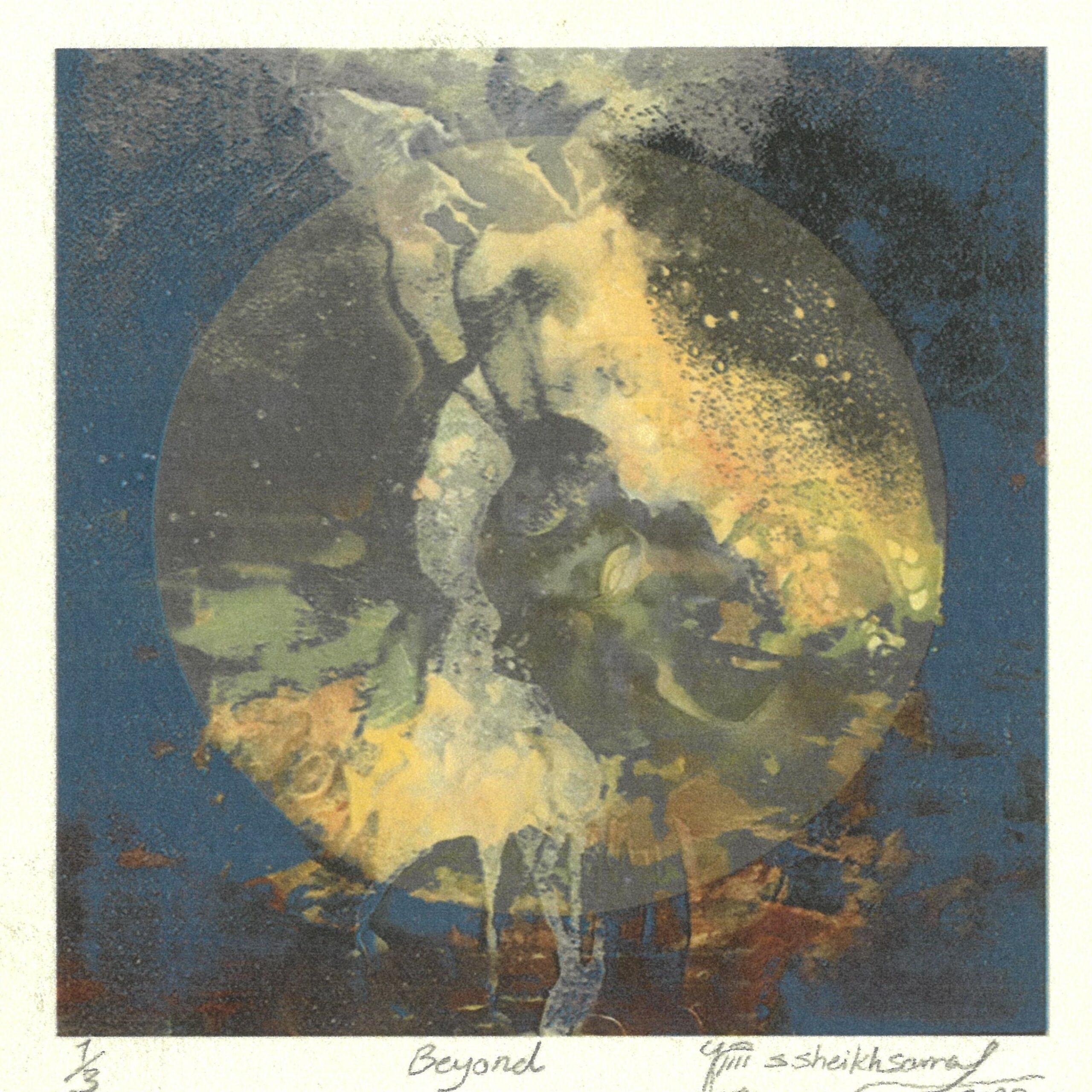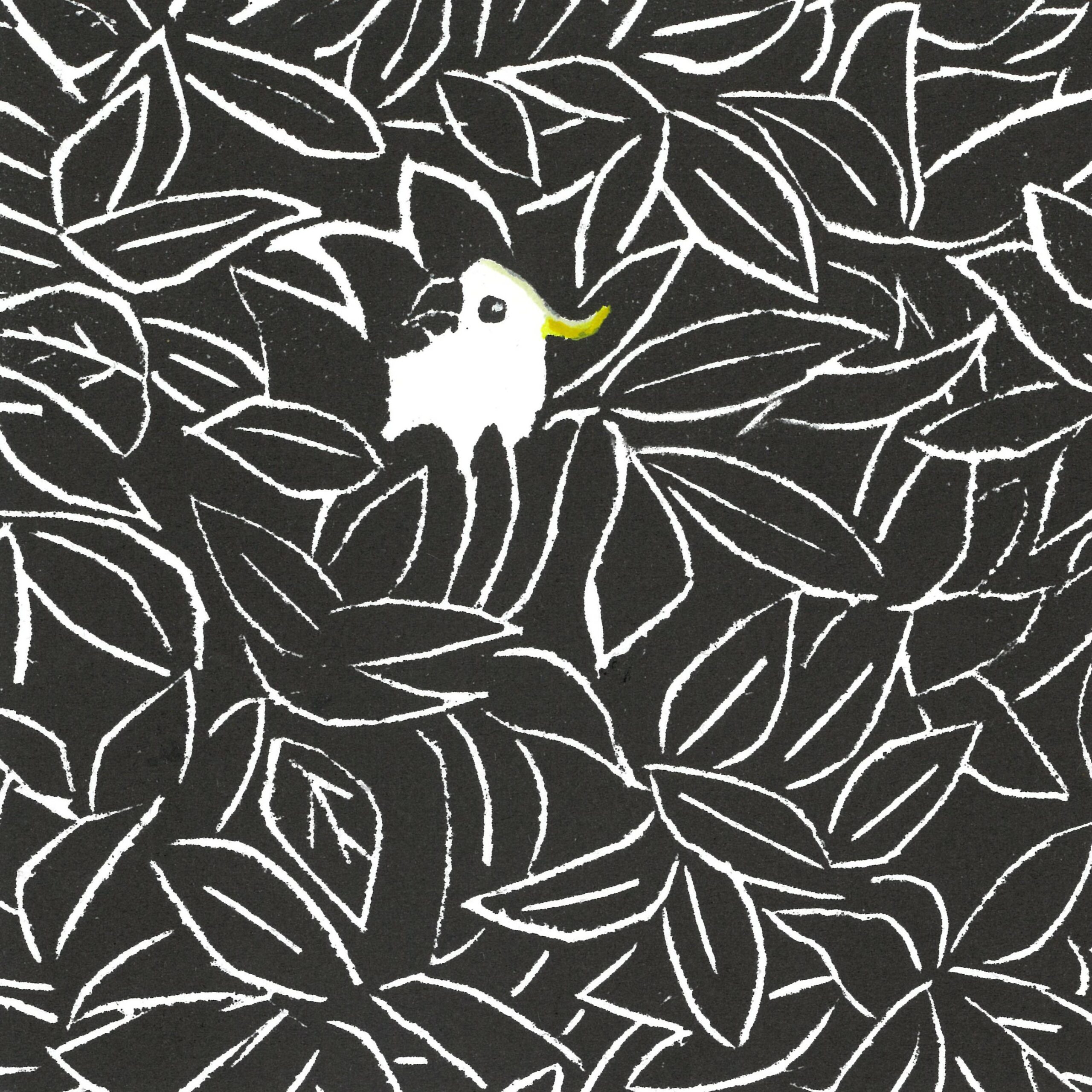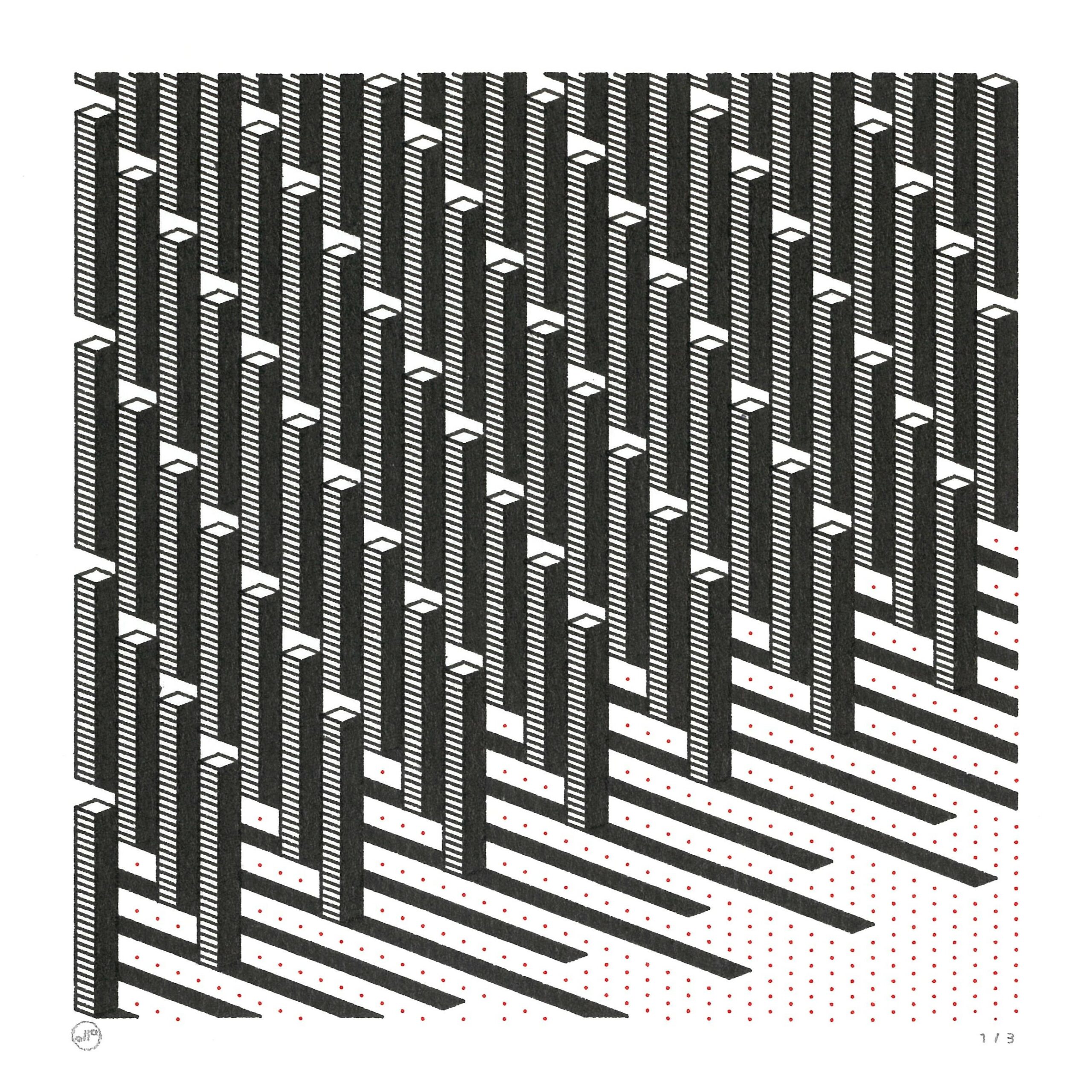 Barbara Pierce, Group, 2022, Inkjet on Hahnemuele, 10 x 10cm (12 x 12cm paper).
Sheree Kinlyside, Variant 1B, 2022, Digital drawing printed on Museo inkjet paper, 12 x 12cm.
Ben Tupas, Too big boo kid (Water mountains), 2022, Giclee print on cotton rag, 12 x 12cm.
Lynn Scott-Cumming, Shadow Net, 2022, Intaglio on Fabriano, 12 x 12cm.
Richard Thomas Gillespie, ducks on a wall, 2022, Vector drawing, digital print, on hahnemuhle torchon 285gsm, 12 x 12cm.
Jane Skepper, Alchemy, 2022, Etching and aquatint, 10 x 12cm (12 x 12cm paper).
Sadaf Sheikhsarraf, Beyond, 2022, Digital print on Arches paper, 10 x 10cm (12 x 12cm paper).
Sandra Williams, Aussie Icon, 2022, Lino print, 12 x 12cm.
Andrew Strauss, Utopias of the Damned, 2022, Original artwork plotted using mechanical ink pen on rough watercolour paper (300gsm), 10 x 10cm (12 x 12cm paper).
Q: What were some of the foundation ideas for this exhibition project?
A: The Compact Prints International Print Exhibition, Auction & Exchange was first held as Umbrella's biennial fundraiser in 2002, conceived and curated by then-Director Rebekah Butler. The small 12 x 12 cm size was intended to make the prints easy to post and consistent to display in clear compact disc cases. The exhibition welcomed international artists in 2004 and has continued as a biennial exhibition ever since, including a number of national and international tours. The auction component enables viewers to bid and affordably expand their art collection. The exchange component is particularly exciting for the printmaking participants, as they receive a randomly selected work back from another artist. Umbrella's audience and membership base includes an active printmaking community (and indeed a studio containing presses and equipment downstairs from the gallery), so Compact Prints draws on this to invigorate our artists and complement our workshop program.
Q: How did the artwork selection take place?
A: Artists can only submit one edition of 3 prints each year (biennially) that Compact Prints is run, however this is an inclusive project in which all eligible prints are accepted. We do find that printmakers are a meticulous and discerning group – so the works are always of an extremely high standard. The exhibition design and curation of works in the gallery space is then undertaken by myself, Umbrella's Arts Administrator Amanda Galea and a small team of volunteers.
Q: How does the exhibition manifest – what do visitors experience?
A: Visitors to the 2020 and 2022 exhibition have been treated to a COVID-safe exhibition and bidding experience with a silent auction running from the opening launch through to the last day of the exhibition, Sunday 2 October 2022. The prints have been curated into lines and groupings around the gallery space, with identically sized bidding sheets beneath each work. We have also delivered an online gallery of each of the prints (www.umbrella.org.au/cp-auction), enabling international and Australian viewers to 'play along at home' and see the bids updated weekly. They can then bid in person or by phone, and revisit to keep an eye on their favourite prints.
Q: What are some of the key works and what subject matter do they deal with?
A: Compact Prints is interesting in that we notice themes and imagery emerge from the zeitgeist of each biennial project period. For instance, the 2020 exhibition featured a number of works directly responding to COVID (and indirectly, with responses to the flora and fauna found when escaping to the outdoors). This year, we have noticed a number of prints containing birds, landscapes and abstract imagery.
Q: What is it about the printmaking experience that you most appreciate?
A: I love the diversity! Compact Prints is a celebration of contemporary print practices, embracing traditional and technological methods. The project provides artists with a forum to exchange artwork and ideas, and so we get to see new methods and styles each year, along with new approaches for more traditional methods. The artists are always pushing the boundaries of what is possible and what is eligible. In recent years we have had prints entered on thin timber, digitally altered photographic prints, mezzotints, solar plate etchings, poly-plated lithography and even prints plotted digitally with a mechanical ink pen.
—
Compact Prints is on display at Umbrella Studio Contemporary Arts until 2 October 2022. www.umbrella.org.au/cp-2022/
—
Join the PCA and become a member. You'll get the fine-art quarterly print magazine Imprint, free promotion of your exhibitions, discounts on art materials and a range of other exclusive benefits.