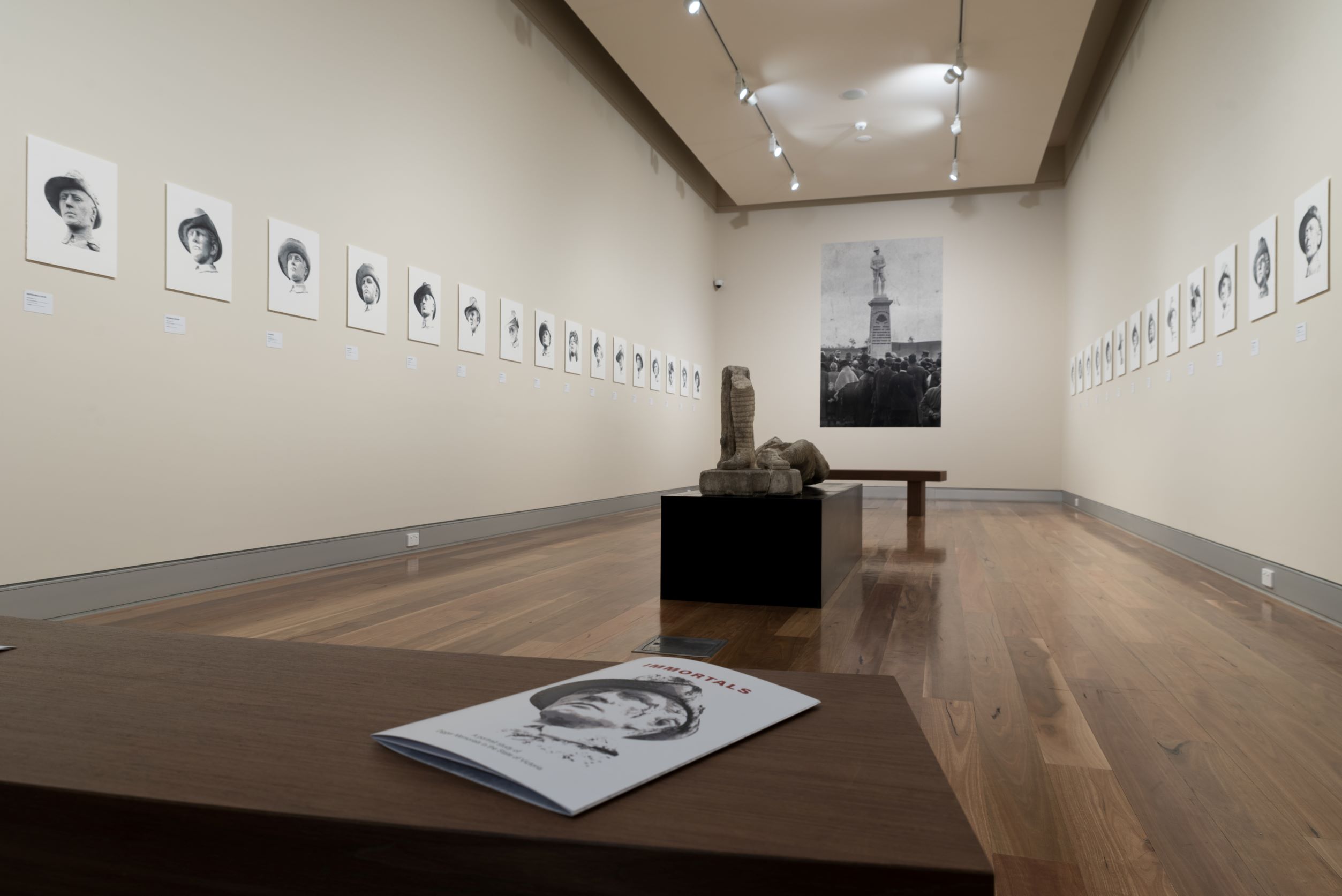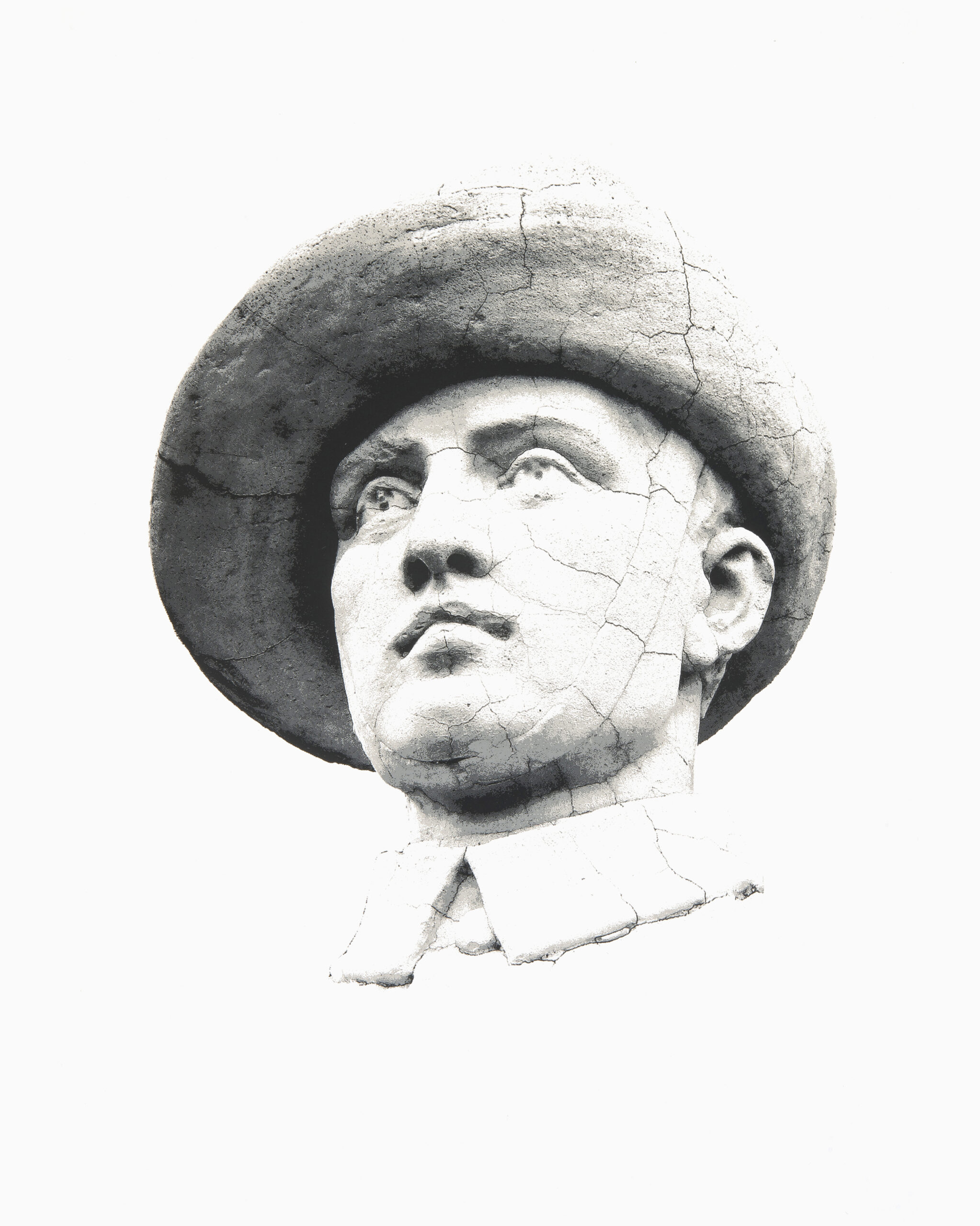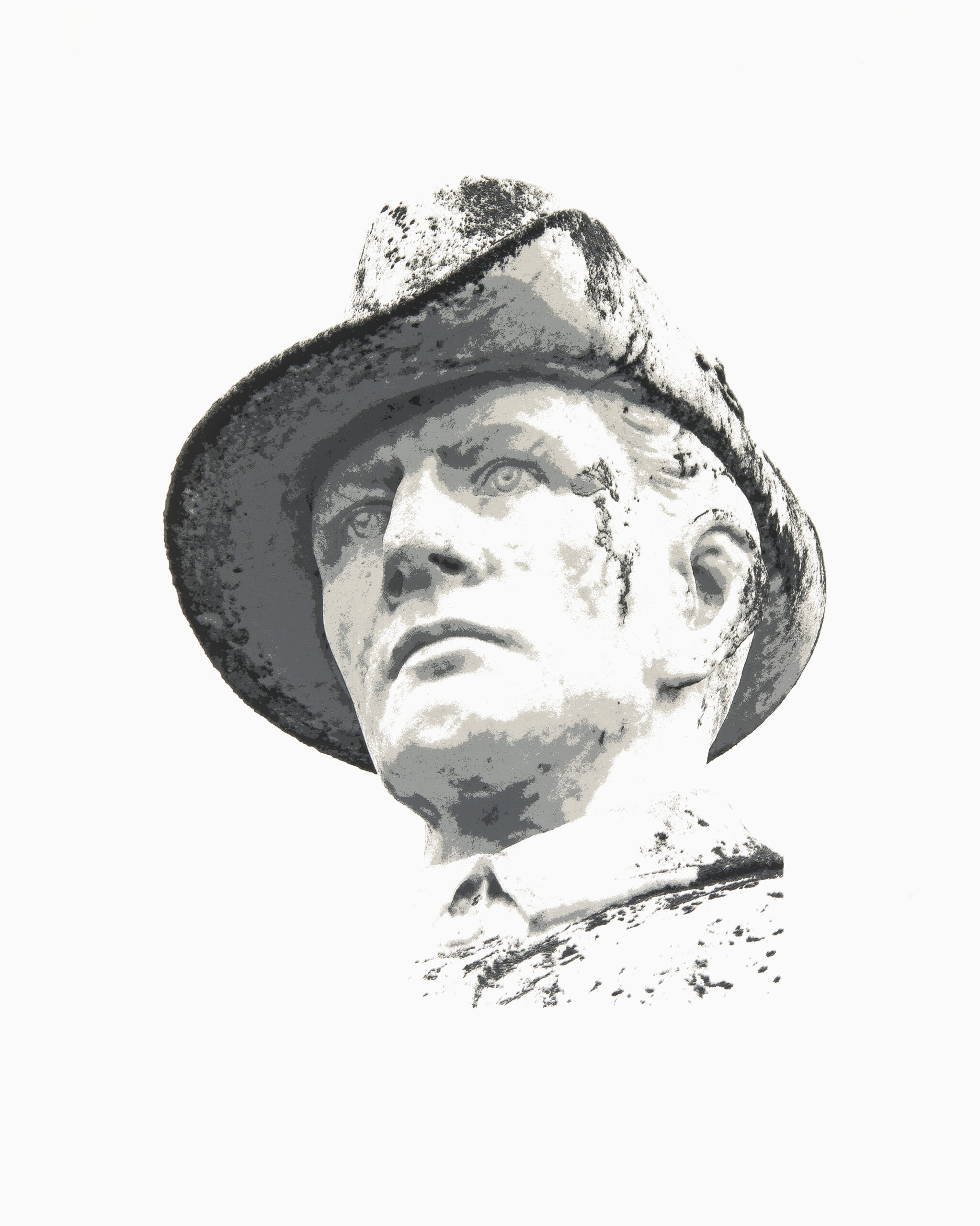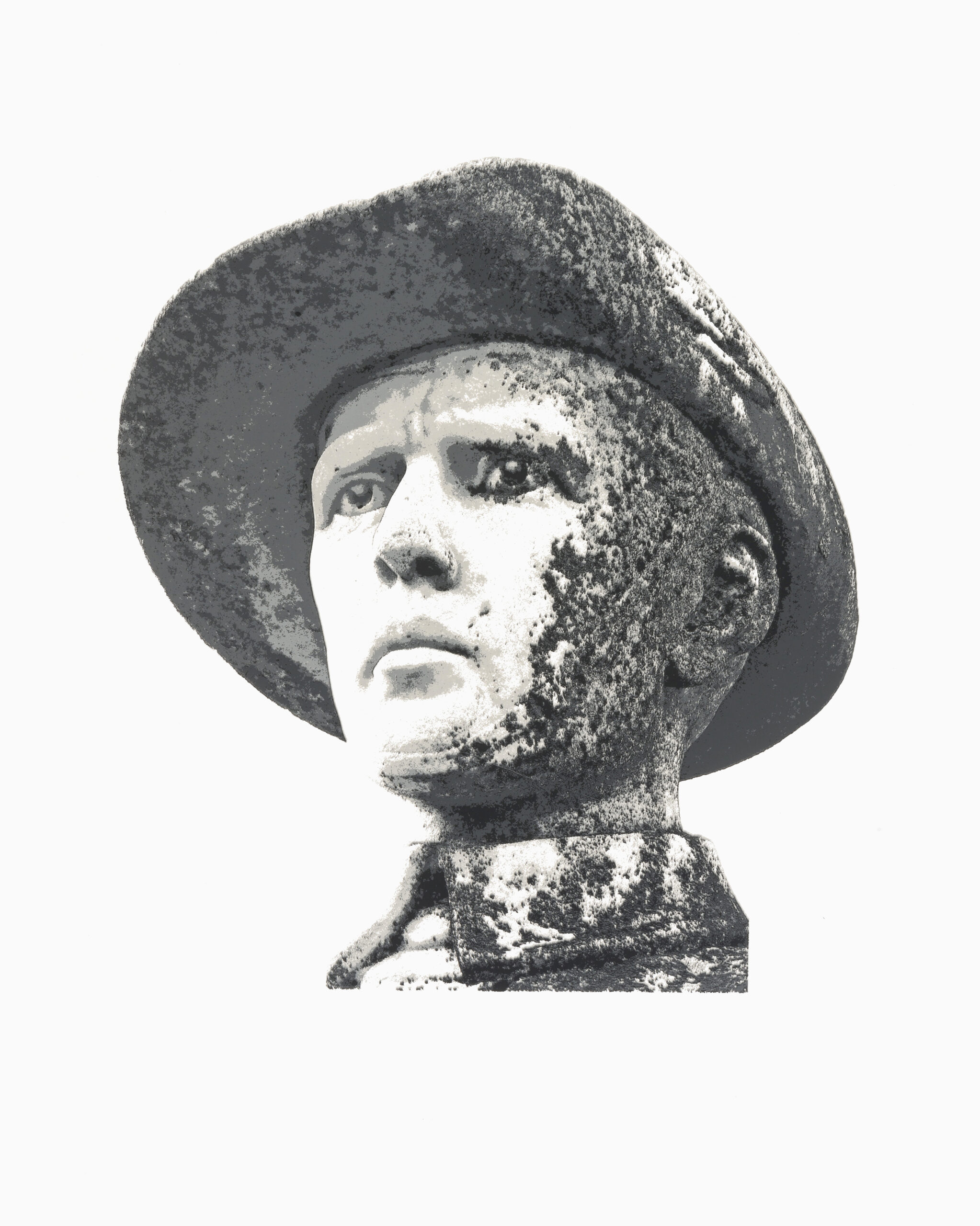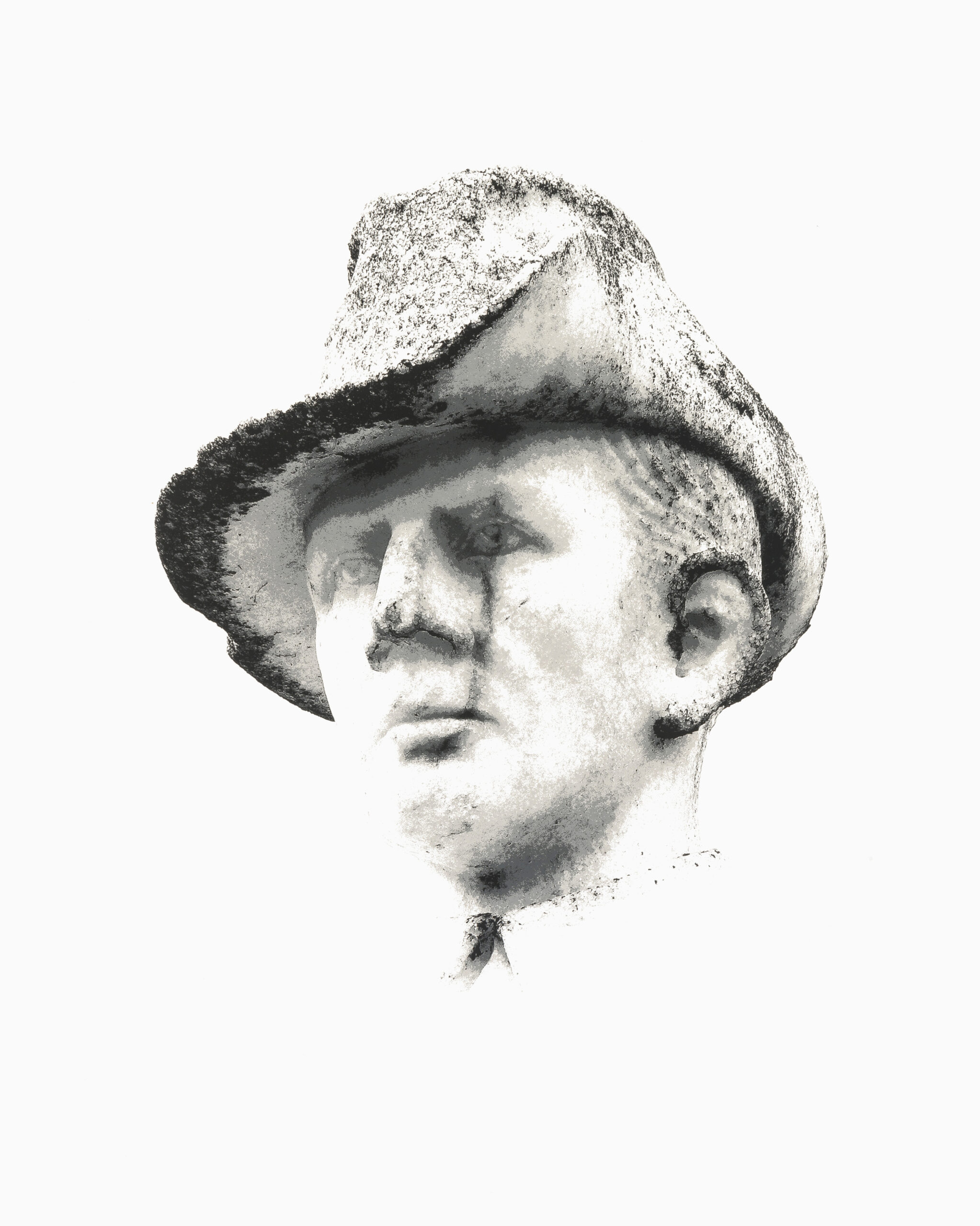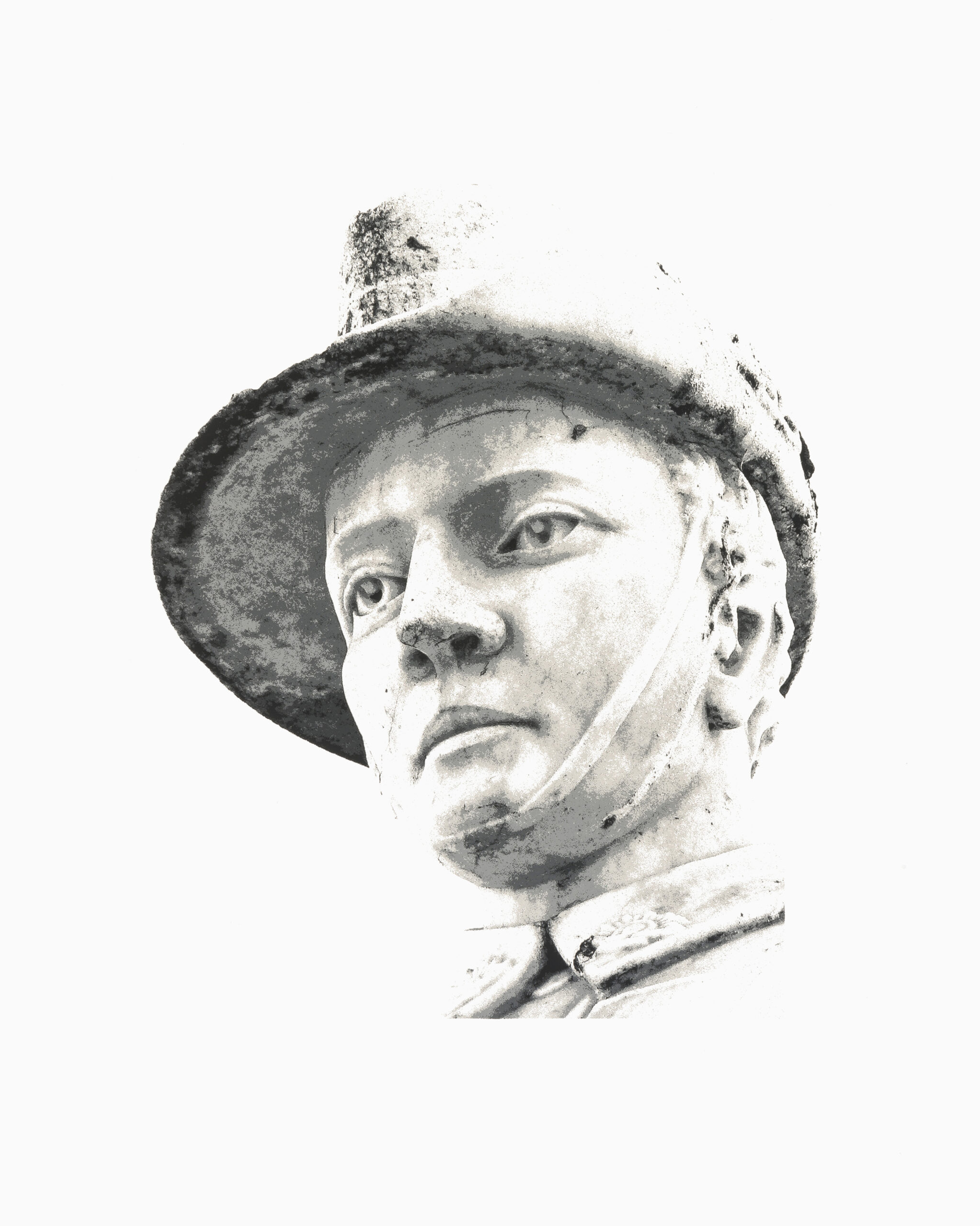 From top:
Clayton Tremlett:
Hamilton, 2022, serigraph, 44 x 35 cm
Installation view of Immortals at the Soldiers Memorial and Military Museum, Bendigo.
Wycheproof, 2022, serigraph, 44 x 35 cm
Morwell, 2022, serigraph, 44 x 35 cm
Mortlake, 2022, serigraph, 44 x 35 cm
Clunes, 2022, serigraph, 44 x 35 cm
Benalla, 2022, serigraph, 44 x 35 cm
Q: What were some of the foundation ideas for this exhibition project?
A:  Immortals is a typological portrait study of forty-six Victorian World War One Digger memorials. The idea for the project germinated when I was working as an art conservator cleaning, restoring and relocating historic monuments and fountains. Working intimately on monumental figures provided me with a different perspective of portraiture.
I live in Castlemaine and for years weekends were spent travelling to distant regional communities because my sons played competitive sport. Increasingly I became aware of the manyImemorials in small and sometimes dilapidated towns. Eventually I began documenting the memorials because of their unique characteristics.
Initially I took photographs from the ground, looking up at them as they were intended to be viewed. Remembering my conservation experience I began bringing increasingly larger ladders to get close enough to document just the face to develop a series of portraits for comparative analysis. There is a general misconception that the figures were mass-produced, which could be challenged if I documented them all. The more I saw ,the more I realised they were unique and that many had been transformed through time, weather conditions, accidents and the quality of the raw materials. Each time I arrived at a new monument, I marvelled at its character, but more importantly, whether the figure had taken on additional characteristics because so many faces appear to have war injuries.
Several depict the Digger as courageous, stoic or determined; others present an image of doubt, regret and despair. Some are boys, some are men, and some are women.
Q: How did the artwork selection take place?
A: That was relatively easy, because I set about documenting all the WW1 Digger memorials in Victoria, and all memorials were naturally included in the exhibition. As this was a comparative study and research project, I felt it important to include all the figures. Today, I estimate there are sixty-five across the state. My working process involved making about 120 portrait photographs (of each memorial), then transforming one image representative of each location into a five-tone serigraph.
Q: How does the exhibition manifest – what do visitors experience?
A: When you walk into the gallery you encounter a long rectangular space with twenty-three portraits equidistant on two facing walls. The works are all arranged alphabetically starting with Alexandra on the left, and finishing with Yinnar on the right. All the works are identified by the location they represent. The works are all in tones of grey which intentionally connects the viewer to studio portraits of soldiers going to war.
Down the far end of the gallery is a large wallpaper image, which is taken from a photograph taken at the dedication of the Bonnie Doon War memorial in 1921. I chose this image because it provides a context for the exhibition. In the centre of the gallery lying on a plinth is a real marble figure which was once the figure at Korong Vale. This figure, like the figure on the wallpaper image, was carved by August Rietman, a Swiss-German pacifist who carved a quarter of all Victorian Digger statues.
Q: What are some of the key works and what subject matter do they deal with?
A: All the works contribute to the experience of the exhibition as a whole. What the study and research reveals is that more than half of the figures were carved in Italy and that many of those figures are characterized as Italian soldiers with associated accoutrements. There is no pattern to the location of the Italian figures other than who the monument maker was and whether they had access to a sculptor.
J.B. Wilson are monumental masons who still operate in Bendigo today. In the 1920s they imported all their figures from Italy and those figures have an acorn vine emerging from the familiar stump at the rear. Margaret Baskerville was commissioned to produce two large bronze figures, which are located at Alexandra and Maryborough.
Q: What is it about the printmaking experience that you most appreciate?
A: My work draws from Australian history and I like to explore print processes that relate to practices used at the time. For Immortals I looked to World War One recruitment and propaganda posters and lithography as the print process. The closest contemporary print medium I could employ to produce multi-layered tonal prints was screenprinting, so I began exploring the medium and its potential for association with those posters.
—
Immortals is at the Soldiers Memorial Institute and Military Museum, Pall Mall Bendigo until 31 July, open Wednesdays, Saturdays and Sundays 11am-3pm. Artist Talks: 11 June and 10 July 11.30am-12.30pm. claytontremlett.com.au
—
 Join the PCA and become a member. You'll get the fine-art quarterly print magazine Imprint, free promotion of your exhibitions, discounts on art materials and a range of other exclusive benefits.