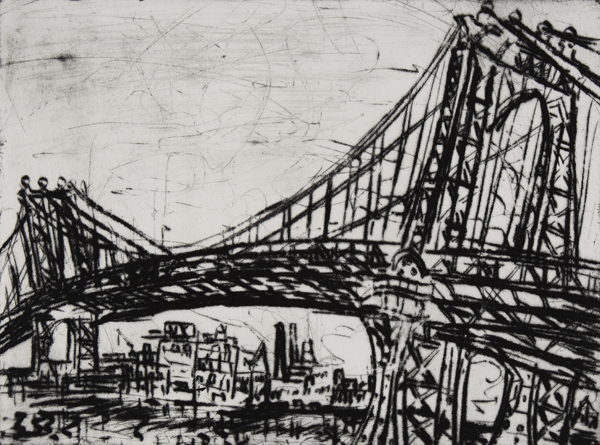 Marco Luccio: Manhattan Dreaming
Nicolas Rivet speaks with artist Marco Luccio about his recent show Manhattan Dreaming, held at fortyfivedownstairs gallery.
November 16, 2018
In Exhibitions,
Printmaking, Q&A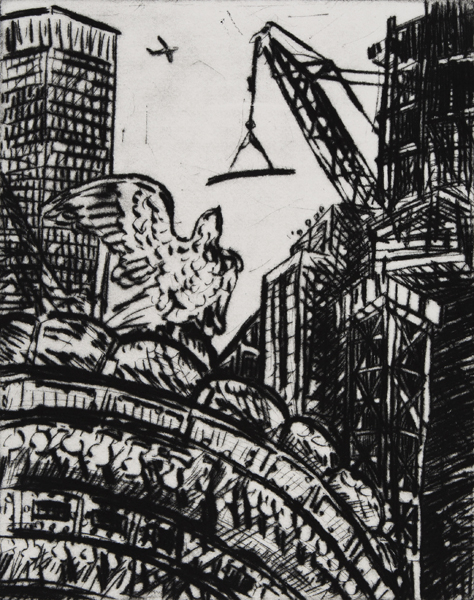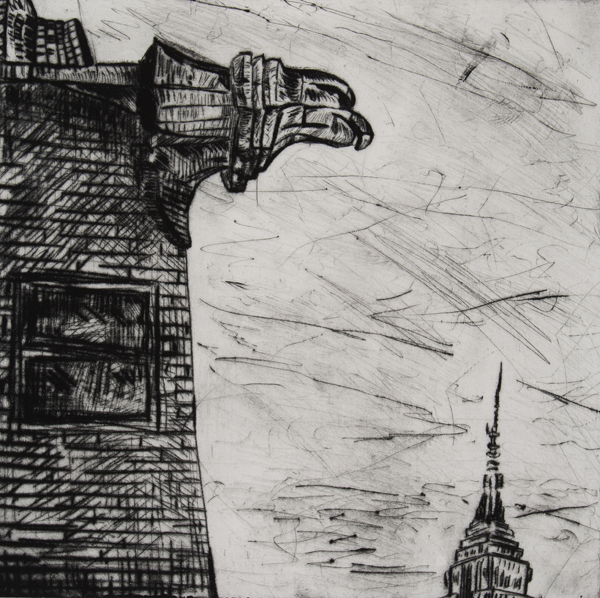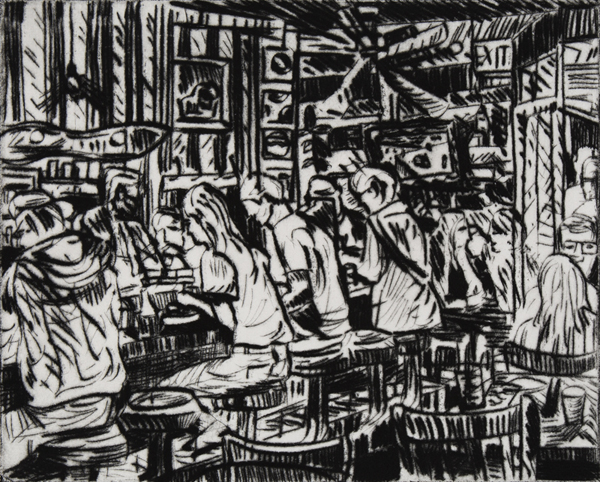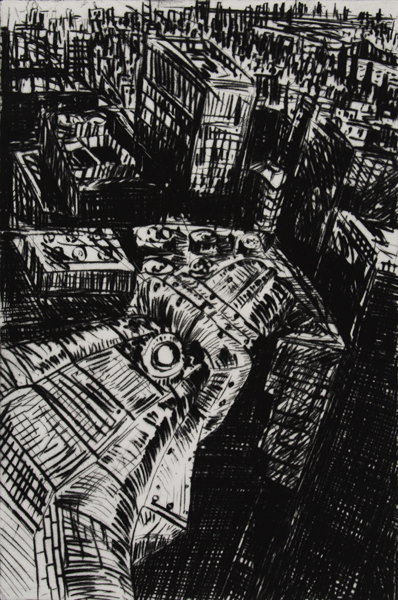 From top:
Marco Luccio, The Manhattan Bridge and the River (2018), drypoint on Velin Arches paper, 22.5 x 30.5 cm
Marco Luccio, The Eagle and the Crane (2018), drypoint on Velin Arches paper, 25 x 20 cm
Marco Luccio, Chrysler, Gargoyle and the Empire State (2018), drypoint on Velin Arches paper, 29.5 x 29.5 cm
Marco Luccio, Jo Juniors 1 (2018), drypoint on Velin Arches paper, 20 x 25 cm
Marco Luccio, Gargoyle over Gotham (2018), drypoint on Velin Arches paper, 45.5 x 30 cm
The ever-evolving city of New York is a world within itself. Amid all of the madness, it's admired by many for its eclectic energy and inimitable architecture. It's no wonder why New York serves as some sort of metropolitan muse for Australian artist Marco Luccio whose upcoming exhibition Manhattan Dreaming features an array of paintings, drawings, etchings and drypoints inspired by the city that never sleeps.
'For me, Manhattan is a place that many people dream about,' says Marco. 'It's a place that is real and imagined, a place that we know before we go and a place that lives on in our memories.'
The award-winning painter and printmaker describes how he is often mesmerised by Manhattan's dream-like demeanour when looking out onto the city from his Chrysler Building studio space.
'Sometimes I feel like I, myself, am in a dream—a dream I want to stay in out of fear of breaking the spell and realising that I am right in the middle of all of the chaos.'
It's a feeling Marco is no stranger to. Having travelled to New York many times before, he's been able to develop a sense of familiarity to the city, especially since his first New York-inspired piece was created over a decade ago.
Still, the city continues to stimulate him as an artist—both as the primary subject of his art and the influence in the way he works. '[New York] has such a huge presence,' says Marco. 'The physicality of getting around the city and the sheer mass of its concrete structures inhabit my mind.'
Manhattan Dreaming embodies a number of elements typical to New York, one of which Marco has been itching to incorporate for quite some time, that is, the Chrysler Building's iconic gargoyles.
'I've always wanted to make paintings and prints of the shiny, metal, fierce, art deco gargoyles,' says Marco, who was granted access to three levels of the building so he could study them up close from more than one angle.
He acknowledges an old photograph of Margaret Bourke-White, the late American photographer, perched on an eagle head gargoyle at the top of the Chrysler Building photographing the city. 'I've always loved that photograph. It's such a heroic image and it's so well-known… This is one of the reasons why having access to [the gargoyles] has been so thrilling.'
Marco also includes images of different diners in his collection as they too are known for being quintessentially New York. Eisenberg's Sandwich Shop, a classic 1920s-style diner and a pillar of the city's diner scene, is only one of many New York diners Marco has made etchings and drypoints of.
'It's always interesting drawing diners,' says Marco. 'They're full of character and characters… I love the continuous flow of people, the non-stop coffee top-up, the staff who remember your name.'
But one of the more obscure ideas explored in the exhibition is that of change, particularly in the way that Marco allows change to take place in his paintings. He describes one of his pieces—a painting of Grand Central Terminal—which took him seven straight hours to complete, and while he may have started it during the day, it was eventually finished at night. Of course, this is illustrated in the image itself.
'I just went with the flow,' says Marco. 'I kneeled on the corner of Vanderbilt and 42nd street and went for it fast and furiously.'
It was in this same spot that Marco made his first New York-inspired drypoint 11 years ago. Since then, he's explored every inch of the city, inviting his audience to admire even the most recognisable structures from a fresh pair of eyes.
'I scratched one piece from underneath the Manhattan Bridge,' says Marco. 'I love the ropes and rivets of this industrial beauty… I even scraped the plate on the street of Manhattan to imbue it with some of the city.
'The Brooklyn Bridge piece is a standout too… It seems to work in a way that marries the strength and power of the bridge with its beauty and elegance.'
Working large and in situ, however, has its challenges. For Marco, the difficulty lay not only in lugging around his art and equipment all day, but in being bombarded by comments and questions from curious crowds.
'Here in New York, you're always on show, and unfortunately, the best vistas are amongst the hustle and bustle… It's all about finding a balance between being driven by the city and its energy without becoming overwhelmed and exhausted by it.'
It's an experience he hopes will translate through his collection, almost as if the audience were there themselves. 'I would love for my visitors to feel the energy of the city, to have a sense of its power and its inspiration.'