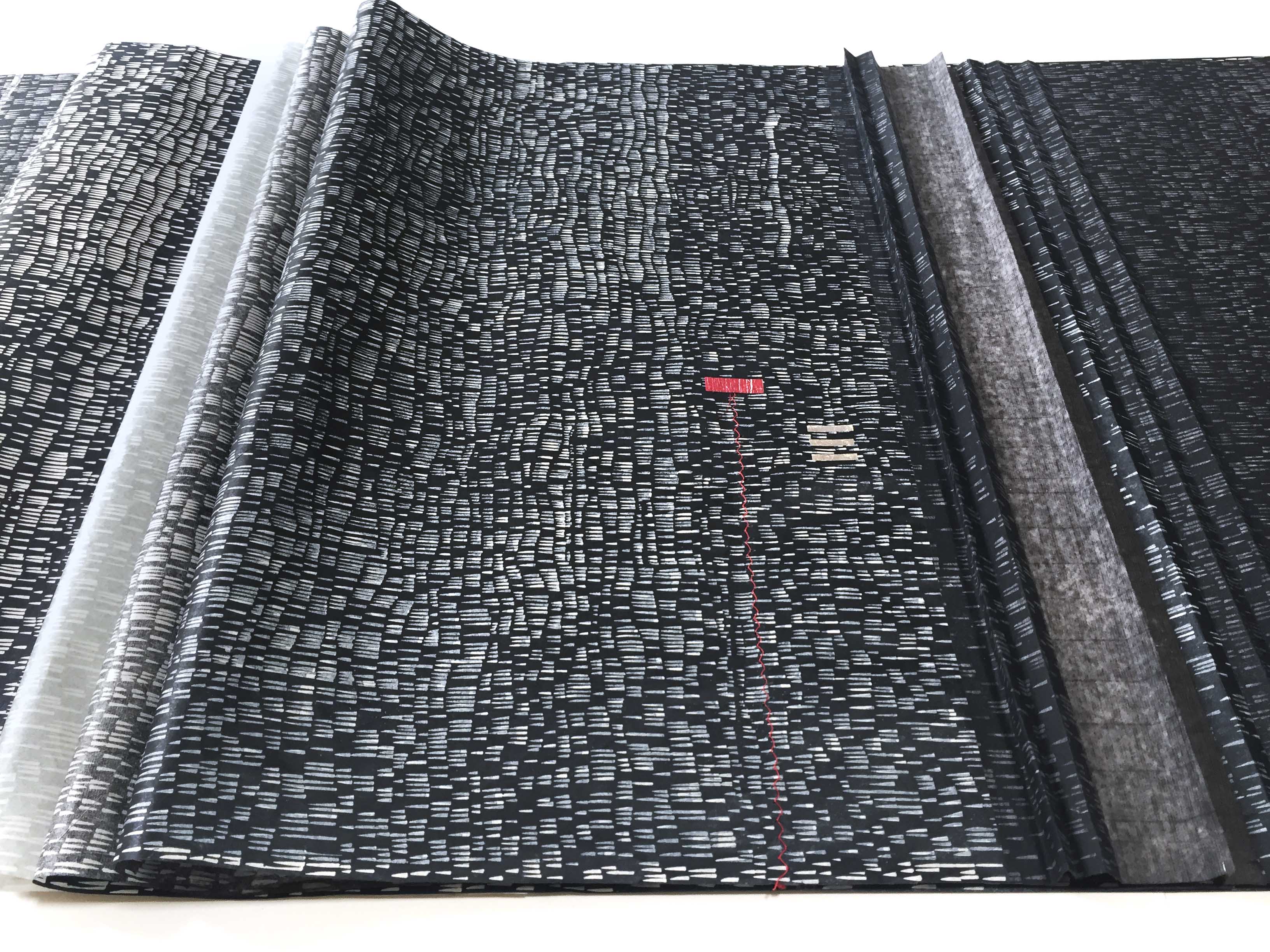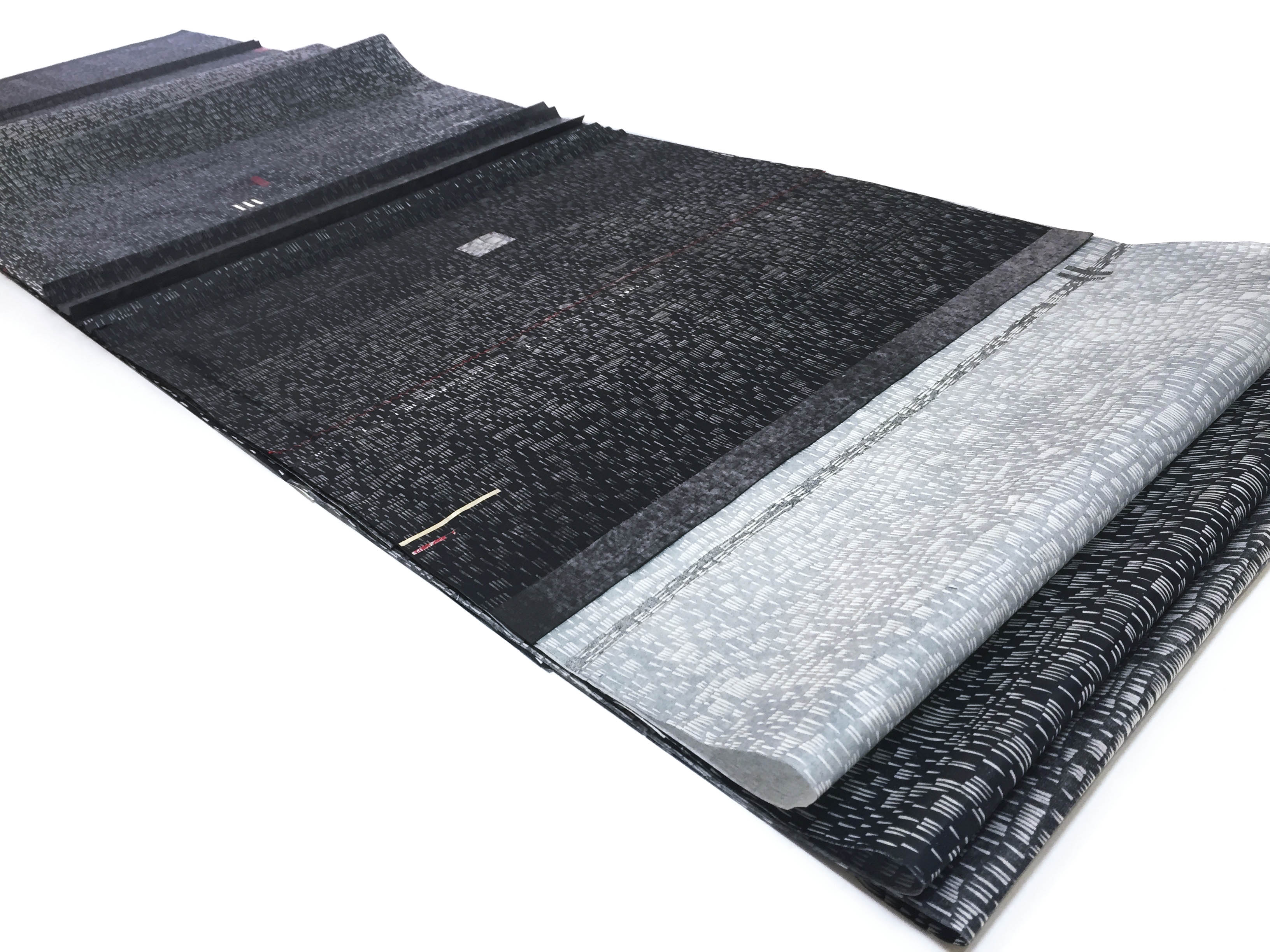 From top:
Bridget Hillebrand, Drift (detail), 2021, linocut, gold leaf and stitching, 51 x 170 cm.
Q: What were some of the foundation ideas for the work you entered in the EPP? How did the work develop in terms of its content/theme?
A: Drift—to be carried slowly by a current of air or water. A continuous slow movement.
I find the act of carving small repetitive marks into a lino block calming and meditative. As the large sheets of printed washi paper lay drying on my studio floor I saw an opportunity to challenge the fixed two-dimensional surface and explore a dialogue with space. Through the gentle act of folding the printed paper I imagine the folds of wind, of water and layers of earth. I recall a quote by Gilles Deleuze, "Everything folds, unfolds and refolds in Leibniz; one perceives in the folds, and the world is folded into every soul that itself in turn unfolds in this or that region of the world in accordance with the order of space and time."
Q: What were some of the technical considerations and challenges in terms of being experimental?
A: My aim was to deconstruct the two dimensional image plane and examine the materiality of physical and implied interruptions in the printed surface. Through its sculptural format Drift realigns the perceptual field to that of the moving viewer rather than the static gaze. It does not privilege a single perspective and engages a number of focal points.
In Drift I experiment with the dimensional properties of the printed washi paper through the act of folding. The fold becomes a boundary, a line, a structure, and a point of collapse. I found my way intuitively working with the sculptural elements of the fold. Seeking resonance through the careful relationships of parts that reveal inside and outside, front and back, solid and space.
Q: How do you think your work fits into to the longer history of printmaking and the more recent exploration of an expanded field?
A: While I work with traditional methods and techniques of relief printing I continue to challenge notions of the archive, conservation and traditional methods of presenting and engaging with print-based art works. I employ processes developed for multiplicity but elect to make unique states, works that are unrepeatable in their entirety, by introducing elements such as hand stitching and variants within the colour and construction of the work. I am also interested in the sculptural qualities of printed paper and the performative actions of folding and unfolding.
Drift is displayed on a flat, raised surface unprotected by a conventional perspex box or barrier. Viewers can engage with the work from afar or closely examine intimate nuances of the printed mark without any physical hindrance. There is an inherent risk of displaying works on paper without a traditional protective barrier of glass or perspex. However, I am open to exploring new ways of presenting and engaging with printed works. As artist, publisher and EPP judge Trent Walter commented, "One feels, as you walk past, it might be affected by the currents of air that pass over it."
Q: What is it about the printmaking experience that you most appreciate?
A: Pushing the boundaries of experimentation, taking risks and incorporating new approaches.
—
The 2021 Experimental Print Prize is at Castlemaine Art Museum until 28 February 2022. castlemaineartmuseum.org.au
First Prize: Bridget Hillebrand, Drift 2021
Highly Commended: John Loane, The Shallow, The Deep (existential dichotomies) 2020
Emerging Artist Prize: Hannah Caprice, We must be imagining things 2019
—
 Join the PCA and become a member. You'll get the fine-art quarterly print magazine Imprint, free promotion of your exhibitions, discounts on art materials and a range of other exclusive benefits.