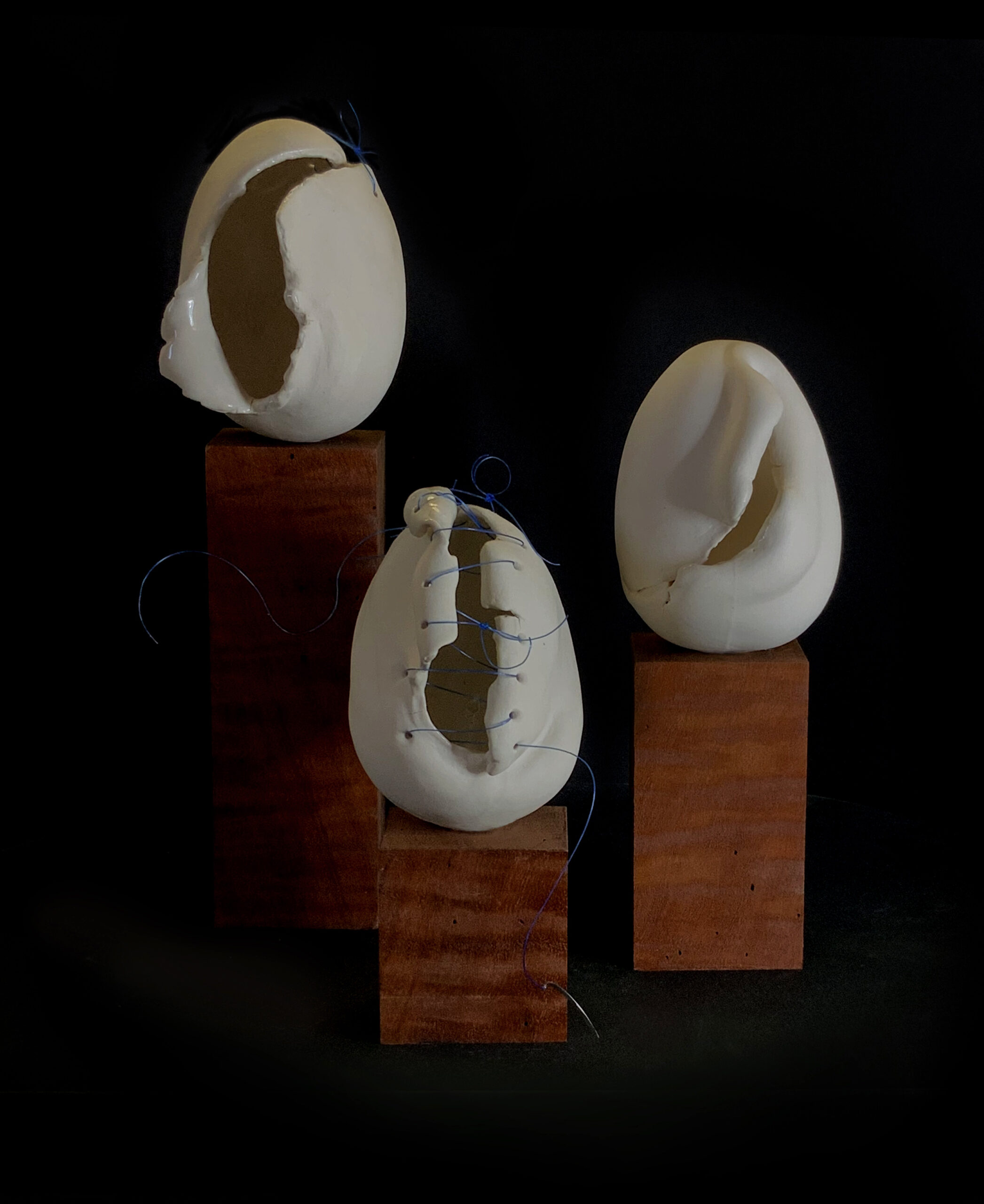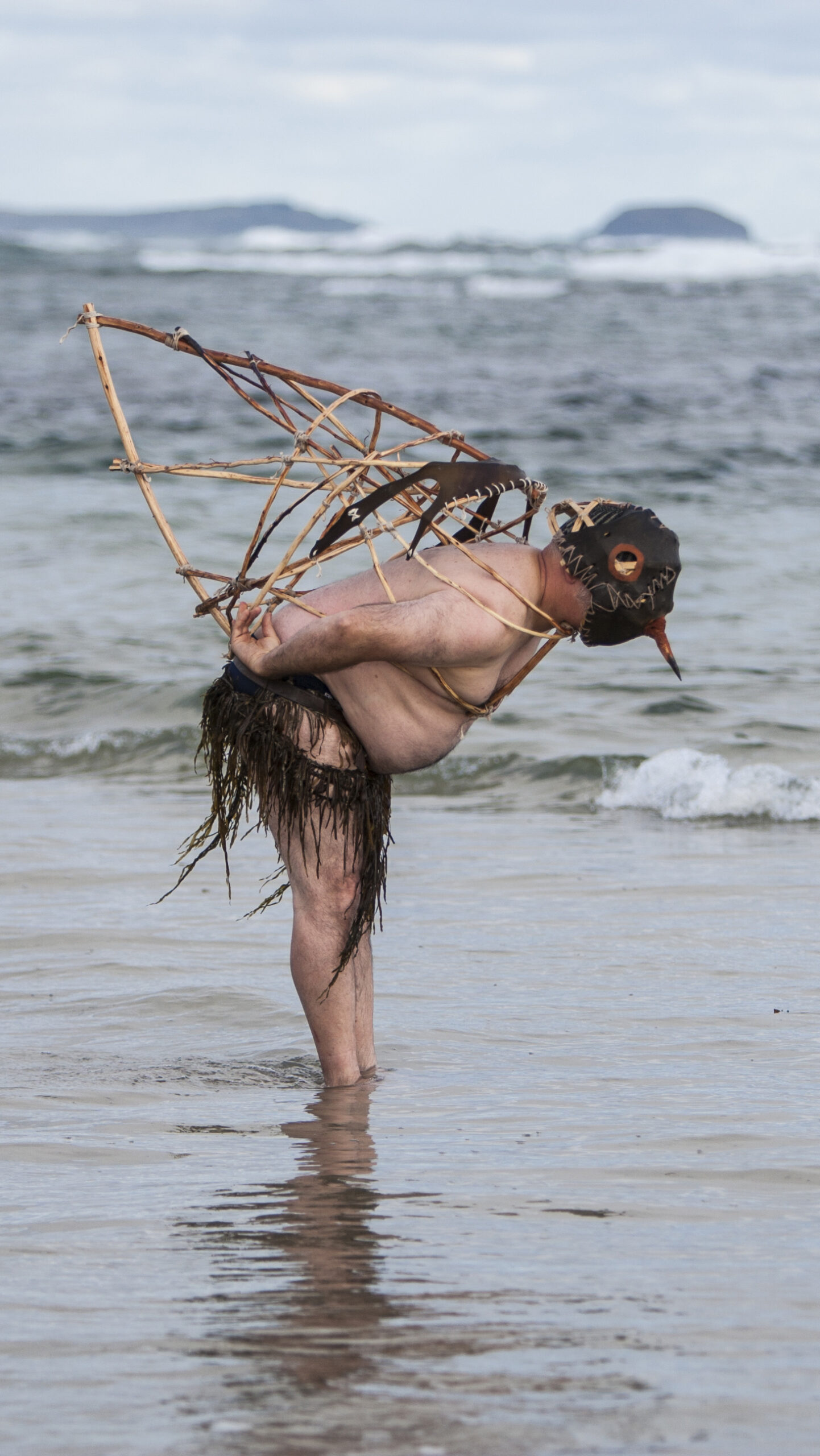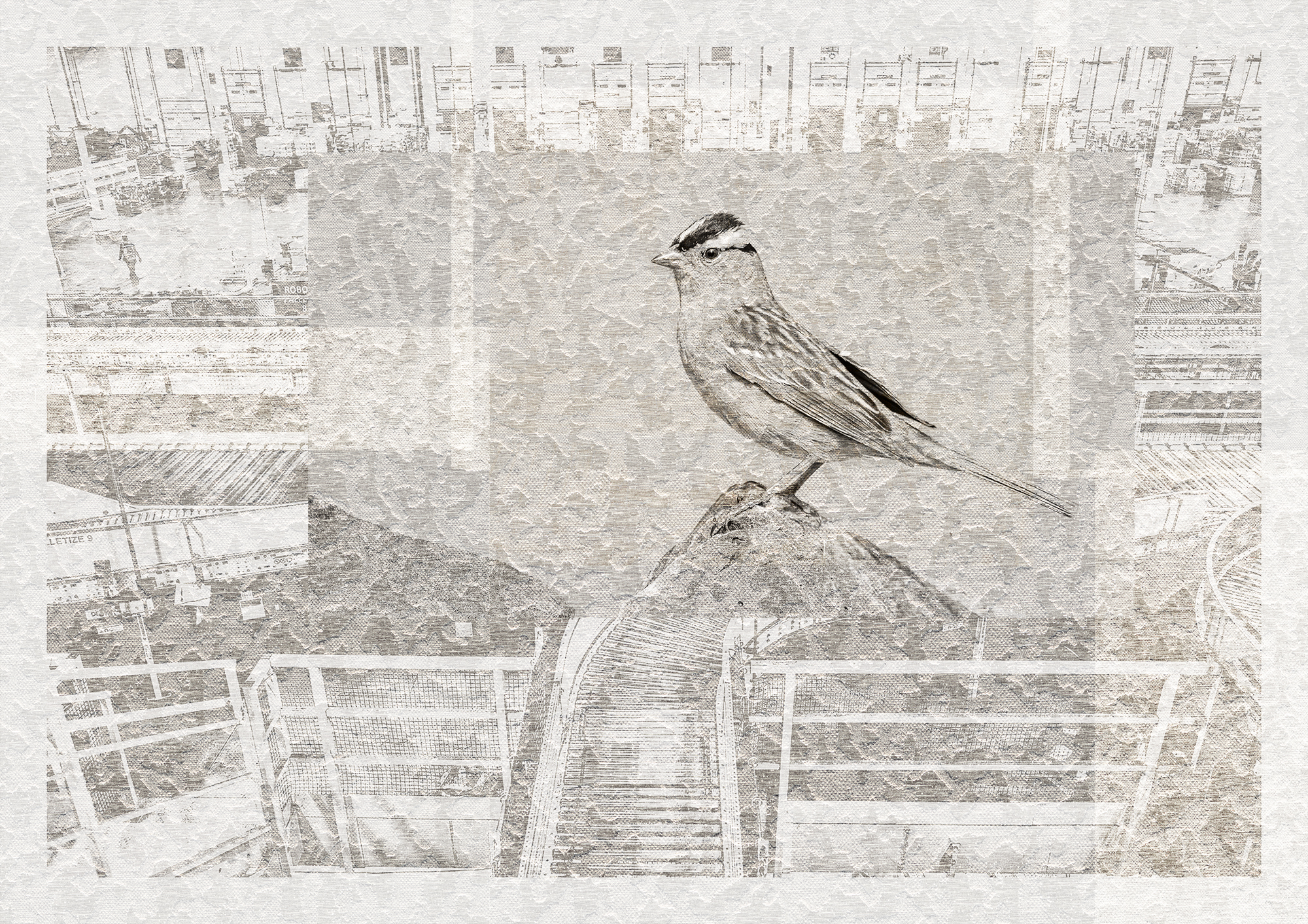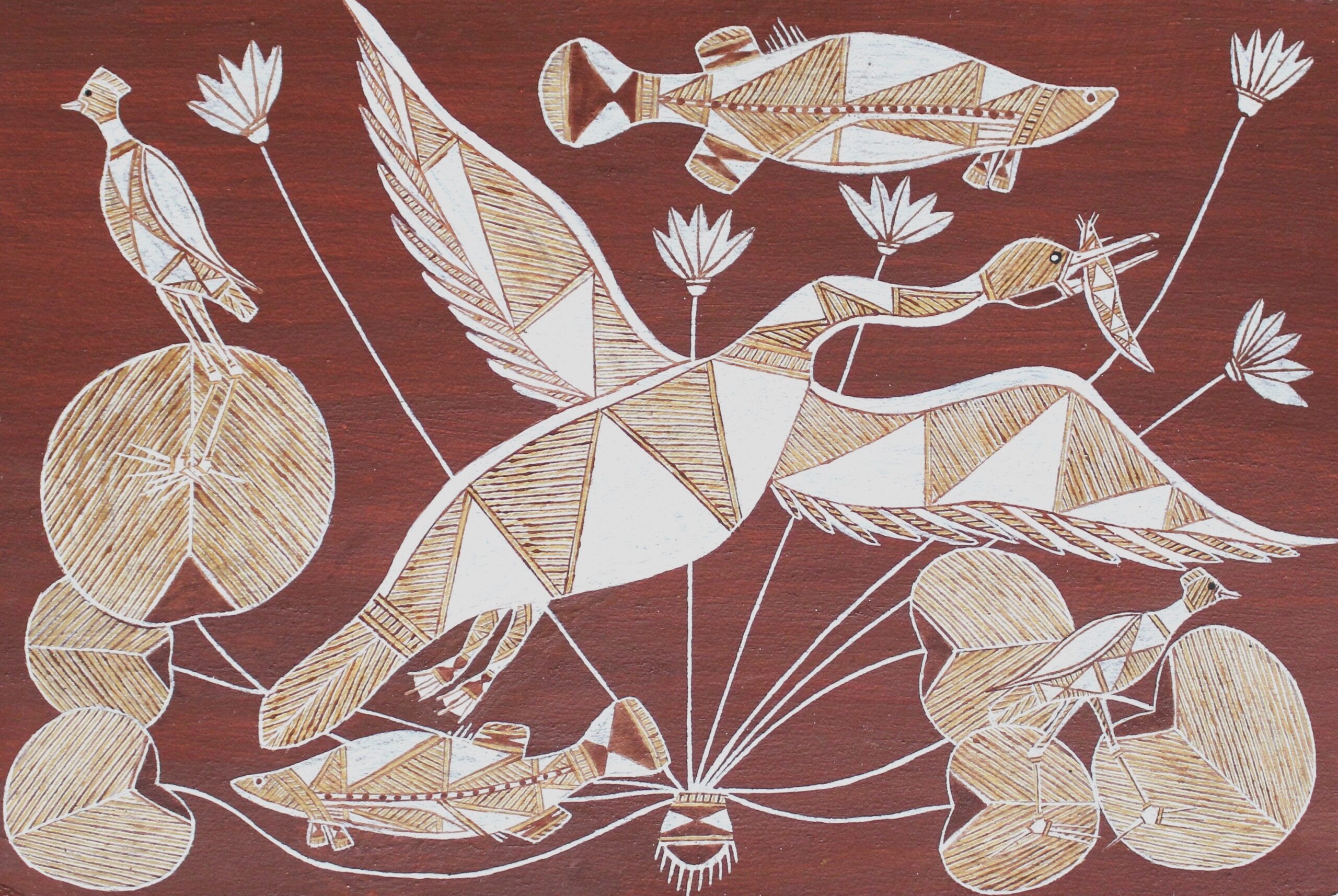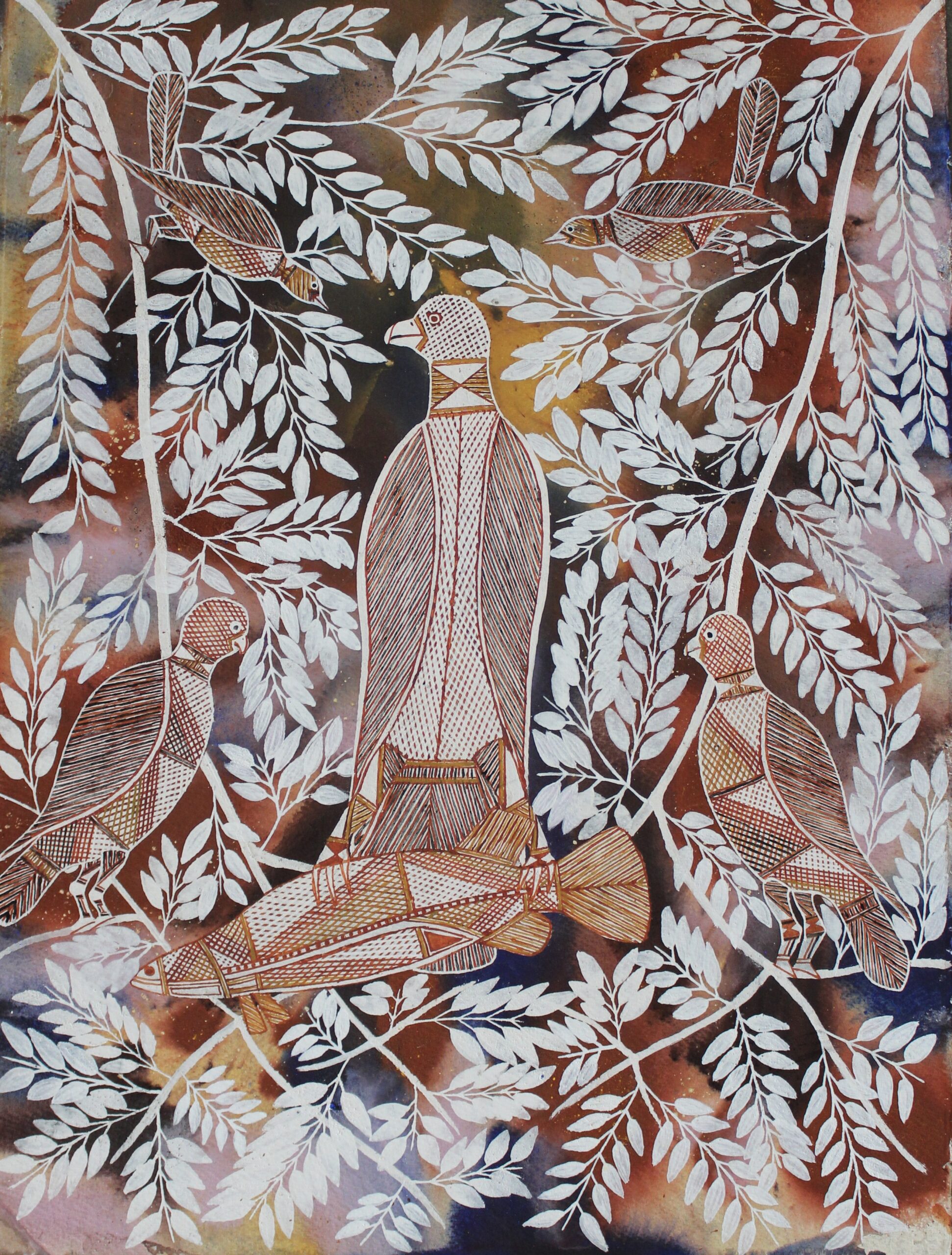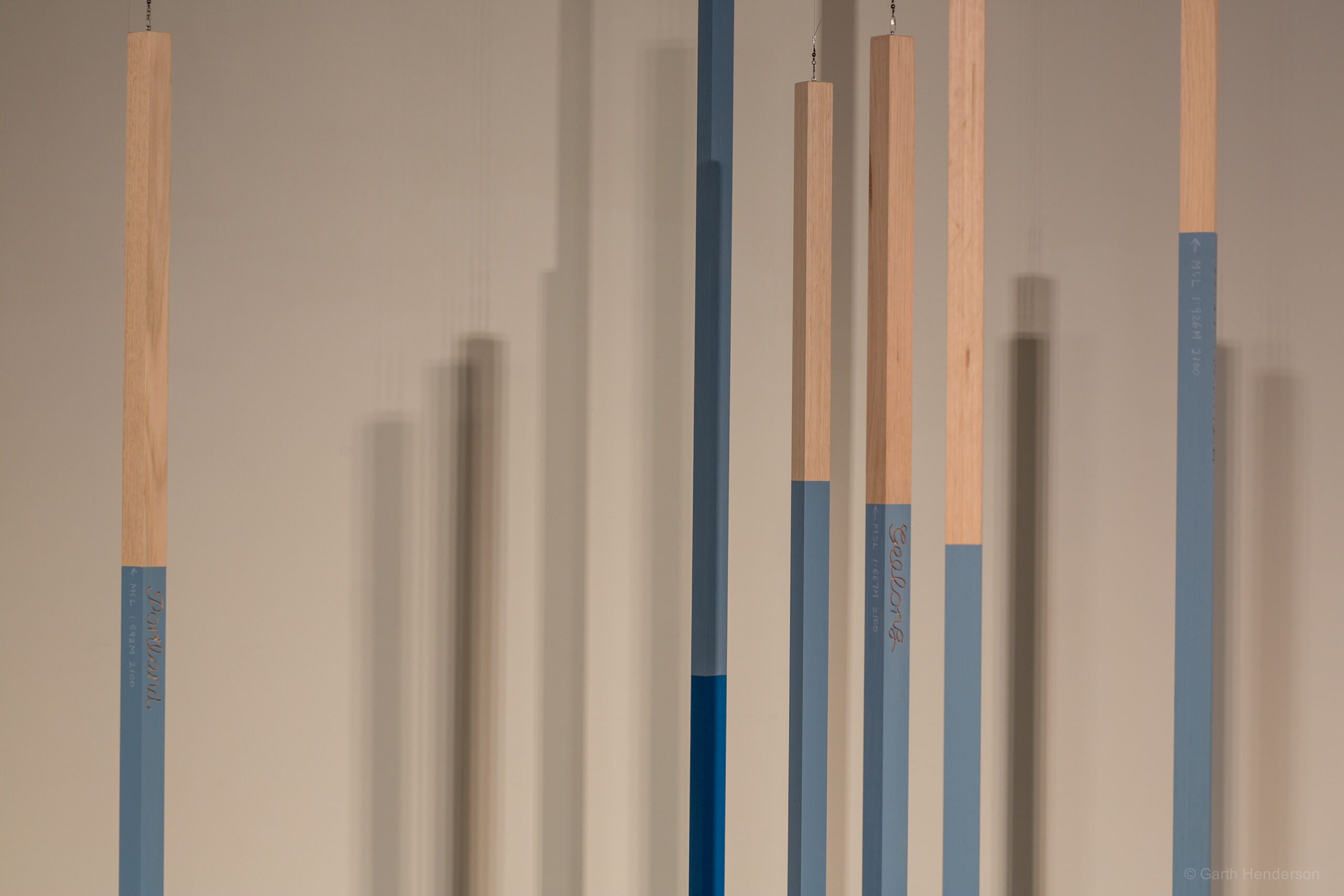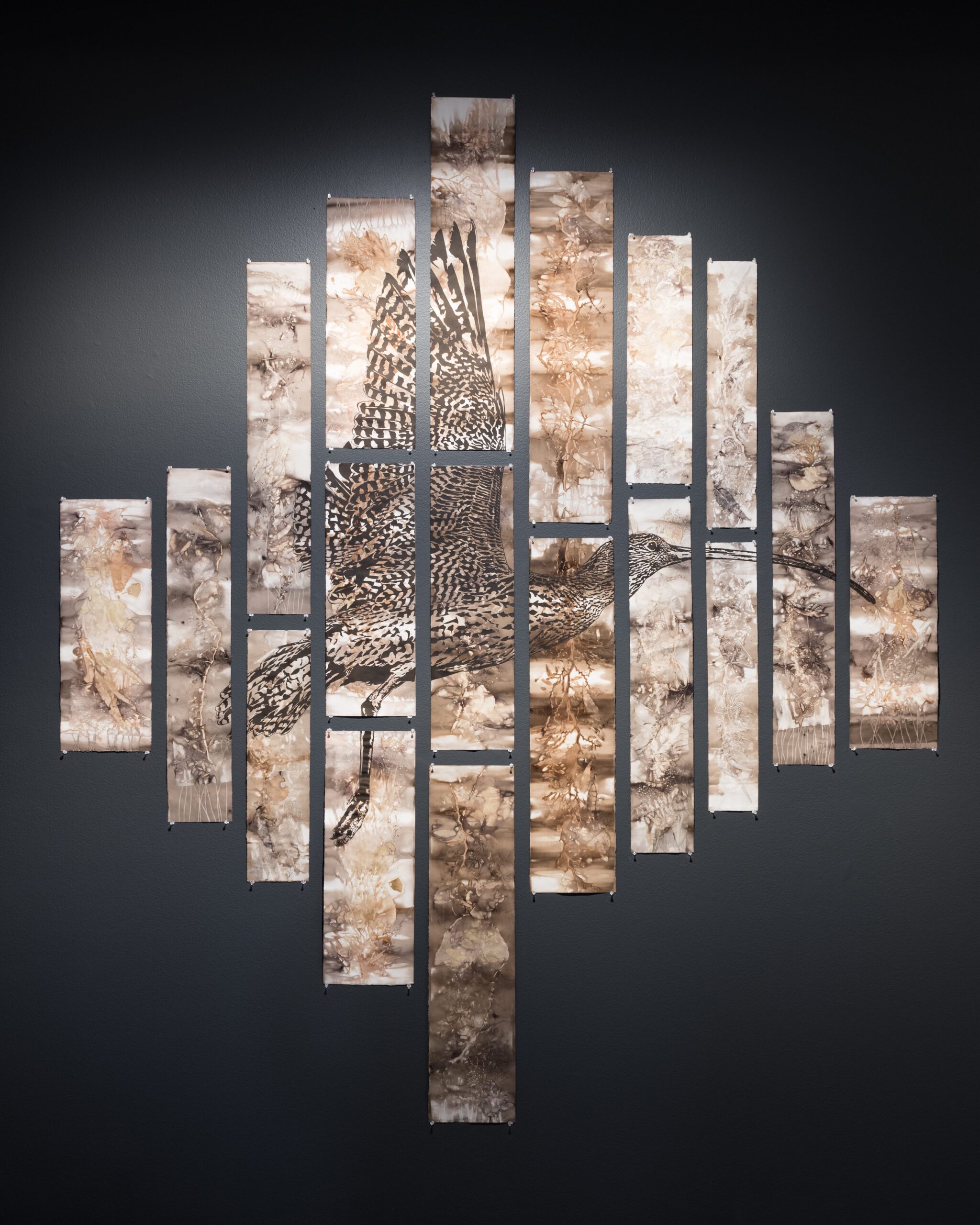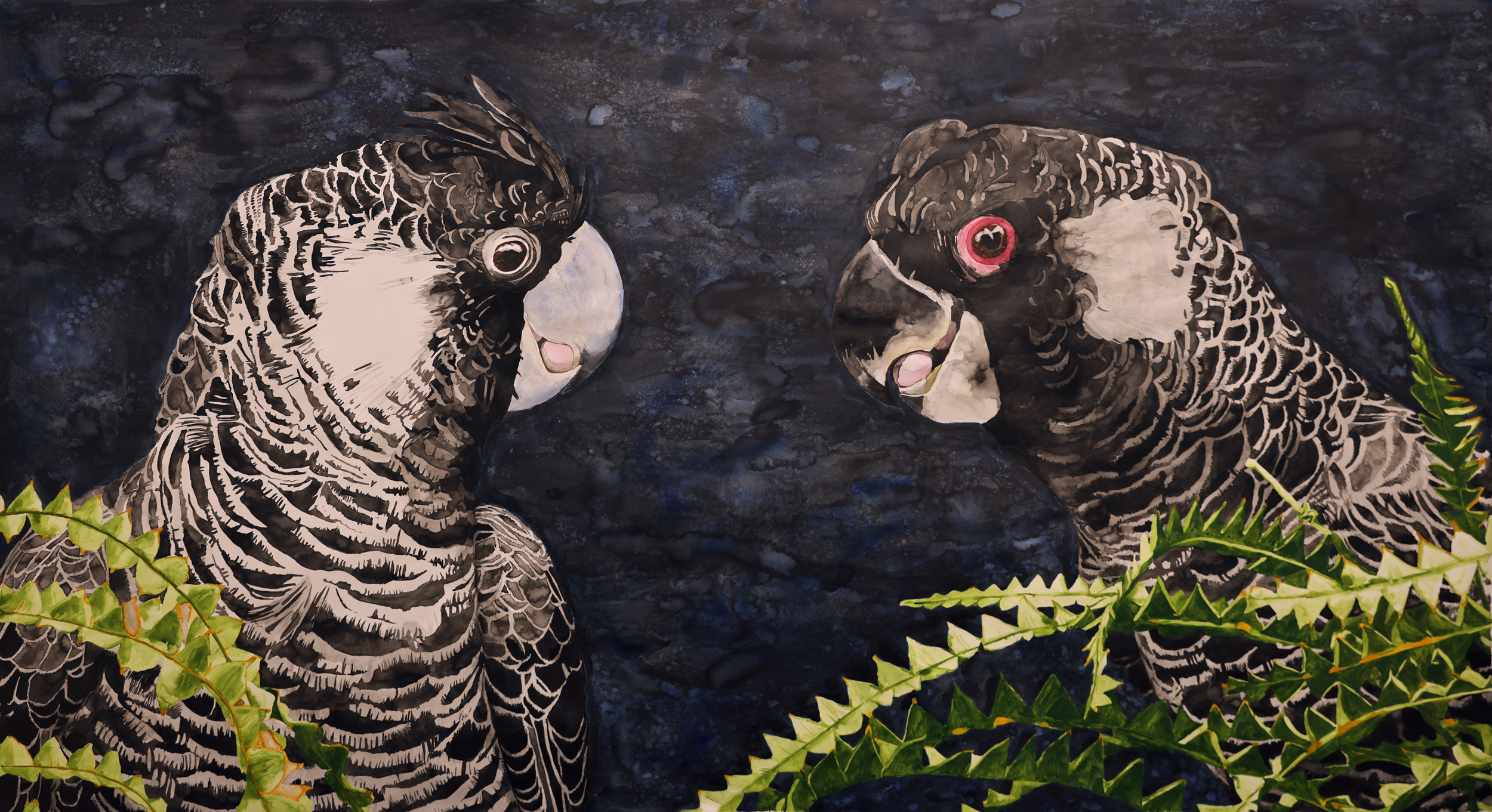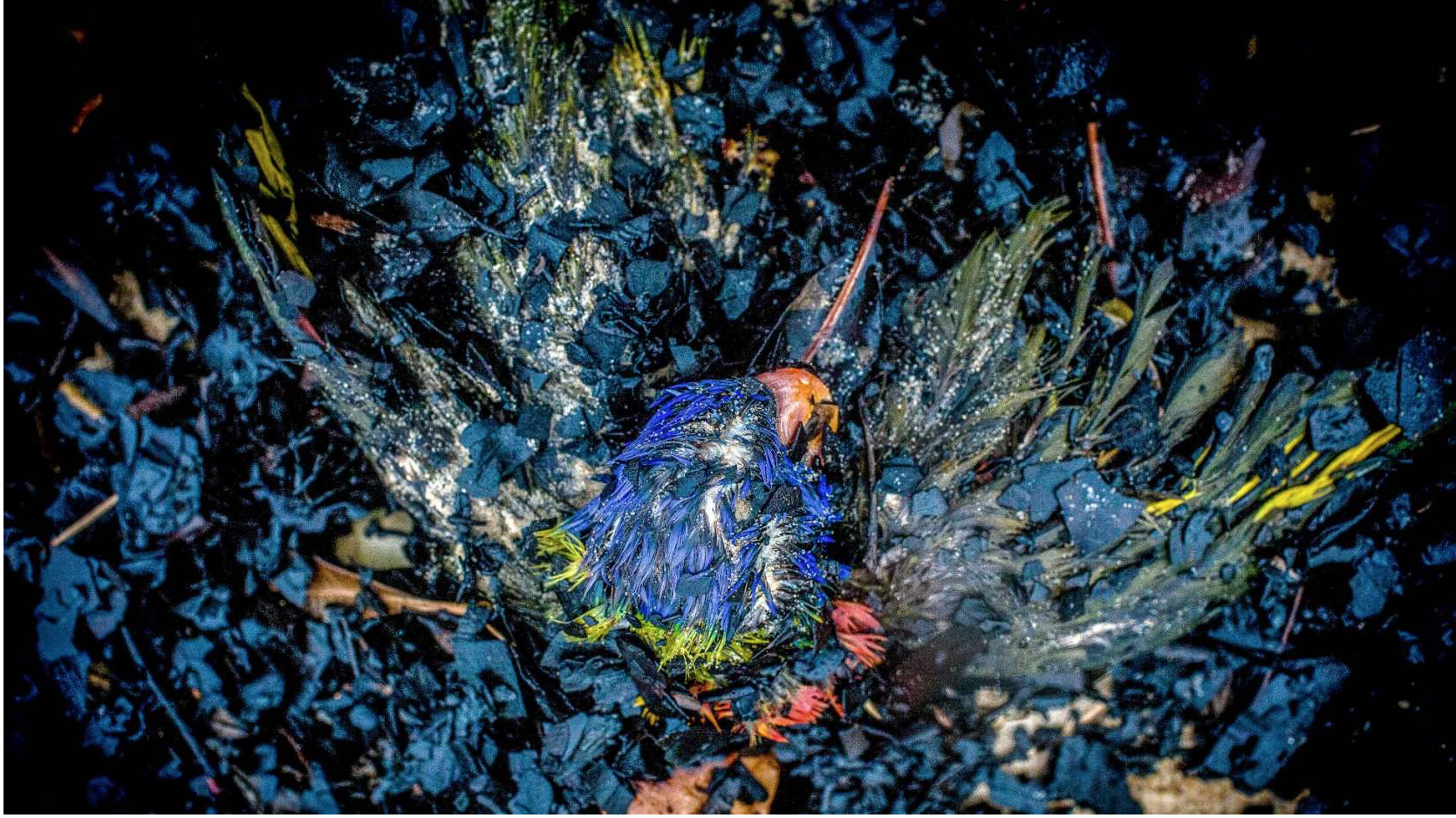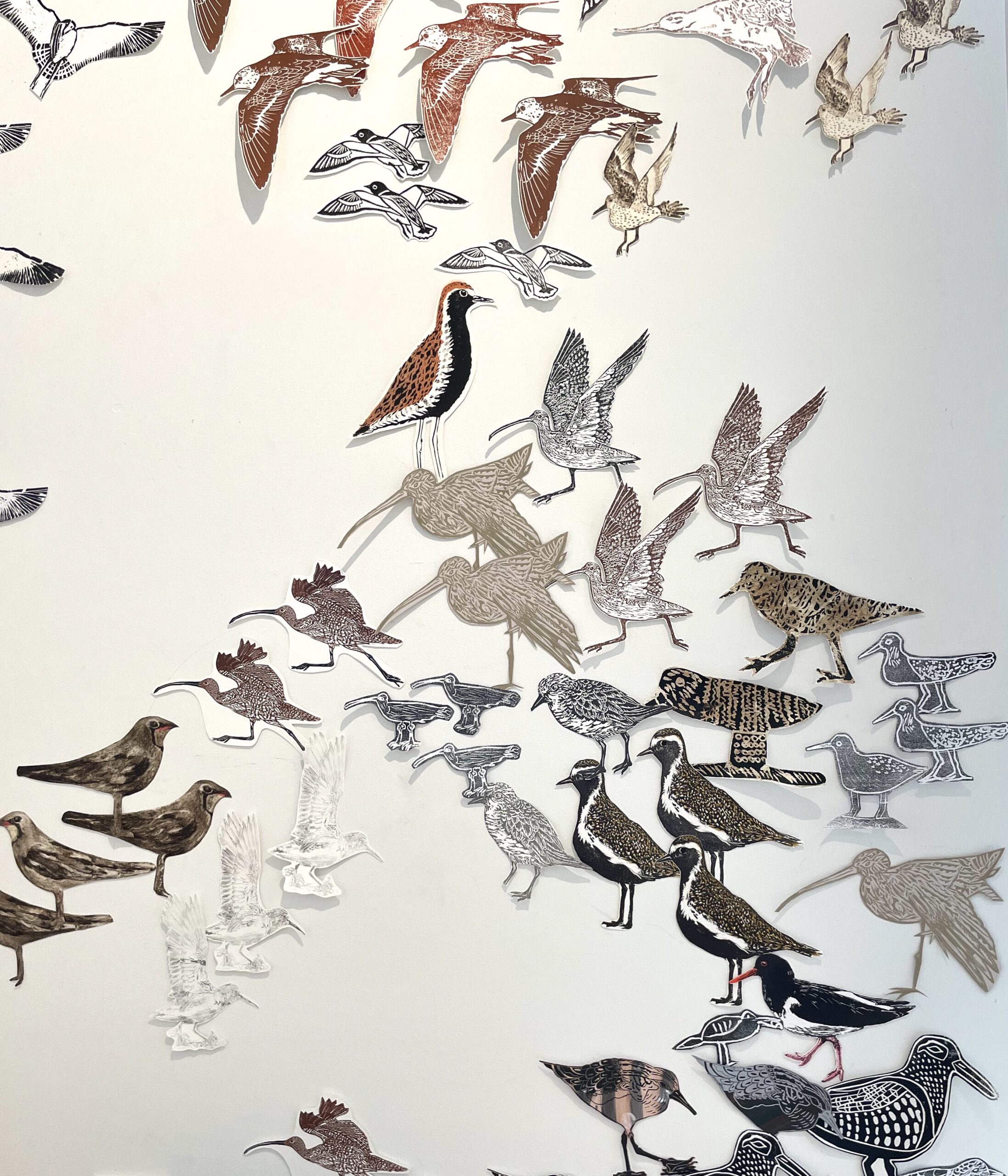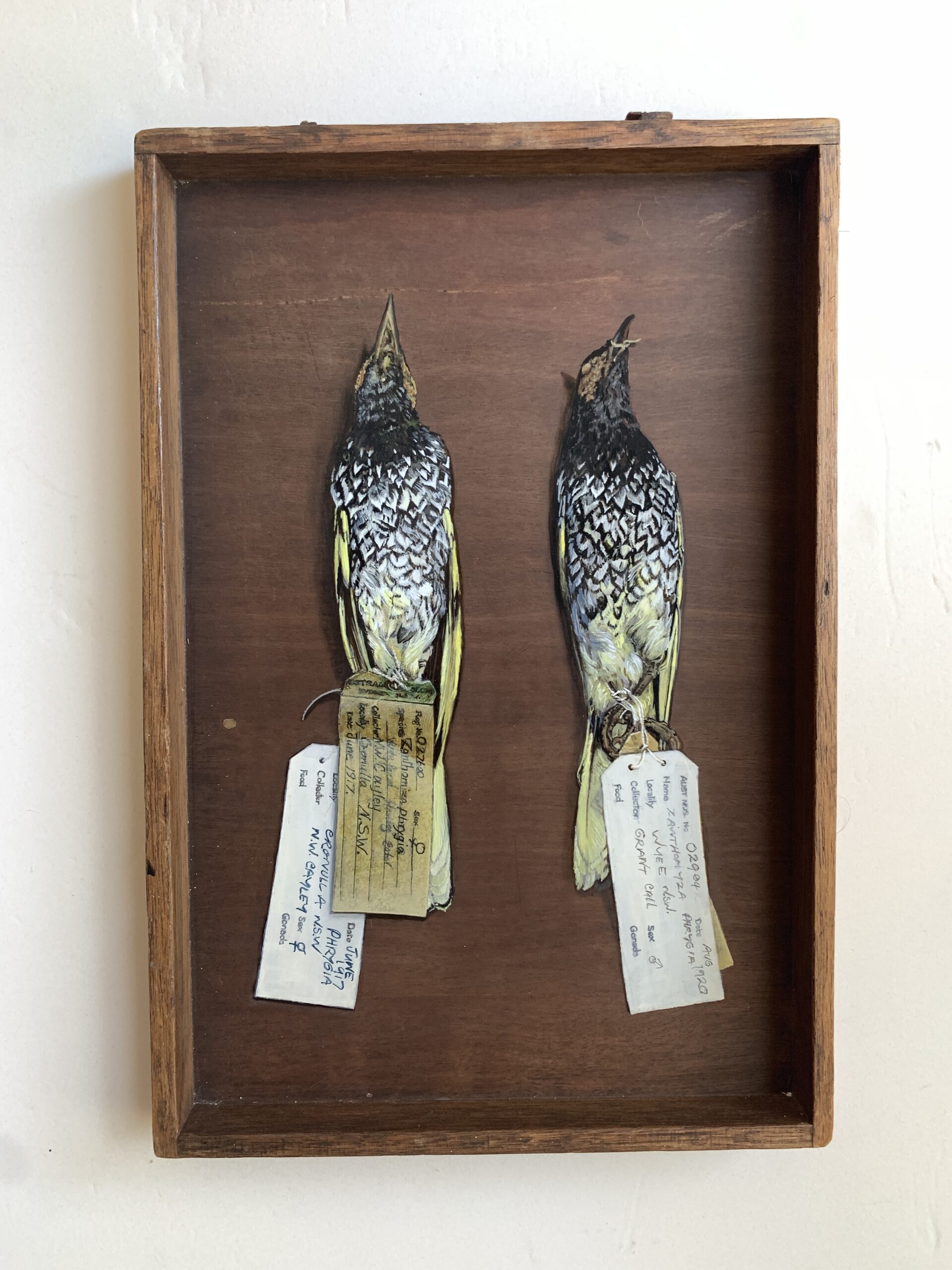 From top:
1 Alexis Beckett, Forage, 2018, palm leaf bowls, MDF, acrylic paint, permanent marker, 90 cm round x 7 cm high
2 Beth Croce, Imperfect Repair, 2023, Porcelain and surgical suture, 20 x 15 x 12 cm
3 Dominic White, Hoodie Empathy Suit, 2021, wattle saplings, cotton thread, kelp, epoxy resin, sculpture, performance and interactive work. Performance stills by Andrew Kopp. Photograph: Andrew Kopp. Exhibited courtesy Everywhen Artspace
4 Eugenia Lim, Zonotrichia leucophrys gambelii (be relentless), 2021, digital collage, edition of 10. Photograph: Robin Hearfield
5 Graham Badari, Kardabaibai (Darter) catching Manmakkawarri (Catfish) at the Kulabbarl (Billabong), Kurraguyangguyang (Jacana) on Mandem (Lilypads), 2018, ochre on Arches paper, 41 x 61 cm. Photograph: Copyright The Artist. Exhibited courtesy of Injalak Arts and Everywhen Artspace
6 Graham Badari, Mibbarr (White Bellied Sea Eagle), 2020, ochre and acrylic on Arches paper, 76 x 51 cm. Photograph: Copyright The Artist. Exhibited courtesy of Injalak Arts and Everywhen Artspace
7 Heather Hesterman, RISING, 2017, Engraved timber, acrylic paint, wire, dimensions variable, approx. 3.5m x 2.5m x 2m
8 Kate Gorringe-Smith, Eastern Curlew, Westernport Icon: I am my habitat, 2021, Linocut on eco-printed paper, unique state, 300 x 250 cm. Photograph: Andrej Kocis
9 Perdita Phillips, 208 x forgiveness?, 2023, mail art with mixed media on paper, 208 postcards 10 x 15 cm (assembled 130 x 240 cm)
10 Rachel Mounsey, Rainbow Lorikeet remains. Tip Beach, Mallacoota. Black Summer, 2020, 2023, digital pigment print on cotton rag, image size: 150 x 100 cm, paper size: 160 x 110 cm
11 The Artists of the Wall of Wings, Wall of Wings (detail), 2019-2021, individual original prints on paper, dimensions variable
12 Jenny McCracken, The Treachery of Collections: Regent Honey Eater – critically endangered, 2023, acrylic polymer on prepared wooden surface, 34 x 23 cm
As I contemplate the exhibition BIRD, I hear several magpies warbling in the background exchanging lyrical greetings to each other and by extension, to the broader community. The birds communicate through song as I type half-thoughts into words. Sean Dooley, from BirdLife Australia, opened the exhibition quoting the startling facts that 1 in 8 birds worldwide is threatened by extinction and, shockingly, in Australia, 1 in 6 birds faces extinction. This statistic results from human-induced climate change, carrying irreversible charges. Bird habitats are being destroyed; tidal and wetland sanctuaries (essential stop-overs for migratory birds) are cut and filled, ready for construction. Logging eradicates bird homes as rising sea levels and increasing temperatures force bird species to their thresholds.
Perdita Phillips mixed media on paper titled 208 x forgiveness? is a series of 208 mailed postcards 10 x 15cm (assembled 130 x 240cm) featuring two endangered Carnaby Black Cockatoos, found only in the southwest of Western Australia. This population is declining due to the fragmentation of habitats and continual clearing of vegetation. In the hot summer of 2010, 208 Black Cockatoos and numerous other bird species died. A post-mortem ruled out poisoning, with the bird deaths attributed to extreme heat.
Phillips is mailing postcards via Australia Post so that over time a whole image may or may not emerge as postcards reach their arrival or go missing. The blank white spaces of the gallery wall mimic the loss of bushland, unable to connect bird communities, the incomplete image of the two Cockatoos echoes their dire predicament of a species diminishing, unable to flourish. The Cockatoo's land is dissected into shrinking bush sections, isolating groups of birds. With a reduced gene pool and breeding pairs (Black Carnaby Cockatoo live between 25-50 years), a lack of hollow breeding tree trunks and fragmented habitats, what chances do these birds have? Phillips asks, at what stage do we accept these bird losses, and what will prompt action?
Adjacent to Phillip's artwork is a large digital print by photojournalist Rachel Mounsey of a bird, reduced to a bundle of brightly dishevelled feathers, surrounded by blacked ash. The feathered and charred remains belong to a Rainbow Lorikeet, one of the estimated 180 million birds killed or displaced in the megafires during the summer of 2019/20. The World Wide Fund for Nature1 reports that 3 billion animal species were killed or displaced. The singularity of the one in this image amplifies the tragedy of the many; this photograph physically memorialises an eyewitness account, as Mounsey states,
'In the midst of smoke, buried in ash, the lifeless bodies of hundreds of native birds were sprawled along the shoreline as far as the eye could see. Once ascending wings spread out underneath limp heads resembling crucifixion. Bright feathers sprinkled in sand glistened against their charcoal graves. Poetic beauty of a native avian graveyard, the small and significant casualties, days later washed out to sea.'
BIRD is an exhibition of complexity, not a prediction of doom or destruction, that attempts to balance the wondrousness of birds and their vitality with the precarity and factual reality of climate change. Contemporary art is a powerful tool; every aspect of material, thought and interest in the world can be the starting point for an artistic inquiry for research. There are no limits to what the artist might investigate, discover, or focus upon. In multiple voices and materials, artists challenge, question and communicate, holding a lens up to society for it to gaze and contemplate.
The artists in BIRD celebrate this creativity in multiple art forms; ceramics, sculpture, painting, animation, watercolour and printmaking. Print offers the opportunity to create multiples, disseminate information and generate future iterations by altering the matrix. In 2019, artist Penelope Lawry conceived The Wall of Wings to join The Overwintering Project, an environmental art project by artist Kate Gorringe-Smith, uniting artists around Australia about the plight of endangered migratory shorebirds.
Gorringe-Smith's The Overwintering Project dovetails her print and bird backgrounds by increasing the public's awareness about the plight of migratory shorebirds. This ongoing social art project conducts exhibitions, workshops and iterations with artists and scientists nationwide. So far, The Overwintering Project has donated $42,000 to BirdLife Australia, raised through print sales, the funds contributing to vital scientific research.
Exhibiting at the CLIMARTE gallery is a small selection of The Wall of Wings, printed birds in all their magnificence and feathery forms. The Wall of Wings embraces makers of all ages, experienced, and novices together to generate a collective bird masse of individuals celebrating difference. Meandering over two of the gallery walls, these printed birds feature relief printing, stamp, screenprint, collagraph and intaglio print techniques. A group of small hand-coloured waders self-consciously stand huddled at ground level whilst the rest take flight as a loosely formed congregation.
Biologist Donna Haraway suggests that humans need to 'make-kin' with non-human species, acknowledge human entanglements with other species, and accept other knowledges and ways of being in the world. Connecting with birds, Indigenous artist Dominic White's Hoodie Empathy Suit 2021 features a set of 12 digital prints and the Hooded Plover suit. Photographer Andrew Kopp captures White's performance as he embarks to reveal the essence of a tiny Hooded Plover surviving along the shoreline.
The suit, fabricated out of wood and kelp is carefully assembled and looks out at passersby through the gallery window. White's transformation as a Plover is both poetic and humble. The depictions of White's performance are honest, absurd, and revealing as the audience is privy to plover-like antics beautifully enacted by a middle-aged man. Kopp photographs White in his handmade suit hopping at the tidal zone, the scale reminiscent of twitchers who capture images of birds far away through a zoom lens, while others in the series reveal White closer, a hybrid Plover-man bent over with head cocked to the side examining an invisible morsel of interest. White's series has a universal message: if humans can empathise with other species, such as the endangered Hooded Plover, we might be prompted to care and act for species like birds before they and their songs disappear forever.
BIRD is on until 11 March, CLIMARTE gallery, 120 Bridge Road, Richmond, Melbourne. Artists include:  Graham Badari, Alexis Beckett, The Bowerbird Collective, Beth Croce, Kate Gorringe-Smith, Heather Hesterman, Eugenia Lim, Lucille Martin, Jenny McCracken, Rachel Mounsey, Perdita Phillips, David Stewart, Mervyn Street, Dominic White, the Artists of the Wall of Wings.
Free event 2-4 pm March 4: Artists talks with Alexis Beckett, Dominic White and Kate Gorringe-Smith
https://www.theguardian.com/environment/2020/jul/28/almost-3-billion-animals-affected-by-australian-megafires-report-shows-aoe
—
Join the PCA and become a member. You'll get the fine-art quarterly print magazine Imprint, free promotion of your exhibitions, discounts on art materials and a range of other exclusive benefits.