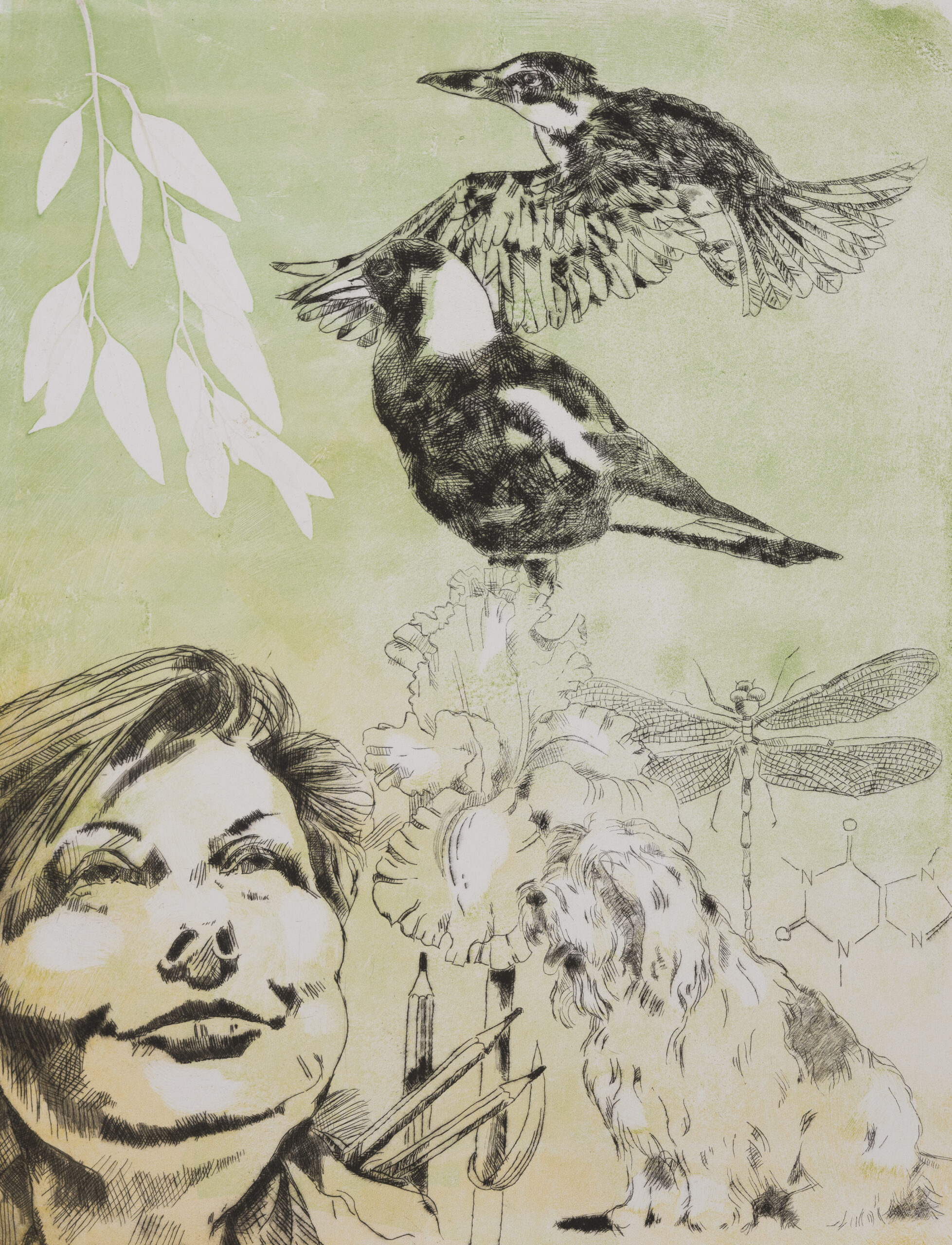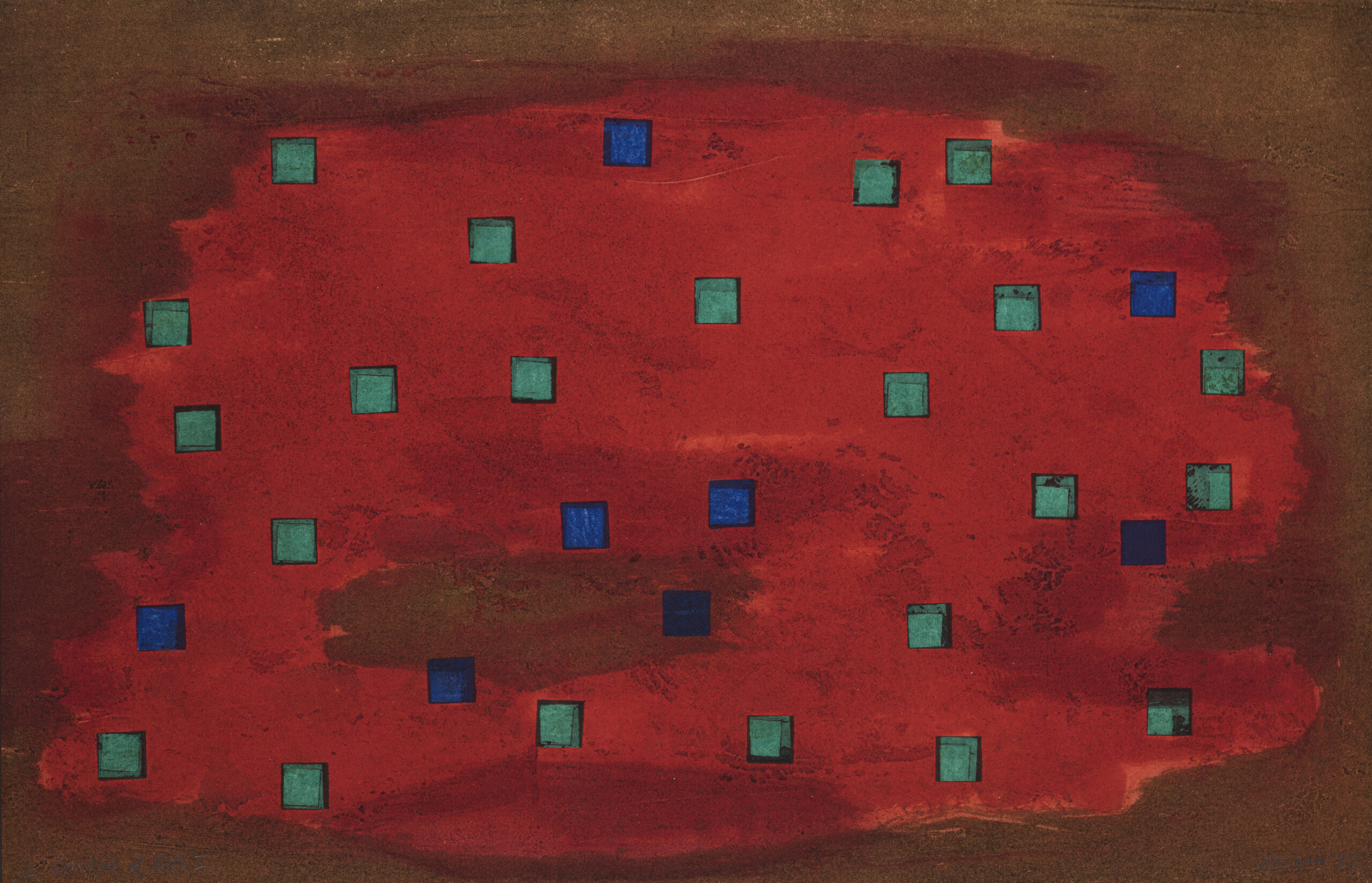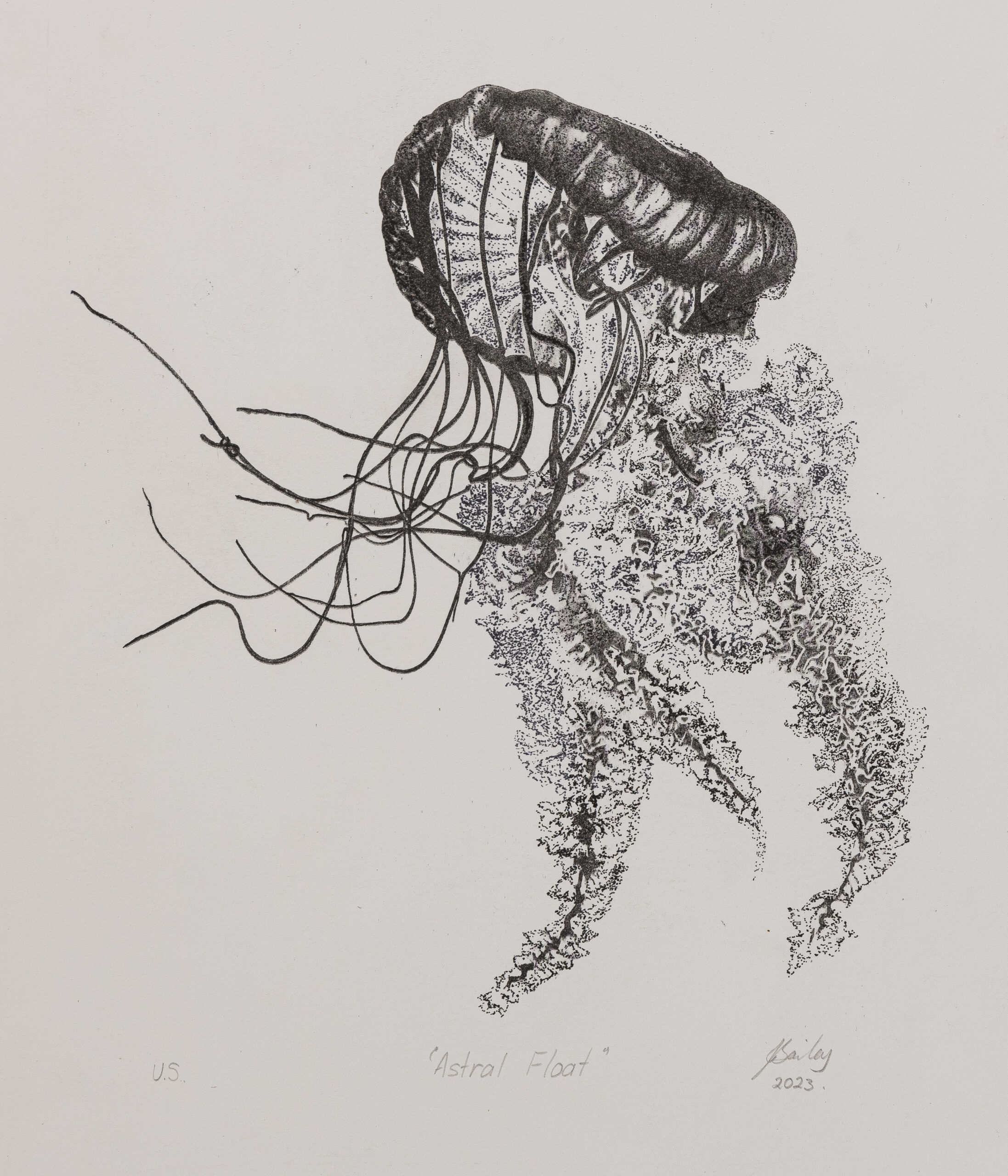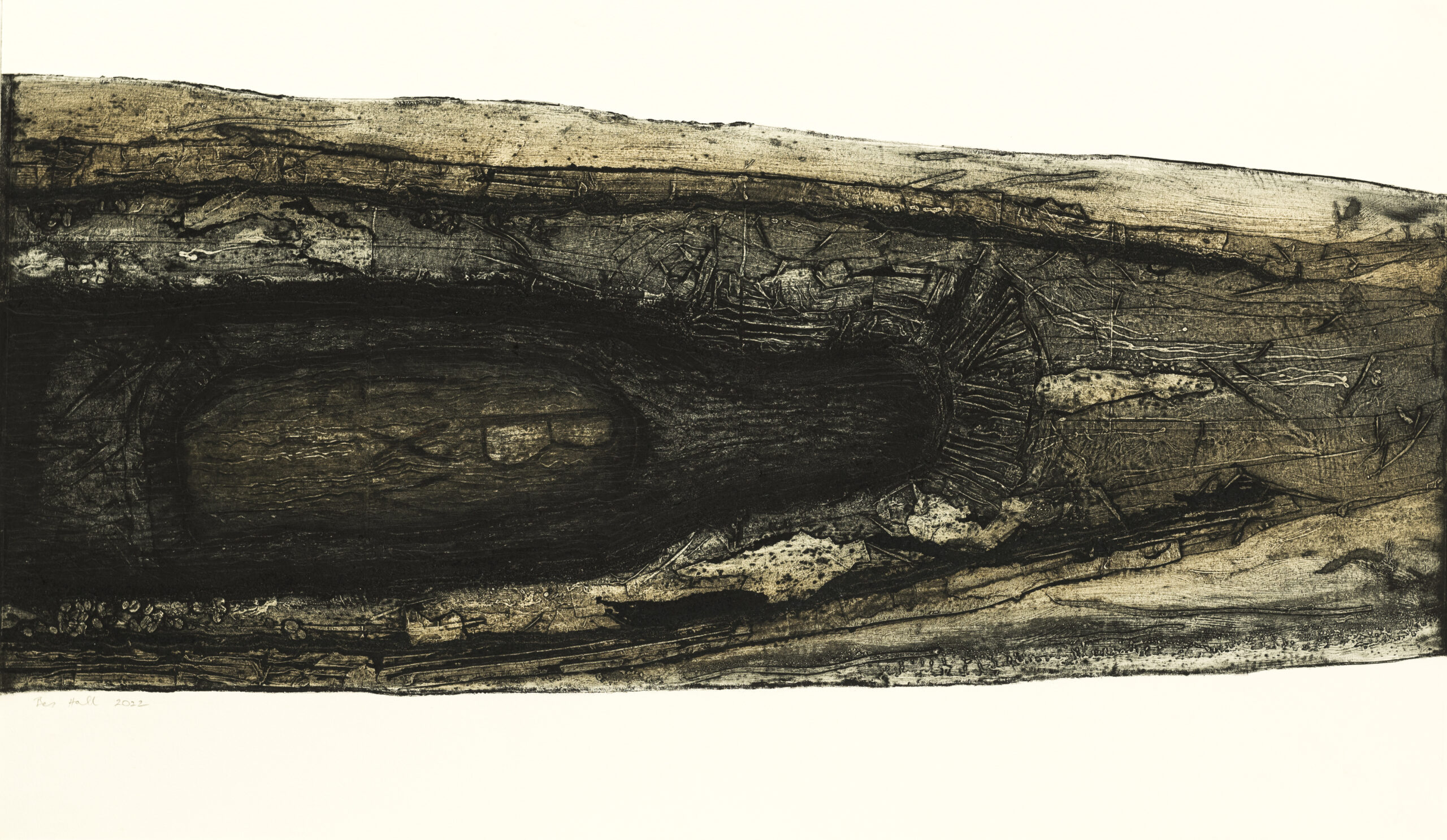 From top:
Southern Highlands Printmakers
Kathie Atkinson, A Photographer's Selfie, 2023, photopolymer etching, 50 x 38 cm. Edition: 1/3
Lisa Brack, Flights of Fancy, 2023, drypoint and monotype and embossing, 50 x 38cm. Edition: US
Tony Deigan, Centre of Red II, 2023, collagraph, 54 x 81 cm. 1Edition /5
Jenine Bailey, Astral Float, 2023, lithograph with pen work, 30 x 21 cm. Edition: US
Basil Hall, Under Our Skin I, 2022, collagraph & silkscreen, 100 x 60 cm.
Edition variable
What are some of the foundation ideas for this exhibition project
 The Southern Highlands Printmakers (SHP) is based in the Southern Highlands of NSW, Australia. The group was formed in 1993 to foster printmaking in the area, and since its inception has exhibited regularly, developing a particularly effective working relationship with Sturt Gallery, Mittagong, and the Bowral District Art Gallery, NSW.
The group's 21st anniversary was celebrated with Exchange, an exhibition and print portfolio between twenty-six SHP member artists. An anniversary catalogue accompanied the exhibition, which was first exhibited at Sturt Gallery followed by Megalo Gallery in Canberra.
This year SHP is celebrating its 30th anniversary and is highlighting this important event through an exhibition of original handmade prints. The theme for these works is "belonging", including ideas around portraiture, place, landscape and social networks.
In this exhibition SHP will be represented by twenty-five artists. The works will cover a variety of printmaking techniques, including etchings, linocuts, collagraphs, woodcuts, letterpress and monotypes.
The printmakers approached the Ngununggula gallery with a few random ideas and with the gallery's vision and enthusiasm, we expanded our initial concept to present a body of work alongside the Many Hands Art Centre. Fifteen of the Iltja Ntjarra artists and their family members will exhibit a selection of collaborative artworks, also centred on the theme of belonging. Ngununggula means belonging in the traditional language of the Gundungurra First Nations people. Tjoritjarinja means belonging to the Western MacDonnell Ranges. SHP members also experience a great sense of belonging, not just to the group, but to our art, our landscape and our place.
How did the artwork selection take place?
All works for this exhibition from both SHP and the Many Hands Art Centre artists are new and specifically created for the exhibition.
How does the exhibition manifest – what do visitors experience?
SHP will present a collaboration of individual self-portraits.  Some will be fully representative of the artist; others will be adapted to allow a mere glimpse of the person or to provide a feeling or sense of the artist.  The portraits will be exhibited as a whole work.  Individual artists will also exhibit one to two prints demonstrating what 'Belonging' means to them.
The Iltja Ntjarra Many Hands Art Centre artists will exhibit works examining family connections using Aboriginal knowledge systems and explore how families are connected through history, place, community and Dreaming.
What are some of the key works and what subject matter do they deal with?
Also on display will be a selection of paintings by Albert Namatjira from the National Gallery of Australia collection.
What is it about the printmaking experience that you most appreciate?
In the 1980s and '90s, printmaking was starting to be taught at tertiary level and practised in the Southern Highlands area of NSW and it was felt that a group should form to foster the continued making of prints and their exhibition both locally and further afield.
Although the artists in the SHP were, and still are, largely self-motivated and teach or work towards exhibitions in their own studios, they all find that membership is advantageous in terms of mutual support and feedback. Being part of a group of practitioners also opens up exhibiting possibilities that individual artists might not be able to access. The members of SHP have a broad range of backgrounds and training, so a strong curatorial emphasis has to be brought to bear in order to accommodate their diverse styles, techniques and interests. Shows such as Continuum and An Australian Alphabet have sought to focus attention on particular subjects or themes, while SHP's 2022-23 exhibition, Attune, introduced printmakers to prominent craftsmen and women in an exciting collaboration between the arts and crafts.
On an individual level, the process of using printmaking for capturing marks is an intellectual, emotional and essentially a technical experience. Creating a print and thinking through the subtleties and challenges of moving forward with the process, whilst experiencing the highs and lows of making mistakes, creating something beautiful and unexpected can be exhilarating. This is enhanced by the thrill of being part of an exhibition with fellow artistic printmakers.
—
Belonging/Tjoritjarinja is at Ngununggula Regional Gallery, Bowral, 25 April-21 May. Opening 25 April 5-7pm.
—
Join the PCA and become a member. You'll get the fine-art quarterly print magazine Imprint, free promotion of your exhibitions, discounts on art materials and a range of other exclusive benefits.