arc Yinnar: a cultural institution
In this special advertising feature, arc Yinnar's Kate Zizys explains the multitude of offerings available at this recently refurbished facility, with its focus on safe art work practices, and long history as one of Victoria's oldest art collectives.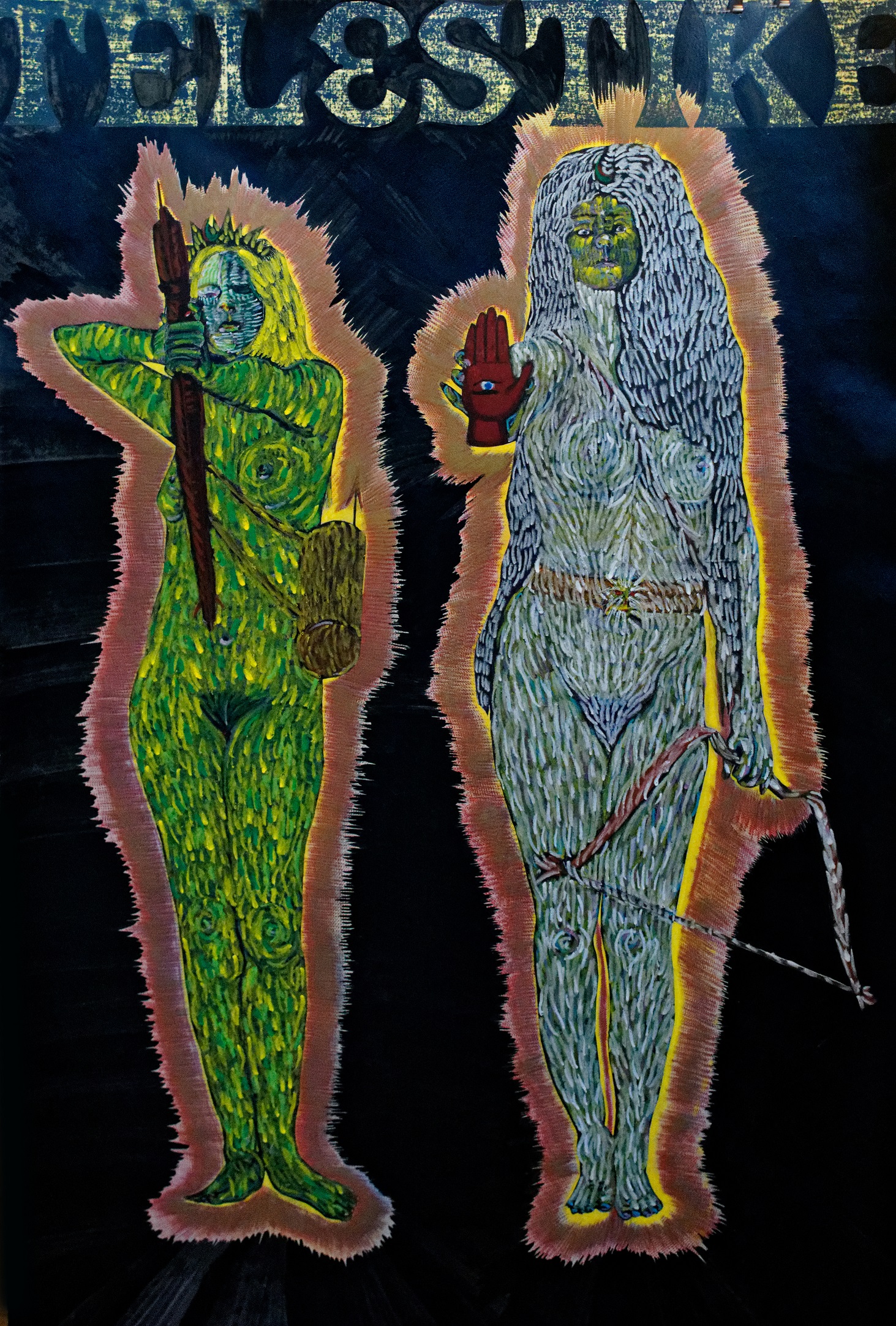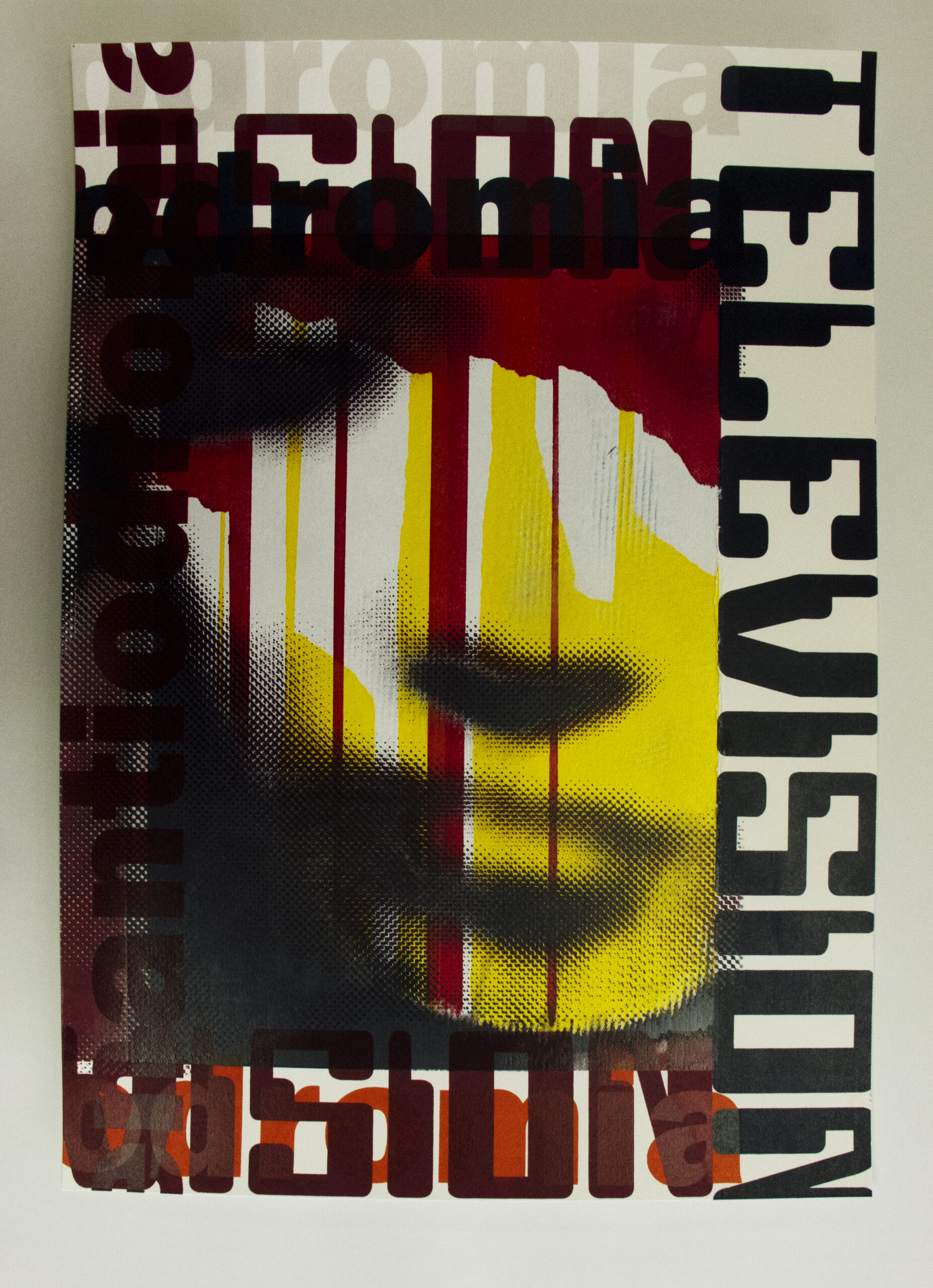 Amanda Thompson, arc Yinnar artist, in her studio, 2022.
Kate Zizys, Telestik, 2021, multimedia print
Kate Zizys, Television, 2015, screenprint
Q: The print facility upgrade at the Artist Resource Collective (arc) in Yinnar, Gippsland sounds exciting, especially since it is the oldest artist-run collective in Victoria. What prompted the membership to improve on what was already there?
A: Well, arc Yinnar is an impressive effort, especially since it's located in a tiny township between the Boolara hills and Morwell. It's kind of random! The original collective really achieved a lot locating a cultural institution there and developing links with the Latrobe Regional Gallery, which is a ten-minute drive down the road.
There was very basic set up in terms of printmaking, a drying rack and some serigraph screens, rollers and a few etching presses, but there hasn't been capacity to really work at more than a basic beginners' level for a long time. For example, there was no running water in the printmaking room. Back in the '80s when arc Yinnar first opened, there was a pretty functional screenprint set-up for poster art and a fair bit of arts-activism took place there, but times moved on and a lot of the equipment had fallen into disrepair. When the collective recently got the funds to upgrade the artist studios, community access space and the ceramics workshop at arc, it was really exciting. The arc membership used the momentum to seek a bit more funding from the Regional Arts Fund, so the printmaking area could be refurbished as well. We have plumbing in there now. We put in a custom-designed sink for managing paper preparation for etching and washing out photogravure plates; there's a new floor, wheelchair access, heating and air-conditioning, a skylight for natural lighting; it's pretty amazing to watch it coming together.
Q: Who will be able to use the facility when it is complete?
A: Members of the arc collective, professional artists working independently, facilitators working with NDIS clients, art students, art therapists and the general public can all access the arc Yinnar spaces. There are a few occupational health and safety requirements to attend to before you can go in by yourself. An induction to the main arc facility, which includes a few gallery spaces, artists' studios, kitchen, bathroom area, community access space, ceramics, metalwork and theatre space, and this is followed by an induction into the print area itself. It's easy and doesn't take long, experienced printmakers will understand the process as it's pretty standard across access studios now. For new users, it's a good way to get familiar with the space and understand how to work safely in specialised creative industries. Arc Yinnar is a collective and it's quite different from a private arts business, there's a communal-use ethic and occupational health and safety is an important part of working in shared creative spaces these days, users need to keep safe practice in mind when working independently so they stay safe themselves and keep others from harm too. Health and wellbeing are an important focus at arc Yinnar. We promote contemporary workplace standards so that artists using the spaces are better placed to gain work in professional creative industry. The print area is not a huge workshop like what you find in tertiary settings or in the print studios in Melbourne, but the equipment is industry-standard and products and materials are professional grade.
There will be short courses offered to help new users who haven't got printmaking skills to learn how to manage the space and use the equipment. There are already ACFE courses offered through arc Yinnar, these courses are Learn Local pathway programs designed to introduce untrained learners to new creative skills and applied art practices, with a view to further education and employment. We will have a technician to help more experienced professional artists with their projects soon, who will work on a booking basis, and also run open access for experienced artists regularly, a day or two a week, so that professional printmakers and multidiscipline artists can realise more ambitious projects with a helping hand, and make works for their exhibitions, projects and sale.
Q: Is the facility aimed at any particular printmaking processes or does it cater for the full suite of techniques?
A: We have a few etching presses, a few exposure units, rollers, screens and a carousel for fabrics printing. The presses can be used for relief, etching, mono-printing, drypoint, photogravure and those pressure-based print techniques. We interface with other studios at arc Yinnar, such as ceramics, and we have digital capacity and are looking to develop multidisciplinary methods within which printmaking elements are a valuable tool, printing decals for ceramic works for example, and creating printed stills for digital animations. There's a strong textiles culture at arc Yinnar, and both relief- and screenprinting onto fabric are available, as well as photo processes like cyanotype (blueprint) on both paper and fabric, and drypoint on a range of metals, woodblock, embossing, all the standard applications.
It's a versatile space and equipment can be used for experimental processes with assistance from the technician.
Q: Does the facility allow printmakers to utilise etching fluids like ferric chloride or nitric acid?
A: We ran into space and safety issues during the refurbishment, and are currently in the process of seeking more funding to set up a purpose-built corrosives room so artists can etch metal plates with ferric chloride and copper sulphate, apply grounds and do their metal working. We won't cater for the strong acids though, they are too difficult to manage safely in our facility, disposing of waste can be so expensive now and those costs get passed onto the users, so we are trying to make the practice areas cost-effective for arc members and public users by seeking processes which are environmentally manageable, safer to use and can be recycled or safely disposed of at reasonable cost. We are also very conscious of offering safer practices to users with respect to the health of artists and the environment. Arc Yinnar will be teaching practices in line with contemporary methods available at other studios which take contemporary issues regarding workplace safety and sustainability seriously, so what the artists learn to use here at arc Yinnar can be practiced elsewhere responsibly.
It's a great time at arc for printmaking artists interested in using the new facilities but it's not quite ready yet! We are behind schedule because of COVID lockdowns during 2020 and 2021 but the main area where the presses live is almost completed, at the moment only the ACFE course is available in the print room and arc member artists who use print as a technique are still doing so in their studio spaces while we wait for finishing touches to the main print area to take place.
Q: So, when will the new print facility be available for use by visiting artists and those interested in participating in residency programs?
A: We are hoping for a summertime launch so watch this space and contact arcyinnar@speedweb.com.au with all your enquiries.
captions:
Telestik Multi Media Print by Kate Zizys 2021
Television Screen Print by Kate Zizys 2015
Amanda Thompson Arc Artist in her Studio 2022
—
 Join the PCA and become a member. You'll get the fine-art quarterly print magazine Imprint, free promotion of your exhibitions, discounts on art materials and a range of other exclusive benefits.