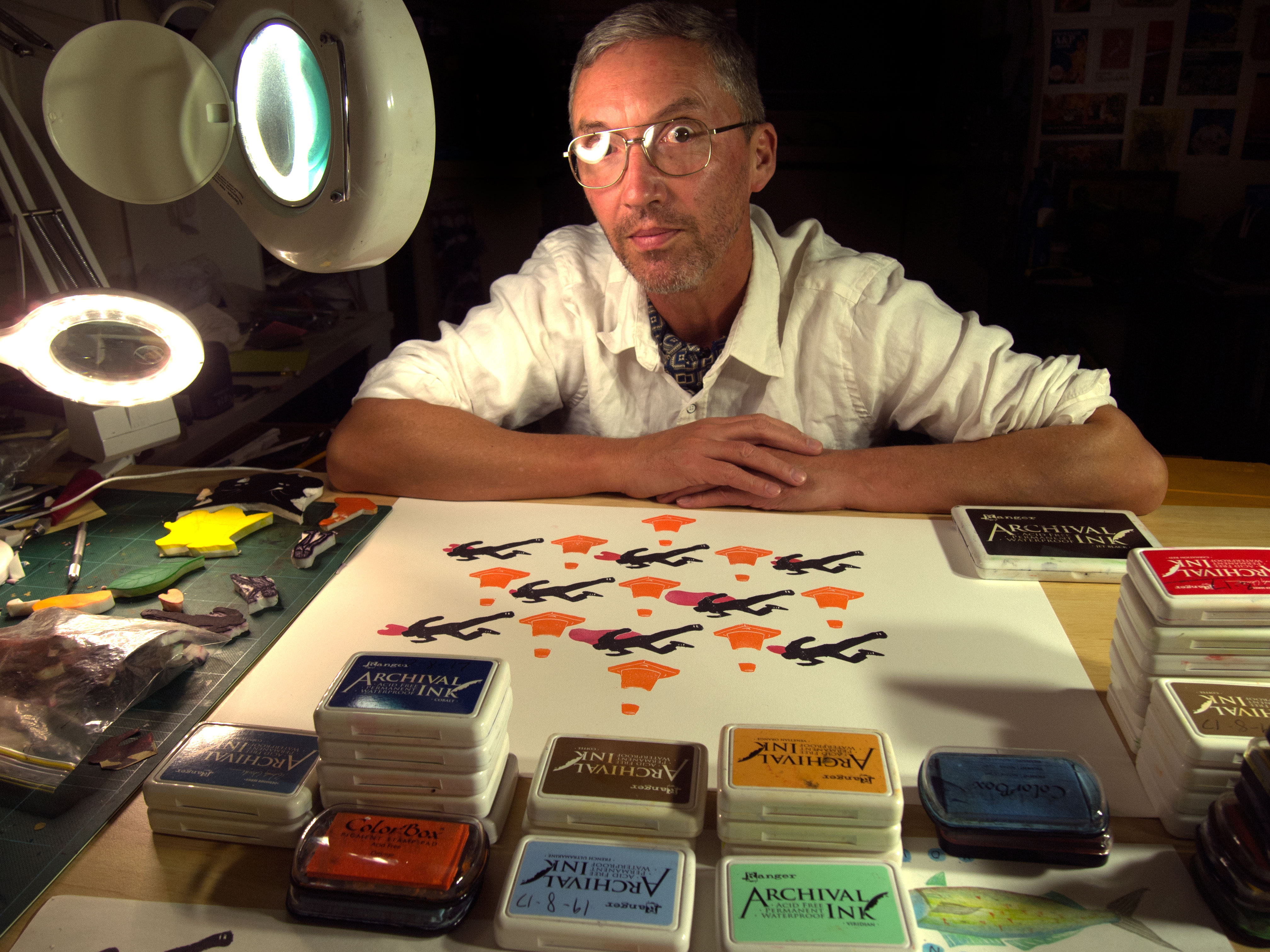 A.H.C. McDonald
Born 1963, WA. Now lives WA.
Singing Magpie, Swooping Season
Unique state composition relief print
Unique state prints in a series of 30
Image size: 67 x 32 cm, Paper size: 76 x 56 cm
VIEW THE PRINTS
Umbrella Studio Contemporary Arts
2 October – 15 November, 2020
408 Flinders Street,
TOWNSVILLE QLD 4810
Open Tues-Fri 9am-5pm | Sat-Sun 9am-1pm
umbrella.org.au
Sydney Contemporary Presents 2020
1 – 31 October, 2020
sydneycontemporarypresents.com.au
A free, experiential online platform where visitors can peruse artworks from over 80 Australian and New Zealand galleries.
*Sydney Contemporary art fair, and PAPER CONTEMPORARY the popular section of the fair devoted to works on paper hopes to return in 2021.


The PCA's Print Commission 2020 includes six works by artists from around Australia. The judges, Jazmina Cininas and Rona Green, say there was lively discussion during the difficult task of choosing the final works from an impressive selection: 'In the end, it was the synthesis of concept, ambition, technique and finesse that set the selected work apart for this year's 
commission.'
Q: What were some of the foundation ideas for the work you submitted for the 2020 Print Commission?
A.H.C.: Singing Magpie, Swooping Season is about how, in Australia, beauty is always accompanied by danger. Every year magpies for a brief period turn dangerous and even deadly, and gardens become, for just a few weeks, battlegrounds, places where we watch the skies in apprehension. It's the sort of thing that we just take for granted as part of Australian life. OK, for a few weeks this wonderful creature may injure us or blind us – someone has even died after crashing their bike while being swooped by a magpie. And then. It's all back to normal.
One of the inspirations for the singing magpie itself was seeing a picture of the sculpture Roaring Lion by Lynn Chadwick from 1960, where the artist has focussed every ounce of bronze into the power of one roar. If you haven't seen it, look it up. It's a masterpiece of sculpture. I wanted to have the song of the bird transformed into murderous rage in the same way.
Q: What were some of the technical challenges or inspirations involved?
A.H.C.: I don't know if it shows, but this is an extremely technically difficult piece. The way I work is composition relief prints, so every single element is separately placed by hand to build up the whole picture. There are about 40 separate individually hand-composed impressions in every print. Every flame and spray element is separately inked, masked and placed one at a time. It's almost like painting with print blocks. Several elements have to be masked during composition. The floor under my work table turns into a sea of discarded paper masks during printing.
Even though I have an approximate template guide, each piece starts totally from scratch, is unique state and has its own personality. Also, not using a press, I have to essentially put my whole weight onto each print block to make the impression. The amount of physical effort and concentration that's going into every print reminds me why I usually only do one or two versions of any work! There are certainly downsides to compositional printing. I don't know if anyone uses this method, particularly for a series this big, but working this way frees every element for use in different works which wouldn't be possible if I was, say, screening them. I frequently use blocks in different works, like returning characters or old friends, and this way, every print I do is 1/1.
The blocks are cut from rubber stamping material. When working smaller I used to use archive stamp inks such as those you can see from my studio shot. But the blocks for Singing Magpie, Swooping Season are far too large for such a quick drying ink, so these Print Commission pieces are printed with undiluted relief print inks.
I had originally prepared another work to submit to the Print Commission, but I realised after I had finished the proof that if I got accepted, I would have had to individually print and mask two thousand separate flowers with three impressions per flower! Errrk.
Q: How does this work relate to your work more generally?
A.H.C.: A lot of my work is about the collision of beauty and danger in Australian life, and how it is that to step outside as an Australian is to be ready to tackle the plants and animals as well as the humans. Even the sun and the landscape want to kill you. I like also to try and take a step beyond the conventional print topics. I like putting up a serious theme against the cartoony style you get from printing with rubber blocks.
Q: What future projects or directions are you considering?
A.H.C.: I'm doing some art and cultural criticism at the moment. I think there's a need for a different way of looking at and talking about our art and our cultural life. It's interesting being a critic and a working artist. I'm particularly interested in the public art scene, which sadly in Western Australia, is an embarrassing disaster at the moment.
I've also always been a photographer. I now have almost four decades of photographic work which I add to almost every day which I'm very proud of.
Once restrictions end again, whenever that is, I'd like to apply for some residencies. As a photographer as well as a printmaker, being an outsider can be an advantage when creating a work in a new place.
But future direction? Generally to be more outrageous. Whenever possible.
—
Join the PCA and become a member. You'll get the fine-art quarterly print magazine Imprint, free promotion of your exhibitions, discounts on art materials and a range of other exclusive benefits.