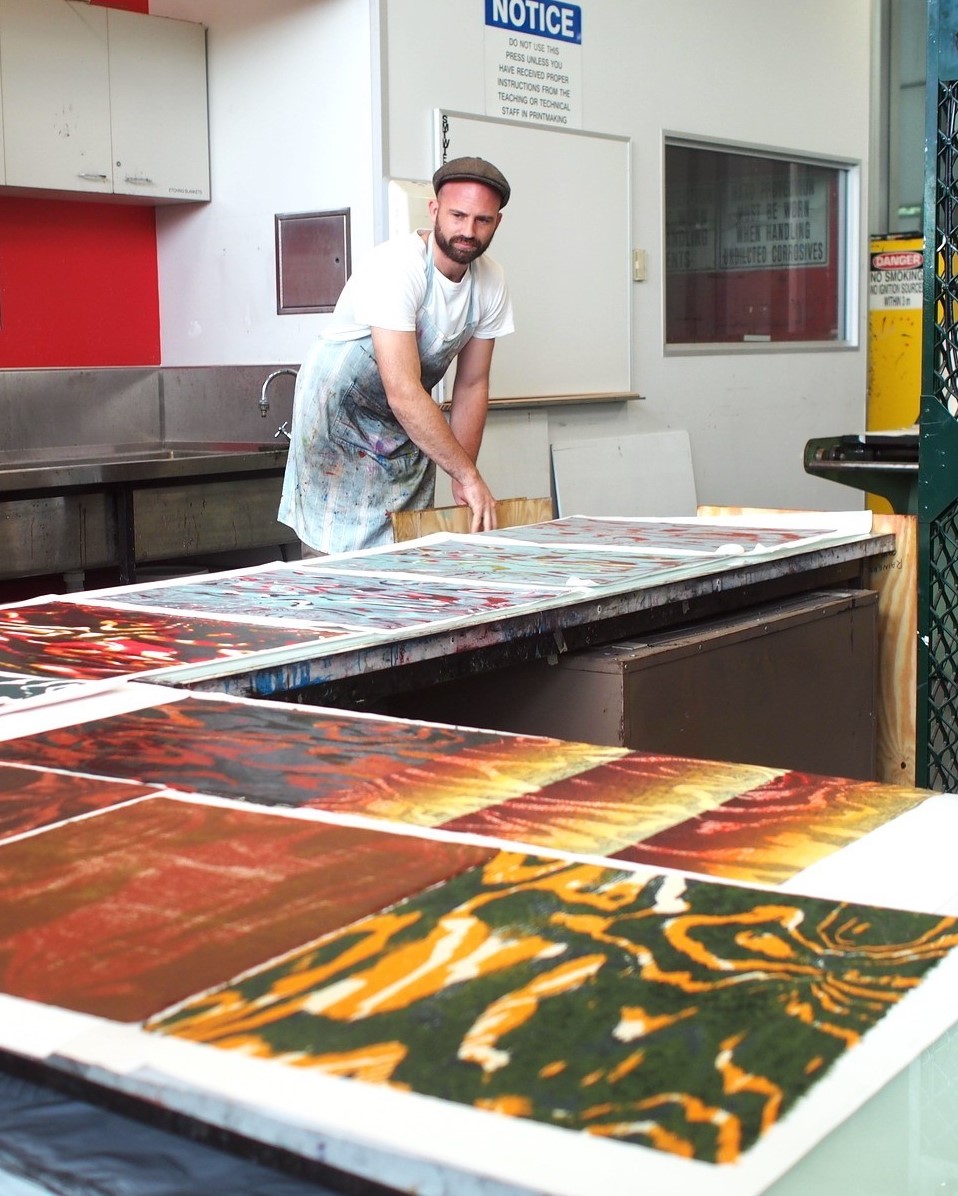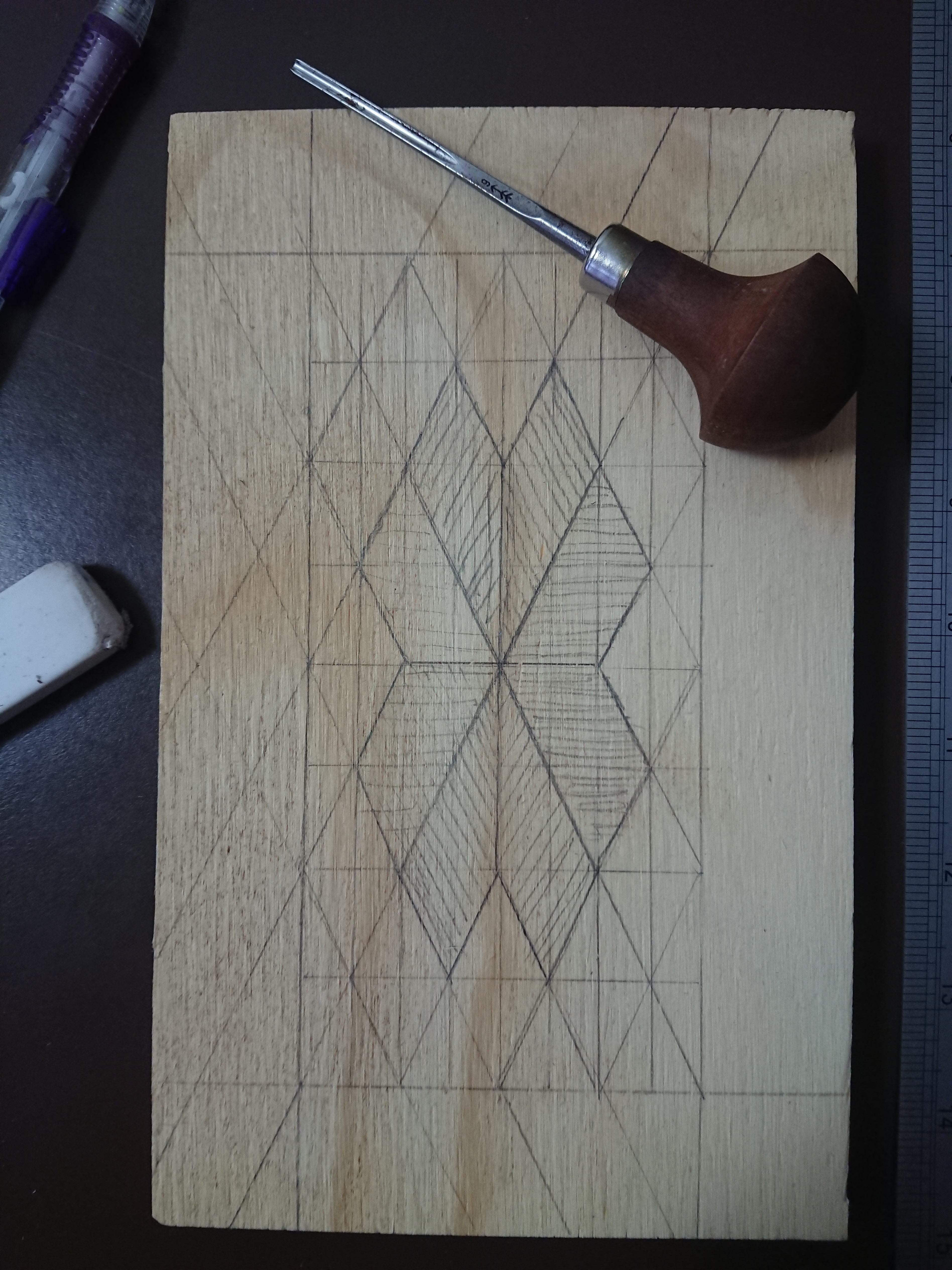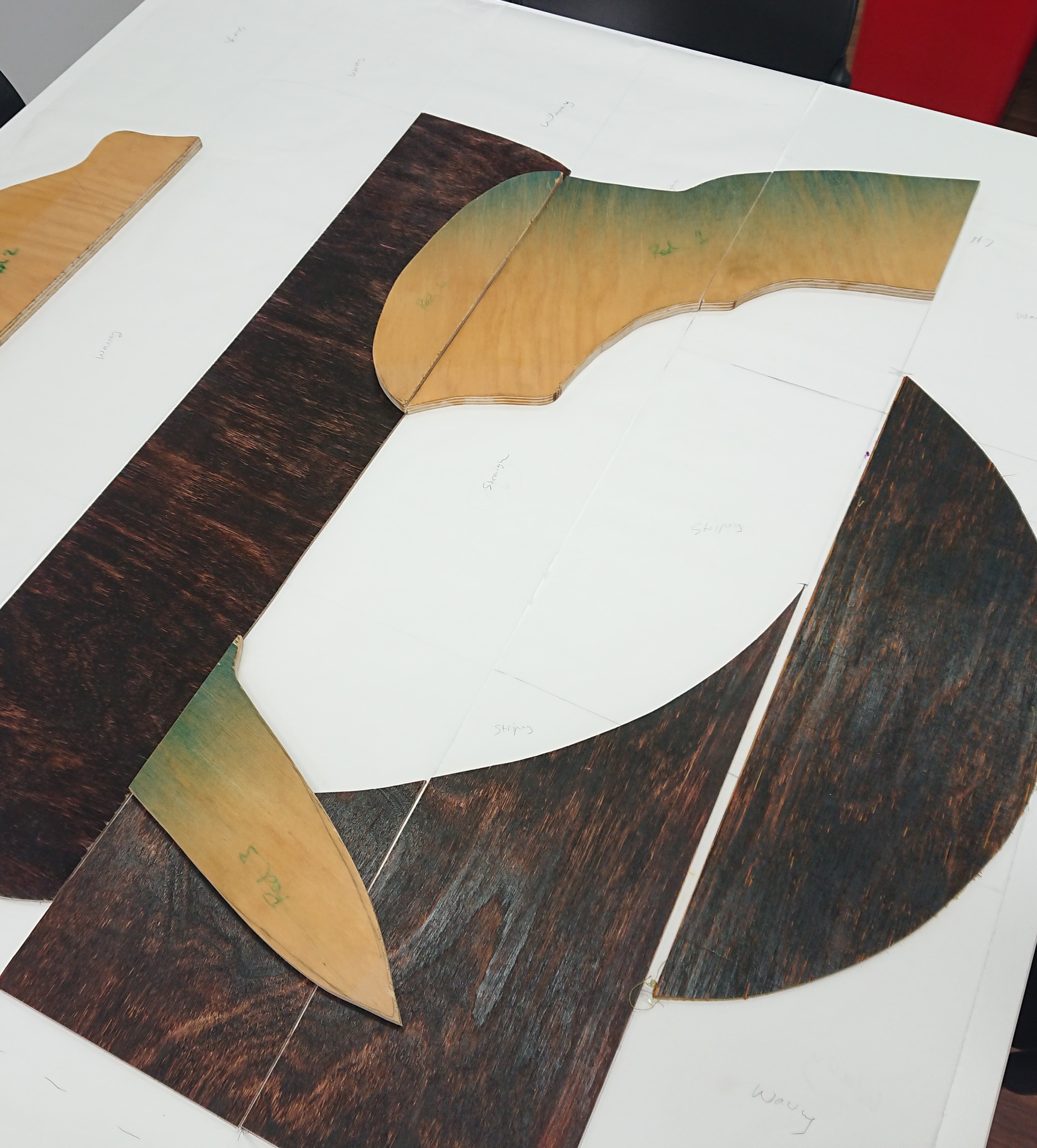 Main image:
Rainer Doecke
Born 1989, SA. Lives Vic.
There's nothing we can do
about that now
Reduction woodcut
Edition size: 40
Image size: 58 x 40 cm
Paper size: 76 x 56 cm
My practice revolves around the tension
between humans and the natural world.
This print was created with attention to
our rapidly degenerating environment,
and the transformations we force onto our
world that result in seemingly irreparable
states. The abrasion/reduction woodcut
technique reveals the natural resistance
of the material, and the index of each
layer removed is recorded within the print.
Rainer Doecke:
I moved to Melbourne from Brisbane in March 2021 hoping to find a larger printmaking community and establishing my career. However, with continued lockdowns, networking has been difficult, particularly where open-access print studios are concerned. As I do not have the room at home for my own studio, between lockdowns I've been renting space at Boldface Fine Art Print in Seaford. It is a wonderful artist's retreat and a printmaker's dream, nestled in an industrial warehouse filled with eclectic antiques and a unique collection of art, and is home to several printmaking presses for editioning use. It's also conveniently just a few minutes' walk to the train station, and also very close to the beach—a perfect way to break up my work day when printing an edition. I find the ritual of leaving the house to be productive to my practice; I feel freeing myself from domestic distractions enables me to work much more effectively.
Much of my work as a printmaker is experimental in nature, attempting to capture the surface of timber with new techniques. Where a traditional reduction woodcut is usually carved with gouges and chisels, I frequently use abrasion techniques to reduce the surface of the timber, using fire, wire brushes and course sandpaper. I've also been experimenting with using power tools such as circular saws and grinders on the timber matrix, strong marks that contrast with the soft woody texture of a print. I like the metaphors that arise out of the destruction of the timber surface, and the material resistance that reveals layers, contributing to the final print. The piece of timber is destroyed by the process, by making multiple impressions of itself. Printmaking requires obsessive attention to detail, but this is somewhat at odds with the destructive process of a reduction print. One soon learns not to get too attached to a particular matrix. Georges Didi-Huberman speaks of impreintes, or impressions, as a record of an event[1]. He argues that the print is complex because it is both a record of touch, and also a record of the loss of the object. I find this kind of understanding relates closely to the ideas of my practice.
Alongside my practice of combining woodgrain and abstract form, I've been toying with applying printmaking methodologies to ceramic practice. Some of the earliest prints known to humanity were created with impressions of clay seals, and I think the repeatable techniques such as slip-casting share much common ground with printmaking. I'm excited to produce work in a sculptural format, and the challenges that it brings.
[1] Georges Didi-Huberman "Opening up an Anachronistic Point of View", 1997, as it appears translated in Ruth Pelzer-Montada's Perspectives on Contemporary Printmaking: Critical Writing Since 1986, 2018.
—
 Join the PCA and become a member. You'll get the fine-art quarterly print magazine Imprint, free promotion of your exhibitions, discounts on art materials and a range of other exclusive benefits.