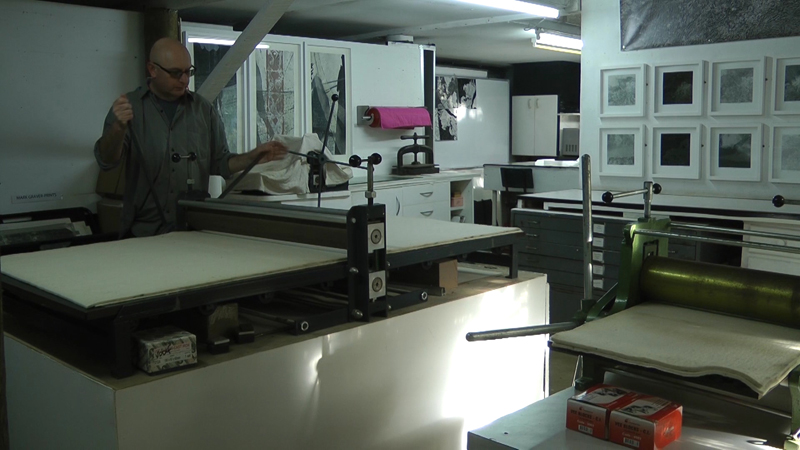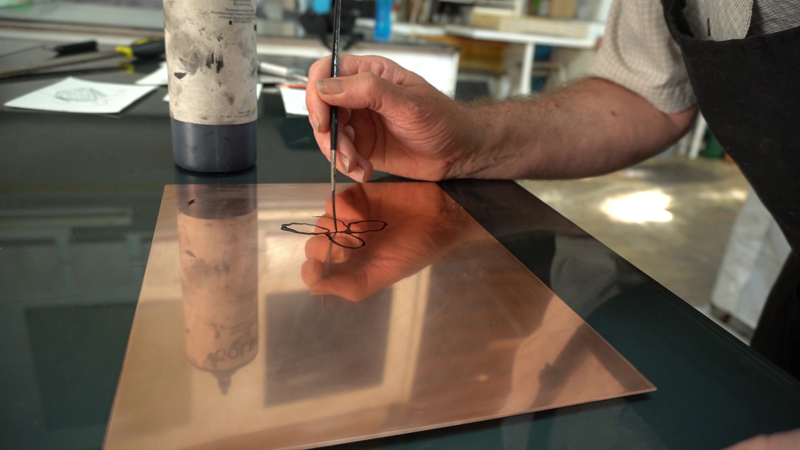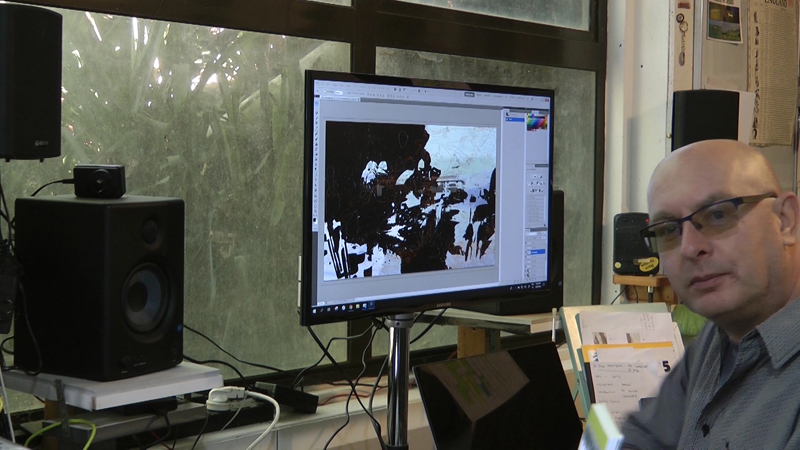 Main image:
Mark Graver RE
Born 1964, UK. Lives NZ.
Rangihoua
Pigment print
Edition size: 35
Image size: 48 x 67 cm
Paper size: 56 x 76 cm
Rangihoua, in the northern Bay of Islands
is highly significant as the site of early,
prolonged contact between Maori and
Pakeha. It is the location of one of the
earliest trading posts, the earliest mission
station, and the first formal transfer of
Maori land in New Zealand, as well as the
earliest recorded church service and the
earliest European school. The Europeans
arrived in December 1814. The mission
closed in the 1850s by which time very
little land was left in Maori possession.
The arrival of the Europeans at Rangihoua
was the start of a process which would
eventually transform the country. This
work began by re-visiting photographs and
drawings made at a particular time and
place. Photographic, hand-made and digital
images, captured, drawn or found. Time
fixed, recorded and stilled. Rangihoua
is made with layered photographs and a
scanned soft-ground etching made from
objects gathered at the site.
Mark Graver:
The studio is based at Wharepuke, land that has been in my partner's family since her grandfather bought it in 1938 and later divided between his 4 sons.  We look after about 2 hectares which is now a subtropical Garden of National Significance planted by my partner's father.  We now live in the house he built, and the studio is underneath the house in an area that was originally intended as a plant potting space.  The building is a pole house built on the side of an earth bank, it's quite a large space but difficult to keep warm or totally dry as it's open to the earth bank on one side.  Recent tree felling has helped with light and sun though.
The studio was opened in 2005 as a specialist acrylic resist etching workshop – I run short courses and now have a regular weekly open access group who work with copper and aluminium etched in Edinburgh Etch and copper sulphate respectively.  Pre-covid we also hosted international artist residencies and hopefully we'll get back to that one day.
I currently have 3 have etching presses, a large Conrad (1700 x 915mm), a small (800x400mm) Sakura and a small Conrad E-15.  Just before our last lockdown I bought a medium sized etching press (1200 x 800mm) but at the time of writing I'm still waiting for it to arrive.  Lockdown did give me the time to rearrange the space in anticipation though.
Most of my own recent work has been digital.  I have a small Epson pigment printer but get large works printed off-site in Auckland.
We also have a small purpose-built gallery space where we show NZ and international printmaking and 5 self-contained cottages set within the garden for tourist and artist workshop/residency accommodation.  There's also has a 1km sculpture trail through the garden with around 35 art works, some permanent and some changing and available for sale.
Rounding off Wharepuke is Māha, a fantastic restaurant run by another couple in a building that was originally a local hall in Auckland built by the American Army. We had it re-located to the property, refurbished and now lease it to the restaurateurs.
Recent work was based around a couple of shows in Europe.  One was a RE (Royal Society of Painter-Printmakers) show in the UK and the other a show by a group, Prism Print International, that I'm a member of.  The Prism show was part of the Krakow Print Triennial in Poland.  I was also due to go to another group show opening in NZ but this got cancelled when we went back into lockdown here in August.
All the work is linked by connected ideas around place, memory and time – ideas of time fixed, recorded and stilled, things coming to the fore, emerging, disappearing.
It can be traces of time etched into the environment, be it natural or urban, external or internal, personal, historical or shared; the surfaces making up a city, a place, or the forms of nature, observed, remembered and abstracted, manipulated, re-produced and re-presented through print.
The works began by re-visiting photographs and drawings made at a particular time and place.  They are layers of photographic, hand-made and digital images, captured, drawn, printed or found.
 I've started some new works based on slow shutter photographs – long layered exposures and I'm working on a proposal for a show in NZ provisionally titled A Sense of Place. The idea is to make images relating to specific places here in the North of NZ.
There's a couple of open submission shows to enter, one in NZ and a new international print show in London being organised by the RE.
I'm also curating shows at our gallery for local and international artists.
—
 Join the PCA and become a member. You'll get the fine-art quarterly print magazine Imprint, free promotion of your exhibitions, discounts on art materials and a range of other exclusive benefits.