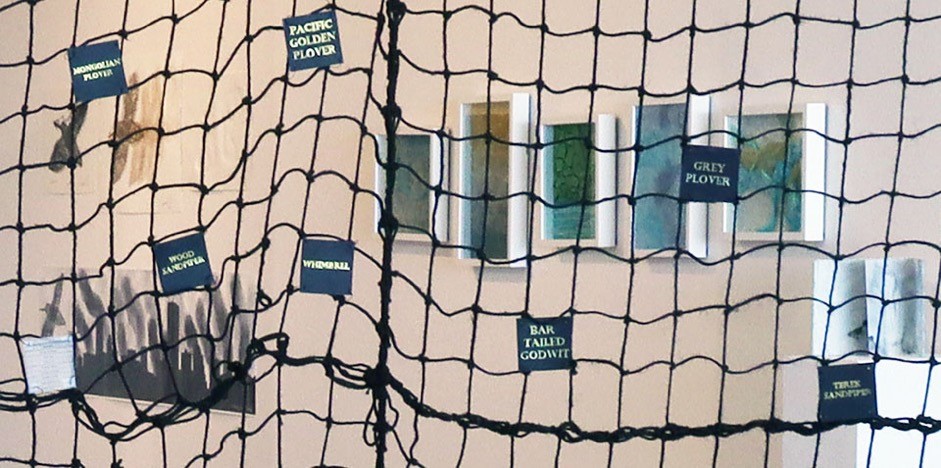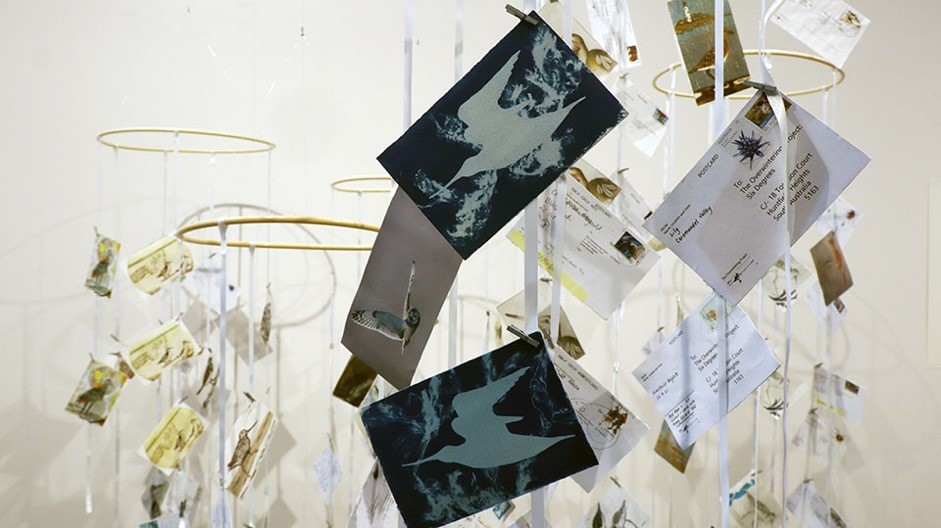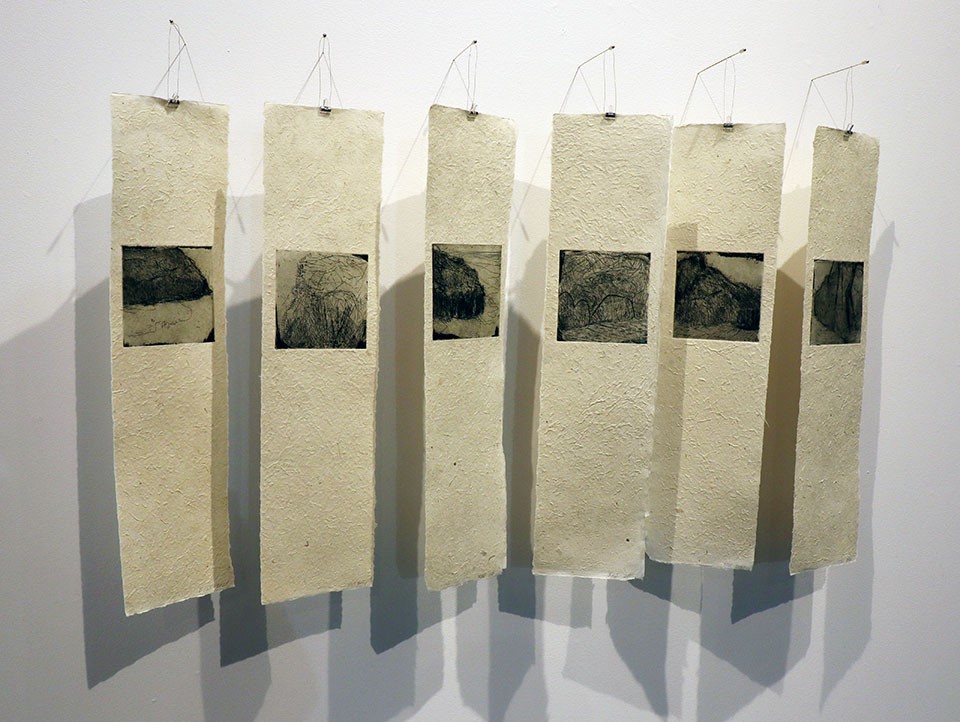 From top:
(Photography: Graham Houghton)
Andrea Przygonski (and Victoria May), Adrift, digital print, 2021, dimensions variable
Mary Moore, Under our wings, waterless lithograph and digital prints, 2021, dimensions variable
Nadia Caon, Mary Moore, Michele Lane, Julia Wakefield, Joanne Mildenhall, Mary Pulford Brown, Sandra Starkey Simon, Wendy Wright, The Bigger Picture: Bird's Eye View, multi-media, 2021, dimensions variable
Joanne Mildenhall, The Invisible/Visible Threads of Connection (detail), multi-media, dimensions variable
Mary Pulford Brown, The Overwintering Project: Six Degrees (detail), multi-media, 2021, dimensions variable
Sandra Starkey Simon, Seaweed Mounds, etching, 2021, dimensions variable
Q: What were some of the foundation ideas for this exhibition project?
A: Bittondi Printmakers Association Inc., a non-profit South Australian organisation founded in 2008, offers affordable print studio access to members and promotes printmaking in the wider community. Bittondi regularly organises printmaking projects and exhibitions at diverse venues, mainly in South Australia.
The Bigger Picture exhibition was inspired by the ever-expanding collaborative series, The Overwintering Project: Mapping Sanctuary, initiated by Kate Gorringe-Smith in Melbourne, several years ago. Bittondi's group show links to this extensive project, with the shared aim of raising public awareness, about migratory shorebirds and their vulnerable habitats, along the East Asian-Australasian Flyway.
Unfortunately, Kate Gorringe-Smith was unable to give the opening speech for The Bigger Picture, due to pandemic border restrictions between Victoria and South Australia, during the recent, well-attended opening event.
Q: How did the artwork selection take place?
A: All Bittondi members were invited to participate (and think big!) in The Bigger Picture. Bittondi stalwarts Mary Pulford Brown and Julia Wakefield identified the venue and organised the exhibition, in conjunction with Leah Grace, Curator at Signal Point Gallery, who finalised selection and display of 48 works by 15 Bittondi printmakers: Nadia Caon, Mary Pulford Brown, Sandra Starkey Simon, Geoff Gibbons, Lloma Mackenzie, Mei Sheong Wong, Joanne Mildenhall, Camilo Esparza, Janette Nicholls, Julia Wakefield, Andrea Przygonski, Wendy Wright, Michele Lane, Mary Moore and Kim Horn.
Q: How does the exhibition manifest – what do visitors experience?
A: Signal Point Gallery is a spacious, contemporary venue in the historic Goolwa Wharf precinct, overlooking the Hindmarsh Island bridge. Significantly, Goolwa is located near Coorong National Park, recognised by Birdlife International as an 'Important Bird Area', part of the Murray River estuary in South Australia.
Most of the work in The Bigger Picture is installed on the upper (accessible) level.
It includes installations/mobiles and artist books, as well as 2-D work (framed and unframed), within the expansive open space of this splendid gallery.
In addition to work by Bittondi printmakers, there is complementary audio-visual material in the rear theatrette, provided by Kate Gorringe-Smith, Simone Slattery and Anthony Albrecht, and video by Jenny Hiscock.
Q: What are some of the key works and what subject matter do they deal with?
A: Moore's delightful mobile, Under our wings, suspends a flock of 52 bird forms along the wall. Atmospheric movement of these lightweight creations/shadows conveys the wonder of migratory shorebirds' annual, airborne journeys, across the vast surface of our planet.
Boldly extending across the opposite wall, The Bigger Picture: Birds Eye View comprises 14 prints, based on the viewpoint/habitats of migratory shorebirds, by Caon, Moore, Lane, Wakefield, Mildenhall, Pulford Brown, Starkey Simon and Wright. Their diverse techniques include waterless lithography, etching, monotype, trace monoprint, cyanotype, intaglio monotype, blind embossing and rust on paper.
Mildenhall's stunning cyanotypes (experimentally developed using tidal sea water and beach detritus) counterpoint her unique, free-form installation at the heart of the exhibition, The Invisible/Visible Threads of Connection. This 'fish-net' centrepiece playfully incorporates disparate elements – such as natural jute string, trace monoprint, cardstock, powdered pigment powder, tracing paper and jewellery elastic.
A sumptuous series of screen/digital prints by Przygonski (in collaboration with Victoria May) includes translucent, hanging panels of drafting 'vellum' sheets in Adrift. Flotsam and jetsam motifs were developed from marine debris. Sophisticated imagery of ocean trash – consumed by wildlife, polluting their breeding grounds – highlights ecological disaster for bird colonies.
Pulford Brown's quirky installation, The Overwintering Project: Six Degrees, includes more than 90 delightful, hand-printed postcards of shorebirds – out of about 250 that were sent out, to places as distant as Mongolia, Kazakhstan and Taiwan. These have been duly posted back to Adelaide, from participants far and near – in Alaska, British Columbia, Ireland, Siberia, interstate, SA, etc. Apart from raising awareness of shorebird journeys, this appealing, interactive project manifests our interpersonal connections, within a complex and diverse eco-system.
Seaweed Mounds by Starkey Simon comprises a minimalist, 'quiet' installation of dainty etchings on Nepalese paper – also translated into individual, hand-coloured etchings. This sensitive work tenderly alludes to personal, haptic responses towards transient shorebird habitats/activity along the coast.
Q: What is it about the printmaking experience that you most appreciate?
 A: Unexpected, interesting results – after uncertain, experimental, divergent, convoluted and sometimes collaborative processes!
—
The Bigger Picture is open daily 10-4 pm at Signal Point Gallery, Goolwa Wharf Precinct, South Australia, until 11 July.
https://www.theoverwinteringproject.com/current–upcoming.html
https://www.visitalexandrina.com/events-at-signal-point-gallery/event/1098-the-bigger-picture-overwintering-project
https://www.rgasa.org.au/signalpointgallery
—
 Join the PCA and become a member. You'll get the fine-art quarterly print magazine Imprint, free promotion of your exhibitions, discounts on art materials and a range of other exclusive benefits.